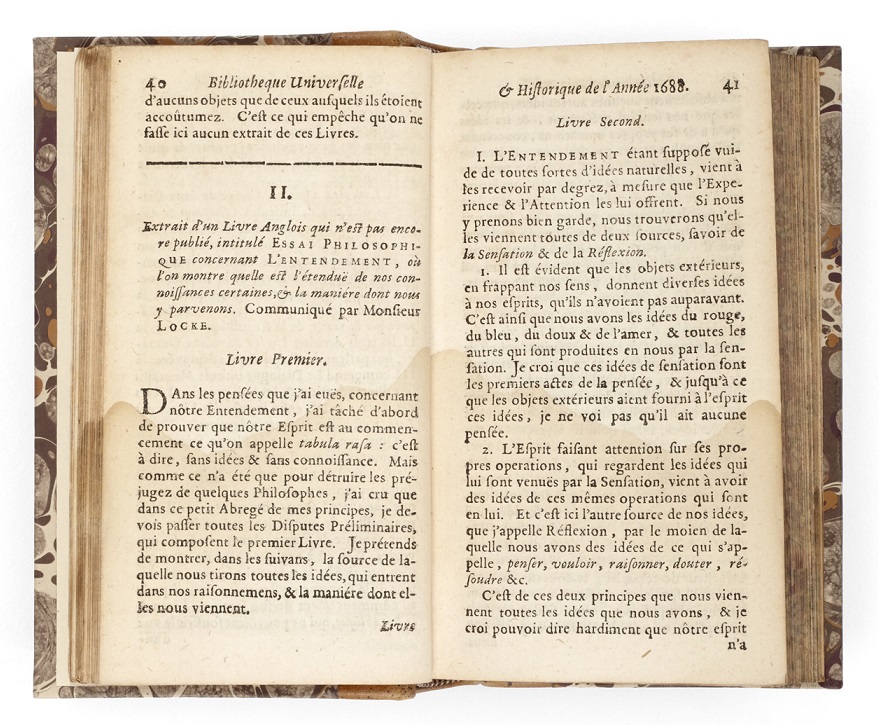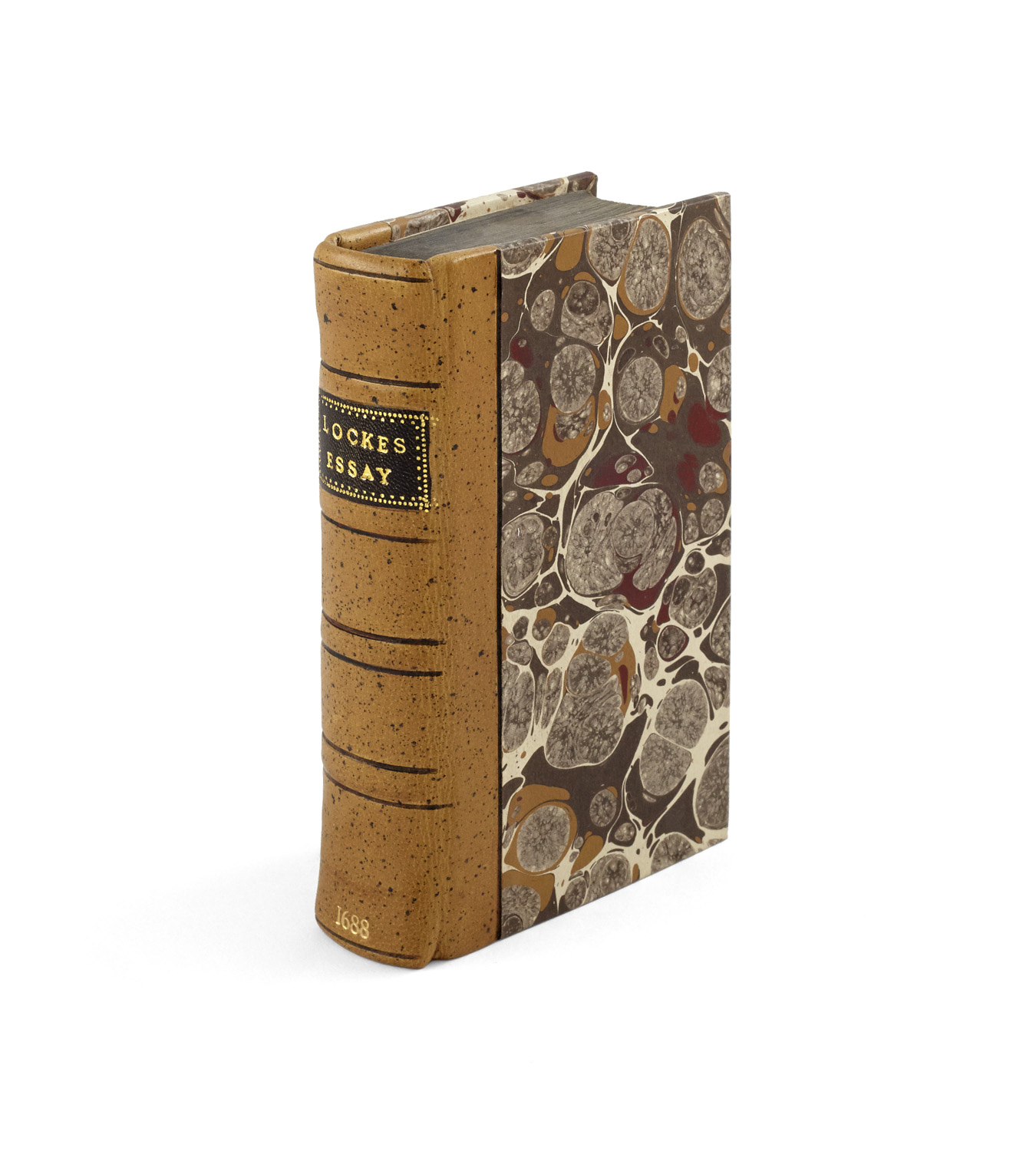 LOCKE, John.
[An Essay Concerning Humane Understanding]. Extrait d'un Livre Anglois qui n'est pas encore publié, intitulé Essai Philosophique concernant L'Entendement…communiqué par Mr Locke [in: 'Bibliothèque universelle et historique de l'année 1688', vol. 8].
Amsterdam, Wolfgang, Waesbergi, Boom, & Van Someren, 1688.
12mo, pp. [viii], 454, [14]; the Extrait: pp. 40-116; the review of Newton: pp. 363-375; library ink stamp to the general title, some light water-staining in the initial and final quires (not in the Locke items or in Petty ), but a very good copy in modern calf-backed marbled boards.
£4000

Approximately:
US $4460
€4548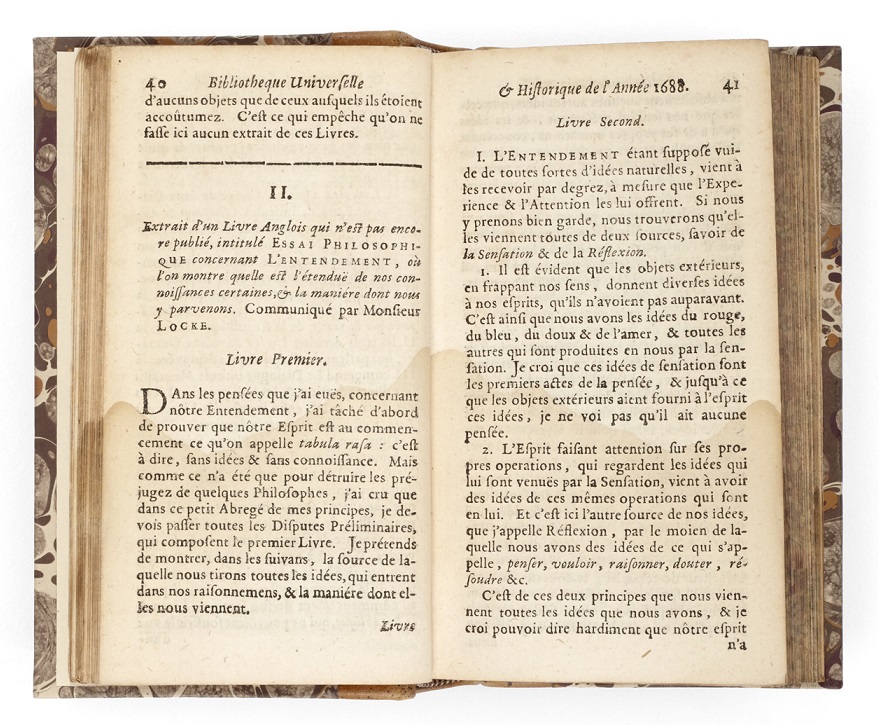 Added to your basket:
[An Essay Concerning Humane Understanding]. Extrait d'un Livre Anglois qui n'est pas encore publié, intitulé Essai Philosophique concernant L'Entendement…communiqué par Mr Locke [in: 'Bibliothèque universelle et historique de l'année 1688', vol. 8].
A substantial and extremely influential extract, published two years before the appearance of the book, of Locke's Essay concerning human understanding: a publication of major consequence in the history of philosophy. This issue of the Bibliothèque universelle et historique also contains at least another contribution by Locke: an anonymously-published review of Newton's Principia Mathematica (pp. 363-375).

Two years before the full publication of Locke's magnum opus, its diffusion began in an immediately bilingual context. The interaction between the French and English versions was complex and extremely fecund. In 1688 an advance copy of an early draft in French, sent to friends like Robert Boyle and Lord Pembroke and edited by Le Clerc, was sent to the editors of the Bibliothèque Universelle et Historique, who published it in that year's issue. It was this publication which stimulated the attention, the reactions and philosophical developments of such thinkers as Pierre Bayle, William Molyneux and Leibniz, and that provided access to Locke's ground-breaking theoretical innovations (what became the justification and premise for Condillac's sensualism) for the French-speaking public, until a full French translation appeared in 1700. Le Clerc made also a separate impression, entitled Abregé d'un ouvrage intitulé… .

The journal had a very complex printing history, with volumes reprinted on several occasions. 'The volumes in the first edition generally contain a considerable number of printing errors, due no doubt in part at least to the employment of typesetters who were not native French speakers' (Milton, p.467). J. R. Milton has recently investigated the variants and chronology of Locke's contributions, concluding that our edition of the Extrait is the third of three identified ones, contrasted with the former two by the number of pages and the correction of errors. 'Edition (c) of tom. 2 and edition (iii) of tom. 8 [ours] resemble each other very closely, and it seems reasonable to conclude that both were produced by the same printers as part of a longer set that included all of toms 1–8, and possibly others, though no later ones have yet been locate. The printer of C – unlike the printer of A – seems to have used a case of type with very few specimens of lower-case 'w': in the review of the Principia in tom. 8, for example, Newton's name is invariably spelt 'Nevvton'. The same phenomenon can be observed in other volumes of this edition …. It would seem to suggest that these volumes were produced in a printing house that concentrated primarily – or perhaps even wholly – on French-language books, where this letter would seldom have been needed (id., p. 464).

This volume also contains a substantial contemporary review of Petty's Political arithmetic.

See Yolton 133-141; see PMM 164; for an analysis of the editions of the various journal volumes and an update to Locke's bibliography, see J. R. Milton, 'Locke's publications in the Bibliothèque Universelle et Historique', British Journal for the History of Philosophy, 2011, 19: 3, 451-472.
.
You may also be interested in...
[LOCKE , John].
Du Gouvernement Civil, où l'on traitte de l'origine, des fondemens, de la nature, du pouvoir, & des fins des sociétez politiques. Traduit de l'Anglois.
First edition in French of Locke's Essay concerning the true original extent and end of civil government, one of the most famous and influential works in the history of liberalism, which had originally appeared the previous year as the second of the Two Treatises of Government (1690). The anonymous translator is generally thought to be David Mazel, a 'Huguenot pastor living in Holland' (Yolton); 'it is surprising to note that all translations of this work up to 1800 were only of the second treatise' (id.). It was to a great extent thanks to his translation that Locke achieved a wide readership on the Continent.
POSTEL'S MOST IMPORTANT WORK POSTEL, Guillaume.
De orbis terrae concordia libri quatuor, multiiuga eruditione ac pietate referti, quibus nihil hoc tam perturbato rerum statu vel utilius, vel accommodatius potuisse in publicum edi, quivis aequus lector iudicabit . . . Adiectae sunt quoq[ue] annotationes in margine a pio atque erudito quodam viro, ne delicatoris palati aut iniquioris etiam iudicii aliquis, ut sunt fere hodie quamplurimi, offenderetur. Proinde ut pectore candido accipere, quae in ecclesiae misere adeo afflictae utilitatem scribuntur, lector velis, per Christum et animae tuae salutem obtestatum te volumus.
First edition of all four books of Postel's vision of the unity of the world. The first book had been printed privately in Paris the previous year while approval of the Sorbonne theologians was awaited. When that was not granted, Postel had the work printed by his friend Oporinus in Basel.