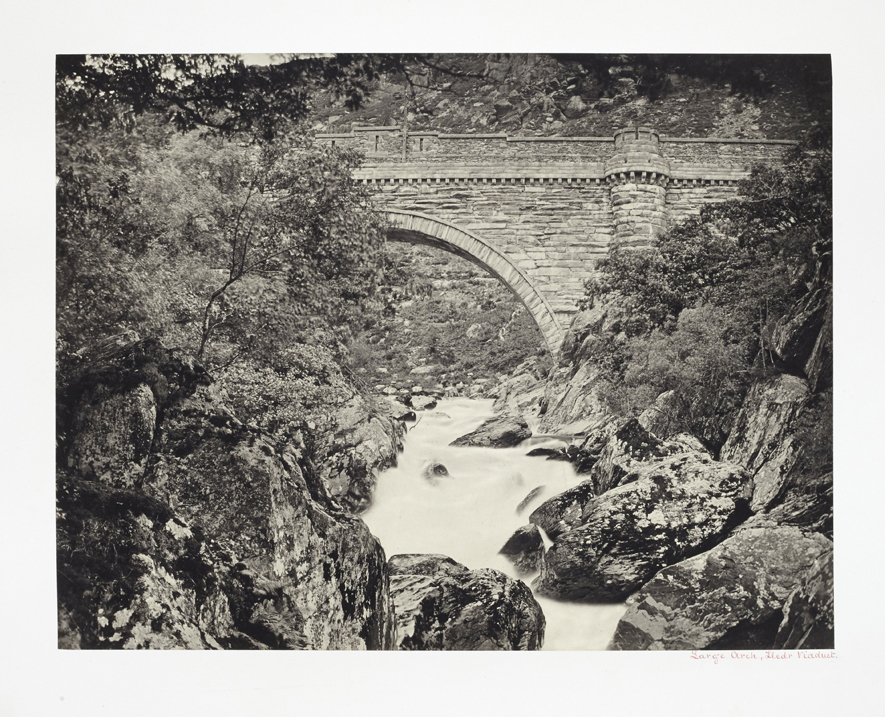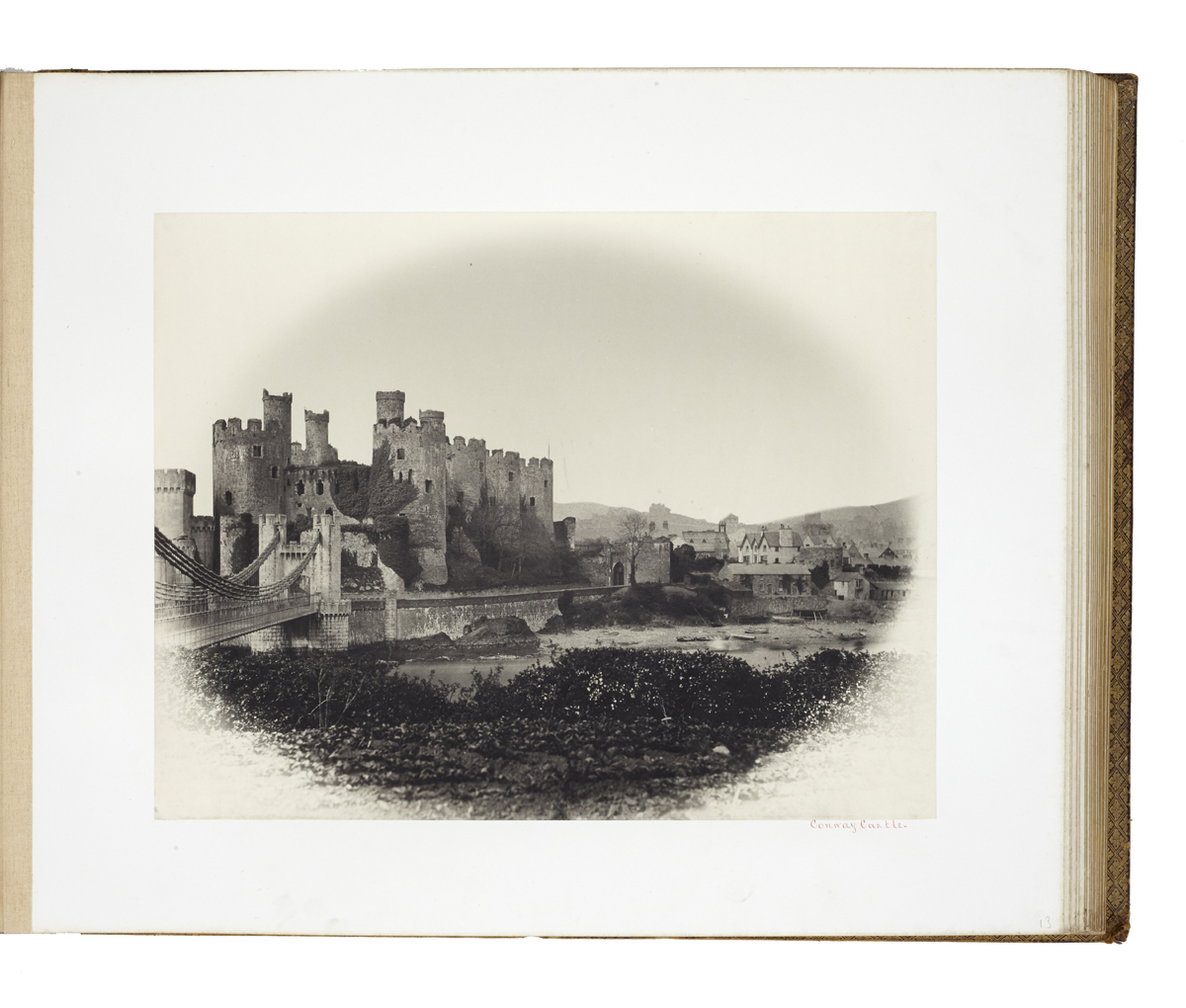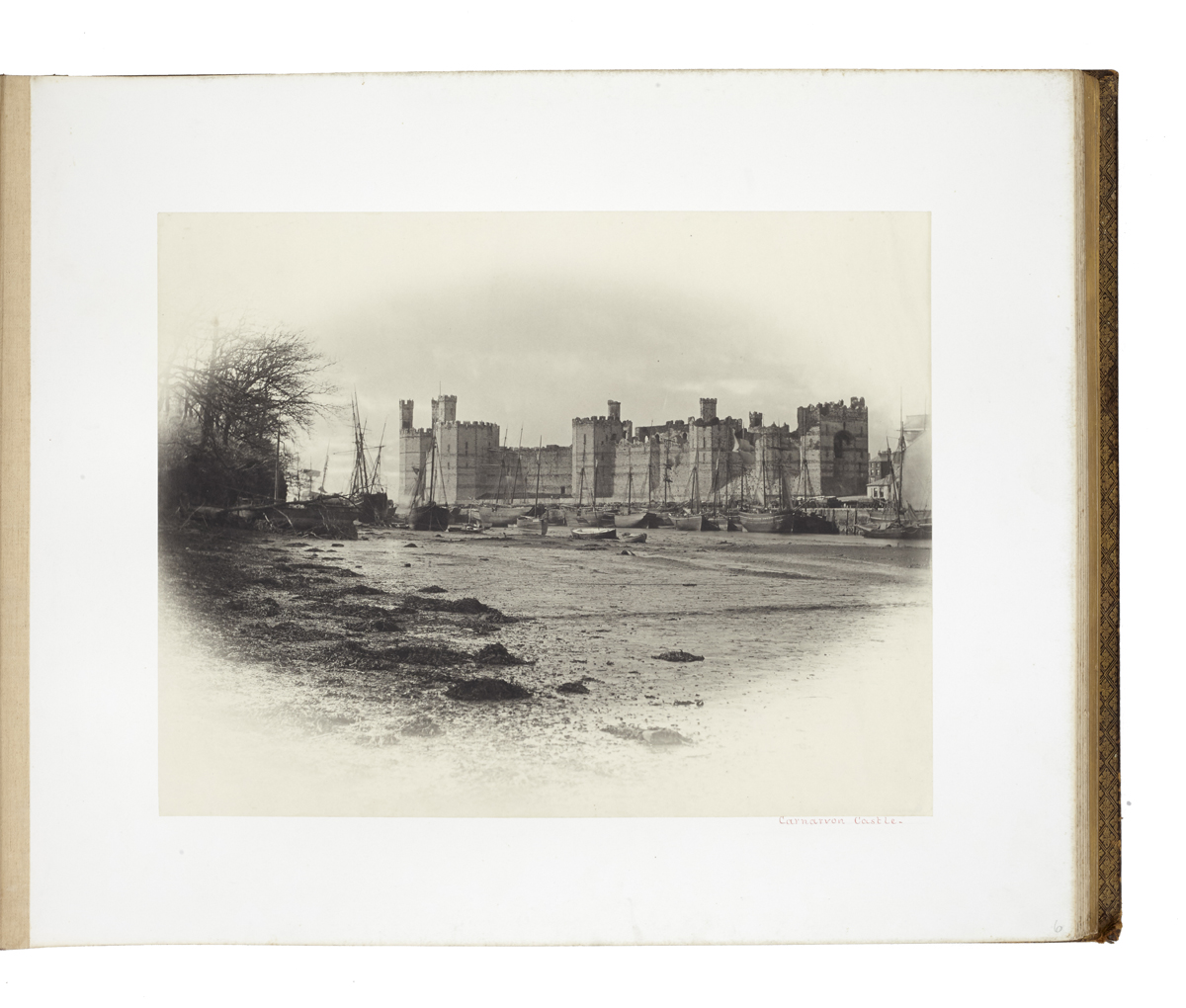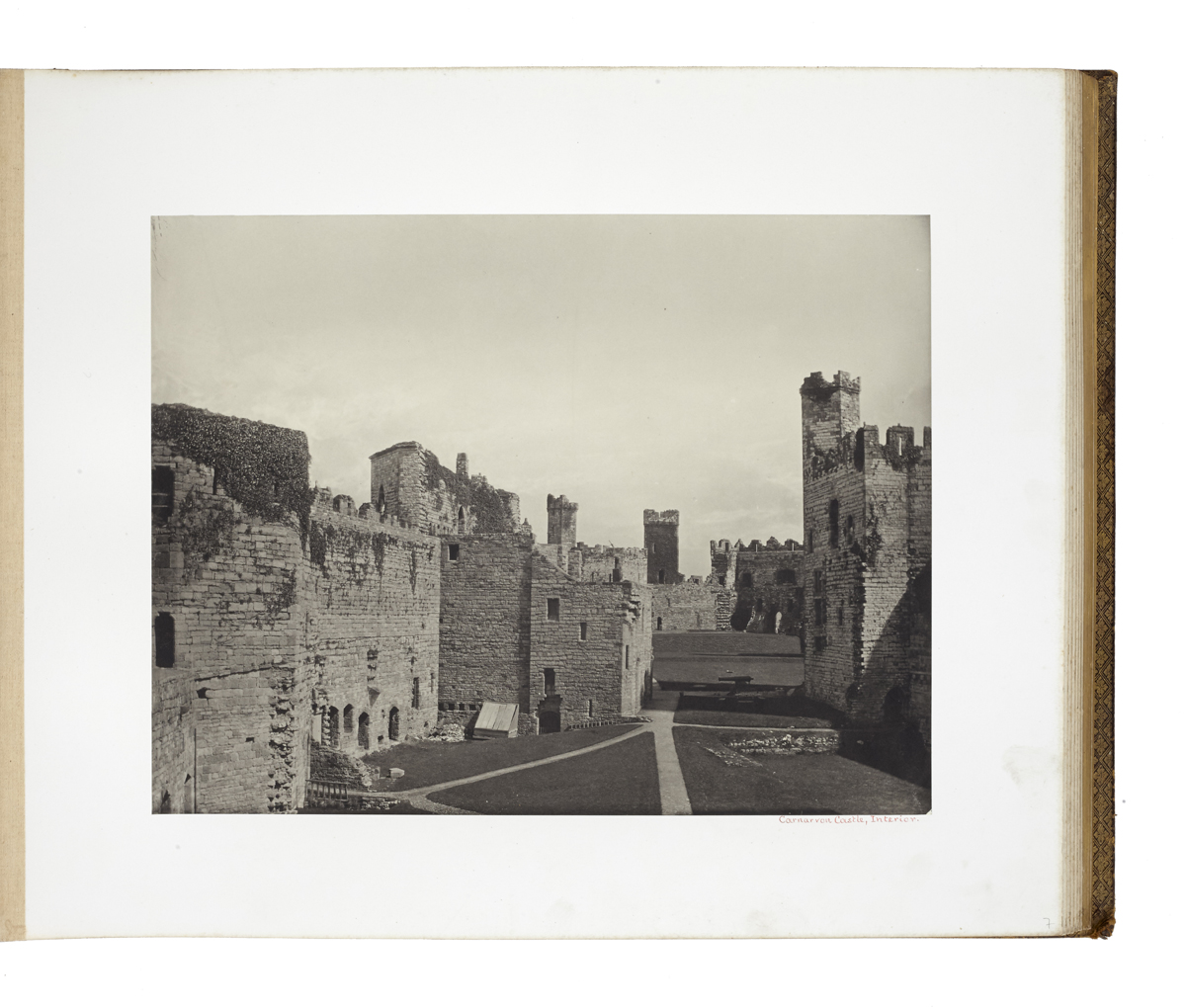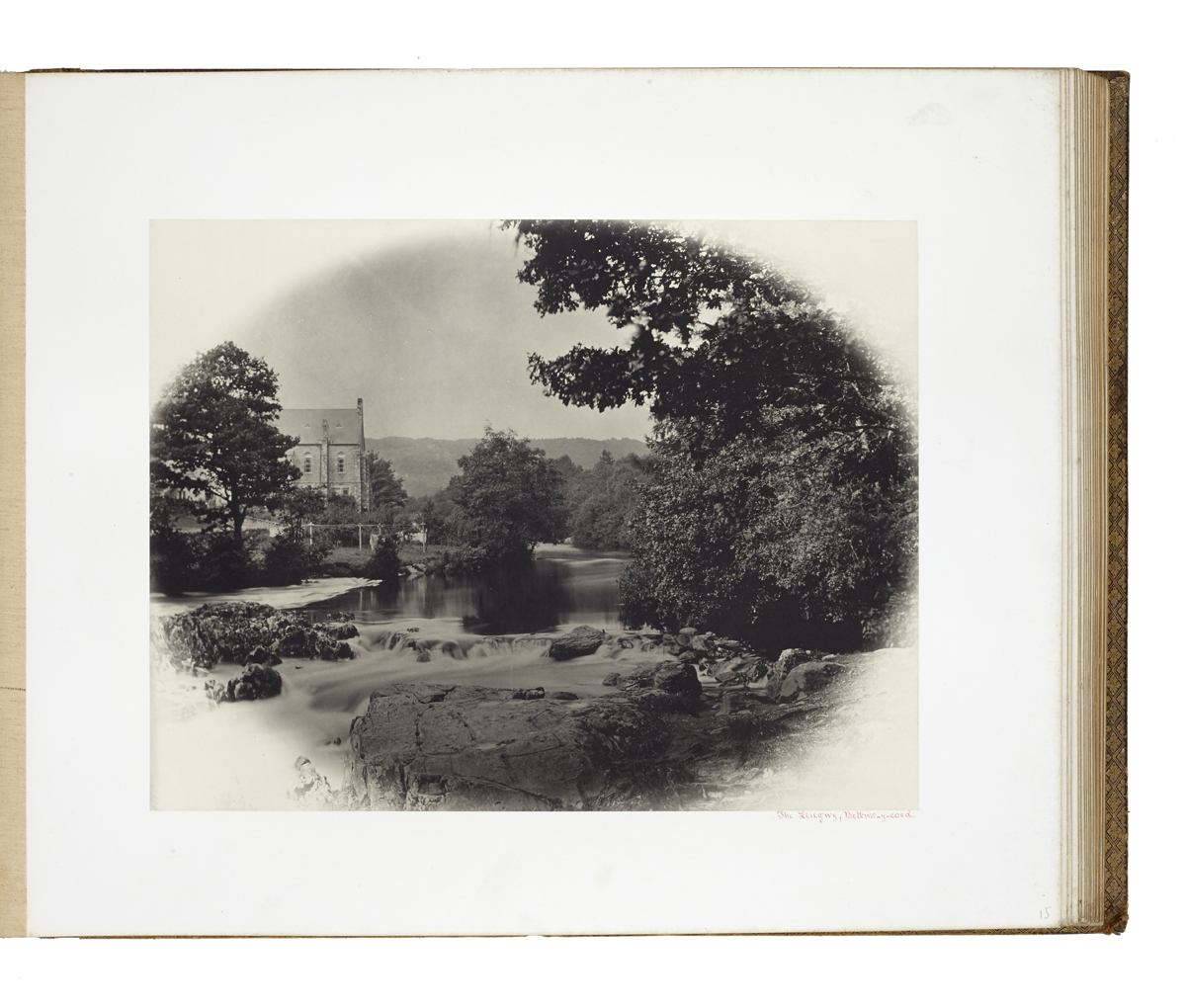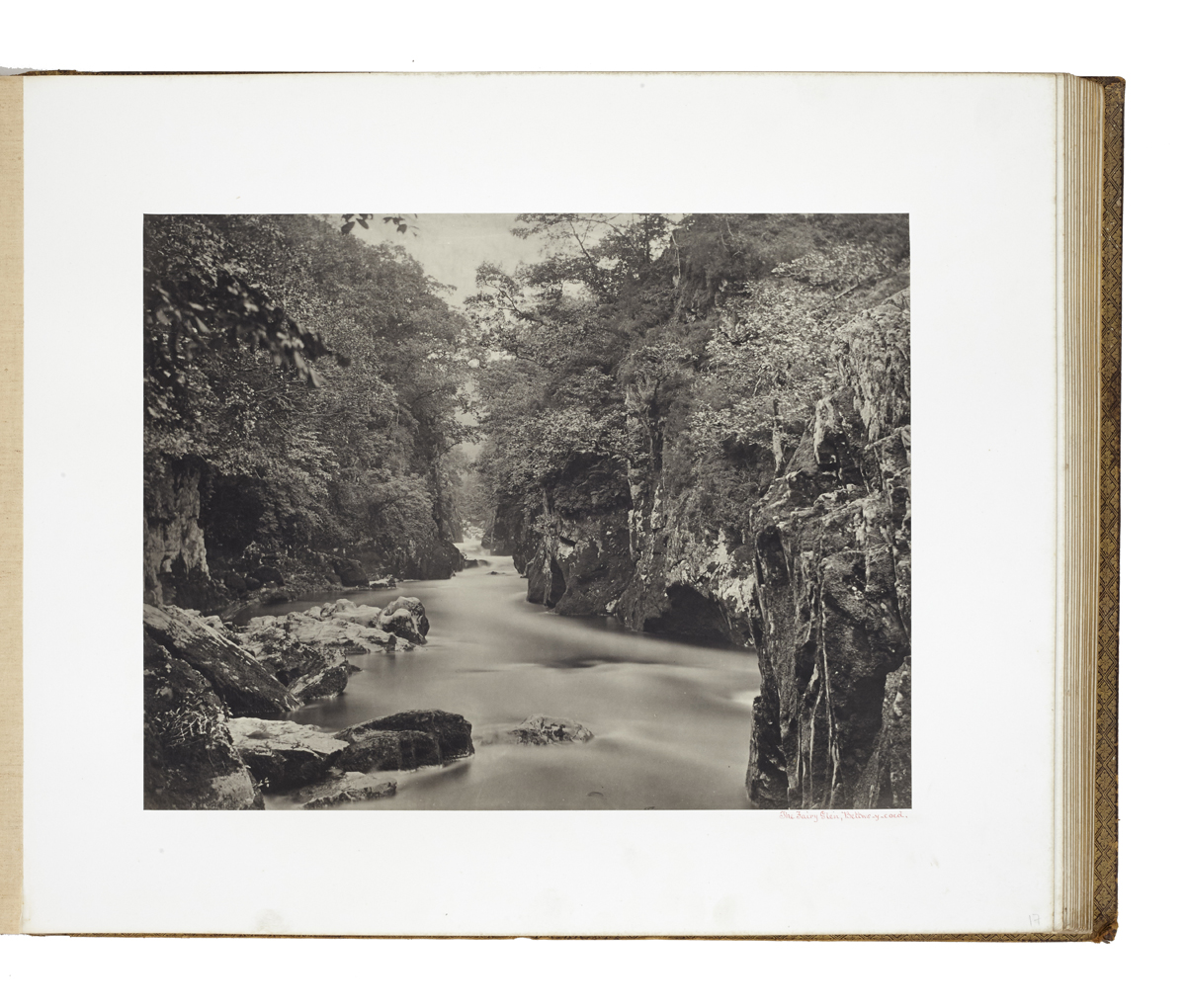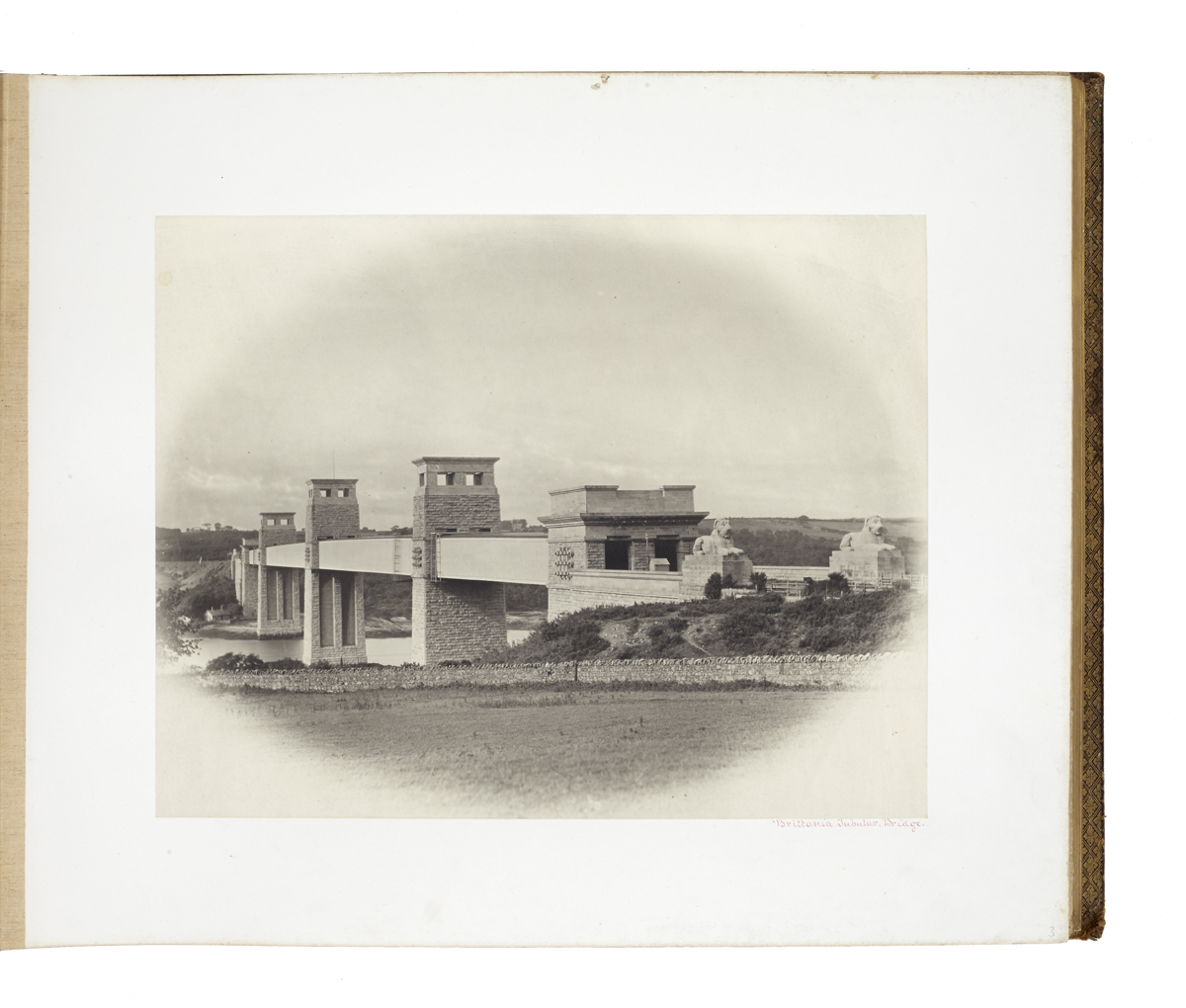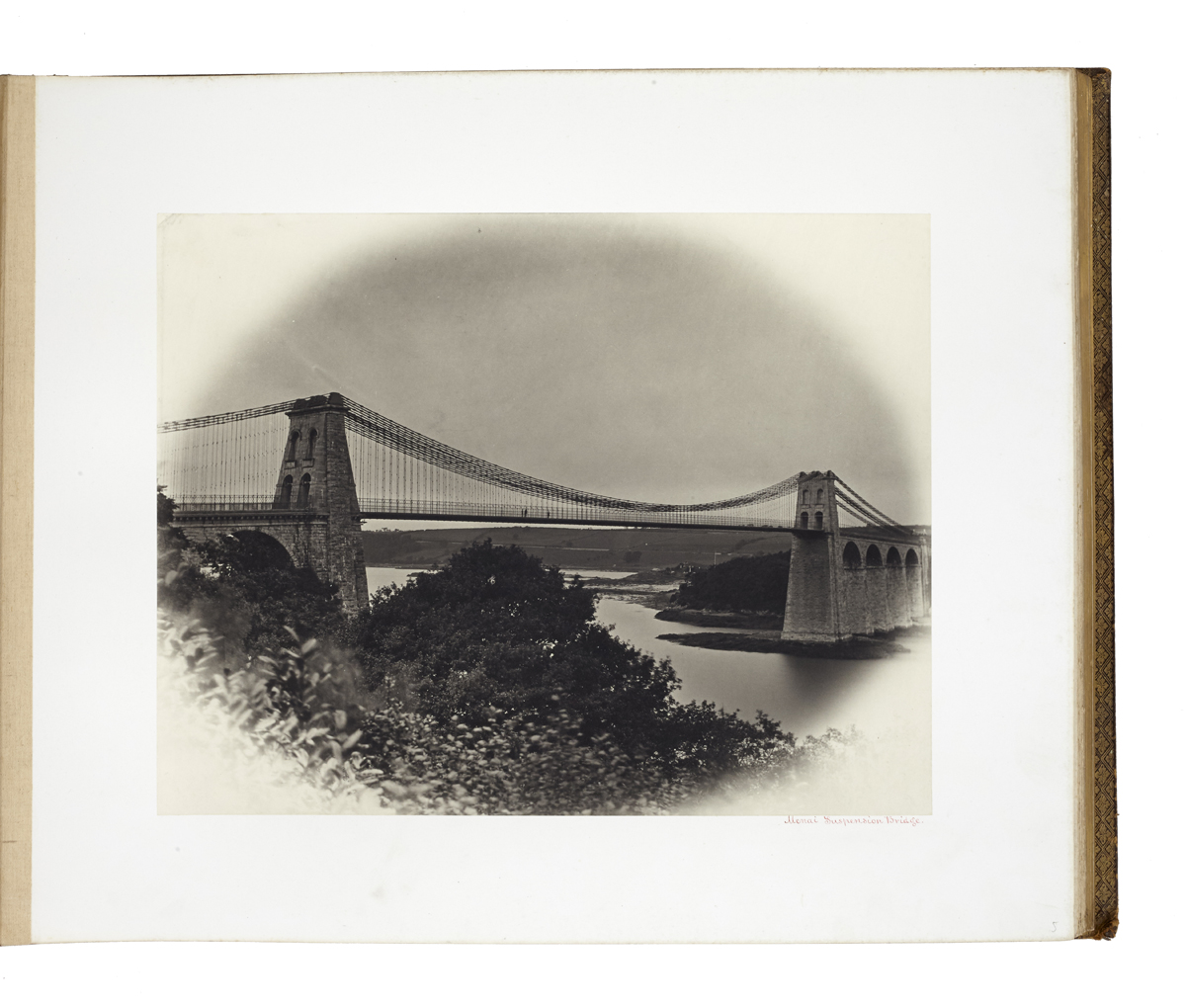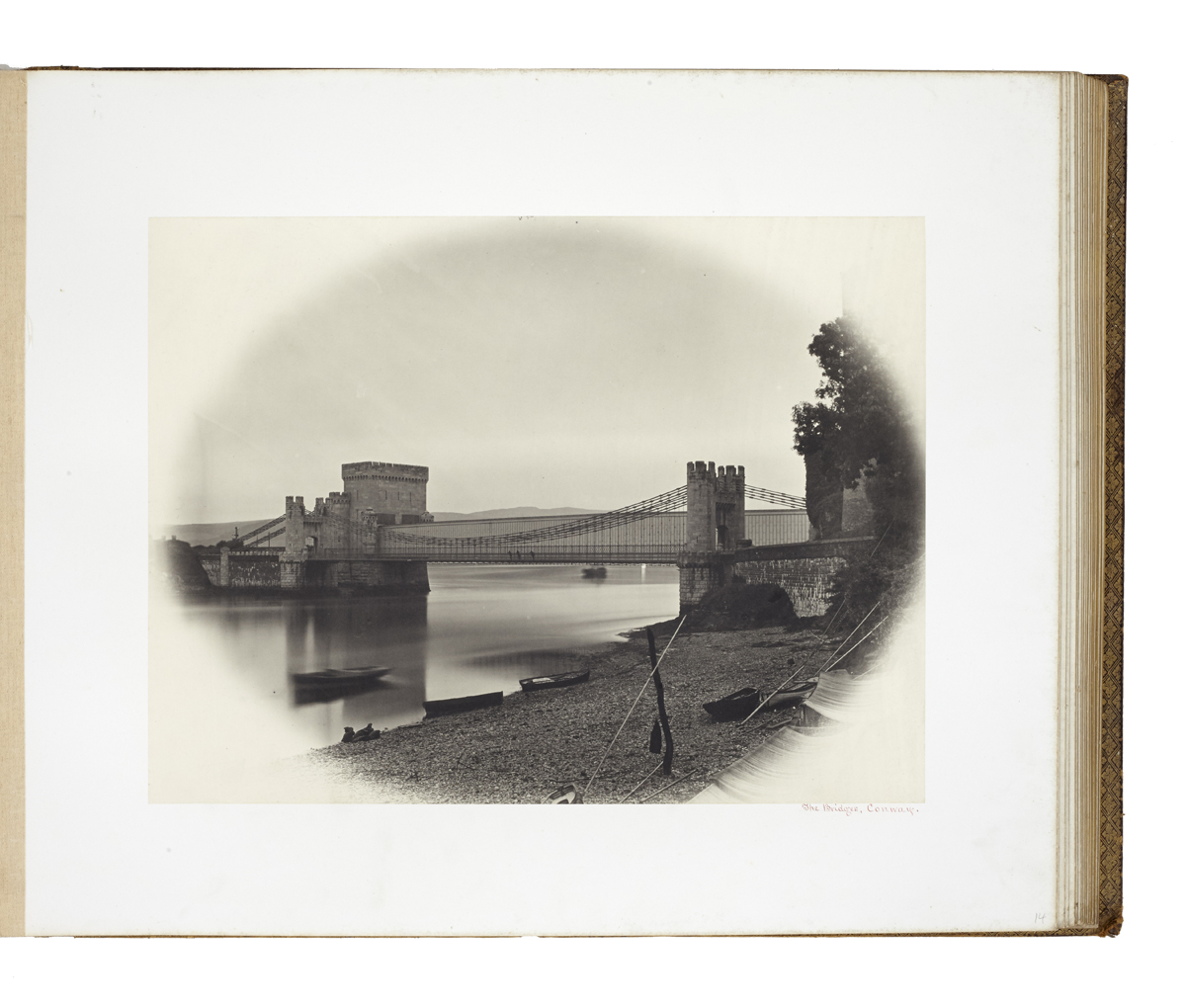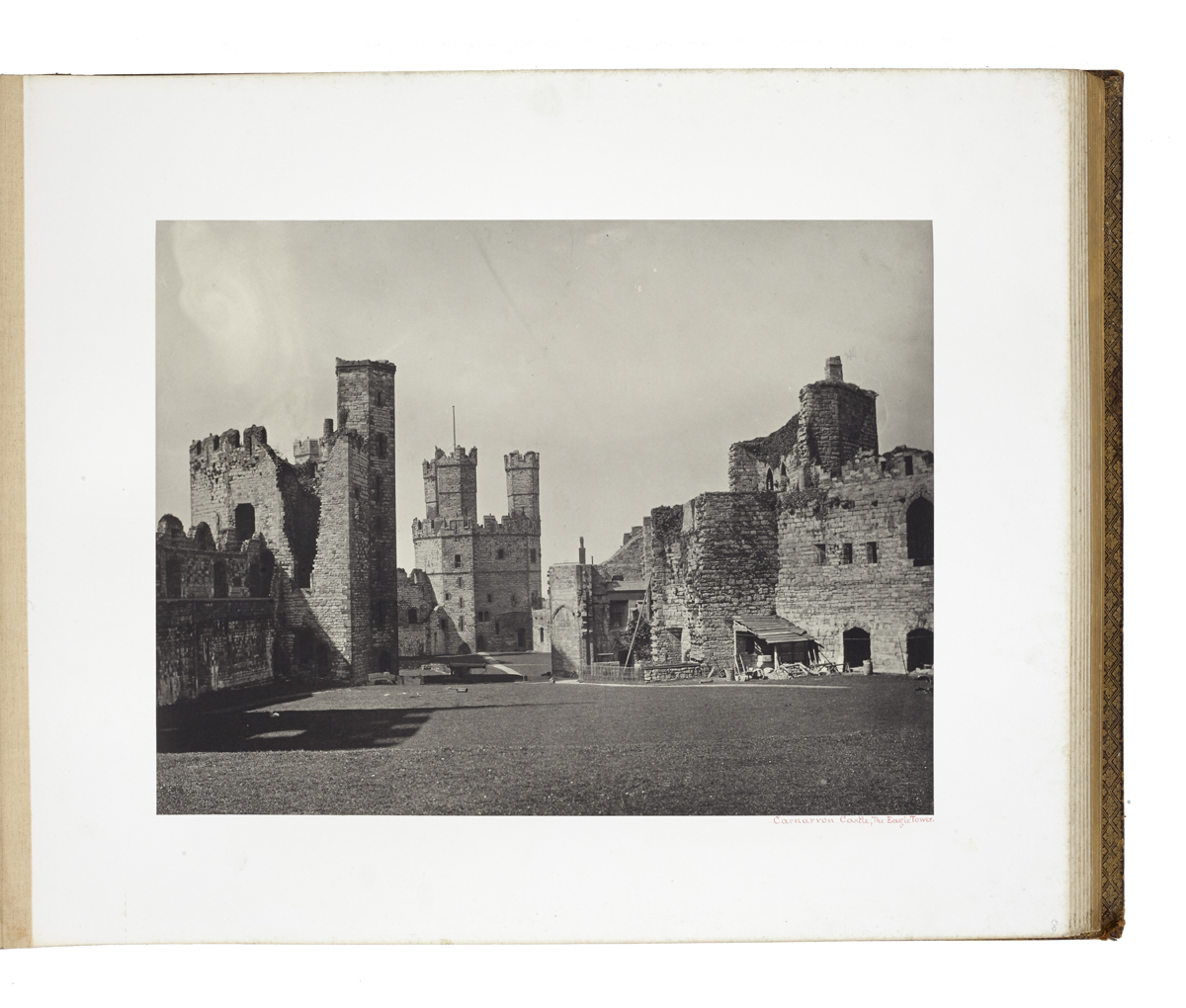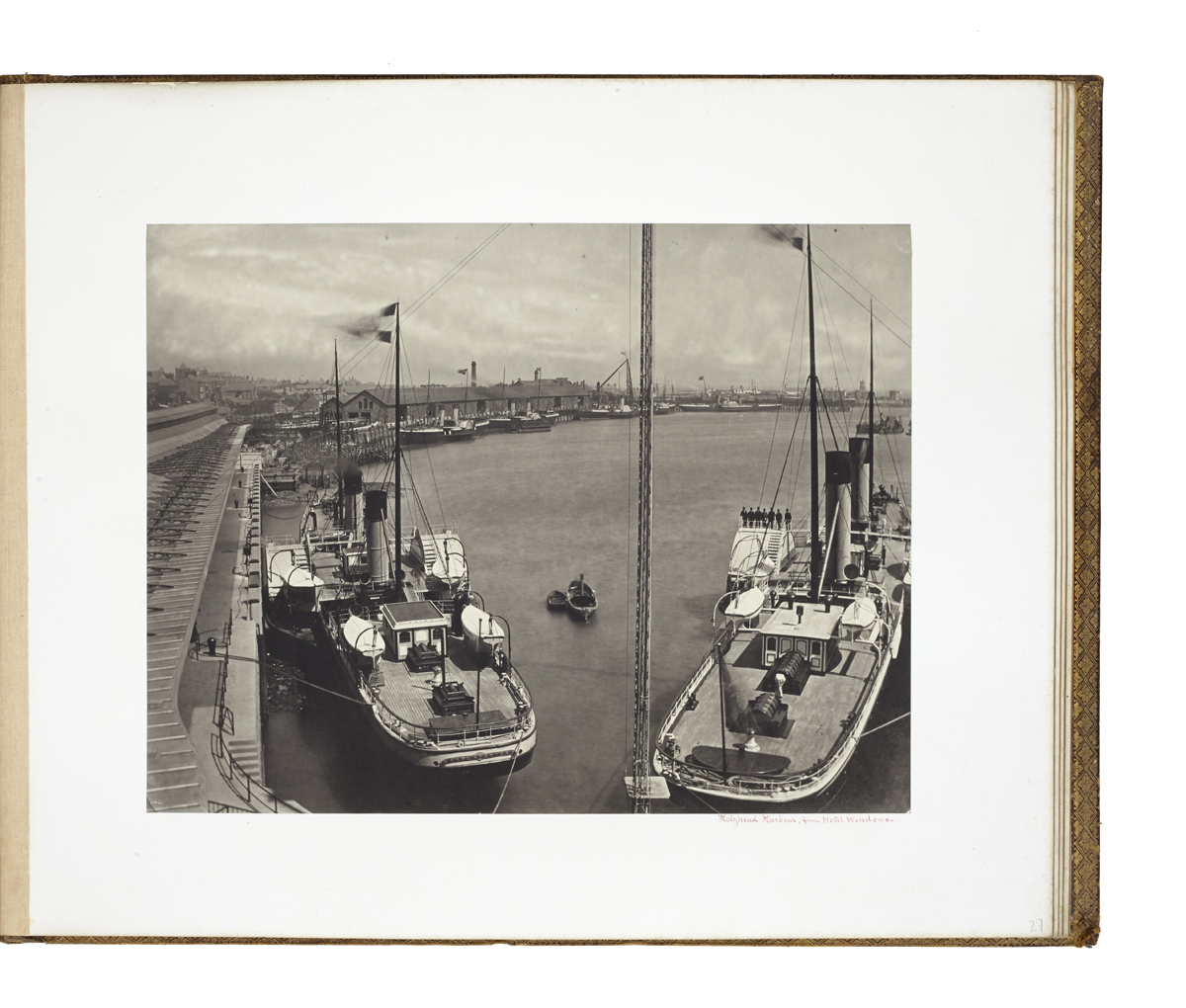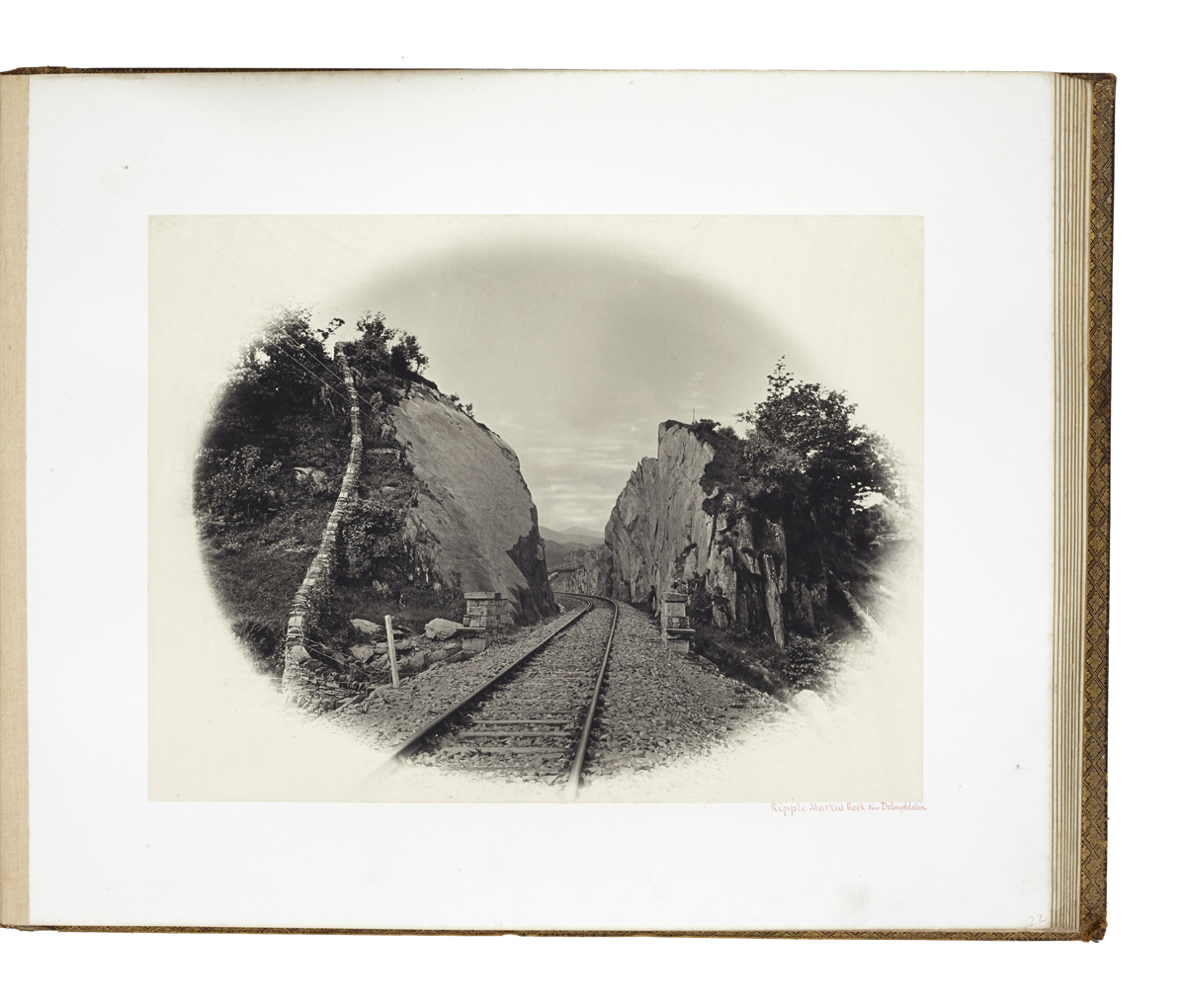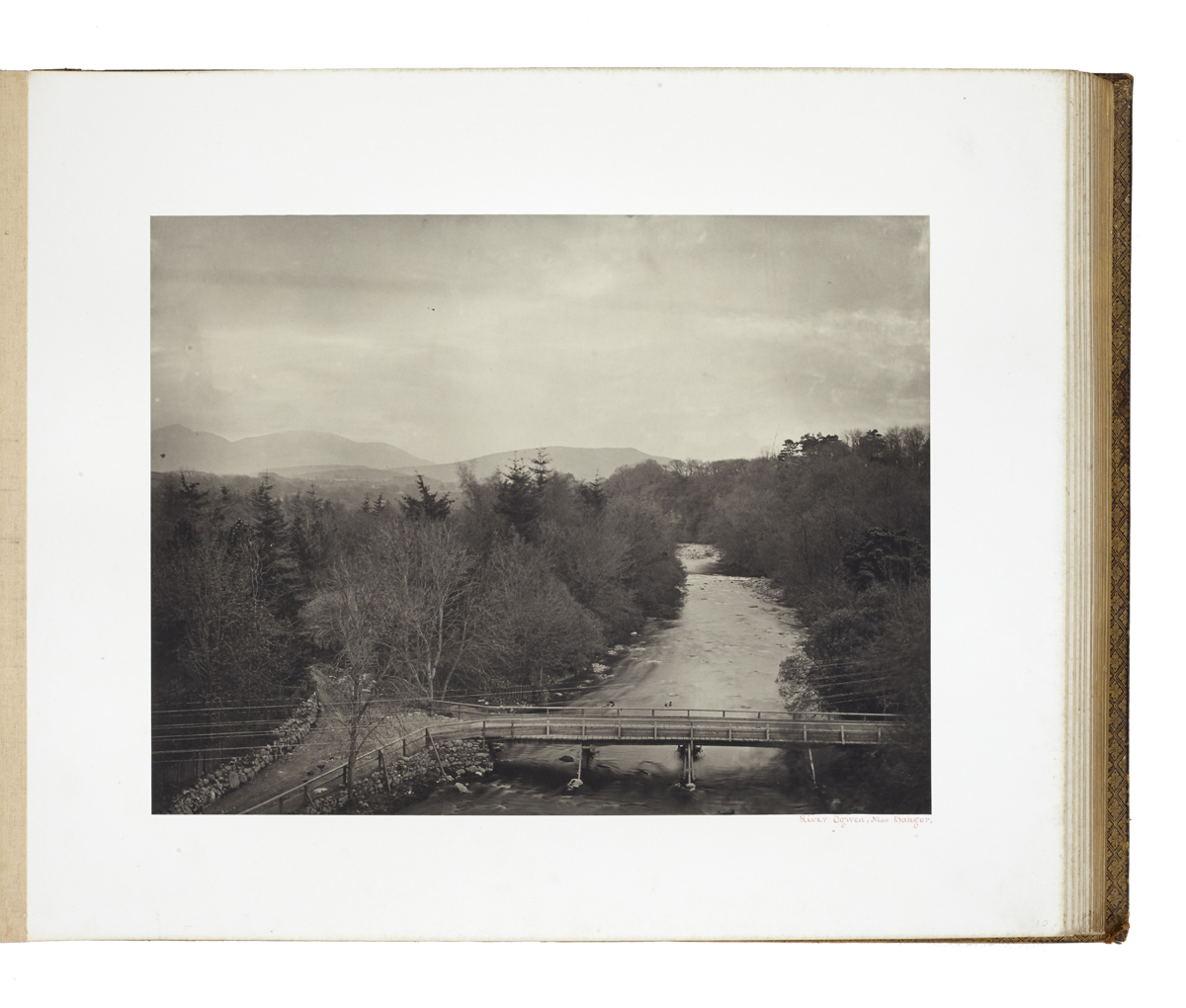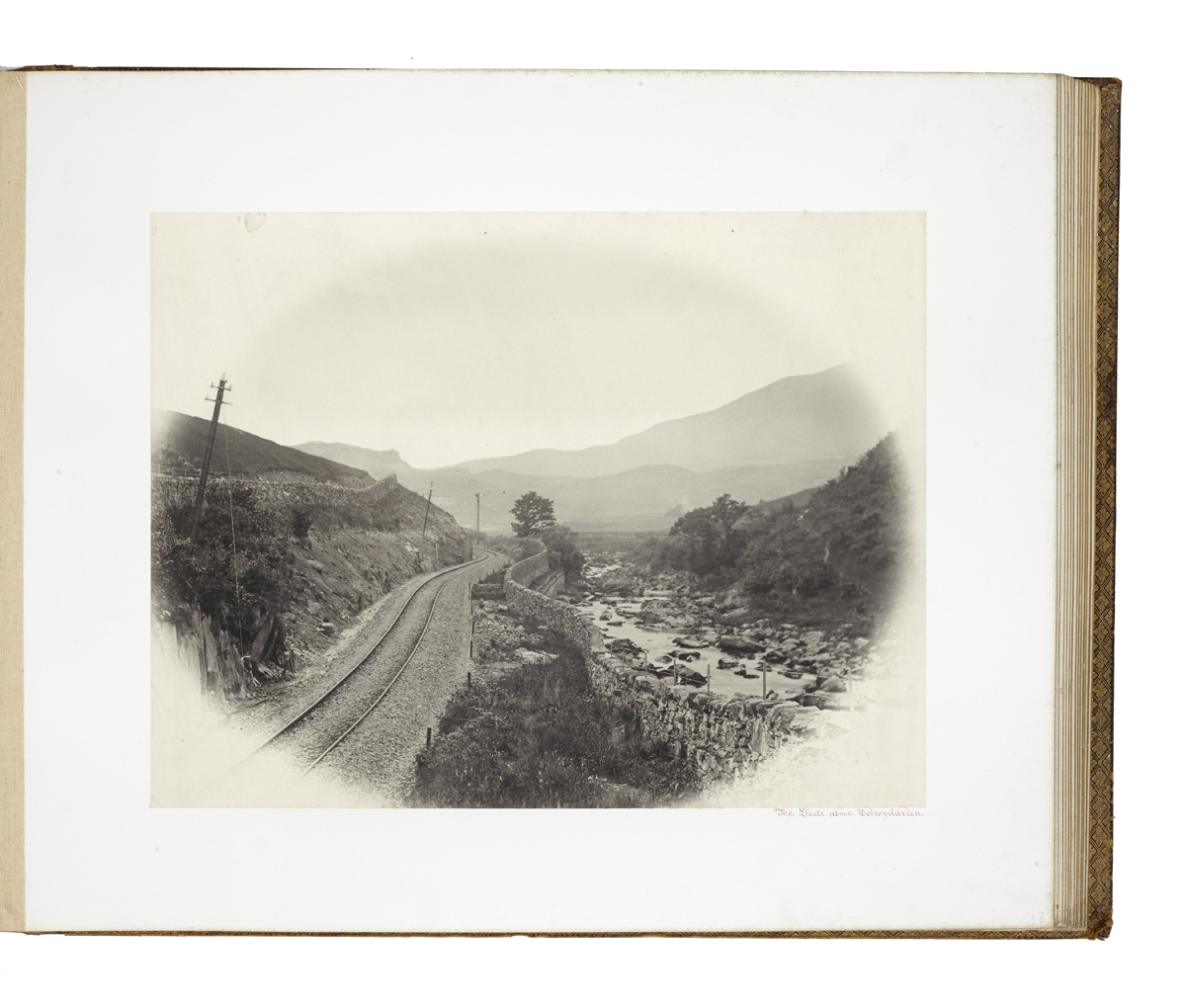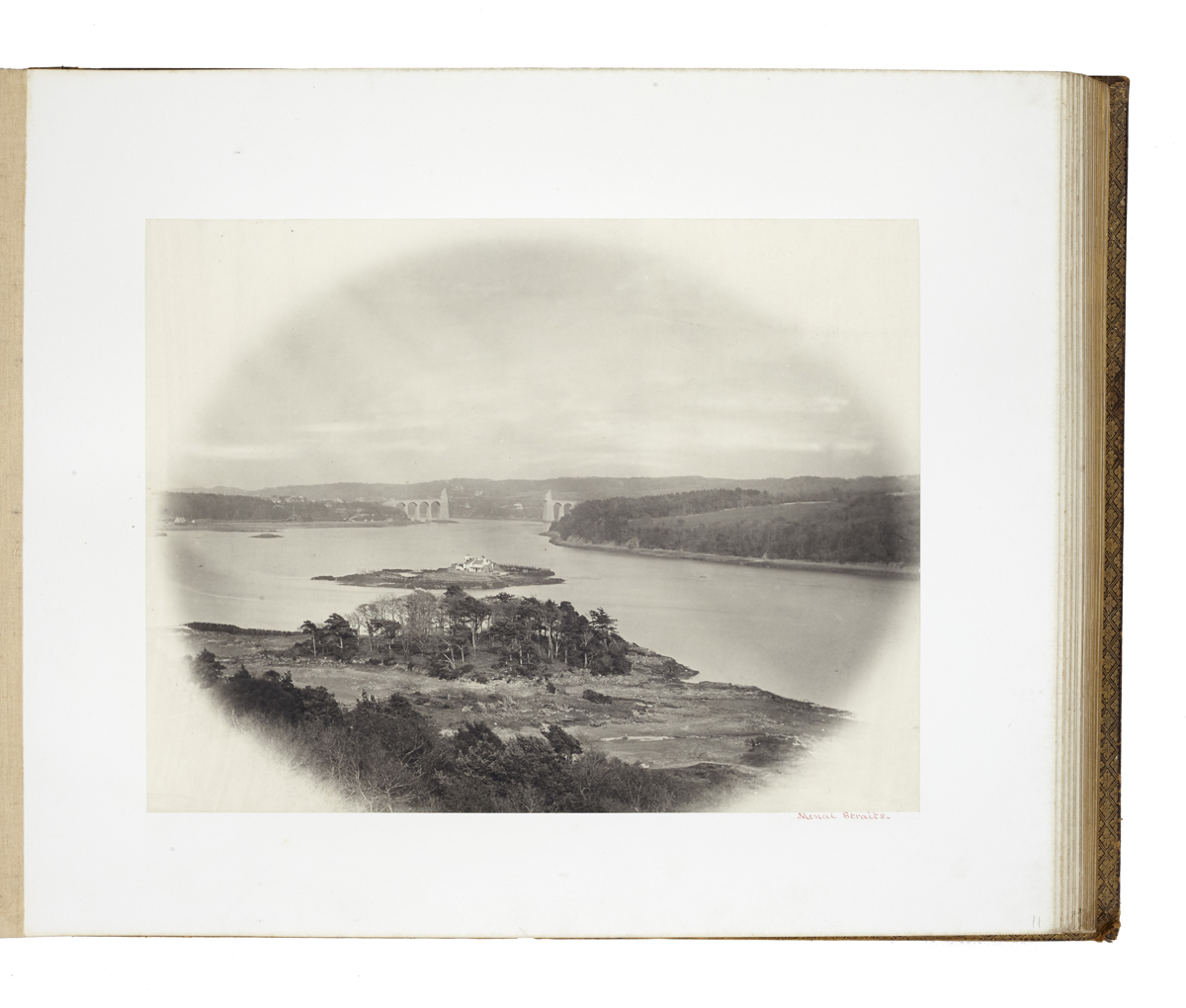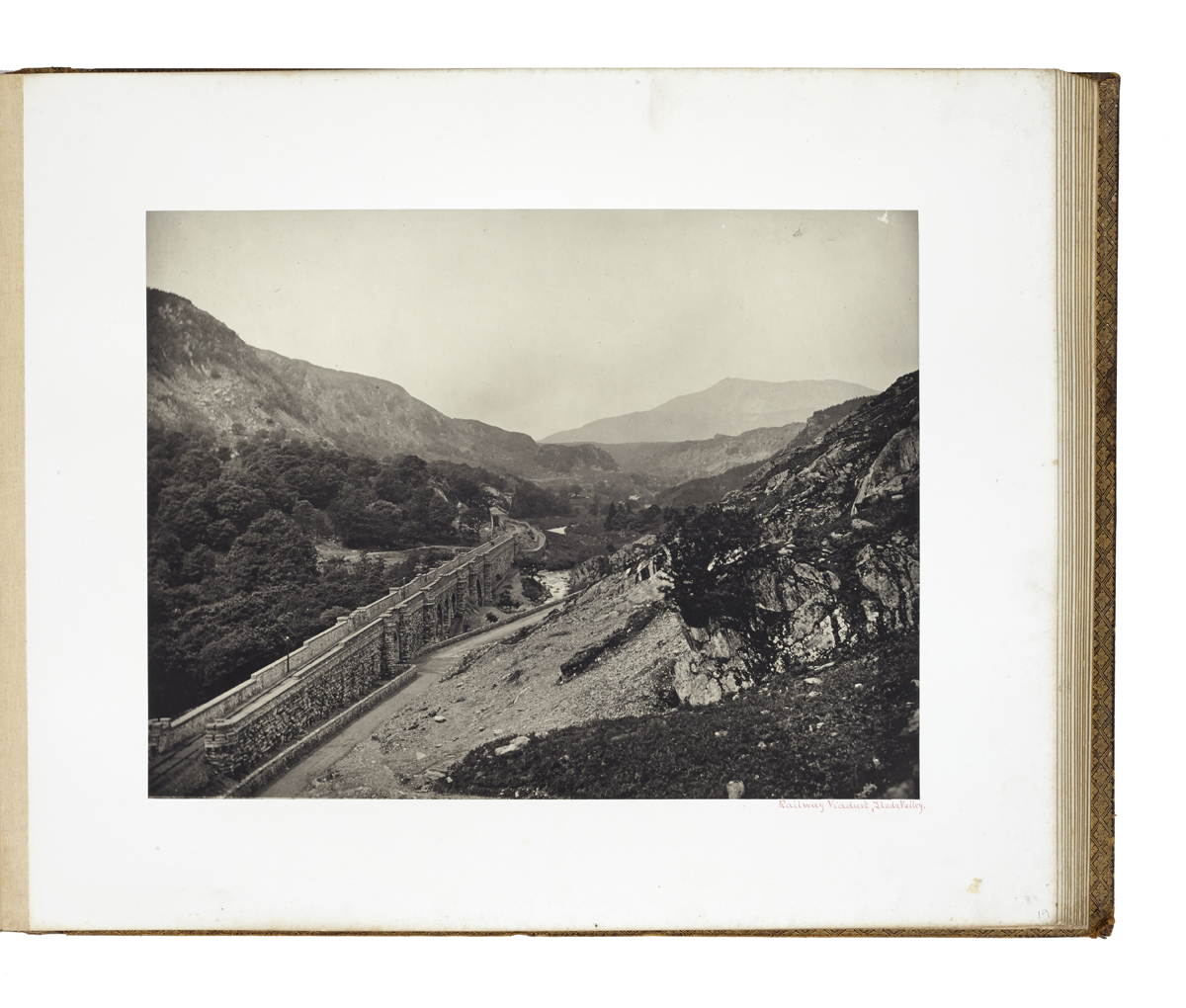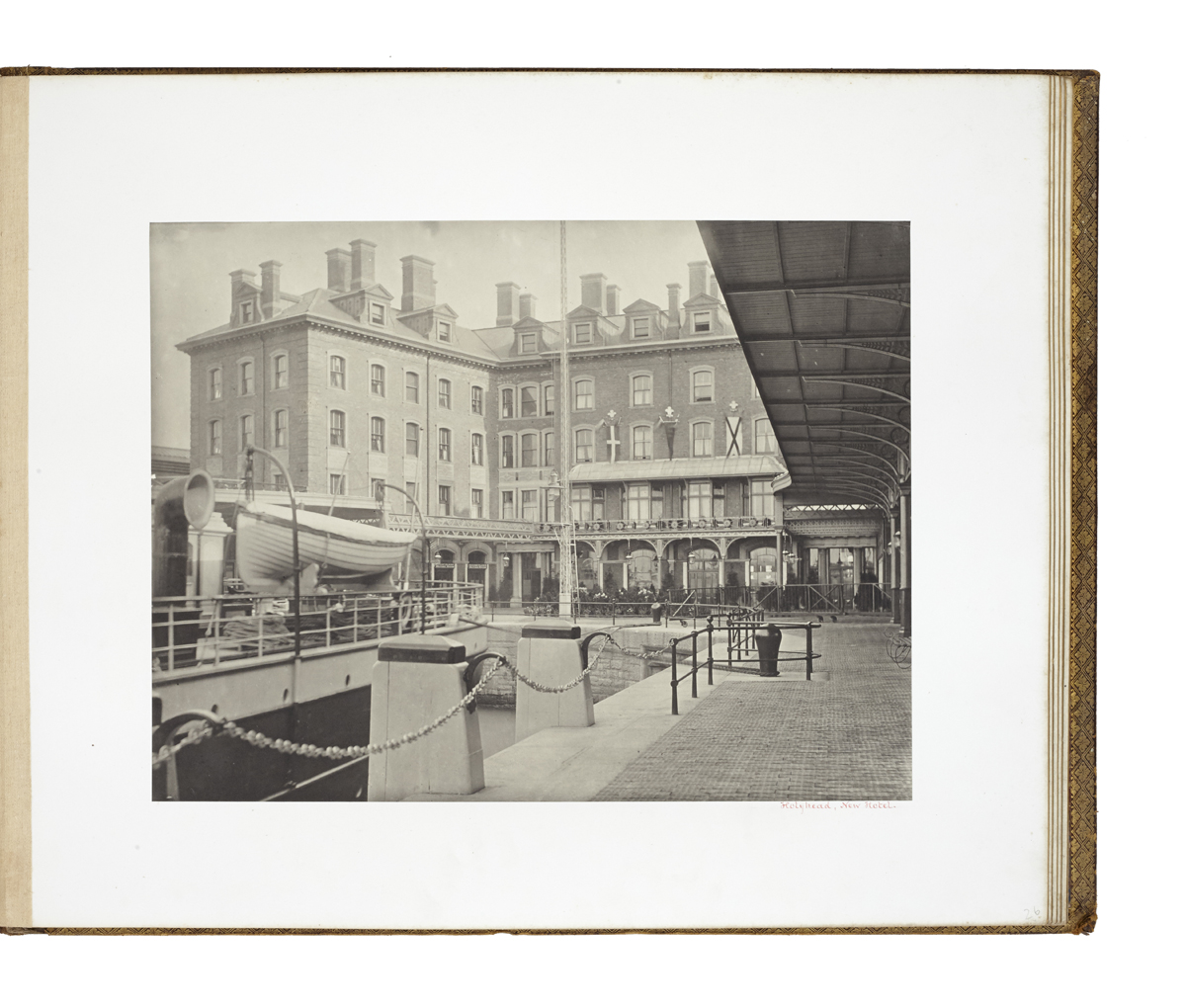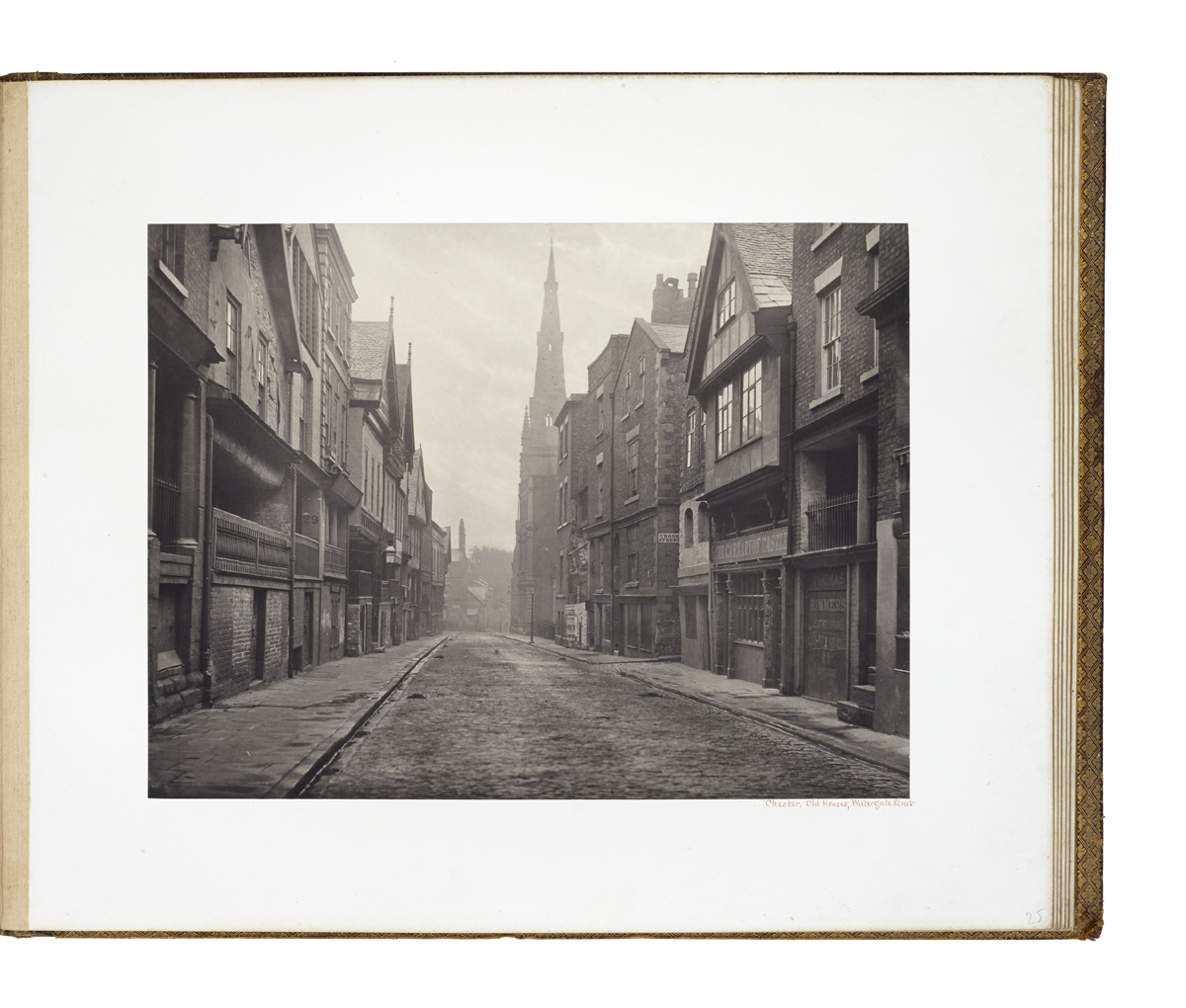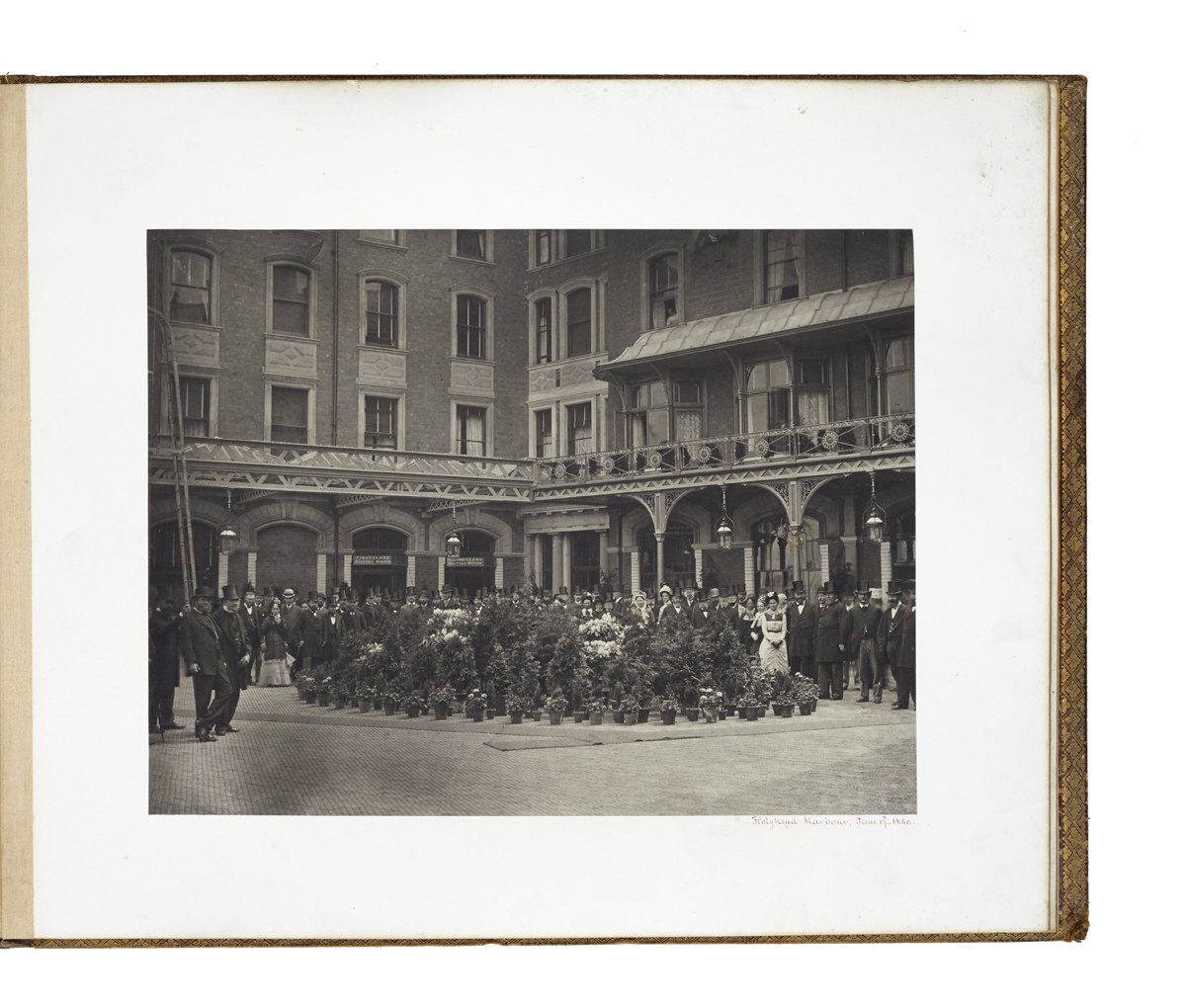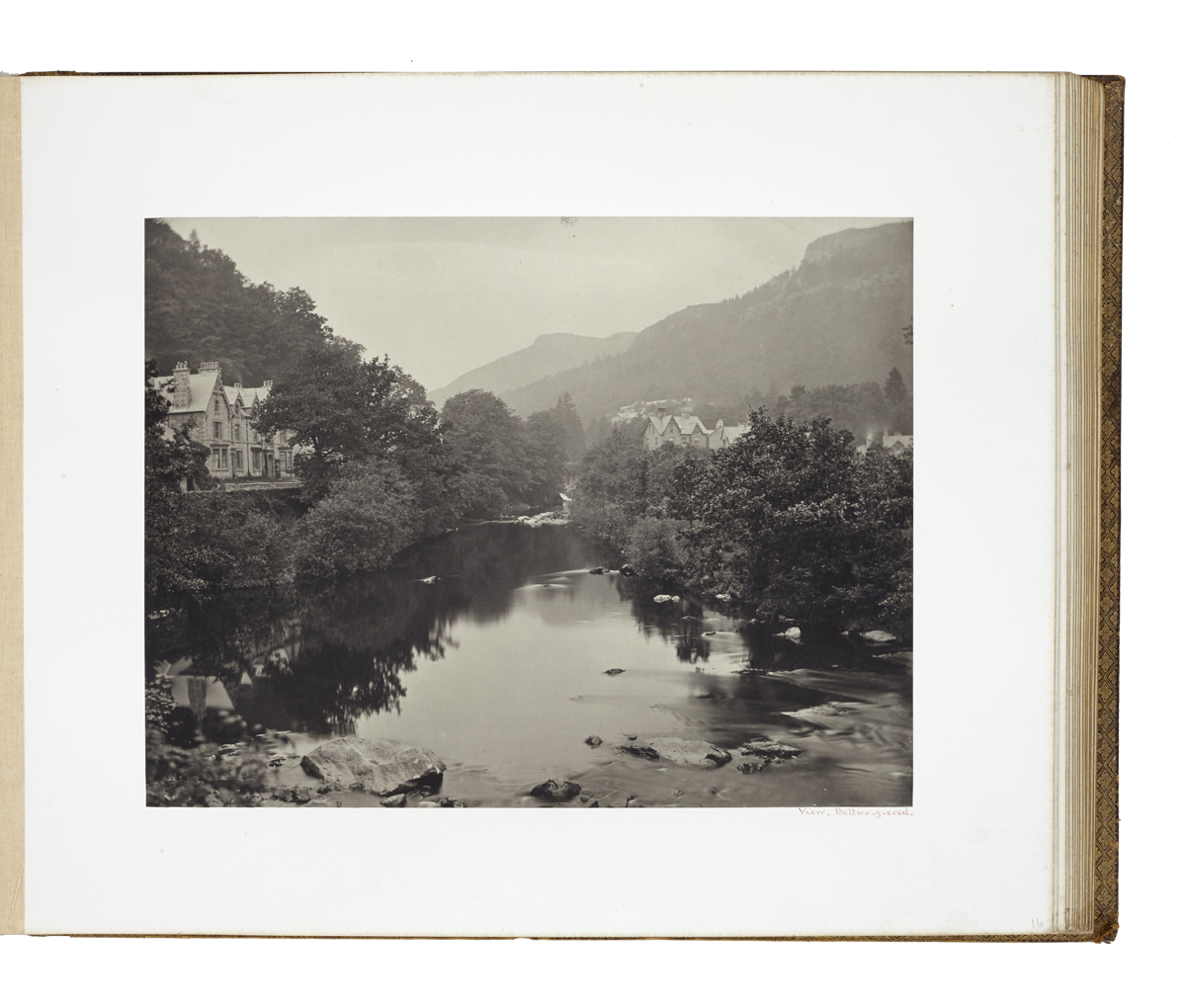 MANTELL, A. M. (attr.).

Views in North Wales.
Circa 1880.
30 platinum print photographs, each approximately 28 x 36.5 cm (except first print, after an engraving 7.2 x 11.2 cm), approximately half vignetted, mounted on rectos of 30 ll. thick card, each titled and one dated June 17th 1880 in red ink on mount, verso of final leaf dampstained (not affecting print), all edges gilt; bound in brown morocco with gilt and blind decoration and lettering on boards, metal studs to lower board, metal clasp attachment on upper board only (lacking lower attachment and clasp); some rubbing to boards but overall very good.
£6500 + VAT

Approximately:
US $7947
€7372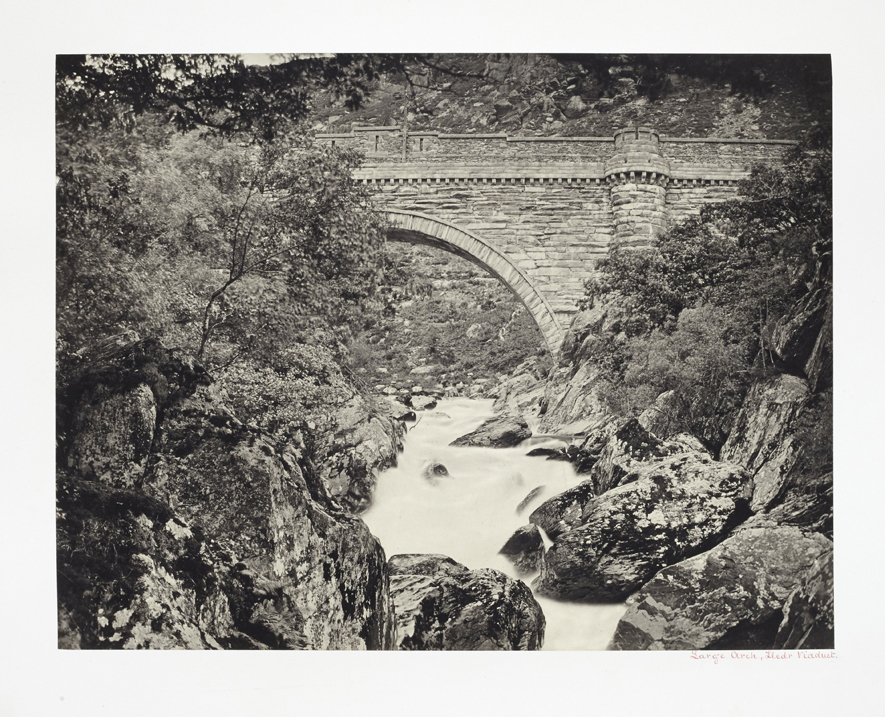 Added to your basket:
Views in North Wales.
A magnificent album of large-format views of North Wales and Chester, likely produced in celebration of the new harbour and hotel at Holyhead, which was opened by Edward, Prince of Wales in June 1880 – a group portrait of the event is depicted here.

Our attribution is based on a comparison with another platinum print, acquired from a separate source, showing the River Conway and printed in the same format and process which has the pencil credit to the photographer along with his processing details on the verso. The print process is there described as cold-bath platinum. Mantell was the Honorary Secretary of the Photographic Society of Great Britain in 1892.

In this album he has captured manmade architectural achievements alongside the natural splendour of North Wales in celebration of Holyhead's recent renovations and its future as an important port. In particular the bridges, viaducts and waterways of the region are represented, as well as three views of Chester including the Roodee racecourse. The images are captioned:

1. 'Holyhead' (after art);
2. 'New Harbour, Holyhead' vignetted;
3. 'Britannia Tubular Bridge', vignetted;
4. 'Britannia Tubular Bridge 2nd view', vignetted;
5. 'Menai Suspension Bridge', vignetted;
6. 'Canarvon Castle', vignette;
7. 'Canarvon Castle, Interior', 28.3 x 36.6;
8. 'Canarvon Castle, The Eagle Tower', 28 x 36.6;
9. 'Beaumaris', vignetted;
10. 'River Ogwen, Near Bangor';
11. 'Menai Straits', vignetted;
12. 'Penmaenmawr', vignetted;
13. 'Conway Castle', vignetted;
14. 'The Bridge, Conway', vignetted;
15. 'The Llugwy, Bettws-y-coed [Betws-y-coed]', vignetted;
16. 'View, Bettws-y-coed [Betws-y-coed]';
17. 'The Fairy Glen, Bettws-y-coed [Betws-y-coed]';
18. 'The Lledr above Dolwyddelen [Dolwyddelan]', vignetted;
19. 'Railway Viaduct, Lledr Valley';
20. 'Large Arch, Lledr Viaduct';
21. 'Lledr Valley';
22. 'Ripple Marked Rock Near Dolwyddelen [Dolwyddelan]', vignetted;
23. 'Chester from the Roodee', vignetted;
24. 'Chester, Old Dee Bridge & Castle', vignetted;
25. 'Chester, Old Houses, Watergate Street';
26. 'Holyhead, New Hotel';
27. 'Holyhead Harbour, from Hotel Windows';
28. 'Holyhead Harbour New Quay', vignetted;
29. 'Holyhead Harbour, June 17th – 1880';
30. 'Holyhead Old Harbour', vignetted.
You may also be interested in...
MOTHER GOOSE PERRAULT, [Charles].
Tales of passed Times by Mother Goose. With Morals. Written in French … and Englished by R. S. Gent. To which is added a new one, viz. the discreet Princess. The six [sic] Edition, corrected. And adorned with Cuts. // Contes du tems passé de ma mere l'oye … [etc.]
First parallel-text edition of Perrault's famous fairy tales, in English and French, with fine illustrations after Hendrik Immink. Perrault has long been eclipsed in fame by that of his stories – 'Little Red Riding-Hood', 'Blue Beard', 'Sleeping Beauty', 'Puss in Boots', 'Cinderilla', 'Tom Thumb' – which have become archetypes of the fairy tale. They first appeared in French in 1697 and then in a translation of 1729 by Robert Samber, Histories, or Tales of past times, which also added 'The discreet princess' a novella by Perrault's niece, Marie-Jeanne l'Héritier de Villaudon.
THOMAS AQUINAS. 
Secunda secunde sancti Thome de Aq[ui]no ordinis predicato[rum] novissime recognita, q[uam]pluribusq[ue] utilissimis appostillis in margine appositis insignita. 
Two very rare post-incunables: early Venetian editions, gathered together in their first binding, of the Secunda Secundae and the Tertia parts of Thomas Aquinas's Summa theologiae, arguably the most pervasively influential philosophico-theological work of the Middle Ages.