THE MANIFESTO OF ITALIAN BAROQUE VERSE
MARINO, Giambattista.
La Murtoleide fischiate del cavalier Marino con la Marineide risate del Murtola.
'Norinbergh' [i.e. Venice], Ioseph Stamphier, 1619.
12mo, pp. 1-142, [22], 143-146, [168]; small typographical ornament to title; a little uniform browning and some light waterstaining to the lower portion of sheets; contemporary mottled calf, spine gilt in compartments, red morocco lettering-pieces; joints cracked but holding, spine end a little chipped, corners worn, some rubbing and abrasions to the surface; purchase note of Francesco Saverio Esperti dated 1813 to rear end-paper and Esperti's ownership inscription on title.
£900

Approximately:
US $1003
€1023
Added to your basket:
La Murtoleide fischiate del cavalier Marino con la Marineide risate del Murtola.
Rare first edition of the manifesto of Italian Baroque poetry, appearing in the bitterly satirical 'literary feud' between the leading Italian baroque poet Giambattista Marino and his adversary, Gasparo Murtola. Marino, who thrived in his notoriously misbehaving public persona, had been banned from several courts, while his opponent Murtola had enjoyed a formal position with the Savoy and - indeed used it to have Marino jailed. Released through the offices of several influential friends in 1615, Marino took refuge in France. His collection of anti-Murtola verse, Murtoleide, circulated widely in manuscript before appearing in print for the first time in 1619. Murtola's in-kind reply, the Marineide, asserted the latter's position immediately and was published alongside it.

The Murtoleide is articulated in 'whistles'. It is in the thirty-third 'whistle' that we find a tercet that has since been seen as the manifesto of Italian baroque poetry. 'The aim of the poet - I speak of the excellent, not of the clumsy - is to arouse wonder. He who cannot astonish: go and work in the stables.'

Vinciana 2965 ('prima ediz. assai pregiata); Gay III, 295; RMRE 001149; VD17 12:636496G; USTC 4011740. OCLC finds no copies in UK or US, and only a handful in continental Europe.
You may also be interested in...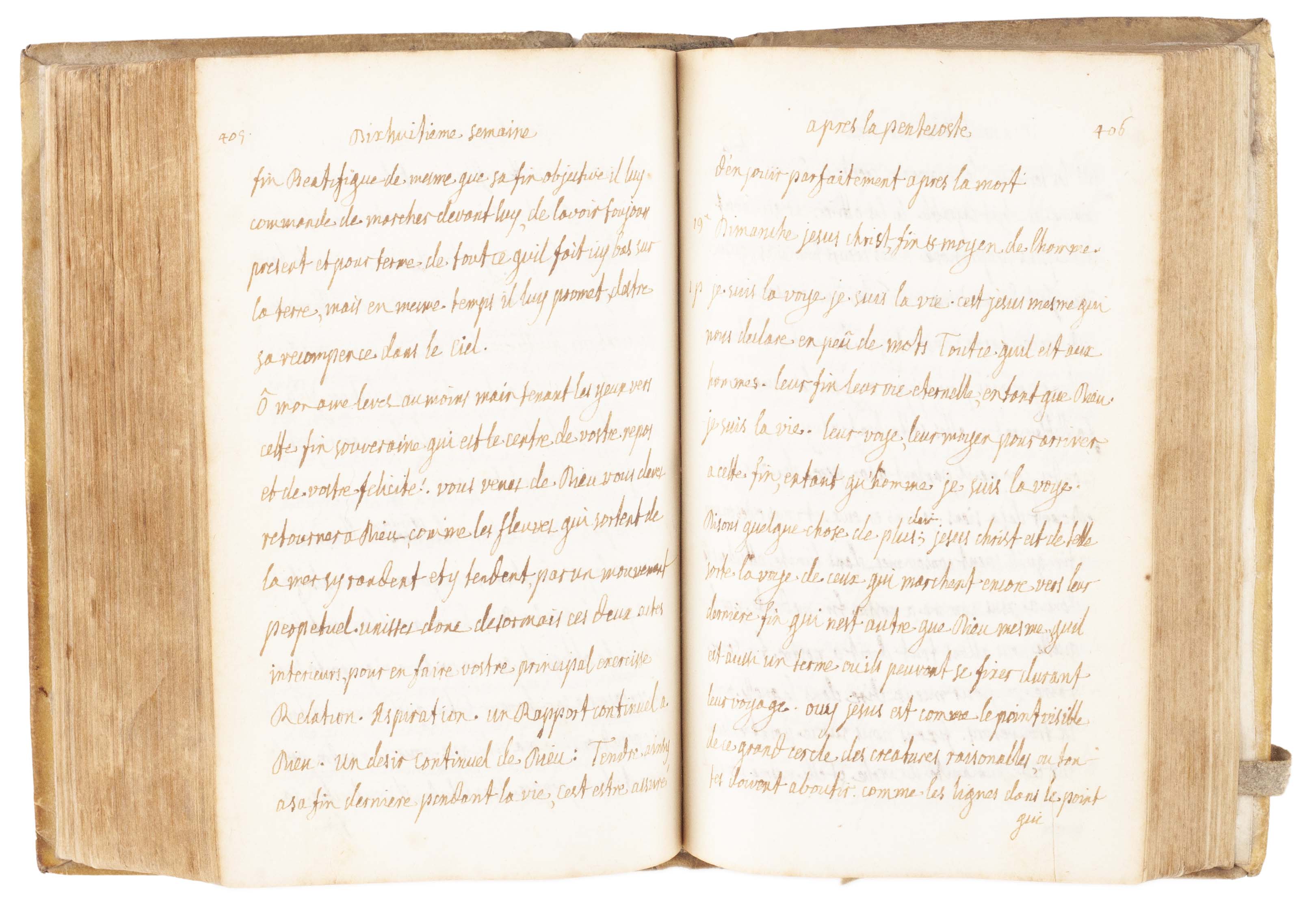 UNPUBLISHED RELIGIOUS MEDITATIONS [HOMILETIC.] 
Meditations de la seconde annee. 
Apparently unpublished set of meditations for the Sundays in the Liturgical year running from the seventh to the twenty-fourth week after Pentecost, shedding light on tools and practices put in places in the homiletic art.  Themes range from reflections on the Eucharist, to consideration on mortality, on values, on grace, on human capacity for redemption.  The meditations are often prompted by the Gospel of the day, lending strength to the notion that this book be a cleric's personal tool for delivering semi-impromptu homilies: an aide-memoire, a structured repertoire of themes and examples made more convenient by a detailed table of content. 
[WALL, Thomas].
A Second Christian Warning-Piece; wherein is shewed the first and chief Cause of Englands present Misery … Humbly presented to the Parliament. [London, c. 1681?] [Bound after:]

HOLWELL, John. Catastrophe Mundi: or, Europe's many Mutations until the Year, 1701. Being an astrological Treatise of the Effects of the Triple Conjunction of Saturn and Jupiter 1682 and 2683, and of the Comets 1680 and 1682, and other Configurations concomitant … Whereunto is annexed the Hieroglyphicks of Nostradamus (published by Mr. Lilly, in the Year 1651.) Rightly placed and in order, (formerly misplaced) with the Addition of many more …. London, Printed for the Author … 1682.
First edition, very rare, of a vehement anti-Catholic tract published in the context of the Exclusion Crisis; bound with the principal astrological work of John Holwell (a slightly imperfect copy).