THE MANIFESTO OF ITALIAN BAROQUE VERSE
MARINO, Giambattista.
La Murtoleide fischiate del cavalier Marino con la Marineide risate del Murtola.
'Norinbergh' [i.e. Venice], Ioseph Stamphier, 1619.
12mo, pp. 1-142, [22], 143-146, [168]; small typographical ornament to title; a little uniform browning and some light waterstaining to the lower portion of sheets; contemporary mottled calf, spine gilt in compartments, red morocco lettering-pieces; joints cracked but holding, spine end a little chipped, corners worn, some rubbing and abrasions to the surface; purchase note of Francesco Saverio Esperti dated 1813 to rear end-paper and Esperti's ownership inscription on title.
£900

Approximately:
US $1130
€1059
Added to your basket:
La Murtoleide fischiate del cavalier Marino con la Marineide risate del Murtola.
Rare first edition of the manifesto of Italian Baroque poetry, appearing in the bitterly satirical 'literary feud' between the leading Italian baroque poet Giambattista Marino and his adversary, Gasparo Murtola. Marino, who thrived in his notoriously misbehaving public persona, had been banned from several courts, while his opponent Murtola had enjoyed a formal position with the Savoy and - indeed used it to have Marino jailed. Released through the offices of several influential friends in 1615, Marino took refuge in France. His collection of anti-Murtola verse, Murtoleide, circulated widely in manuscript before appearing in print for the first time in 1619. Murtola's in-kind reply, the Marineide, asserted the latter's position immediately and was published alongside it.

The Murtoleide is articulated in 'whistles'. It is in the thirty-third 'whistle' that we find a tercet that has since been seen as the manifesto of Italian baroque poetry. 'The aim of the poet - I speak of the excellent, not of the clumsy - is to arouse wonder. He who cannot astonish: go and work in the stables.'

Vinciana 2965 ('prima ediz. assai pregiata); Gay III, 295; RMRE 001149; VD17 12:636496G; USTC 4011740. OCLC finds no copies in UK or US, and only a handful in continental Europe.
You may also be interested in...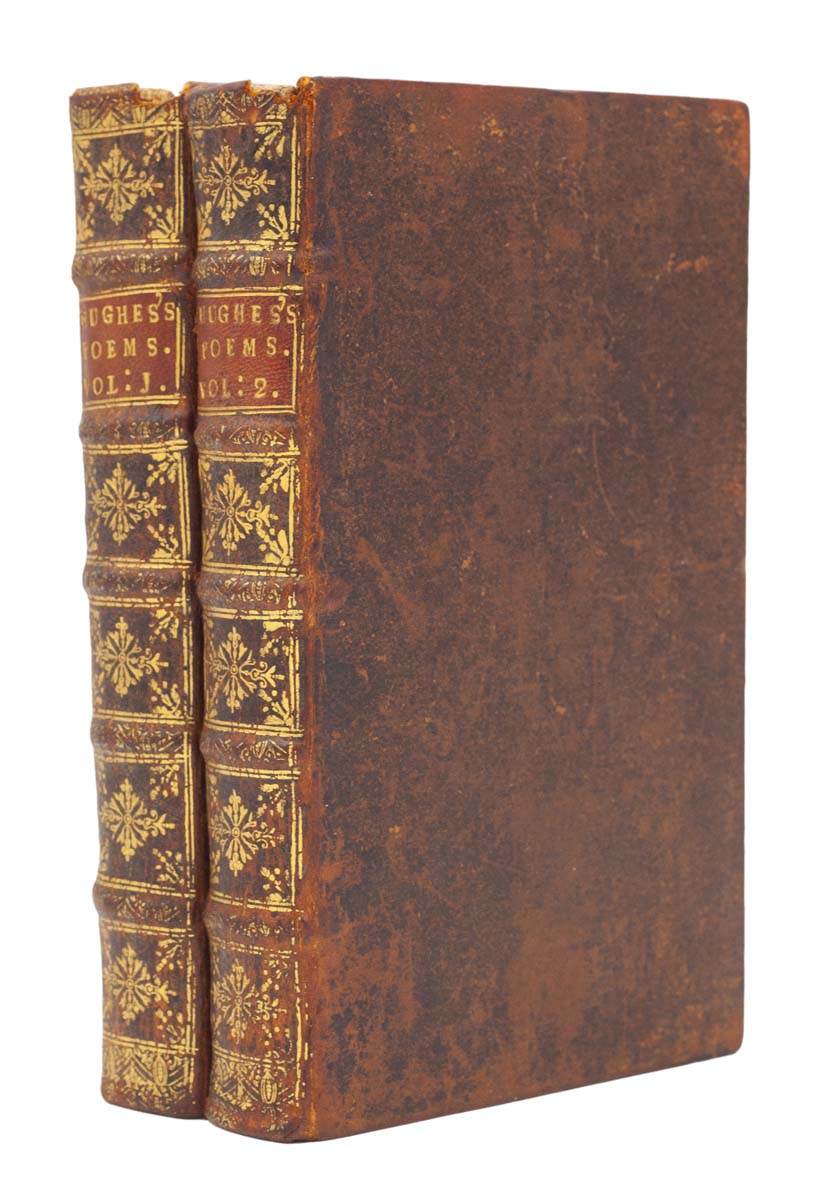 ON ROYAL PAPER
POPE AND SWIFT UNWITTING 'SUBSCRIBERS' HUGHES, John.
Poems on several Occasions. With some select Essays in Prose. In two Volumes …
First edition of the principal collection of the author's works, published posthumously and edited, with a long biographical preface, by his brother-in-law, William Duncombe. John Hughes (1677–1720) was educated at a dissenting academy where Isaac Watts was his contemporary. From an early age he devoted himself to poetry and letters, and was gradually drawn into the Addison–Steele circle where, as Samuel Johnson puts it, he was 'received as a wit among the wits'; he contributed at least three numbers to the Tatler, seventeen to the Spectator, and one to the Guardian. Hughes also had a passion for music, and was a talented violinist. He championed the use of English verse for operas and cantatas, and many of his lyrics were set to music by such contemporary composers as Dr Pepusch. In the year of his death, he wrote a tragedy called The Siege of Damascus, which proved highly successful and remained in the repertory for the rest of the century.
WITH CONTRIBUTIONS BY JOHNSON BARETTI, Giuseppe.
An Introduction to the Italian Language. Containing Specimens of both Prose and Verse ... with a literal Translation and Grammatical Notes ... for the Use of those who ... attempt to learn it without a Master ...
First edition. Giuseppe Baretti (1719–1789) offers a fine range of examples for learning Italian selected from twenty-seven authors, including Castiglione, Machiavelli, Galileo, Boccaccio, Ariosto, Tasso, Michelangelo, Petrarch, and Milton (one of his Italian sonnets, a choice perhaps prompted by Johnson). Johnson met Baretti shortly after he came to England in 1751, and their long and close literary friendship is well known. He made some contribution by way of preface or dedication to most of Baretti's books. Here the preface and the footnotes on pages 48 and 198 were attributed to Johnson by James Crossley in Notes and Queries in 1852; the consensus now is that Johnson wrote only the opening paragraphs of the preface, but 'there is no strong reason to doubt the footnotes' (Fleeman).