THE MANIFESTO OF ITALIAN BAROQUE VERSE
MARINO, Giambattista.
La Murtoleide fischiate del cavalier Marino con la Marineide risate del Murtola.
'Norinbergh' [i.e. Venice], Ioseph Stamphier, 1619.
12mo, pp. 1-142, [22], 143-146, [168]; small typographical ornament to title; a little uniform browning and some light waterstaining to the lower portion of sheets; contemporary mottled calf, spine gilt in compartments, red morocco lettering-pieces; joints cracked but holding, spine end a little chipped, corners worn, some rubbing and abrasions to the surface; purchase note of Francesco Saverio Esperti dated 1813 to rear end-paper and Esperti's ownership inscription on title.
£900

Approximately:
US $1231
€1050
Added to your basket:
La Murtoleide fischiate del cavalier Marino con la Marineide risate del Murtola.
Rare first edition of the manifesto of Italian Baroque poetry, appearing in the bitterly satirical 'literary feud' between the leading Italian baroque poet Giambattista Marino and his adversary, Gasparo Murtola. Marino, who thrived in his notoriously misbehaving public persona, had been banned from several courts, while his opponent Murtola had enjoyed a formal position with the Savoy and - indeed used it to have Marino jailed. Released through the offices of several influential friends in 1615, Marino took refuge in France. His collection of anti-Murtola verse, Murtoleide, circulated widely in manuscript before appearing in print for the first time in 1619. Murtola's in-kind reply, the Marineide, asserted the latter's position immediately and was published alongside it.

The Murtoleide is articulated in 'whistles'. It is in the thirty-third 'whistle' that we find a tercet that has since been seen as the manifesto of Italian baroque poetry. 'The aim of the poet - I speak of the excellent, not of the clumsy - is to arouse wonder. He who cannot astonish: go and work in the stables.'

Vinciana 2965 ('prima ediz. assai pregiata); Gay III, 295; RMRE 001149; VD17 12:636496G; USTC 4011740. OCLC finds no copies in UK or US, and only a handful in continental Europe.
You may also be interested in...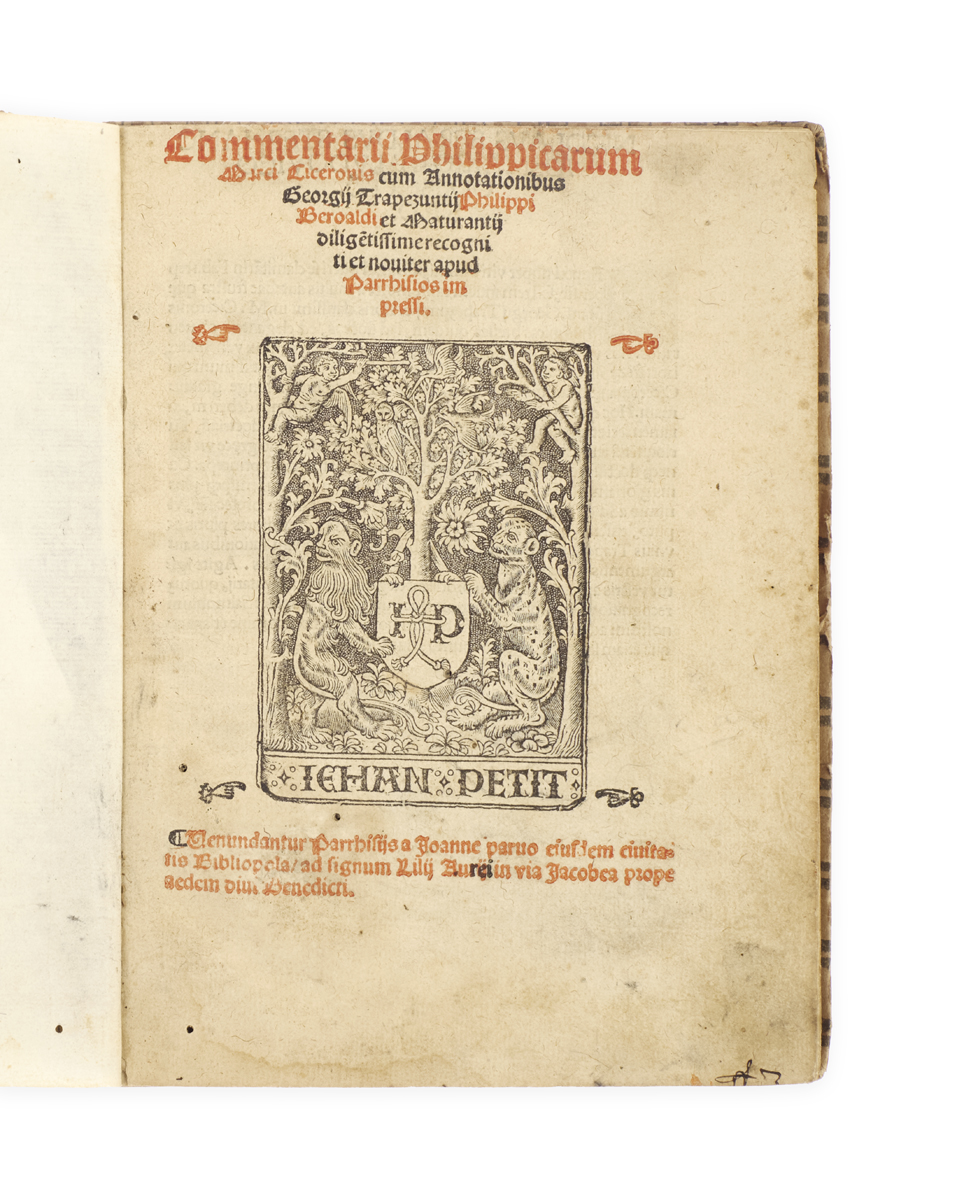 [CICERO, Marcus Tullius.]
Commentarii Philippicarum Marci Ciceronis cum annotationibus Georgii Trapezuntii Philippi Beroaldi et maturantii diligentissime recogniti et novited apoud Parrihisios impressi.
Rare edition, attractively printed and with occasional contemporary annotations, of Cicero's Philippics, comprising Cicero's text along with the commentaries of the Cretan humanist George of Trebizond (1396–1486), the Bolognese rhetorician Filippo Beroaldo (1453–1505), and the Perugia historian Francesco Maturanzio (c. 1443–1518). The printer, Thomas Caseus (or Kees) was active in Paris between 1507 and 1516.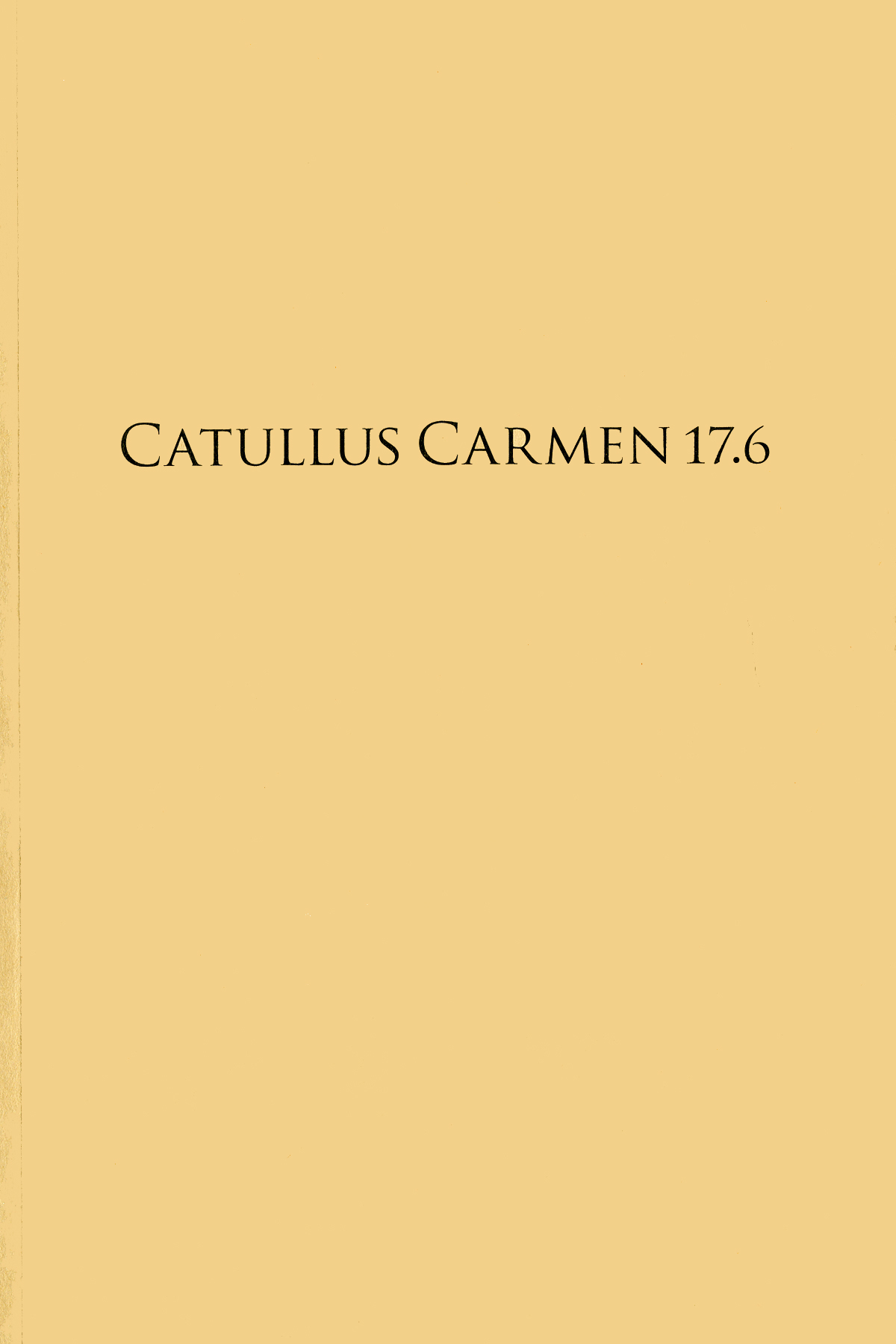 FREEMAN, Arthur.
Catullus Carmen 17.6 and Other Mysteries. A Study in Editorial Conflict, Eccentricity, Forgery, and Restitution. With a checklist of significant printed editions of Catullus in Latin, 1472-2005.
This partly historical, partly philological essay offers a general account of the early preservation, post-medieval recovery, and Renaissance evolution of the text of Catullus, with specific reference to one speculative reading in Carmen 17 ('De Colonia'), and certain humanist twists and forgeries that accompanied its long editorial history.
Accompanying the narrative is a substantial bibliographical appendix that provides a checklist of significant editions of Catullus in Latin from 1475 to the present day, with brief notes of relevance and location.
Arthur Freeman is a rare book dealer and writer living in London. In 2014 Quaritch published his Bibliotheca Fictiva: a Collection of Books and Manuscripts Relating to Literary Forgery 400 BC – AD 2000. Catullus Carmen 17.6 is the second footnote to that book, following Julia Alpinula (2015).