MIGEON, Gaston.
Les arts musulmans.
Paris and Brussels, G. van Oest, 1926.
4to, pp. 48, with 64 plates; a good copy, edges untrimmed, in the original printed wrappers; slightly soiled and rubbed, spine darkened; from the library of Robert Byron, with his ownership inscription (dated, at Constantinople, August 1926) in pencil on inside front wrapper.
£85

Approximately:
US $102
€98
Added to your basket:
Les arts musulmans.
First edition, published in the series Bibliothèque d'histoire de l'art.
You may also be interested in...
AN ASSOCIATION COPY, FROM THE LIBRARY OF A GOVERNMENTAL COLLEAGUE OF 'ATHENIAN ABERDEEN' GORDON, George Hamilton, Fourth Earl of Aberdeen.
An Inquiry into the Principles of Beauty in Grecian Architecture; with An Historical View of the Rise and Progress of the Art in Greece.
First separate edition. The scholar and politician Gordon (1784–1860) was educated at Harrow School and St John's College, Cambridge, and succeeded to the earldom of Aberdeen in 1801. He undertook a Grand tour through Europe to the Levant in 1802-1804, travelling to Constantinople with William Drummond, who would replace Lord Elgin as the British ambassador. On his return, he was elected to the Society of Dilettanti and the Society of Antiquaries in 1805 (becoming president of the latter in 1811, remaining in office until 1846), became a Fellow of the Royal Society in 1808, and was appointed a Trustee of the British Museum in 1812. Indeed, such was his fame as an antiquarian that Byron, his cousin, described him as 'the travelled Thane, Athenian Aberdeen' (English Bards and Scotch Reviewers (London: 1809), p. 39). In 1808 Aberdeen acquired Argyll House, off Oxford Street, London, and undertook major alterations with the assistance of his friend and collaborator, the architect and antiquarian William Wilkins. An Inquiry into the Principles of Beauty in Grecian Architecture was first published in 1812 as an introduction to Wilkins' translation The Civil Architecture of Vitruvius (London: 1812-1817), which was dedicated to Aberdeen. It was then revised and reprinted in this edition – as the 'Advertisement' states, '[v]arious additions and corrections have […] been made, in the hope of rendering the whole less imperfect' – which was reprinted in 1860 by John Weale.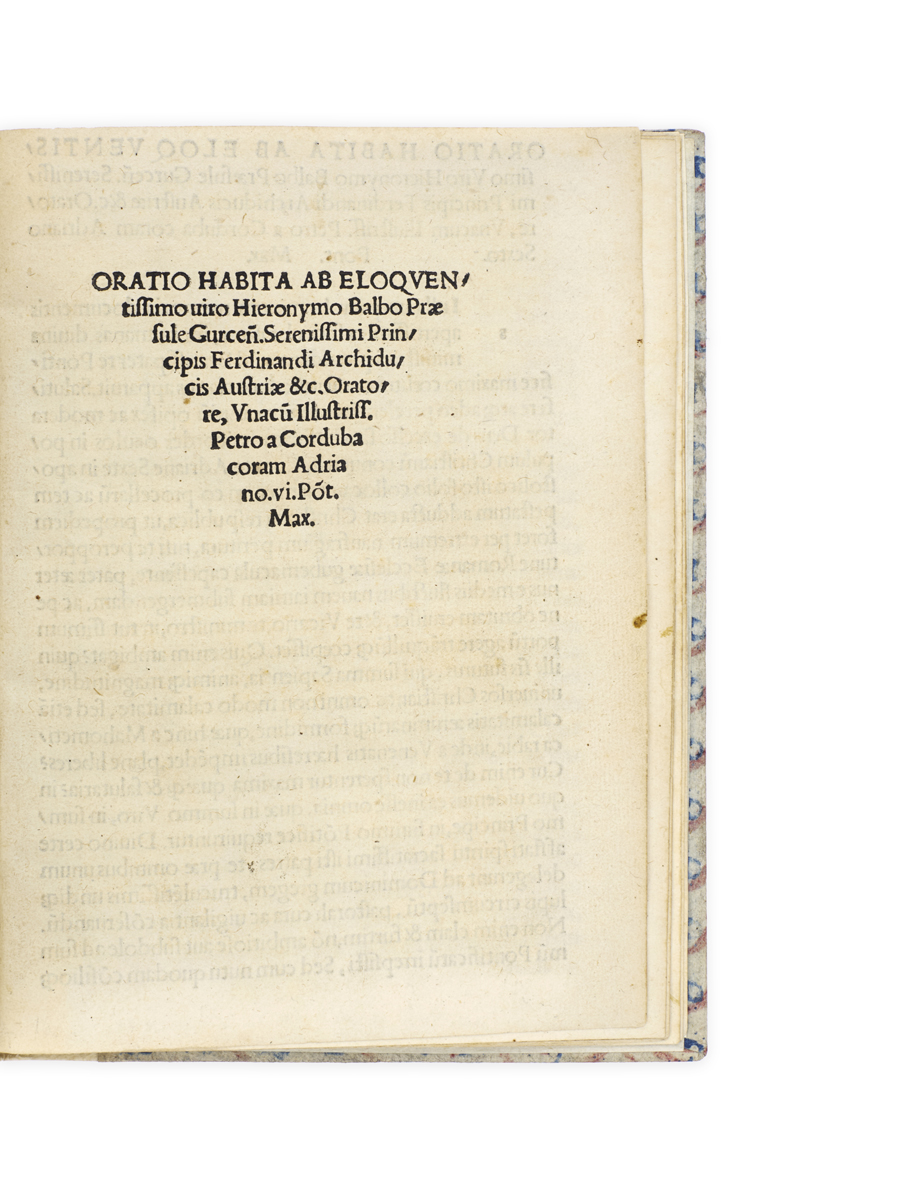 PRAISING THE POPE BALBI, Girolamo. 
Oratio habita ab eloquentissimo viro Hieronymo Balbo Praesule Gurcen[sis] Serenissimi Principis Ferdinandi Archiducis Austriae etc. oratore, unacu[m] illustriss[imo] Petro a Corduba coram Adriano VI Po[n]t. Max. 
First(?) edition of Balbi's celebrated oration in praise of newly elected pope Adrian VI, one of several editions to appear in the same year, with priority not established.