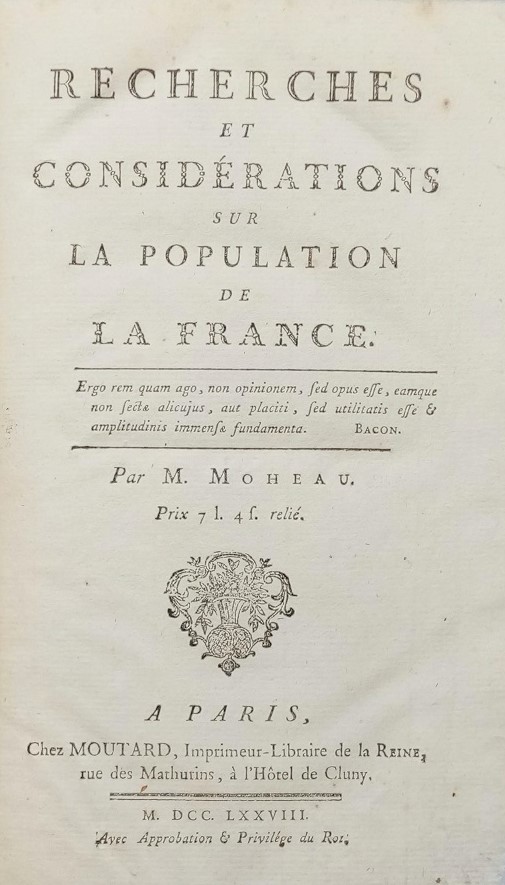 MOHEAU.
Recherches et considérations sur la population de la France …
Paris, Moutard, 1778.
Two parts in one vol., 8vo, pp. xv, [1] errata, 280, [1] blank, 157, [3] + errata leaf; with 1 folding table (p. 279); edges lightly browned, with the very occasional spot; contemporary mottled calf, marbled endpapers and edges, one corner worn, spine gilt in compartments with a gilt morocco lettering-piece, worn at foot and small tear to head.
£250

Approximately:
US $341
€291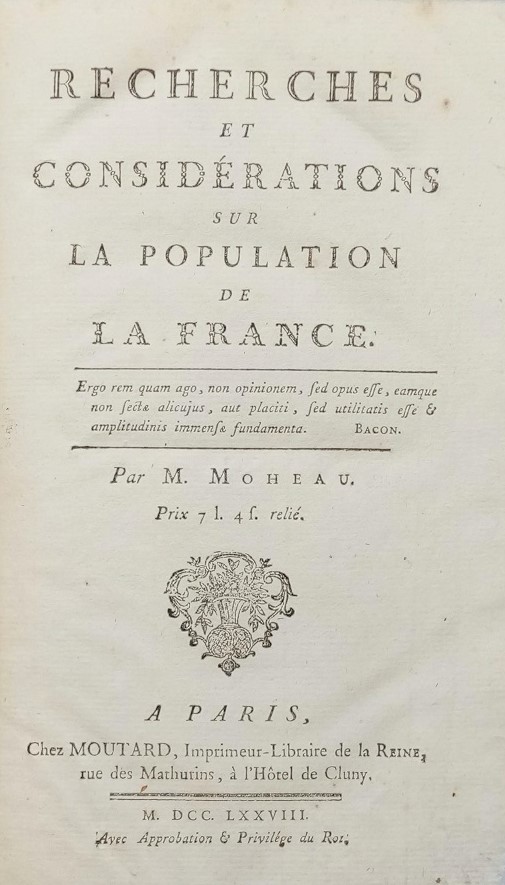 Added to your basket:
Recherches et considérations sur la population de la France …
First edition. This work is held in high regard by both McCulloch and Peuchet, though when first published it received little acknowledgement, being attributed to Baron Auget de Montyon, who assisted in the work and to whom Moheau was secretary. The first part contains statistical tables; the second is devoted to the analysis of various factors likely to influence population levels. Peuchet called this title 'un livre classique et bien écrit' (Statistique Elémentaire, p. 226.). McCulloch states that 'a work on the population of France or Great Britain, modelled after that of Moheau, and embodying the latest information on the subject, would be a very valuable acquisition' (p. 264).

Einaudi 3956; Goldsmiths' 11690; INED 3221; Institute of Actuaries, p. 115; Kress B.135; Mattioli 2450; see Spengler, French Predecessors of Malthus, pp. 100–4.
You may also be interested in...
MARZAGLIA, Gaetano.
Fascetto di pratiche matematiche spiegato alle persone popolari per uso del comercio umano, e civile, in questa seconda edizione corretto ed accresciuto di altre molte importanti notizie.
A lovely copy of the second edition, considerably augmented from the first of 1754, of this book of applied mathematical problems by the Veronese mathematician Gaetano Marzaglia (1716-1787), heavily influenced by the work of Wolff, who provides the motto to the book, and whose works he edited and expanded. The work contains arithmetical and geometrical problems applied to mercantile, architectural, and industrial settings, dealing with the nature of money, and of weights and measures, the construction of sundials, and the division of royalties within trading companies, among many other questions. One interesting section discusses the measurement of metal coins through water displacement. Marzaglia was professor of mathematics at the Military College in Verona, and a correspondent of many of the leading scientists and mathematicians in Europe, in particular with Scipione Maffei.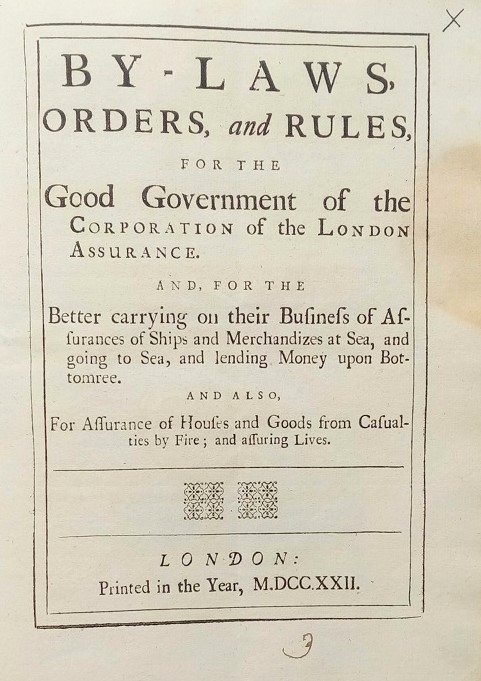 [LONDON ASSURANCE CORPORATION.]
By-laws, orders, and rules, for the good government of the corporation of the London assurance. And, for the better carrying on their business of assurances of ships and merchandizes at sea, and going to sea, and lending money upon bottomree. And also, for assurance of houses and goods from casualties by fire; and assuring lives.
First edition of the by-laws of the London Assurance Corporation, which, along with The Royal Exchange Assurance Corporation, was constituted and granted sole rights, excepting private individuals, to the granting of assurance and bottomry by 'The Bubble Act' of 1720. The right to self-govern, reflected in the pamphlet offered here, was also granted in 'The Bubble Act' of 1720 which specified that after three years of control by Crown-appointed governors and directors, the members of the corporation would be free to set their own by-laws and elect their own leadership. The by-laws cover use of the company seals, company cash, the price of share transfers, registering probates of wills, making receipts and payments, company elections, absentee directors, directors taking 'presents, fees, or rewards', officers or servants taking 'unwarrantable fees', procedure for questions asked in general courts, procedure for addressing questions, the penalty for breaking the by-laws, and the yearly salary of governors and directors.