THE BESTSELLER OF THE GERMAN ENLIGHTENMENTWITH A SATIRE OF THE BOOK TRADE
NICOLAI, [Christoph] Friedrich.
The Life and Opinions of Sebaldus Nothanker. Translated from the German … by Thomas Dutton, A. M. …
London: Printed by C. Lowndes … and sold by H. D. Symonds … 1798.
3 vols, 12mo, pp. [2], xxvi, 356; [2], 395, [1]; 289, [1]; with an etched illustration (bound as a frontispiece) to volume II by Daniel Chodowiecki (the costumes of eight Berlin preachers described on pp. 147-154; printed from the same plate as the German original with a new page reference), not mentioned in ESTC but clearly required; a few spots and stains, the final blank verso in vol. II pasted onto the free endpaper, but a very good copy, in contemporary tree calf, red and black morocco spine labels; early ownership inscriptions to title-pages 'William Tew from Paul Twigg'.
£2750

Approximately:
US $3338
€3253
Added to your basket:
The Life and Opinions of Sebaldus Nothanker. Translated from the German … by Thomas Dutton, A. M. …
First edition in English, very scarce, of Nicolai's Das Leben und die Meinungen des Herrn Magister Sebaldus Nothanker (1773-6), 'probably the literary bestseller of the German Enlightenment' (Selwyn), translated into many languages and much re-printed. It is sometimes considered the first 'realistic' German novel, but is at its heart a scathing satire on, among things, religion and the book trade.

The idealistic parson Sebaldus Nothanker, deprived of his congregation by Lutheran zealots and brought even lower by the deaths of his wife and youngest daughter, is saved from potential destitution by his friend the bookseller Jeronymo (originally Heironymus), often considered to be a self-portrait of Nicolai. Jeronymo finds Nothanker a position as a proof-reader in Leipzig, where dialogues between him and a disillusioned hack 'Doctor' satirize the sausage-factory production of trivial contemporary literature. The Doctor explains how booksellers commission works by the yard on particular subjects, which they then use to barter for better works at book fairs; how they aim for the most text for the smallest price from their authors; and how hawkers trade the newest literature from France and England to 'Translating Manufactories'. There are 'fashionable translators, who accompany their translation with a preface, in which they assure the public, that the original is excellent; - learned translators, who improve upon their work, accompany it with remarks, and assure us that the original is very bad but that they have made it tolerable; - translators, who translate themselves into originals … leave out the beginning and end and improve the remainder at pleasure … and publish the books as their own production'. Or else they share the work among various sub-translators. Nothanker is astonished, but his friend Jeronymo is pragmatic, realising the difficult economics of the trade, and complaining that German authors, unlike the French and English, do not know how to write for a wide audience. Nicolai's preface explains that normally novels work up to a happy resolution with a marriage, but he is skipping over romantic adventures in favour of veracity. At the end, the characters are rewarded not for good deeds but by blind luck, after winning a lottery.

The Anglophile writer and bookseller Nicolai (1733–1811), himself son of a bookseller, was a friend of Lessing and Moses Mendelssohn with whom he edited several literary periodicals. Best known for the present work and his satire on Goethe, Freuden des jungen Werthers (1775), he also published (and possibly translated) works from English such as Amory's Life of John Buncle. He had refused the use of Chodowiecki's plates for a French edition of Sebaldus Nothanker in 1777, on the grounds that they were too worn from the German printings, but he later relented for a Swedish edition of 1796 and for the present English version.

The English translator, Thomas Dutton, presumably not taking his cue from his source, also translated Kotzebue's Pizarro in Peru (1799), and published a number of satirical poems and a theatrical periodical The Dramatic Censor (January to June 1800). Here, he apologises for a 'momentous drawback' in the translation, namely that the targets of the original satire will be unfamiliar to an English audience. It is, nevertheless, immensely engaging, and was very well received in the Monthly Review.

Although both title-pages are dated 1798, it seems there may have been a pause in production. Early reviews for volume I came out in March-April 1797, and the conclusion was celebrated in Aug-September 1798. No copies survive to confirm this, though a note at the end of volume III mentions a 'General Key promised in a few early impressions of the First Volume' and since superseded by notes.

ESTC shows eight copies only: BL, Cambridge, Trinity Cambridge; Harvard, Johns Hopkins, Library Company of Philadelphia, Library of Congress, and UC Davis; plus an imperfect copy at the Taylorian (lacking volume III).

Garside, Raven, and Schöwerling 1798: 50; see Pamela Eve Selwyn, Everyday Life in the German Book-Trade: Friedrich Nicolai as Bookseller and Publisher in the Age of Enlightenment, 1750-1810 (2000).
You may also be interested in...
RARE GOSPEL EXEGESIS IN A CONTEMPORARY VENETIAN BINDING ALBERTUS de Padua.
Evangeliorum quadragesimalium opus aureum nunquam alias impressum.
First edition, in a contemporary Venetian binding, of the Lenten Gospel exegesis by one of the greatest Augustinian theologians to live on the cusp of the fourteenth century.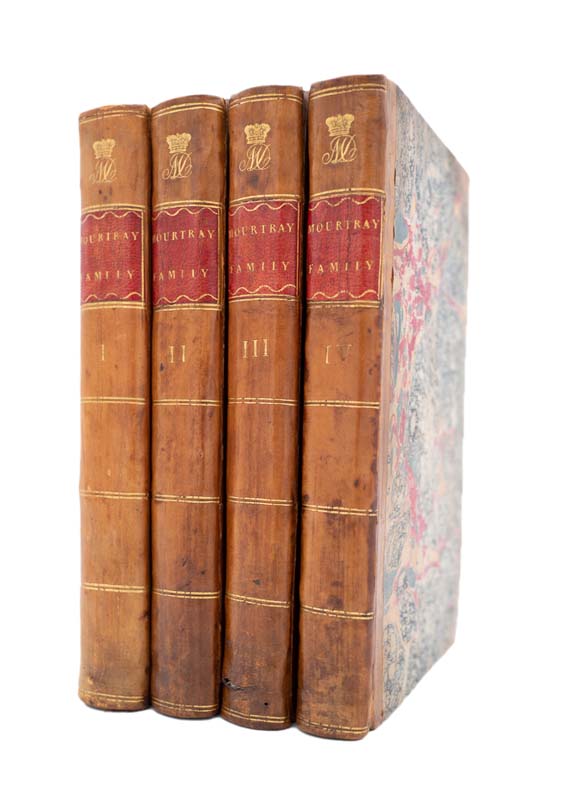 BY BECKFORD'S HALF-SISTER [HERVEY, Elizabeth].
The Mourtray Family. A Novel …
First edition of the penultimate novel by Elizabeth Hervey (c. 1748–1820), elder half-sister of the writer William Beckford – her father, Francis Marsh, had died and her mother Maria (née Hamilton) remarried another Jamaica plantation owner, William Beckford senior, who also died in 1770. Maria Beckford was therefore a powerful influence on both children and as a young woman Elizabeth was considered quite the intellectual equal of her younger brother. She married Colonel Hervey in 1774 and moved abroad, but on his death in 1778 she returned and published several novels – Melissa and Marcia (1788), Louisa (1790), The History of Ned Evans (1796) and The Church of Saint Siffrid (1797). The Mourtray Family was her last in this run, and nothing more followed until the final publication of Amabel (1814), where she finally dropped the mask of anonymity.