APHRODISIACS, FOX GENITALS, AND RECOVERING LOST VIRGINITY
[OBSTETRICS and GYNAECOLOGY.]

'De morbis mulierum'. 
Italy, 1779.
Manuscript on paper, in Latin, small 4to (21 x 15.5 cm), pp. [77], neatly written in black ink in a single hand, c. 25 lines per page, dated 1779 at end; some marginal damp staining and light foxing; well preserved in recent half vellum and marbled paper over stiff boards.
£950

Approximately:
US $1059
€1080
Added to your basket:
'De morbis mulierum'. 
A most interesting unpublished manuscript on diseases in women, examining their causes, symptoms, and cure. 

The anonymous author discusses interrupted menstruation, abnormal uterine bleeding, leucorrhoea, anaemia, hypersexuality, hysteria, uterine inflammation and cancer, hydrometra, and prolapse of the uterus and vagina.  The text also examines sterility, pregnancy, difficult births, postnatal illness, and inflammation of the breasts, ending with a postscript on recovering one's lost virginity. 

Along the way the reader learns that hypersexuality can be prompted by chocolate, coffee, or reading poetry; that some women wear dried fox genitals around their neck to ward off hysteria; and that female sterility can be caused by a wife hating her husband.  In addition to ancient authorities including Hippocrates and Galen, the author refers to more contemporary physicians, such as Lorenz Heister, Andrea Pasta, Lazare Rivière, Richard Mead, Samuel-Auguste Tissot, and Herman Boerhaave. 
You may also be interested in...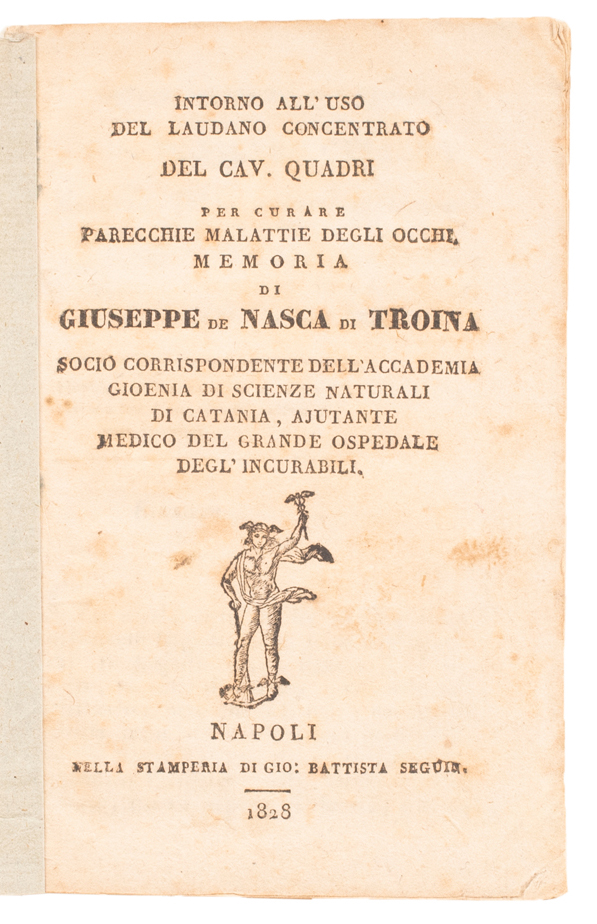 LAUDANUM FOR EYE COMPLAINTS DE NASCA, Giuseppe.
Intorno all'uso del laudano concentrato del cav. Quadri per curare parecchie malattie degli occhi. Memoria di Giuseppe de Nasca di Troina socio corrispondente dell'Academia Gioenia di Scienze Naturali di Catania, ajutante medico del grande Ospedale degl'Incurabili.
Very rare tract on the use of concentrated laudanum in the treatment of various eye complaints by the Sicilian physician Giuseppe de Nasca (1803–1893).
DISSERTATIONS SEXUALLY TRANSMITTED DISEASE [VENEREAL DISEASE.] 
A collection of theses on syphilis and gonorrhea. 
An interesting collection of fifteen scarce theses presented for the degree of Doctor of Medicine at the Faculty of Medecine in Paris, between 1829 and 1860, on the subject of syphilis, gonorrhea, and other sexually transmitted infections.