THE MOST 'MODERNIST' OF ALL RUSSIAN NOVELS
OLESHA, Iurii Karlovich.
Zavist'. Roman, s risunkami Natana Al'tman [Envy. A novel, with drawings by Nathan Altman].
Moscow-Leningrad, "Zemlia Fabrika, [1928].
8vo, pp. 144, with two full-page illustrations by Nathan Altman printed on a green background and highlighted in pink; a very good copy, uncut, a few pages opened roughly, in the original illustrated wrappers by Altman, slightly skewed; in a folding cloth box.
£3000

Approximately:
US $4122
€3515
Added to your basket:
Zavist'. Roman, s risunkami Natana Al'tman [Envy. A novel, with drawings by Nathan Altman].
First edition of this famous short satirical novel which 'catapulted Olesha into the first rank of Soviet writers' (Terras). It was fêted by both Soviet and émigré critics and established the young writer's reputation almost overnight. Olesha later adapted it as a play, Zagovor chuvstv (The Conspiracy of Feelings) in 1929.

'Envy deals with the conflict between new Soviet men, dedicated yet practical, and ineffectual dreamers who have preserved vestiges of an outmoded bourgeois mentality. Each side is represented by two generations, the fortyish and the young. The conflict is staged with masterful ambiguity. While "Soviet man" is obviously winning, his success is viewed through the eyes of the envious losers, with whom the reader may very well identify, and his positive image is undercut by cleverly planted subliminal detail. Even today Envy remains the most "modernist" of all Russian novels' (Cambridge History of Russian Literature).
You may also be interested in...
RAIMONDI, Eugenio.
Delle caccie … libri Quattro, aggiuntovi'n questa nuova 'mpressione il quinto libro della villa.
Second edition, expanded and extended, with a new series of striking venatic plates. The series of plates (attributable to Nicolas Perrey, who signs the title), showing composite scenes of hunters pursuing animals from birds and fish to lions and elephants, is wholly new, replacing the woodcut illustrations of the first edition of 1621. The engravings were reused in 1630, though the pruning and ploughing plate (p. 471) would be omitted from the later edition. In addition to the expansion of the first four books, the second edition is for the first time accompanied by a fifth book 'della villa', on the management of agricultural estates.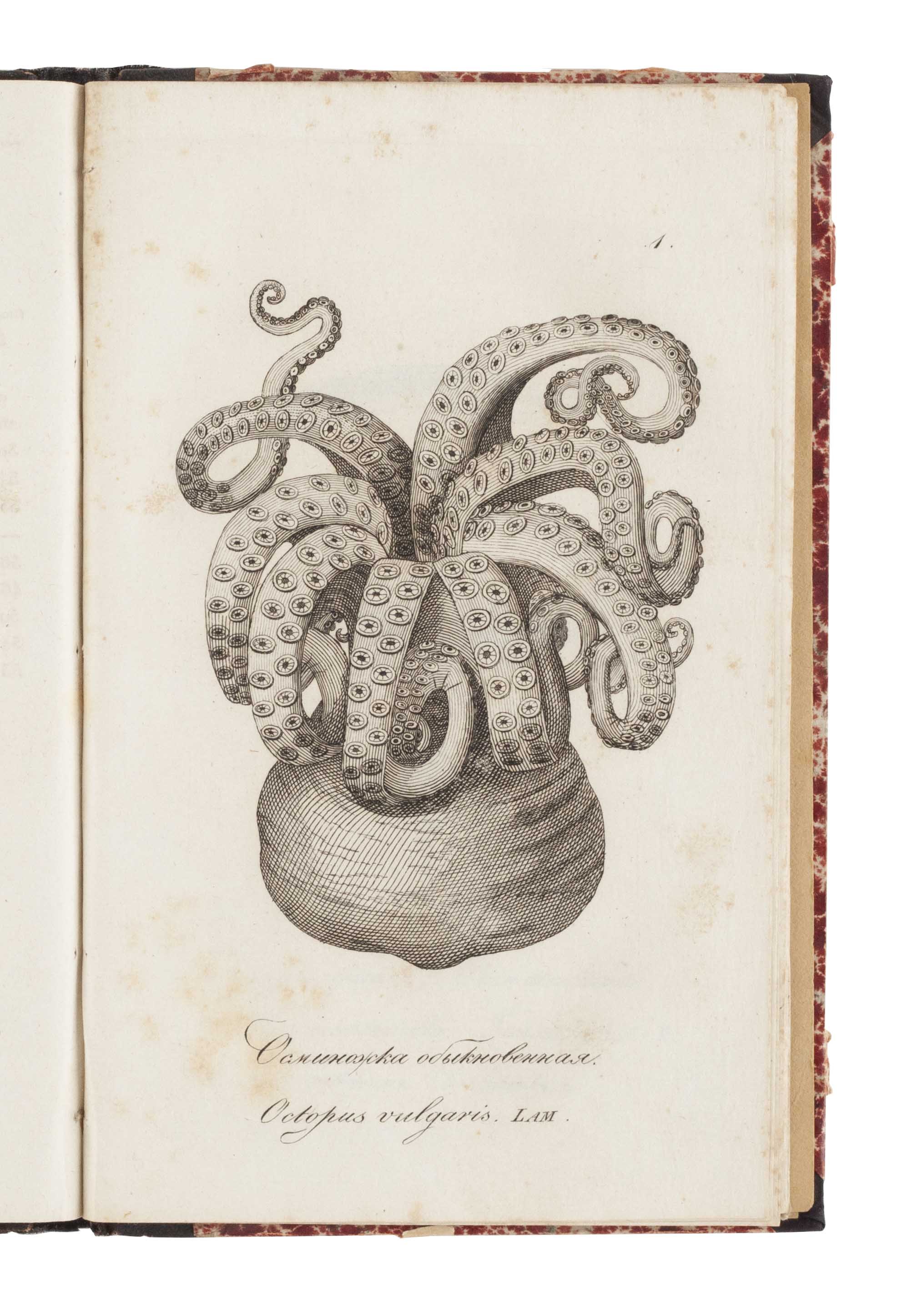 DVIGUBSKII, Ivan Alekseevich.
Opyt estestvennoi istorii vsekh zhivotnykh Rossiiskoi Imperii … S izobrazheniiami zhivotnykh. [Fly-title:] Zhivotnyia miagkiia i rakovinnyia [- An Attempt at the natural history of all the animals of the Russian Empire … with illustrations of the animals. [Fly-title:] Soft and shelled animals].
First edition, rare, one of a series of six works on the flora and fauna of the Russian Empire, published 1829-1833 under the same general title. The present volume covers molluscs, including cephalopods and gastropods.