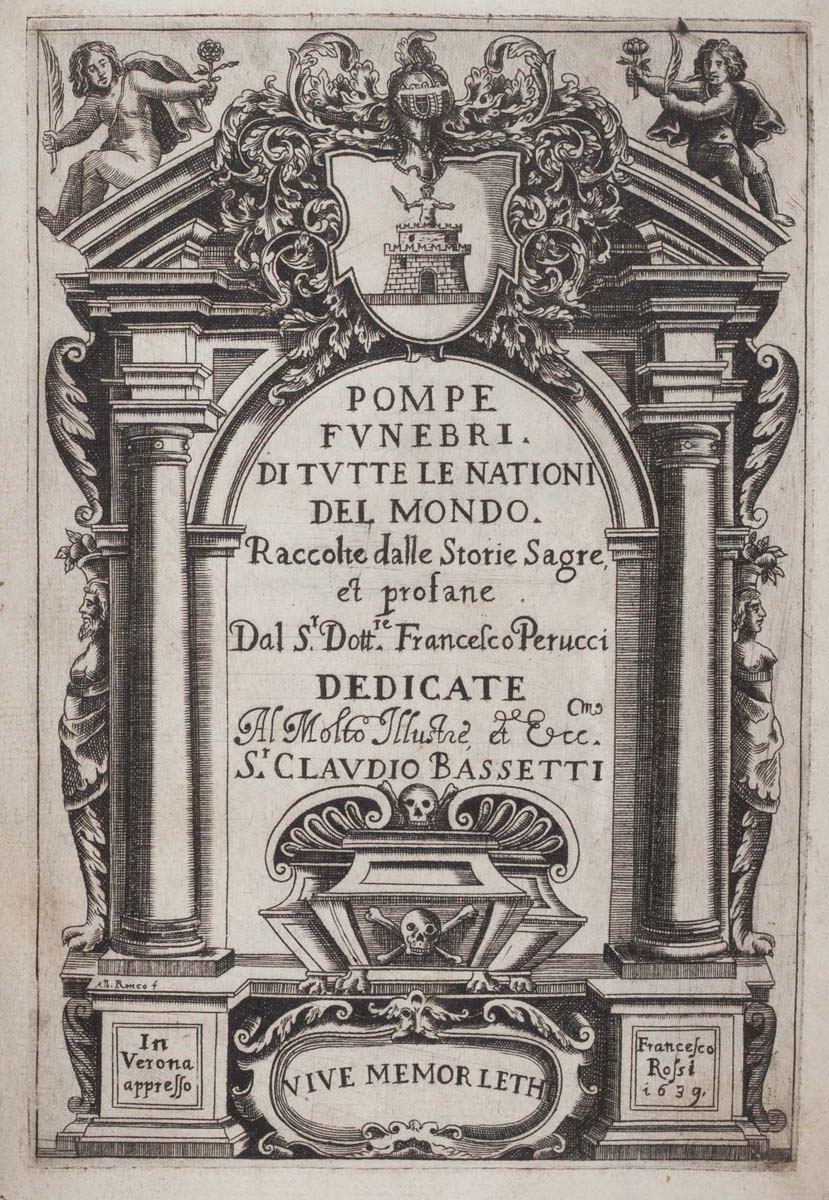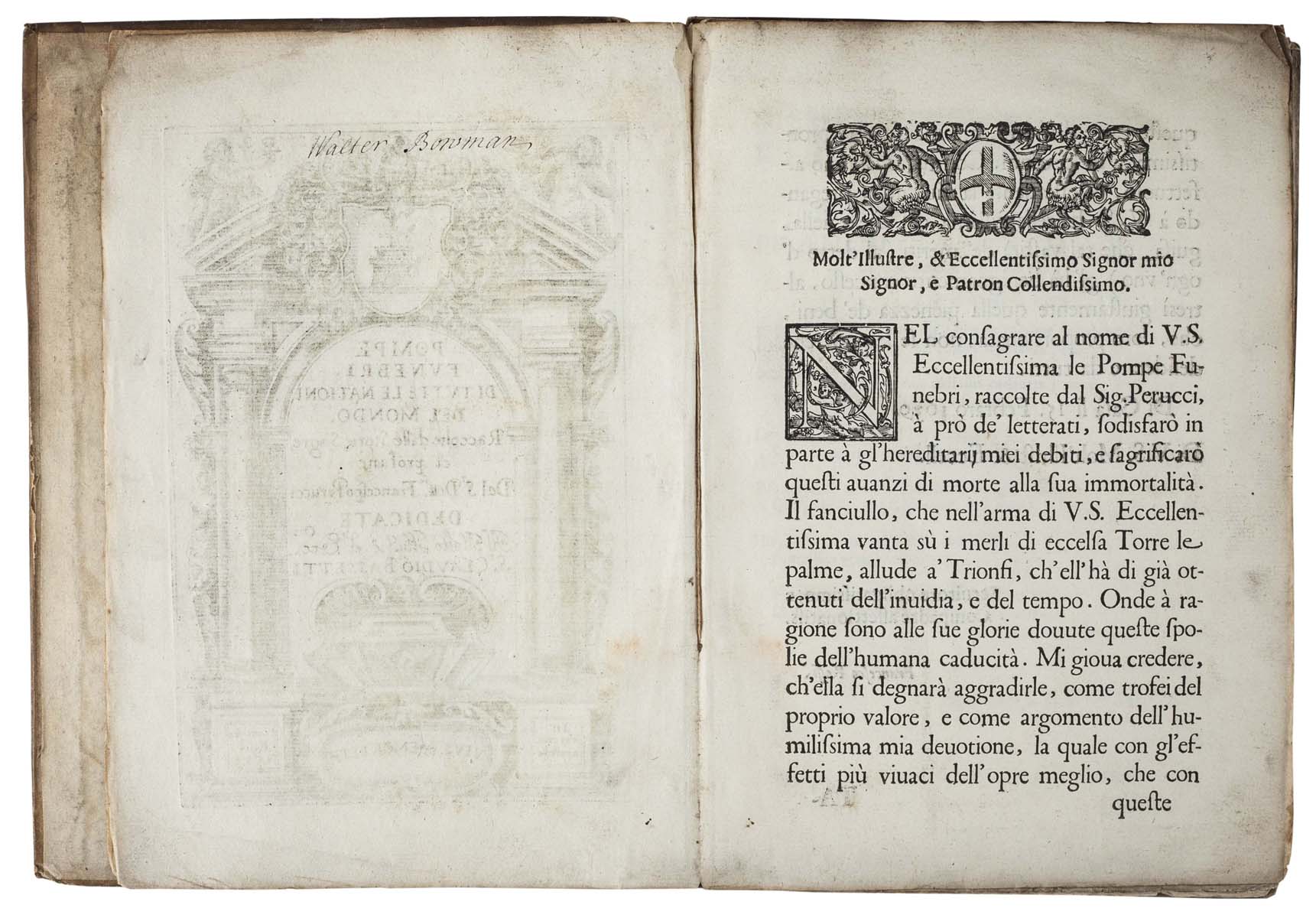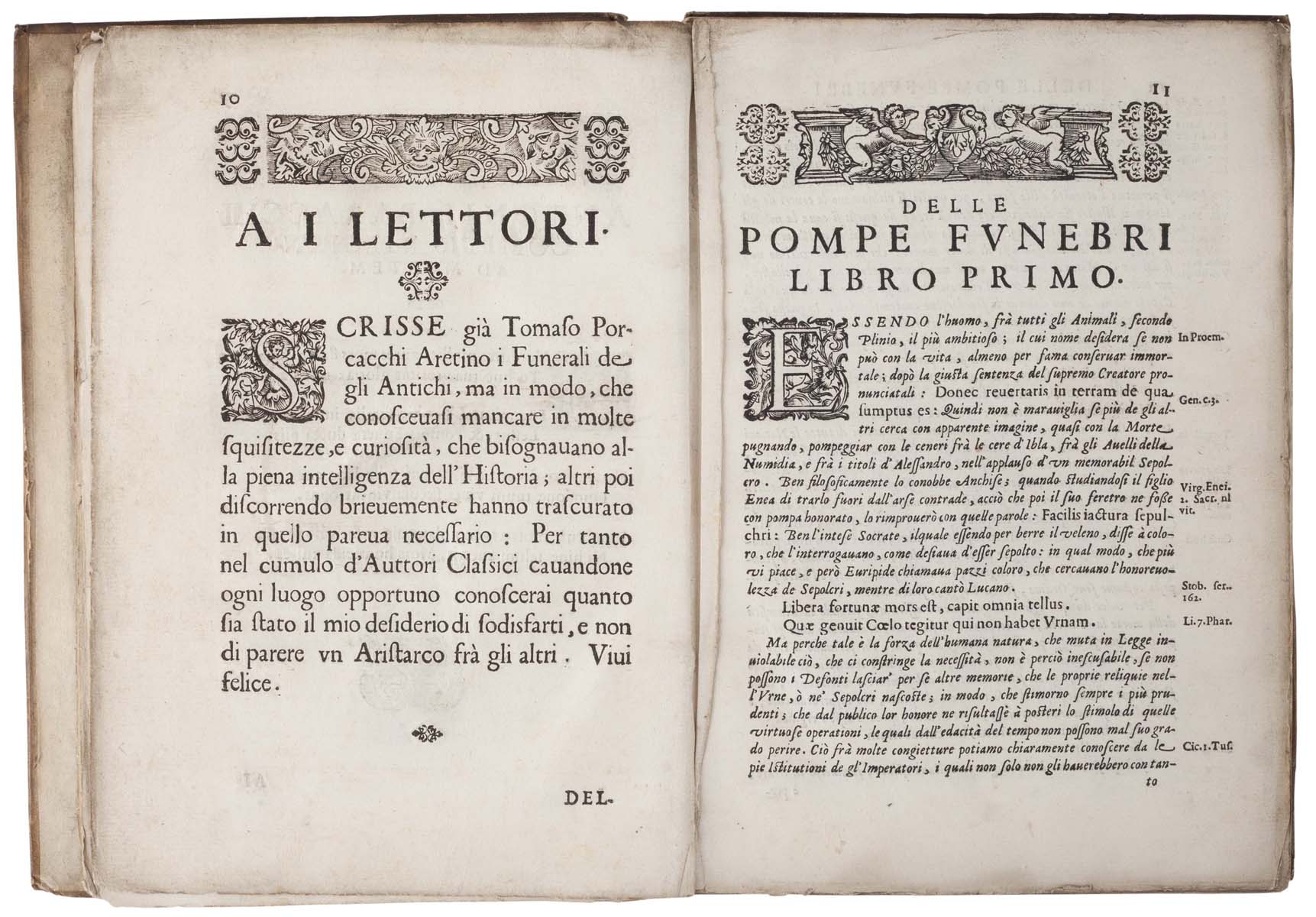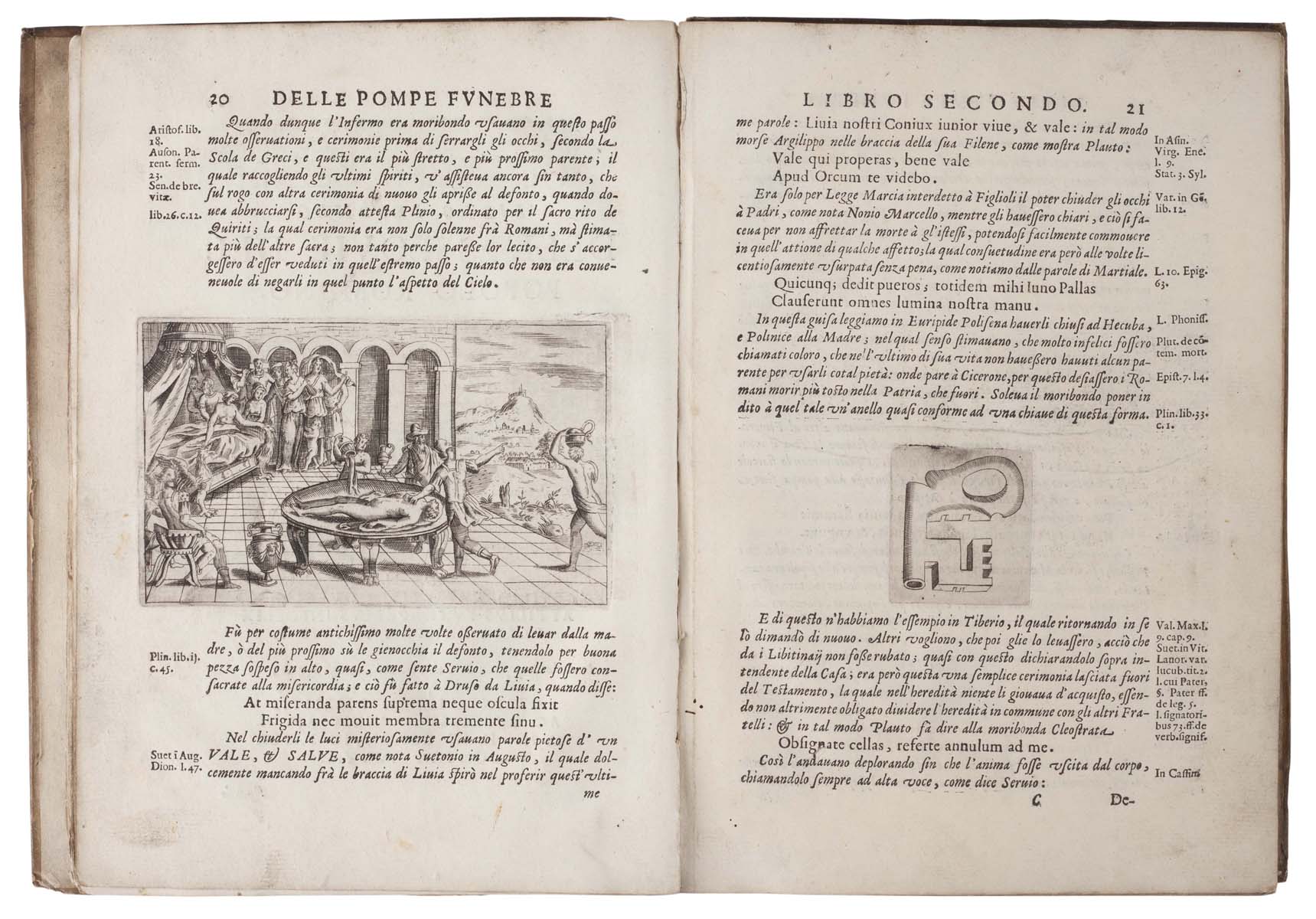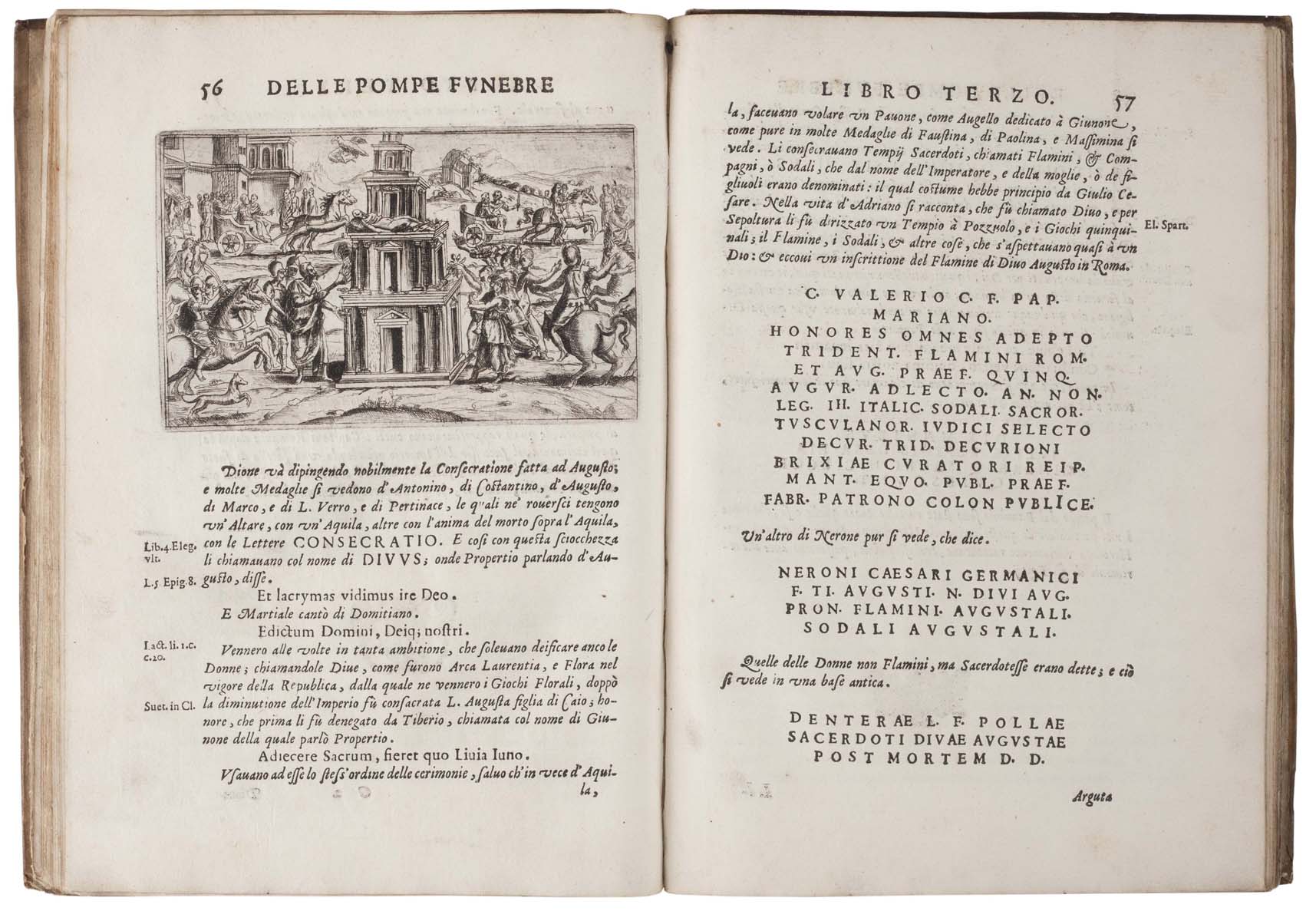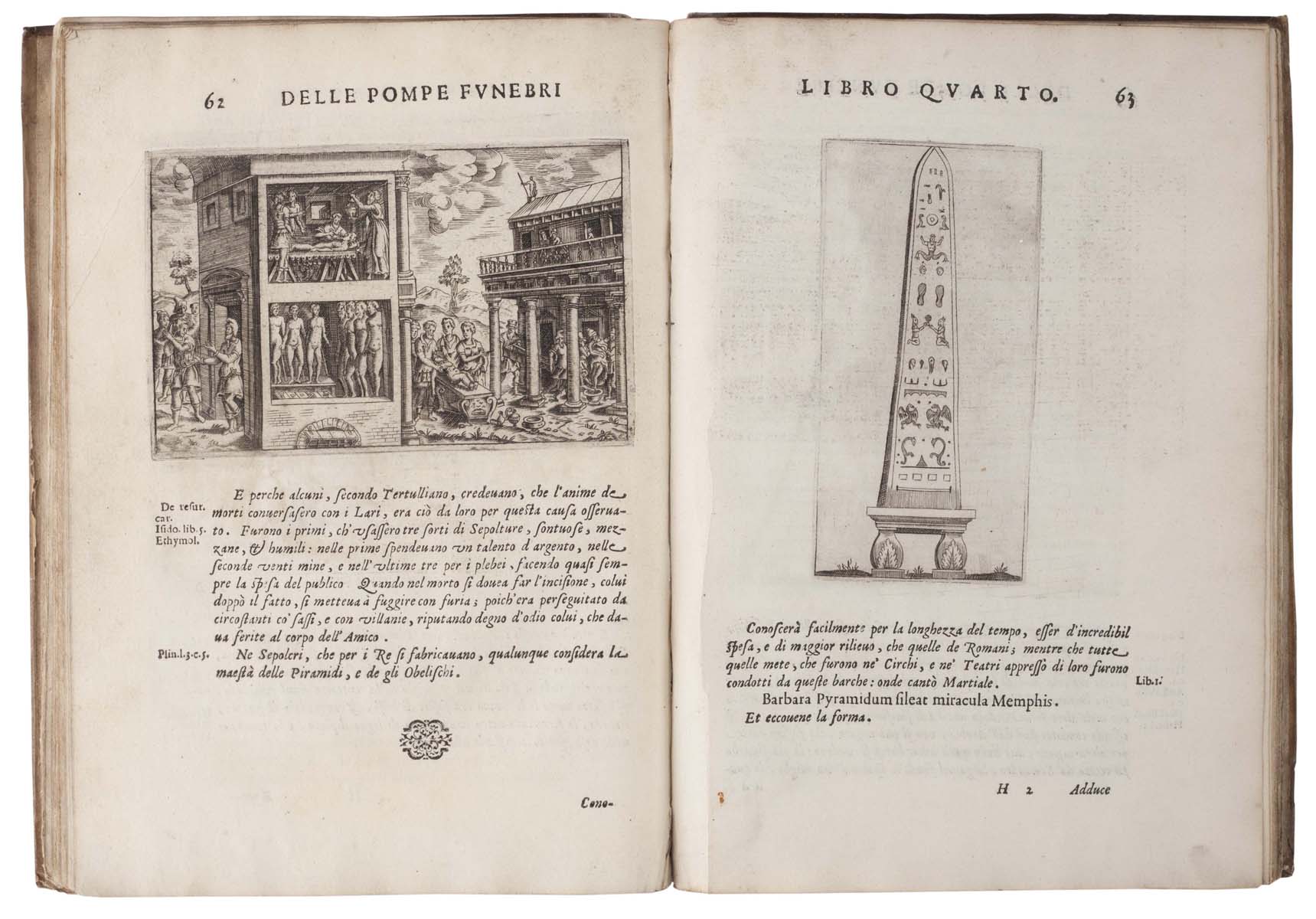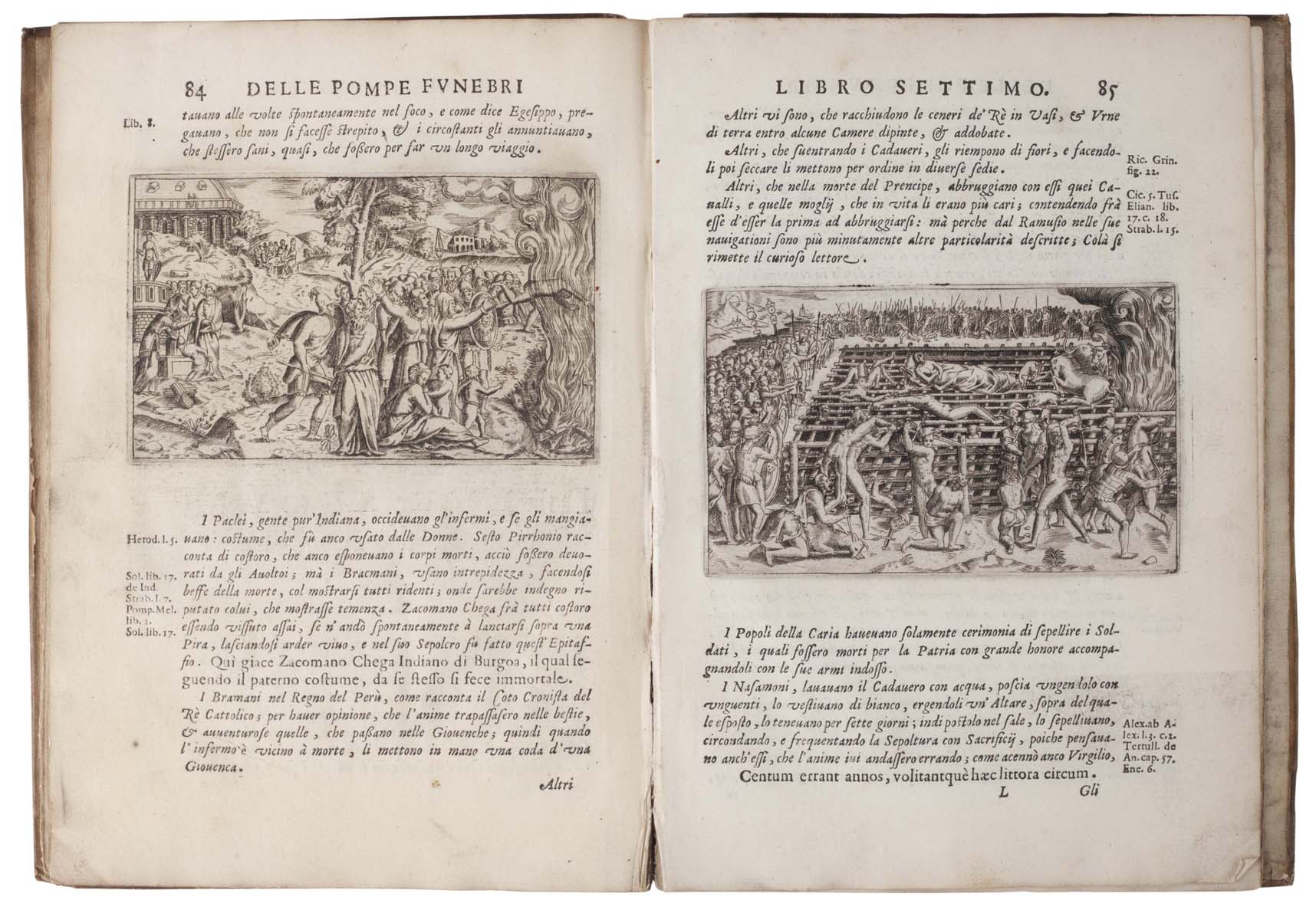 FROM THE LOST LOGIE LIBRARY OF WALTER BOWMAN
PERUCCI, Francesco.
Pompe funebri di tutte le nationi del mondo, raccolte dale storie sagre et profane.
Verona, Francesco Rossi, 1639.
Folio, pp. 97, [1]; without index +1-4 and without final blank M4, †4 a cancel; title copper-engraved, numerous copper-engraved illustrations printed in text, copious woodcut ornaments throughout; paperflaw to I2 scarcely touching text, occasional dust-staining, a few creased corners; contemporary vellum over boards, spine later lettered and tooled in black, sewn on 2 cords; subtle early repairs to vellum; dust-stained, block detached and a few leaves loose, splits and losses to spine; from the library of Walter Bowman, with his ink ownership inscription to title verso and number '478' to upper pastedown.
£975

Approximately:
US $1227
€1137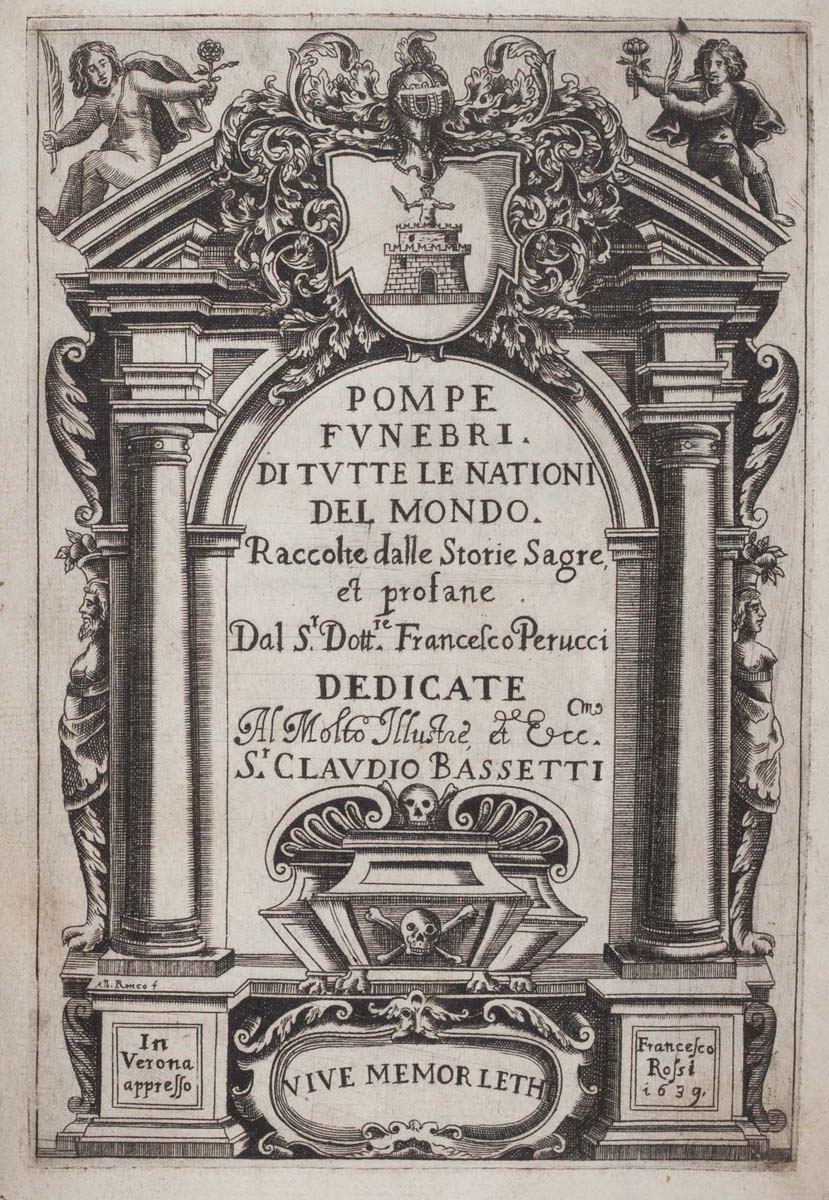 Added to your basket:
Pompe funebri di tutte le nationi del mondo, raccolte dale storie sagre et profane.
First edition of Perucci's account of the funeral practices of Europe, Africa, Asia, and the Americas, extensively illustrated with engravings copied in reverse from Porcacchi's 1574 Funerali antichi di diversi popoli, et nationi, inscribed by a Scottish antiquary and documented book collector.

A fellow of the Society of Antiquaries and later the Royal Society, Walter Bowman (1699–1782) travelled extensively over the course of five decades in Italy, where this book was most likely acquired, studying at the University of Padua for two years and accompanying Samuel Rolle, Simon Harcourt, and Francis Seymour-Conway as tutor on grand tours; his remarkably detailed notes on his travels and keen collecting survive, principally in the National Library of Scotland and the Biblioteca nazionale in Florence.

Bowman's library is remarkably well recorded through two documents, an account book from 1754 to 1766 (Bod. MS Eng. misc. d. 808) detailing purchases from and auction bids with booksellers as well as bindings commissioned from Roger Payne, and his will of 1782 (National Archives PROB 11/1088/ 285) in which he left 'singularly minute and whimsical directions regarding the arrangement and preservation of his fine library' (DNB).

The will writes that 'in a long course of years both at home and abroad I have at a considerable expense and trouble collected an useful though small Library of Books in good condition with my Name on each in my own handwriting, on different Arts and Sciences of various kinds in the learned Languages, in French, Italian, and English'. Dying childless, Bowman left the library to his brother James, with 'this express condition, that they be not sold, lent, or dispersed, in whole or any part whatsoever, but carefully and honestly preserved … for the sole use and benefit of my heirs .. and to go along with my Estate of Logie in the said County of Fife in Scotland'.

In addition to detailed provision for the transport (from Surrey to Scotland), ordering, and cataloguing of the library, Bowman's lengthy instructions specify that the books were to be kept 'dry, clean, and neat, sound and safe, free from dust, mustiness, damps, without … rats and mice and all other annoyances and corruptions, without being blotted, stained, torn, damaged' and that 'the Room wherein they stand shall be appropriated solely for reading, writing, and study and not for any other business, work, occupation, or fellowship whatsoever except where the cases are locked up … and that the said Books may suffer no damage and be maintained in their standing order the said Room shall be furnished with a clean table, water bason [sic], and towel for filthy hands and the [heir] himself shall give out every Book as it is wanted to be read and consulted and lock the same up again afterwards so perused in the same room without suffering any of them to be moved about or out of the house'.

Bowman's library appears to have survived at least until the mid-nineteenth century, being described in Leighton's History of Fife: 'The library contains among others, many valuable editions of the ancient classics, particularly a fine edition of Pliny's Natural History, and a splendidly illuminated edition of Ptolemy. It also contains a valuable collection of engravings; a great number of maps and charts, and a well preserved copy of Bleau's Atlas. [The heir] … is bound to keep a suitable room for the library in his house, and to allow free access to it to the neighbouring gentlemen there to read and study … women and children are expressly prohibited from having access to the library.' (Leighton, History of the County of Fife (1840) II, p. 50).

No later record of the library's survival could be traced, though Feather suggests the books may have been dispersed in Edinburgh after the Second World War. In 1982 Feather wrote 'I do not know the present location of any of Bowman's books'. We have been able to trace six other books from Bowman's library at auction: of these, the majority have been later rebound; only one other (Christie's, 1998) survives unrestored and is in similarly questionable condition, suggesting Bowman's efforts for the preservation of his once magnificent books may have been in vain.

USTC 4011567. Alden II 639/91; Cicognara 1752; Graesse V, p. 216. See Feather, 'Walter Bowman' in The Book Collector 31, no. 1 (Spring 1982, pp. 47-63.
You may also be interested in...