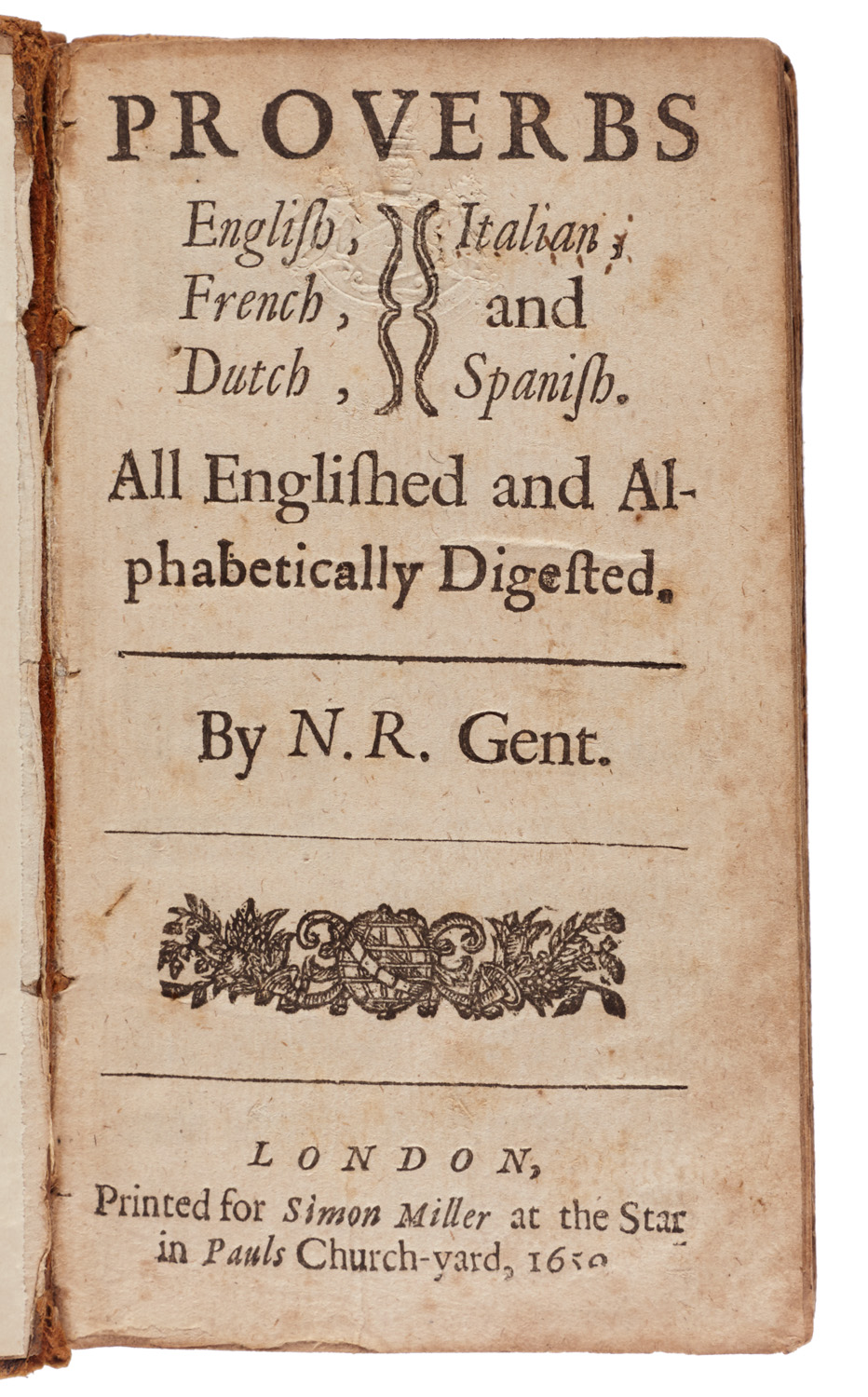 A ROULING STONE GATHERS NO MOSSE
R., N.
Proverbs English, French, Dutch, Italian and Spanish. All Englished and alphabetically digested …
London, Printed for Simon Miller … 1659.
12mo., pp. [8], 151, [1], [6, advertisements], wanting the terminal leaf (a longitudinal half-title) as often; printed flaw affecting '9' in the date of the imprint on the title-page, last leaf of advertisements adhered to endpaper, else a very good copy in contemporary sheep, rubbed; the Macclesfield copy, with blind-stamp and bookplate.
£1750

Approximately:
US $2258
€2087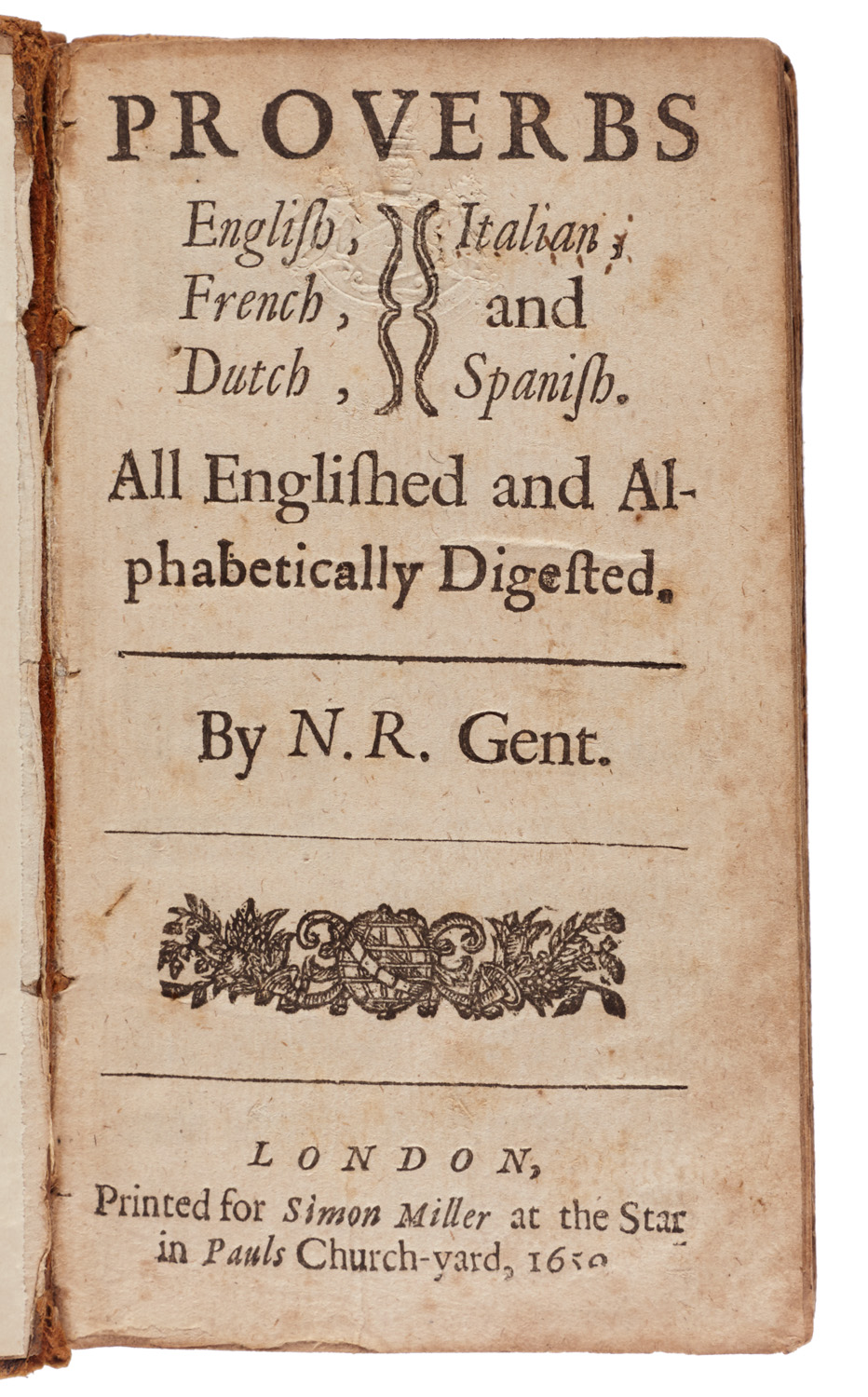 Added to your basket:
Proverbs English, French, Dutch, Italian and Spanish. All Englished and alphabetically digested …
First and only edition of a scarce collection of idiomatic phrases and proverbs, many translated from other languages, with a selection of 114 'Golden sentences' at the end.

The sources are wide-ranging – we note, for example, 'A dwarf on a giant's shoulders sees farther of the two', an older sentiment but here quoting directly from George Herbert's Jacula Prudentum, and 'A rouling stone gathers no Mosse' (presumably taken from Heywood's Proverbes). Age-old saws include 'A chip of the old block', 'I will not buy a pig in a poke', 'One swallow makes not a summer', and 'Ynough is as good as a Feast'. The golden sentences are more substantial, with attributions to Bacon, Plato, Henry Wotton.

ESTC lists eight copies: BL, Bodley; Staatsbibliothek Berlin; Harvard, Huntington, UCLA, Illinois, and Yale.

Wing R 56.
You may also be interested in...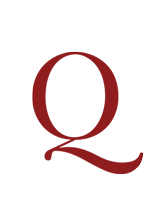 'THE BOOKSELLERS GROW RICHWITHOUT UNDERSTANDING THE BOOKS THEY SELL' LETTERS ON THE FRENCH NATION
: by a Sicilian Gentleman resident in Paris, to his Friend in his own Country. Containing an useful and impartial Critique on that City, and the French Nation. Translated from the Original.
First edition of this translation, very rare, of a work first printed in French in Paris in 1700 (see below) and, in a different translation, in English in 1704 as An agreeable Criticism of the City of Paris.
THE FIRST EJECTED SCANDALOUS PRIEST PETITION AND ARTICLES (The)
or severall Charge exhibited in Parliament against Edward Finch Vicar of Christs Church in London, and Brother to Sir John Finch, late Lord Keeper, now a Fugitive for Fear of this present Parliament, 1641 …
First edition. The royalist divine Edward Finch became vicar of Christ Church, Newgate, in 1630. Ten years later a number of his parishioners petitioned the Long Parliament for his removal because of popish practices, preaching in a surplice, placing the communion table altar-wise, and hindering the delivery of sermons on the anniversary of the Gunpowder Plot. He persistently neglected his duties, exacted 'unjust and excessive Fees for Burials', frequented taverns and alehouses, and kept company with lewd women. Called to give the Sacrament to a dying parishioner he was so drunk that 'he was not able to pronounce the Lords Prayer'.