CENTENARY OF THE DEATH OF WILLIAM PENN
[RICHARDSON, Jonathan].
The general Address (in two Parts) of the Outinian Lecturer to his Auditors …. London: Printed by W. Nicol, late Bulmer & Co. … 1822.
London: Printed by W. Nicol, late Bulmer & Co. … 1822
8vo., pp. [2], 56, with a lithographed title-page illustrating the medal of the Outinian Society, an engraved portrait frontispiece of William Penn, the founder of Pennsylvania, and six other plates (Lady Juliana Penn, Vice-Admiral Sir William Penn, Thomas Penn, a memorial urn to Lady Juliana, the remains of the tree at Stoke Park under which the treaty between Penn and the Indians was signed, and a second portrait of Penn), tissue guards (foxed); contemporary hard grain morocco, rubbed; note on endleaf identifying the founder of the Outinian Society as John Penn; signature of the educationist and author Madame de Genlis, dated 1829 ('a friend of the family'), bookplate of Major Claud Alexander.
£1600

Approximately:
US $1934
€1845
Added to your basket:
The general Address (in two Parts) of the Outinian Lecturer to his Auditors …. London: Printed by W. Nicol, late Bulmer & Co. … 1822.
First edition, very rare. The Address is a revised version of the valedictory lecture given on 31 December 1818 to mark the centenary of the death of William Penn. It gives an explanation of the origins of the Society and then is entirely directed to the career and particularly the principles of William Penn, based on 'traditional information' and 'publicly and privately attested facts'. The private information was doubtless supplied by John Penn (1760-1834), founder of the Society, who, as a surviving grandson of William Penn, succeeded his father to the moiety of the last proprietorship of Pennsylvania.

The Outinian Society was originally founded in 1817 as the Matrimonial Society in response to an anonymous poem called 'Marriage' in the Monthly Magazine. It had the object of promoting marriage and improving the domestic life of married couples. Extending its aims to other schemes of human happiness – to 'the more perfect knowledge of certain less obvious truths and principles of human action' – it soon changed its name to the Outinian Society, apparently inspired by a line in Homer. John Penn was its president and editor, Jonathan Richardson its secretary and lecturer. The lectures were very popular: Records of the Origin and Proceedings of the Outinian Society (1822) lists well over 1000 names of Auditors who had attended.

COPAC and OCLC list copies at the British Library, Society of Friends, and Harvard only. J. Smith, Friends' Books 2.326 (attributing it to John Penn).
You may also be interested in...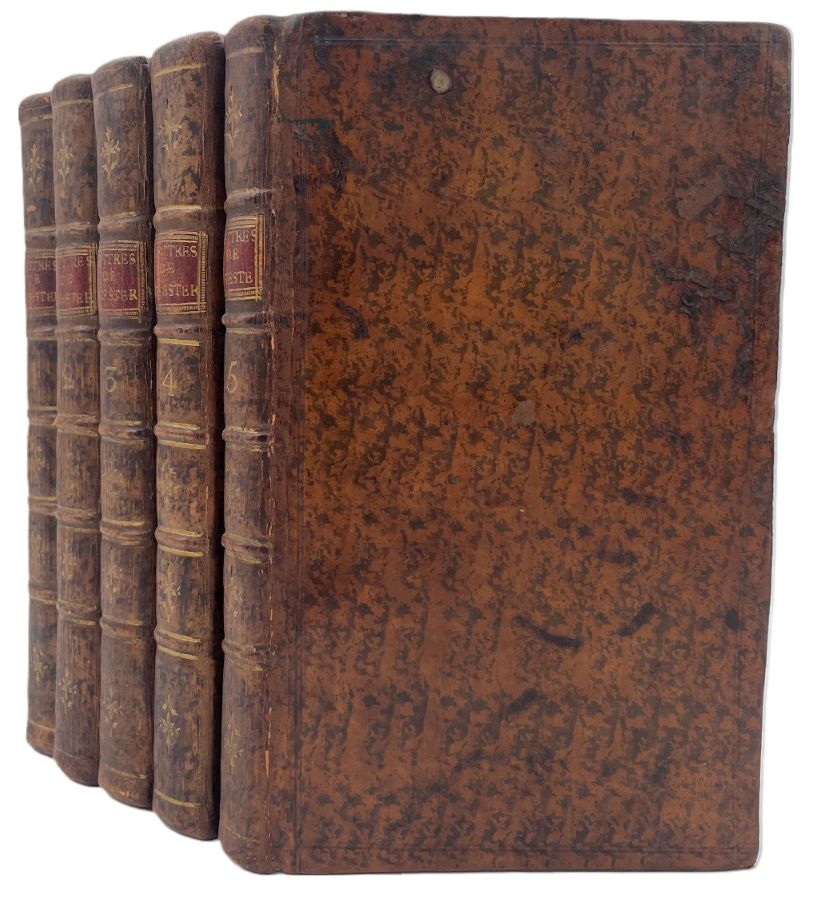 AN UNRECOGNISED ENGLISH PRINTING CHESTERFIELD, Philip Dormer Stanhope, Earl of.
Lettres ecrites par le tres-honorable … Comte de Chesterfield, a son Fils, Philippe Stanhope … avec plusieurs autres Pieces sur divers Sujets. Publiées par Madame Eugenie Stanhope, d'après l'Original en sa Possession. En cinq Volumes …
First edition in French of Chesterfield's famous Letters to his Son (1774). Although not recognized as such by Gulick (and not listed in ESTC), this is almost certainly an English production; press figures appear throughout all five volumes, the typography and disposition is generally English in feel, and there are scattered grammatical and typographical errors perhaps unlikely from a native French printer, e.g. 'Fin du cinquieme et dernier volume'.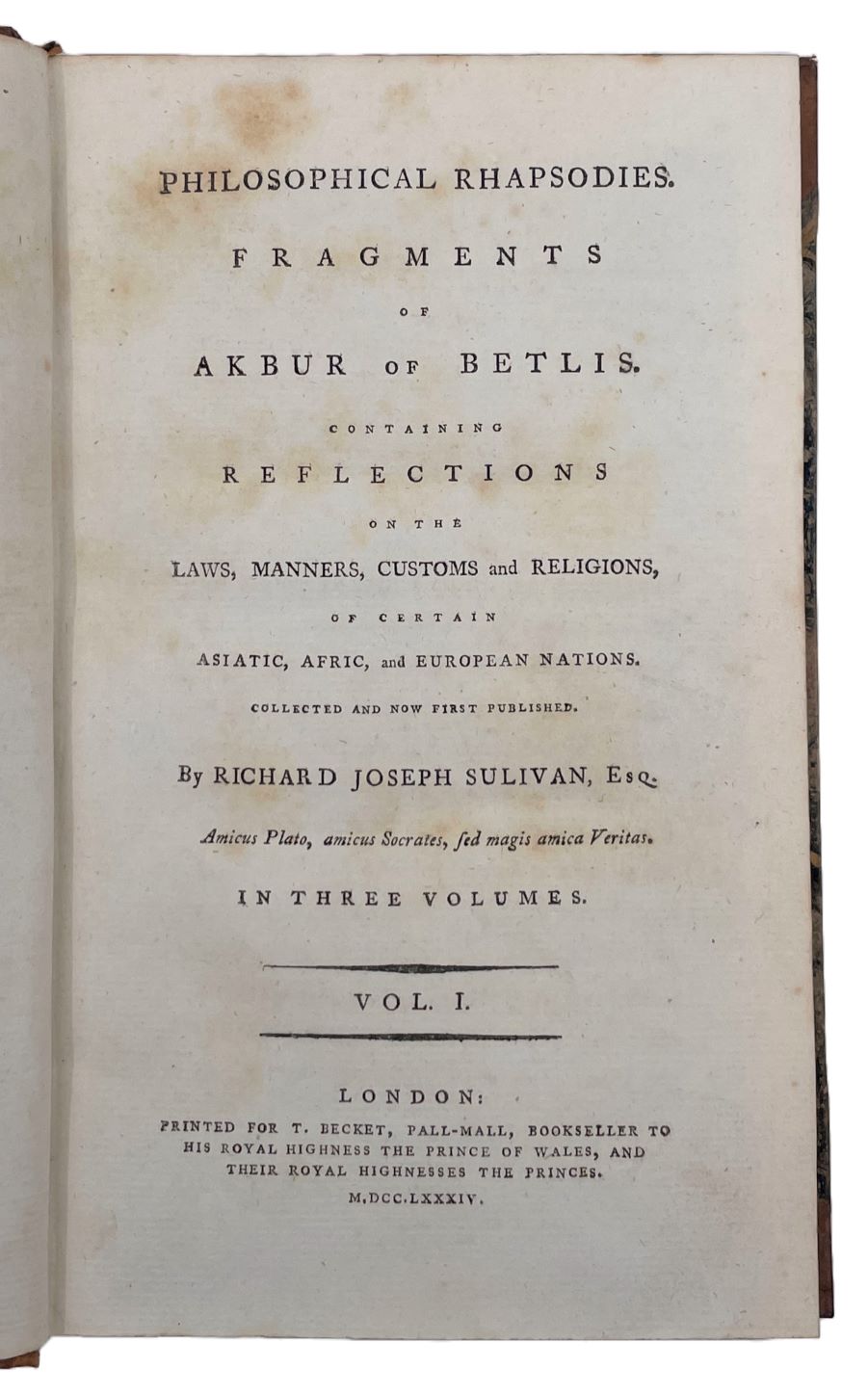 INDIAN TRAVEL SULIVAN, Richard Joseph.
Philosophical Rhapsodies. Fragments of Akbur of Betlis. Containing Reflections on the Laws, Manners, Customs and Religions, of certain Asiatic, Afric, and European Nations. Collected and now first published … In three Volumes …
First edition of this eccentric travel-inspired treatise drawing upon the author's experience in India and his travels in Europe. The prefatory 'advertisement' establishes the fiction that 'the following fragments were written by a native of Assyria [Akbur], who … was removed to the continent of Europe, and thence to England … he then travelled; and in various countries threw together the reflections which appear in the following sheets'. Compartmentalised into 'fragments' rather than chapters, the work is generically indistinct, and offers a compilation of fiction, philosophy, history and travel to reflections on foreign lands, notably China, Japan, Tartary, Hindostan, Greece and the Middle East. Sulivan cites widely in order to illustrate his points, emphasising Akbur's familiarity with Milton, Pope, Thomson, and Dryden, as well as law, the classical canon and contemporary scholarship.