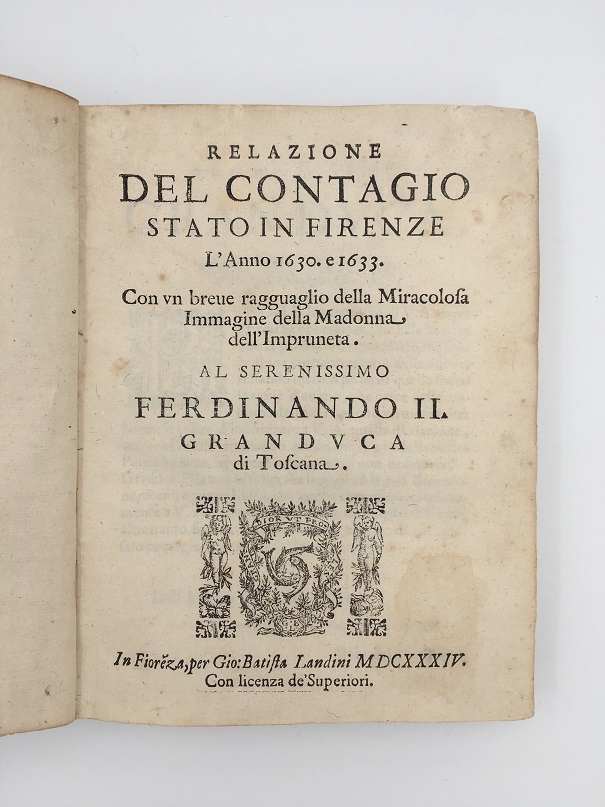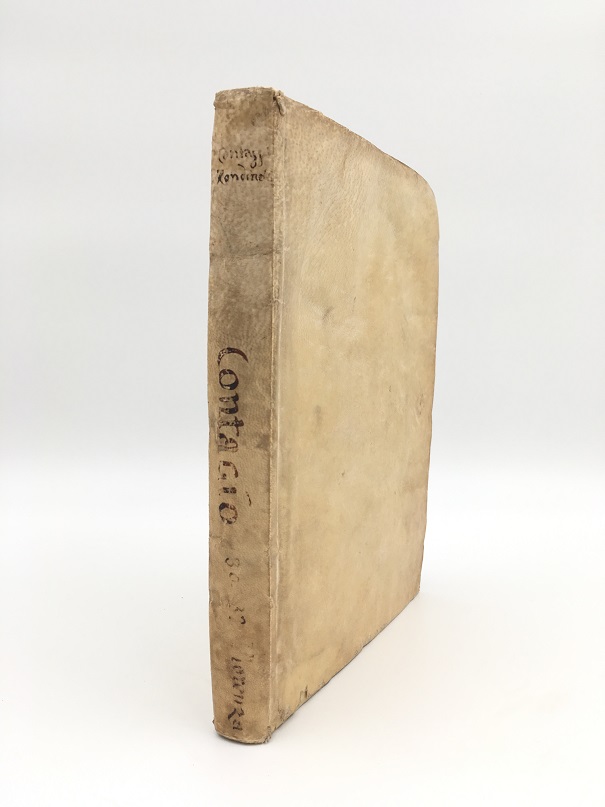 PLAGUE IN FLORENCE
RONDINELLI, Francesco.
Relazione del contagio stato in Firenze l'anno 1630 e 1633 con un breve ragguaglio della miracolosa immagine della Madonna dell'Impruneta ...
Florence, Gio. Batista Landini, 1634.
4to, pp. [16], 284, [4]; full-page armorial engraving to p. [108], woodcut device to title, initials, tail-pieces; small neat repair to title, a little foxing at edges; a very good copy in contemporary limp vellum, title inked to spine; small neat repair to bottom edge of front cover.
£950

Approximately:
US $1059
€1080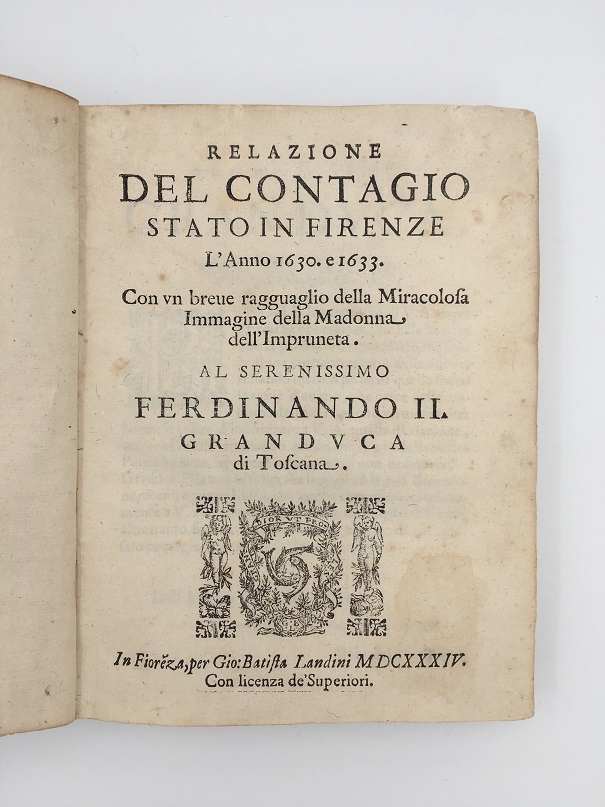 Added to your basket:
Relazione del contagio stato in Firenze l'anno 1630 e 1633 con un breve ragguaglio della miracolosa immagine della Madonna dell'Impruneta ...
First edition of this official account of the Florentine plague of 1630 and 1633, commissioned by Ferdinando II de' Medici, grand duke of Tuscany, and composed by his librarian Rondinelli from official records and interviews with survivors. Plague had been brought to Italy in 1629 by troops fighting in the Thirty Years' War and soon ravaged northern and central parts of the country. The disease struck Florence in the summer of 1630, disappeared in early 1631, and briefly reappeared in spring 1633, killing around 12% of the city's population.

Rondinelli's minutely detailed text 'offers a series of interlocking motifs: the arrival of the pestilence in the city; the conflicting efforts to cover it up; the slow establishment of a regimen of separation between the healthy, the suspect, and the diseased, culminating in a dictatorship of the Public Health Magistracy; and the street processions upon the arrival of the image of the Madonna of Impruneta' (G. Calvi, Histories of a plague year (1989), p. 2). The Florentine plague makes an interesting contrast with that experienced in Milan or Naples: there were neither riots nor killings of reputed plague spreaders, no instances of collective panic or revolt, and the mortality rate was low compared to the decimation experienced in other cities.

Krivatsy 9924.
You may also be interested in...
[COLTELLI, Michele.] [PROCOPE-COUTEAU.]
L'art de faire des garçons, ou nouveau tableau de l'amour conjugal. Par M***, docteur en médecine de l'Université de Montpellier.
Uncommon later edition, probably printed in Paris but bound in Italy, of this popular guide to the production of boys, and to procreation and sex more broadly by the French-Italian writer, physician, and librarian Michel Coltelli (1684–1753, better known as Procope-Couteaux). Coltelli was the son of the founder of the Café Procope in Paris, established in 1686 and still going strong (albeit with a five-decade hiatus from the 1870s); he trained as a doctor, before working as librarian to the Paris medical faculty. In this, his best-known work, he attempts to dress in a coat of science his enthusiastically graphic descriptions of, and opinions on, sex, inspired by Maupertuis' Venus physique; although the book does address the theory of generation, as well as offering an explanation for the birth of 'monstres', it is best known for its final chapter, on the causes of sexual pleasure.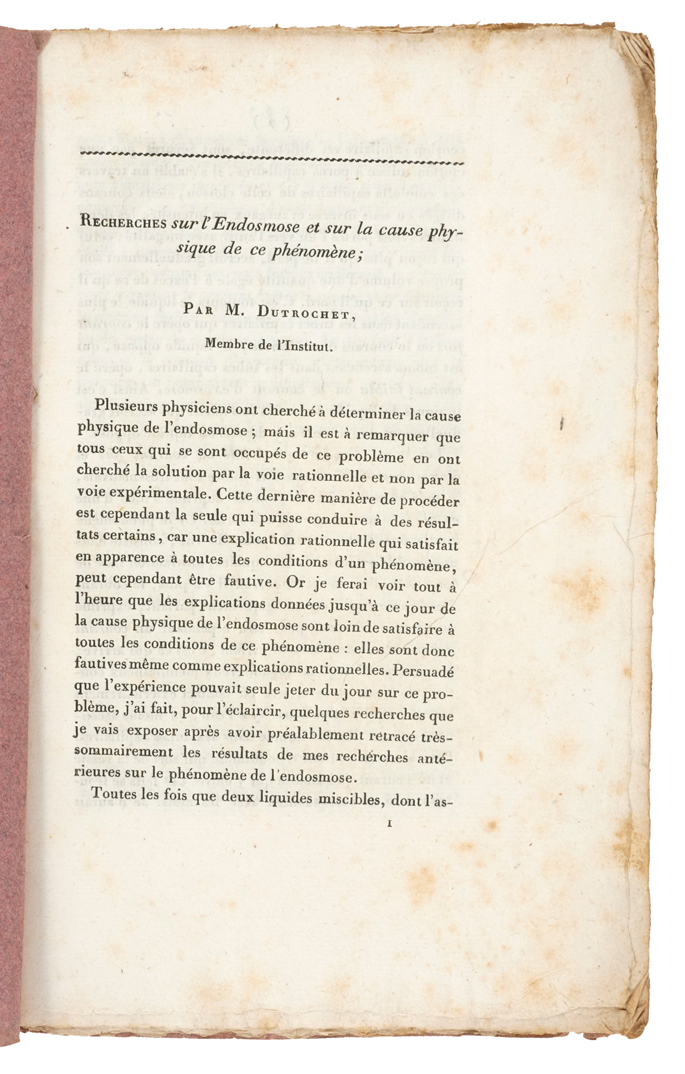 ON OSMOSIS DUTROCHET, Henri. 
Recherches sur l'endosmose et sur la cause physique de ce phénomène (Extrait des Annales de Chimie et de Physique, Avril 1832). 
An interesting article on endosmosis by the important French physiologist Henri Dutrochet (1776–1847), renowned for his work on osmosis and cell theory.  'Although the conditions of Dutrochet's experiments were rather simple and did not allow of great accuracy, he made the first important steps toward the study of osmosis and diffusion.  He constructed an osmometer for measurements of osmotic pressure and pointed to such pressure as the possible cause of circulation and rise of sap in plants, absorption of nutrients in plants and animals' (DSB).