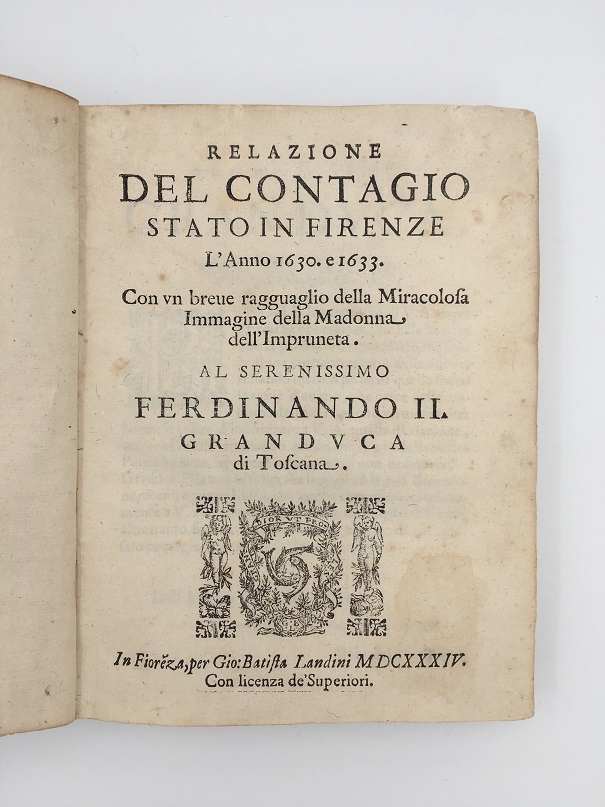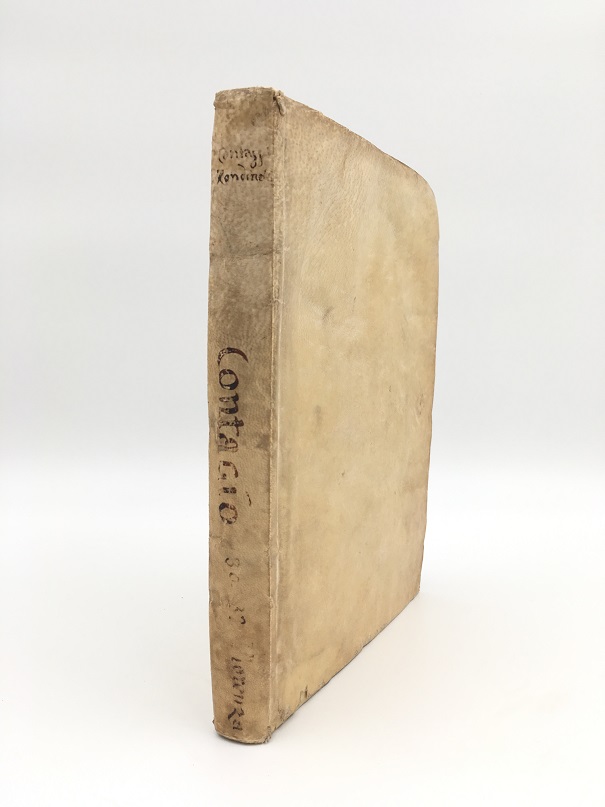 PLAGUE IN FLORENCE
RONDINELLI, Francesco.
Relazione del contagio stato in Firenze l'anno 1630 e 1633 con un breve ragguaglio della miracolosa immagine della Madonna dell'Impruneta ...
Florence, Gio. Batista Landini, 1634.
4to, pp. [16], 284, [4]; full-page armorial engraving to p. [108], woodcut device to title, initials, tail-pieces; small neat repair to title, a little foxing at edges; a very good copy in contemporary limp vellum, title inked to spine; small neat repair to bottom edge of front cover.
£950

Approximately:
US $1231
€1040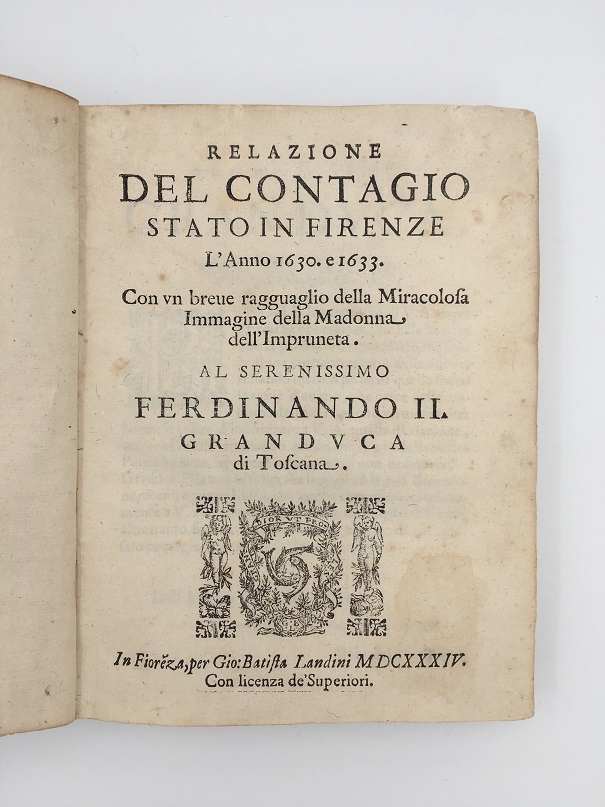 Added to your basket:
Relazione del contagio stato in Firenze l'anno 1630 e 1633 con un breve ragguaglio della miracolosa immagine della Madonna dell'Impruneta ...
First edition of this official account of the Florentine plague of 1630 and 1633, commissioned by Ferdinando II de' Medici, grand duke of Tuscany, and composed by his librarian Rondinelli from official records and interviews with survivors. Plague had been brought to Italy in 1629 by troops fighting in the Thirty Years' War and soon ravaged northern and central parts of the country. The disease struck Florence in the summer of 1630, disappeared in early 1631, and briefly reappeared in spring 1633, killing around 12% of the city's population.

Rondinelli's minutely detailed text 'offers a series of interlocking motifs: the arrival of the pestilence in the city; the conflicting efforts to cover it up; the slow establishment of a regimen of separation between the healthy, the suspect, and the diseased, culminating in a dictatorship of the Public Health Magistracy; and the street processions upon the arrival of the image of the Madonna of Impruneta' (G. Calvi, Histories of a plague year (1989), p. 2). The Florentine plague makes an interesting contrast with that experienced in Milan or Naples: there were neither riots nor killings of reputed plague spreaders, no instances of collective panic or revolt, and the mortality rate was low compared to the decimation experienced in other cities.

Krivatsy 9924.
You may also be interested in...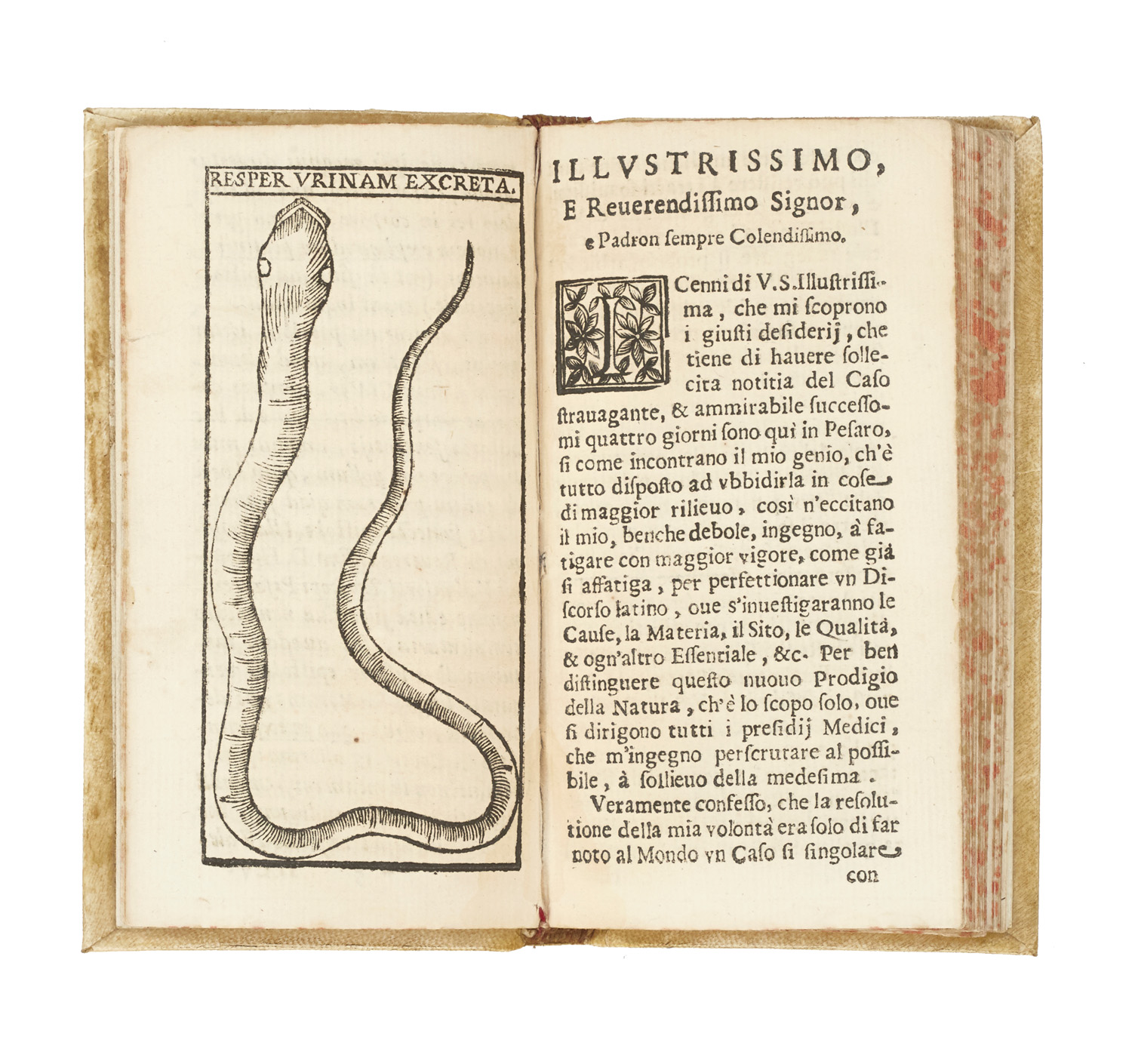 A WONDER WORM MARINIS, Dominico de.
Dissertatio philosophico-medica de re monstrosa à Capuccino Pisauri per urinam excreta. Plura de sanguinis grumis, polypis, serpentibus, ac praecipuè de vermibus in corpore humano procreatis non iniucunda complectens ...
First edition of this scarce dissertation on worms focussing on the extraordinary case of a capuchin preacher from Pesaro who in 1677 passed a 'monster' worm in his urine, which upon subsequent examination was declared to be a serpent. The Dissertatio begins with a prefatory letter in Italian by Alessandro Cocci discussing the case of the capuchin friar Stefano da Cammerino who for 13 months had suffered from kidney pains and bloody and lumpy urine. Following treatment by Cocci and Cesare Cesareo, Cammerino passed, with excruciating pain, a long thin worm through his urinary meatus, initially trying to pull it out, only to break it in two, and then passing the remainder, to his subsequent great relief. The worm caused much local interest and Cocci describes how it was initially put on display to satisfy the curious, before being examined under a microscope. The conclusion of this examination was that the 'prodigio della natura' passed by Cammerino was in fact a serpent.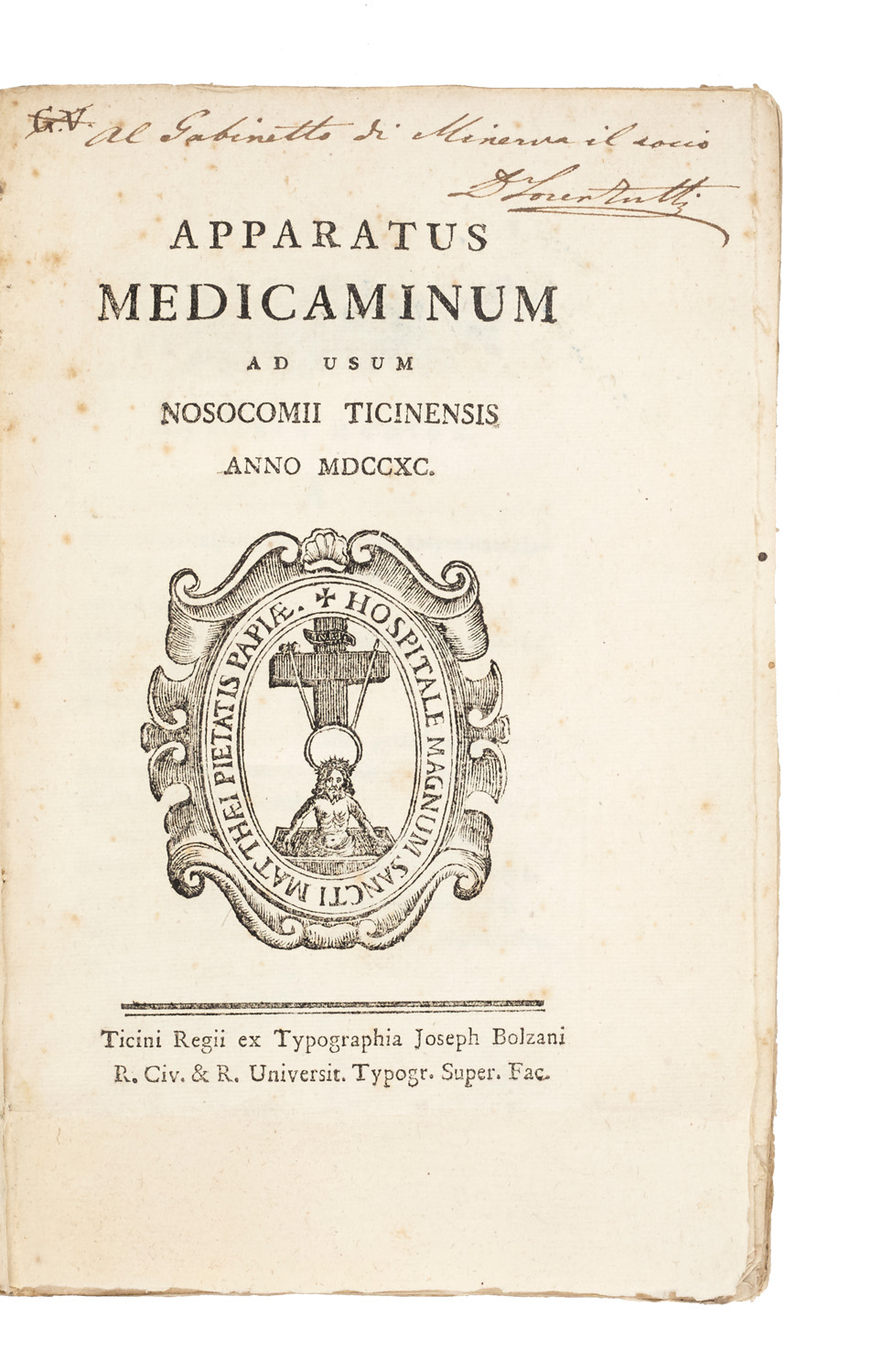 PAVIAN PHARMACOPOEIA [PHARMACOPOEIA.]
Apparatus medicaminum ad usum nosocomii Ticinensis anno MDCCXC.
Very rare first edition of this pharmacopoeia for use at the Ospedale Grande di San Matteo, also known as the Pietà, in Pavia, one of the foremost medical schools in Europe at the time of this publication. Founded in 1449, the Ospedale remained the centre of healthcare in the city for almost five centuries, the buildings now forming part of the University of Pavia. Opening with a list of materia medica, the Apparatus contains 161 receipts, arranged alphabetically, detailing the ingredients and measures for all manner of poultices, electuaries, elixirs, plasters, draughts, mercuries, oils, pills, powders, spirits, syrups, tinctures, and unguents.