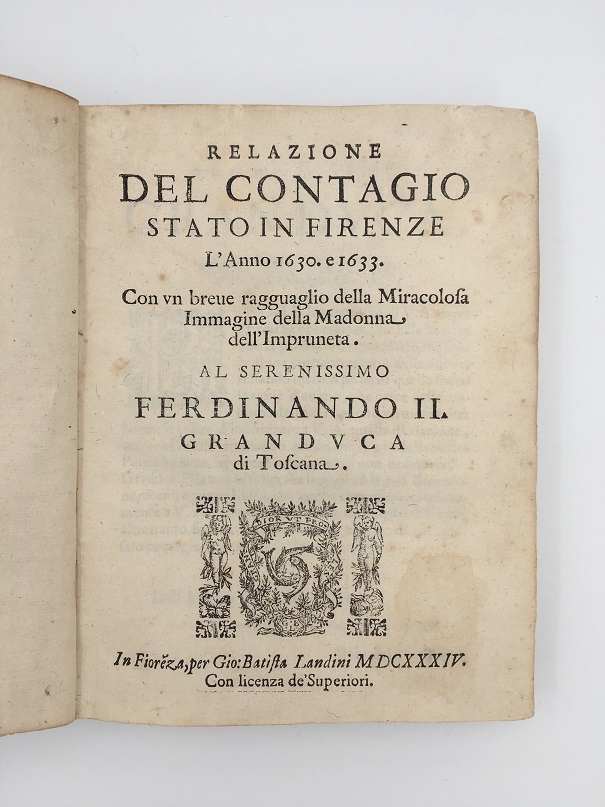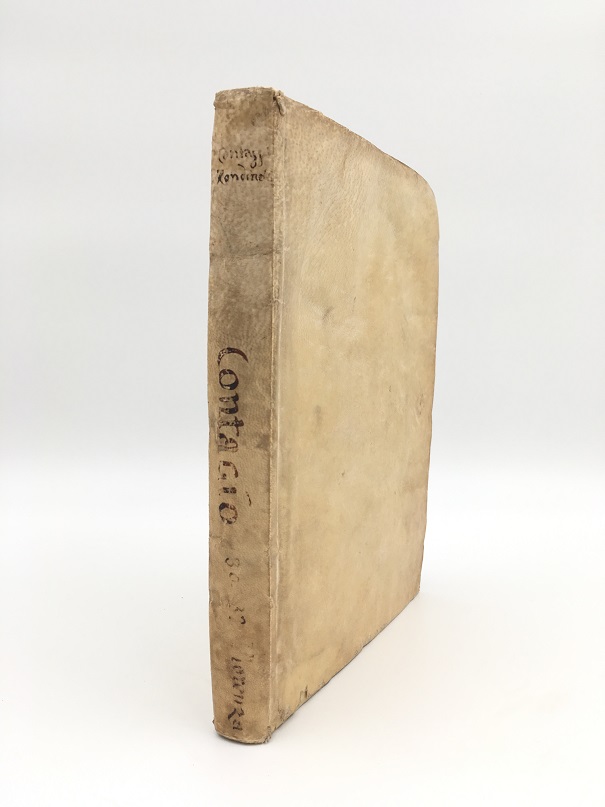 PLAGUE IN FLORENCE
RONDINELLI, Francesco.
Relazione del contagio stato in Firenze l'anno 1630 e 1633 con un breve ragguaglio della miracolosa immagine della Madonna dell'Impruneta ...
Florence, Gio. Batista Landini, 1634.
4to, pp. [16], 284, [4]; full-page armorial engraving to p. [108], woodcut device to title, initials, tail-pieces; small neat repair to title, a little foxing at edges; a very good copy in contemporary limp vellum, title inked to spine; small neat repair to bottom edge of front cover.
£950

Approximately:
US $1287
€1135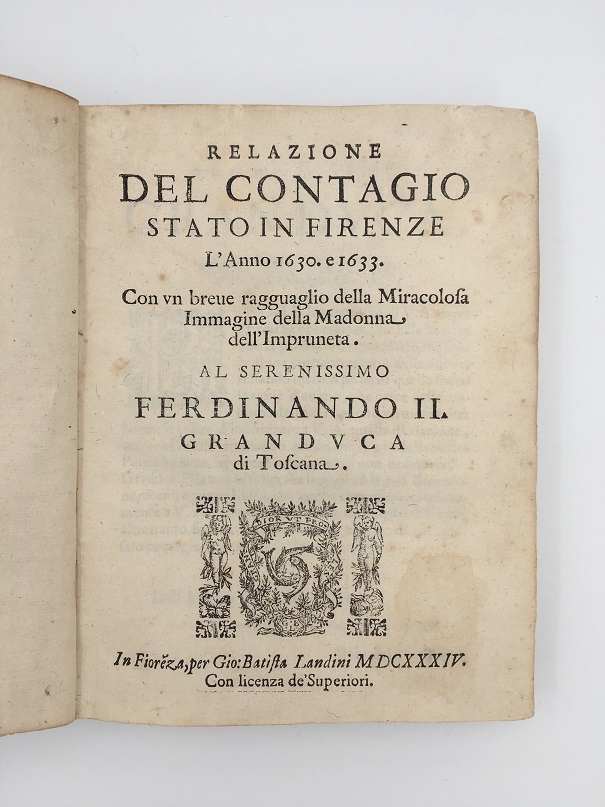 Added to your basket:
Relazione del contagio stato in Firenze l'anno 1630 e 1633 con un breve ragguaglio della miracolosa immagine della Madonna dell'Impruneta ...
First edition of this official account of the Florentine plague of 1630 and 1633, commissioned by Ferdinando II de' Medici, grand duke of Tuscany, and composed by his librarian Rondinelli from official records and interviews with survivors. Plague had been brought to Italy in 1629 by troops fighting in the Thirty Years' War and soon ravaged northern and central parts of the country. The disease struck Florence in the summer of 1630, disappeared in early 1631, and briefly reappeared in spring 1633, killing around 12% of the city's population.

Rondinelli's minutely detailed text 'offers a series of interlocking motifs: the arrival of the pestilence in the city; the conflicting efforts to cover it up; the slow establishment of a regimen of separation between the healthy, the suspect, and the diseased, culminating in a dictatorship of the Public Health Magistracy; and the street processions upon the arrival of the image of the Madonna of Impruneta' (G. Calvi, Histories of a plague year (1989), p. 2). The Florentine plague makes an interesting contrast with that experienced in Milan or Naples: there were neither riots nor killings of reputed plague spreaders, no instances of collective panic or revolt, and the mortality rate was low compared to the decimation experienced in other cities.

Krivatsy 9924.
You may also be interested in...
A BOTTLE OF WINE A DAY KEEPS CHOLERA AWAY [CHOLERA.]
Unterricht über die Erkenntniß, die erste Behandlung und die Verhütung der epidemischen Cholera für Nichtärzte. Bekannt gemacht durch die Central-Commission zur Abwehrung der Cholera ain Detmold.
Very rare, seemingly unrecorded, guide for lay people to the identification, initial treatment, and prevention of cholera, published at the height of the European pandemic of 1831-2 in the Westfalia town of Lemgo. The five sections deal with the diagnosis and symptoms of the disease, its treatment, preventive measures (including advice on diet and regimen), the prevention of contagion, and finally a list of the objects that every household should have during an outbreak, including woollen blankets, clean hand towels, a bottle of good wine, and camomile tea.
TAYLOR, Alfred Swaine.
The principles and practice of medical jurisprudence ... Second edition. Vol. I [– II].
Presentation copy of the second, enlarged edition of Taylor's Principles, which had first appeared in 1865 and which 'established Taylor as the major contributor to the professional establishment of medical jurisprudence' (ODNB). Taylor presented this copy upon publication to his son-in-law Frederick Methold (1841–1907), who had married his only daughter Edith in 1865. In a loosely inserted letter of 10 October 1873, Taylor refers to his grandson, writing 'Perhaps if little Alfie enters the medical profession hereafter he may find it of service'.