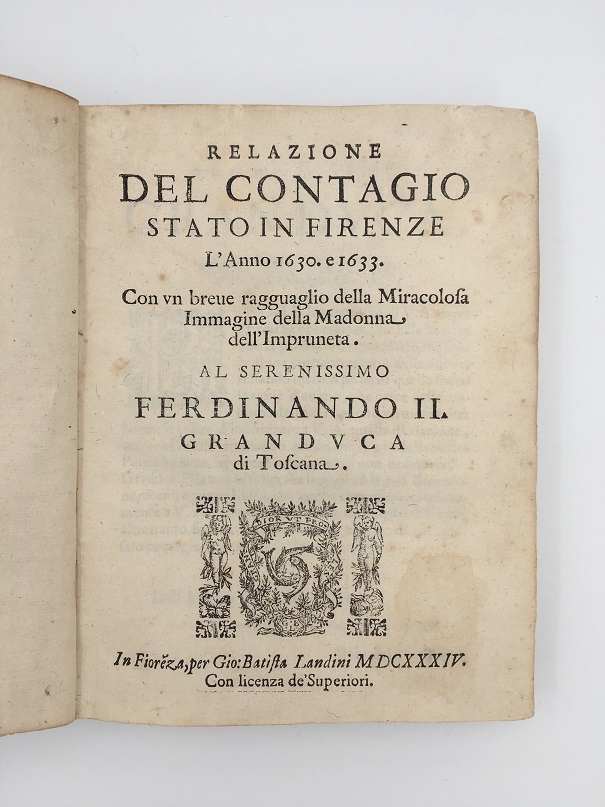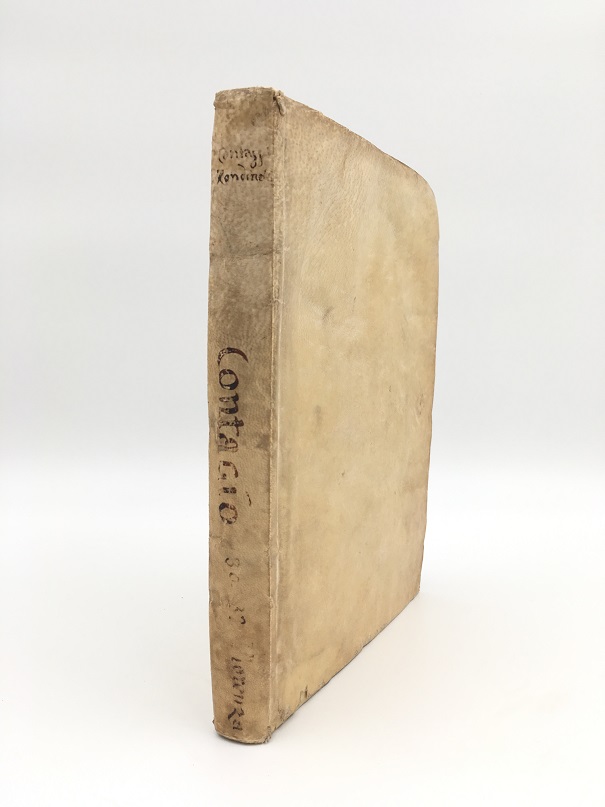 PLAGUE IN FLORENCE
RONDINELLI, Francesco.
Relazione del contagio stato in Firenze l'anno 1630 e 1633 con un breve ragguaglio della miracolosa immagine della Madonna dell'Impruneta ...
Florence, Gio. Batista Landini, 1634.
4to, pp. [16], 284, [4]; full-page armorial engraving to p. [108], woodcut device to title, initials, tail-pieces; small neat repair to title, a little foxing at edges; a very good copy in contemporary limp vellum, title inked to spine; small neat repair to bottom edge of front cover.
£950

Approximately:
US $1165
€1103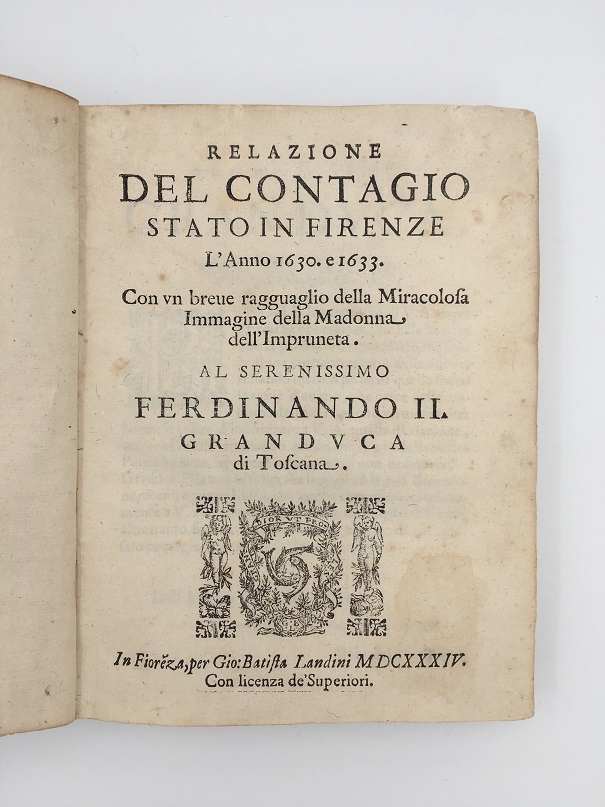 Added to your basket:
Relazione del contagio stato in Firenze l'anno 1630 e 1633 con un breve ragguaglio della miracolosa immagine della Madonna dell'Impruneta ...
First edition of this official account of the Florentine plague of 1630 and 1633, commissioned by Ferdinando II de' Medici, grand duke of Tuscany, and composed by his librarian Rondinelli from official records and interviews with survivors. Plague had been brought to Italy in 1629 by troops fighting in the Thirty Years' War and soon ravaged northern and central parts of the country. The disease struck Florence in the summer of 1630, disappeared in early 1631, and briefly reappeared in spring 1633, killing around 12% of the city's population.

Rondinelli's minutely detailed text 'offers a series of interlocking motifs: the arrival of the pestilence in the city; the conflicting efforts to cover it up; the slow establishment of a regimen of separation between the healthy, the suspect, and the diseased, culminating in a dictatorship of the Public Health Magistracy; and the street processions upon the arrival of the image of the Madonna of Impruneta' (G. Calvi, Histories of a plague year (1989), p. 2). The Florentine plague makes an interesting contrast with that experienced in Milan or Naples: there were neither riots nor killings of reputed plague spreaders, no instances of collective panic or revolt, and the mortality rate was low compared to the decimation experienced in other cities.

Krivatsy 9924.
You may also be interested in...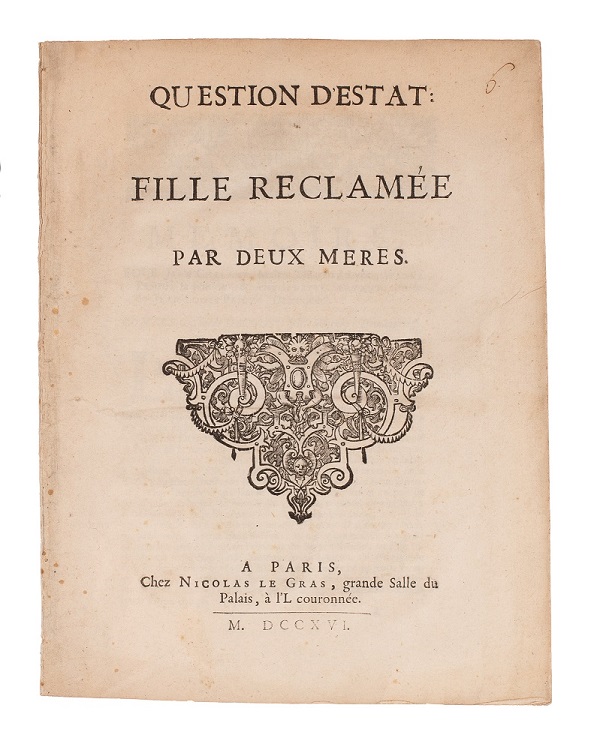 SWITCHED AT BIRTH GAYOT DE PITAVAL (Conseil).
Question d'estat: fille reclamée par deux meres.
First edition of this account by the famous advocate François Gayot de Pitaval (1673–1743) of a 1709 case, where a midwife had substituted a new-born girl who was then claimed both by the real mother and the woman to whom the baby had been given. Pitaval's account details the principles by which decisions are made about parenthood in lieu of proper evidence, and seeks to prove who the true parents are, with evidence from the midwife and others. Various objections, both factual and legal, are addressed, and the account closes with a statement of the damages awarded to the parents after the lengthy and public case.
PRO-VACCINATION THORNTON, Robert John, and Joseph DUFFOUR (translator).
Preuves de l'efficacité de la vaccine, suivies d'une réponse aux objections formées contre la vaccination, contenant l'histoire de cette découverte, etc. Par le docteur John Thornton ... Traduction littérale de l'anglais, par M. Duffour ...
First French translation of Thornton's Facts decisive in favour of the cow-pock, which first appeared in 1802 and swiftly ran through numerous editions. Thornton (1768–1837) attended Trinity College, Cambridge, and the University of St Andrews, before lecturing on medical botany at Guy's and St Thomas's hospitals. Famous for The Temple of Flora, which almost ruined him, Thornton also wrote Vaccinae Vindiciae, or a Vindication of the Cow Pock (1806).