ROTH, Henry.
Call it Sleep.
London: Michael Joseph, 1963.
8vo., pp. 446; original black cloth, stamped in gilt on spine; inevitable uniform browning to cheap paper, otherwise a fine copy in an remarkably bright unclipped jacket, showing only a hint of wear to spine ends.
£250

Approximately:
US $348
€283
First English edition, first published in New York by Robert O. Ballou in 1934.

This single precocious masterpiece, originally published seventy years ago, is now generally regarded as the finest novel of Jewish immigration to America before and after the turn of the century.

In fact, so good was the novel, so rapturous its critical and popular reception, that Roth suffered over half a century of writer's block before he was able to write another.
You may also be interested in...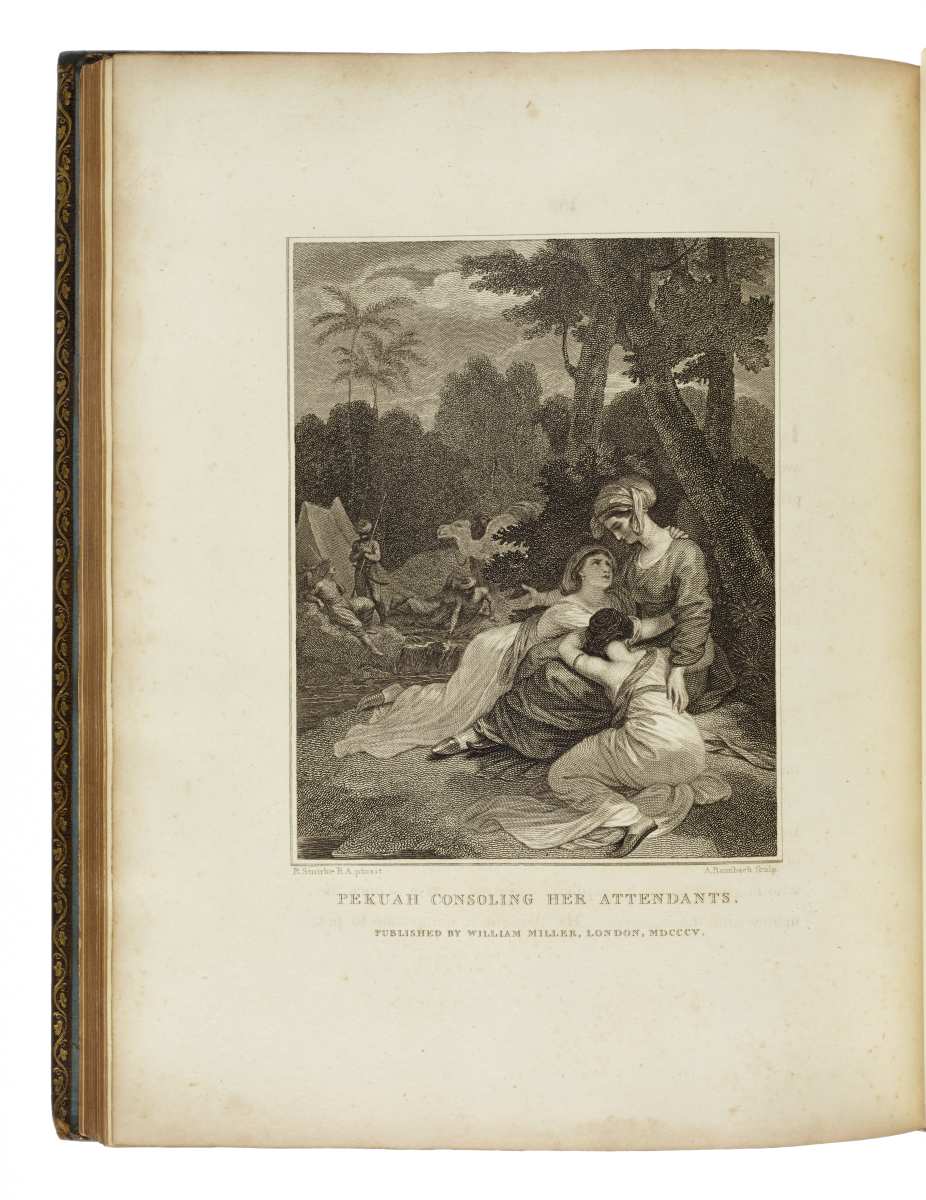 [JOHNSON, Samuel].
Rasselas.
Third Smirke edition, ordinary-paper issue. 'All travel has its advantages,' the lexicographer, essayist and critic Samuel Johnson (1709-84) wrote in his Journey to the Western Islands of Scotland. 'If the passenger visits better countries, he may learn to improve his own, and if fortune carries him to worse, he may learn to enjoy it.' Although Johnson himself never travelled more than five hundred miles from his London home, he was an indefatigable planner of distant voyages; his writings on travel began with the translation from the Fench edition of Father Jerónimo Lobo's A Voyage to Abyssinia in 1735 (first published in French as Voyage historique d'Abbysinie, 1728), followed by numerous articles and essays on the subject in his middle years, and culminated in the publication of his own description of the Highlands. Johnson's attitude towards travel literature itself was a complex one; in his preface to Lobo's Voyage, Johnson showed a dislike for fantastical accounts of far-off locations published merely for entertainment, and repeatedly praised Lobo for not yielding to 'romantick absurdities or incredible fictions'. Johnson scorned the unsophisticated travel literature foisted upon an naïve public, noting that it was the kind of writing that could be done by those who had not journeyed beyond their booksellers' stalls.
AINSWORTH, William Harrison.
The Lord Mayor of London: or, City Life in the Last Century ... in three Volumes ...
First edition. The Lord Mayor of London is set in the reign of George III, but Ainsworth's worthy Sir Gresham Lorimer embodies all the Victorian qualities of the industrious, honest citizen, risen from humble origins to the highest civic position. His wife adopts the exaggerated dress of the fashionable set with a 'lofty head-dress, which rose full three feet above her brows, and might have overbalanced a less substantially-built frame'; their children are introduced at court and members of the royal family appear as characters in the novel. Descriptions of society balls and city pageants alternate with accounts of low life and the activities of the money lenders of Moorfields.