SACCHI, Giovenale.
Del numero e delle misure delle corde musiche e loro corrispondenze. Dissertazione del P. D. Giovenale Sacchi Bernabita.
Milan, [Giuseppe Mazzucchelli (colophon)], 1761.
8vo, pp. 126; one or two small spots, very mild foxing to final leaf; a very good copy, in contemporary boards, lightly soiled.
£2250

Approximately:
US $2809
€2660
Added to your basket:
Del numero e delle misure delle corde musiche e loro corrispondenze. Dissertazione del P. D. Giovenale Sacchi Bernabita.
First edition of Sacchi's first work: a theoretical study of music and acoustic from a mathematical and physical perspective built upon the most innovative eighteenth-century physics. Galilei, Kapler, Newton, Mersenne, and contemporary works on the nature of air form the basis of Sacchi's study of strings and their number, ratio, length and correspondence, as the basis for the solution of the problem of temperament. Sacchi's innovation takes the cue from Newton's parallel treatment of optics and acoustics and his matching of the seven musical tones with seven light bands obtained from a prism. Sacchi suggests matching the seven colours with eleven strings (the twelfth corresponding to the first) instead of seven, to outline a major and minor mode, and provides for each of them a fractional formula.

Sacchi went on to publish other tracts on musical theory, and to become the first biographer of Farinelli.

Riccardi I/2, p. 406.
You may also be interested in...
BALDUINO, Girolamo.
Quaesitum novum pulcherrimum, ac optatissimum contra Scotum, ac communem viam in quo enucleatur an de subiecto praecognoscatur si est aut de eodem aliqua demonstrationis spetie inquiratur ... Ioanne Elysio ... dilucidatore, atque locupletatore.
Scarce first editions of two early works on Aristotelian logic by Girolamo Balduino, an important member of the Paduan school of Aristotelian commentators who have been recognised in recent scholarship as a crucial link between traditional logic and science and the new, Galilean methodologies. In addition to Averroes, Albertus Magnus, Aquinas, and Duns Scotus, these works make reference to Balduino's fellow Paduan philosophers Thomas Cajetan, Agostino Nifo, Marcantonio Zimara, and Giovanni Francesco Burana.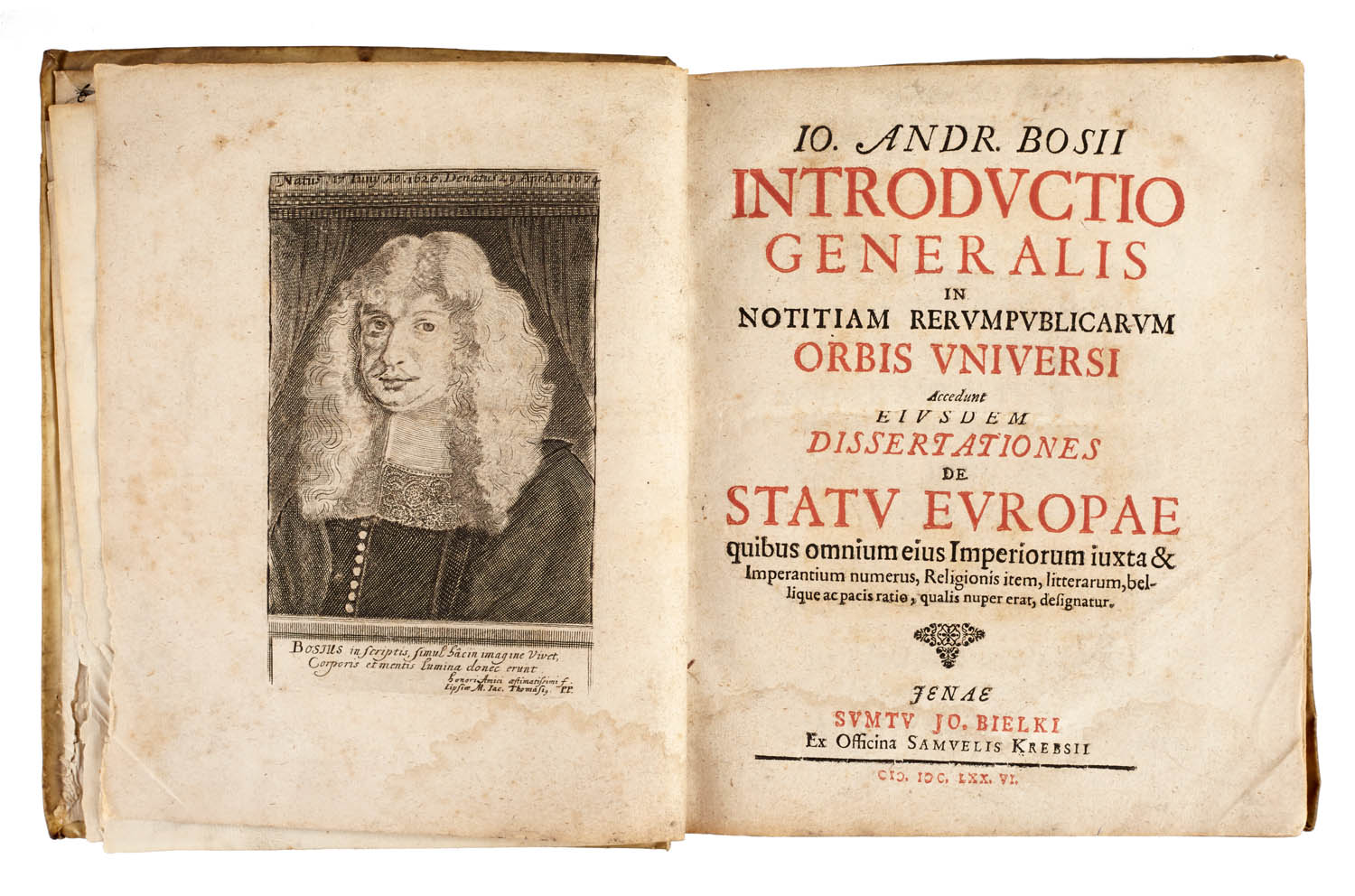 PIONEERING THEORY OF STATISTICS– A RARE AMERICANUM – BOSE, Johann Andreas.
Introductio generalis in Notitiam Rerum publicarum Orbis Universi. Accedunt eiusdem Dissertationes de Statu Europae quibus omnium eius Imperiorum iuxta et Imperantium numerus, Religionis item, litterarum, bellique ac pacis ratio, qualis nuper erat, designatur.
First edition of a pioneering work of statistics and rare Americanum, by the philosopher and historian Johann Andreas Bose (1624–1674). Bose's crucial intuition as a student of human societies lies in his advocacy of interdisciplinary investigations. His work 'on all the states in the world' marshals data and outlooks ranging from geography to economics and trade, politics, history, sciences, religion, and includes several remarks about the age of discoveries, particularly noting the impact of the Europeans' encounter with America.