SACCHI, Giovenale.
Del numero e delle misure delle corde musiche e loro corrispondenze. Dissertazione del P. D. Giovenale Sacchi Bernabita.
Milan, [Giuseppe Mazzucchelli (colophon)], 1761.
8vo, pp. 126; one or two small spots, very mild foxing to final leaf; a very good copy, in contemporary boards, lightly soiled.
£2250

Approximately:
US $2747
€2521
Added to your basket:
Del numero e delle misure delle corde musiche e loro corrispondenze. Dissertazione del P. D. Giovenale Sacchi Bernabita.
First edition of Sacchi's first work: a theoretical study of music and acoustic from a mathematical and physical perspective built upon the most innovative eighteenth-century physics. Galilei, Kapler, Newton, Mersenne, and contemporary works on the nature of air form the basis of Sacchi's study of strings and their number, ratio, length and correspondence, as the basis for the solution of the problem of temperament. Sacchi's innovation takes the cue from Newton's parallel treatment of optics and acoustics and his matching of the seven musical tones with seven light bands obtained from a prism. Sacchi suggests matching the seven colours with eleven strings (the twelfth corresponding to the first) instead of seven, to outline a major and minor mode, and provides for each of them a fractional formula.

Sacchi went on to publish other tracts on musical theory, and to become the first biographer of Farinelli.

Riccardi I/2, p. 406.
You may also be interested in...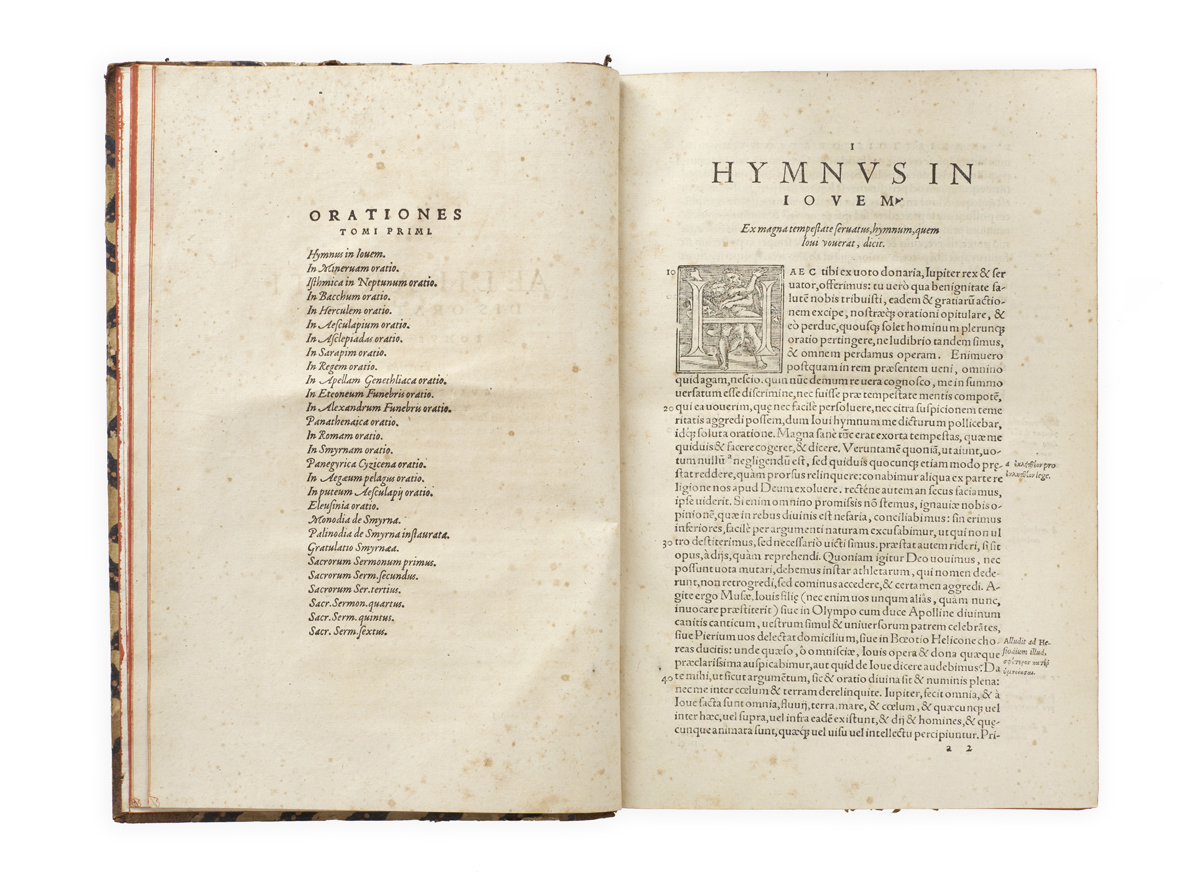 GIOSEFFO ZARLINO'S COPY ARISTIDES, Aelius. 
Orationum tomi tres, nunc primum latine versi a Gulielmo Cantero Ultraiectino.  Huc accessit orationum tomus quartus […] item De ratione emendandi scriptores Graecos, eiusdem Syntagma. 
First edition in Latin, a remarkable copy once owned by one of the preeminent music theorists and composers of Renaissance Italy, Gioseffo Zarlino.  The translation was prepared from the Greek by the German scholar Wilhelm Canter (1542–1575), author of an acclaimed Syntagma, a systematic study of the most frequent errors to be found in Greek texts, here published as an appendix.  Aelius Aristides's Orations, particularly the Panathenaic, a historical celebration of classical Athens, enjoyed much appreciation in the Renaissance, having first been published in Greek in 1517. 
HUMANISM DISPLACES COURTLY LOVE
A MUSIC SCHOLAR'S ANNOTATIONS RIDOLFI, Luca Antonio. 
Aretefila, dialogo, nel quale da una parte sono quelle ragioni allegate, le quali affermano, lo amore di corporal bellezza potere ancora per la via dell'udire pervenire al quore: et dall'altra, quelle che vogliono lui havere solamente per gl'occhii l'entrata sua: colla sentenza sopra cotal quistione. 
Annotated copy, once owned by a music book collector, of the third edition (first 1557) of a remarkable Renaissance philosophical dialogue on the nature of love which marked the culmination of the very divisive 'questione d'amore' hotly debated in sixteenth-century literature.