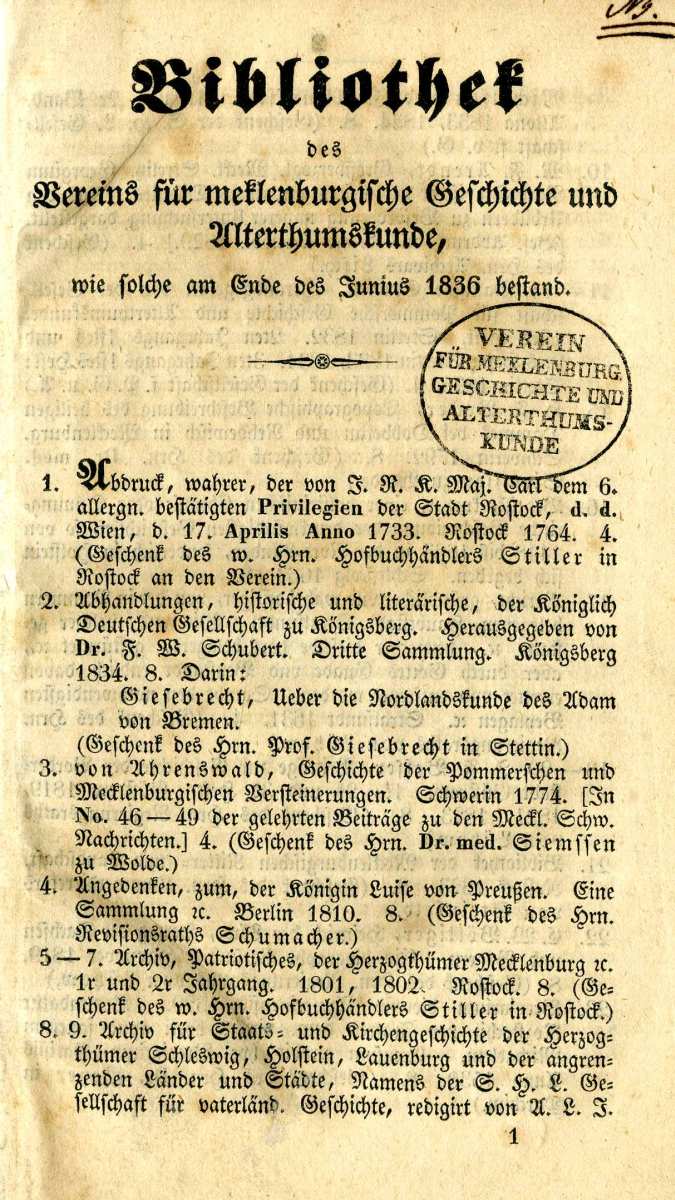 (SCHWERIN) (GLOECKER, A.F.W).
Bibliothek des Vereins für Meklenburgische Geschichte und Alterthumskunde, wie solche am Ende des Junius 1836 bestand.
… Erste Fortsetzung 1837 … [until] … Achte Fortsetzung 1844. (Schwerin), 1836-1844.
9 parts in one vol., 8vo, pp. 119, very good copy in contemporary marbled boards, mss. paper label to spine, hinges rubbed. Contemporary ownership stamp of the Verein für Mecklenburgische Geschichte.
£150

Approximately:
US $209
€170
The Verein für Mecklenburgische Geschichte ('Association for the history of Mecklenburg') was founded in 1835. Here we have the catalogue of its library, with over 1500 books, as it grew over the years from its foundation to 1844. This is a fascinating record of local interest books, some published contemporarily but many from the preceding centuries, donated by its member. The library grew at a healthy speed of a few hundred books each year, and all had local interest. There was also a fine collection of books printed in the county of Mecklenburg. Mecklenburg is a relatively little known region in northern Germany, with Schwerin and the ports of Wismar and Rostock as its main towns.

This copy belonged to the Verein and has a few contemporary mss. annotations.
You may also be interested in...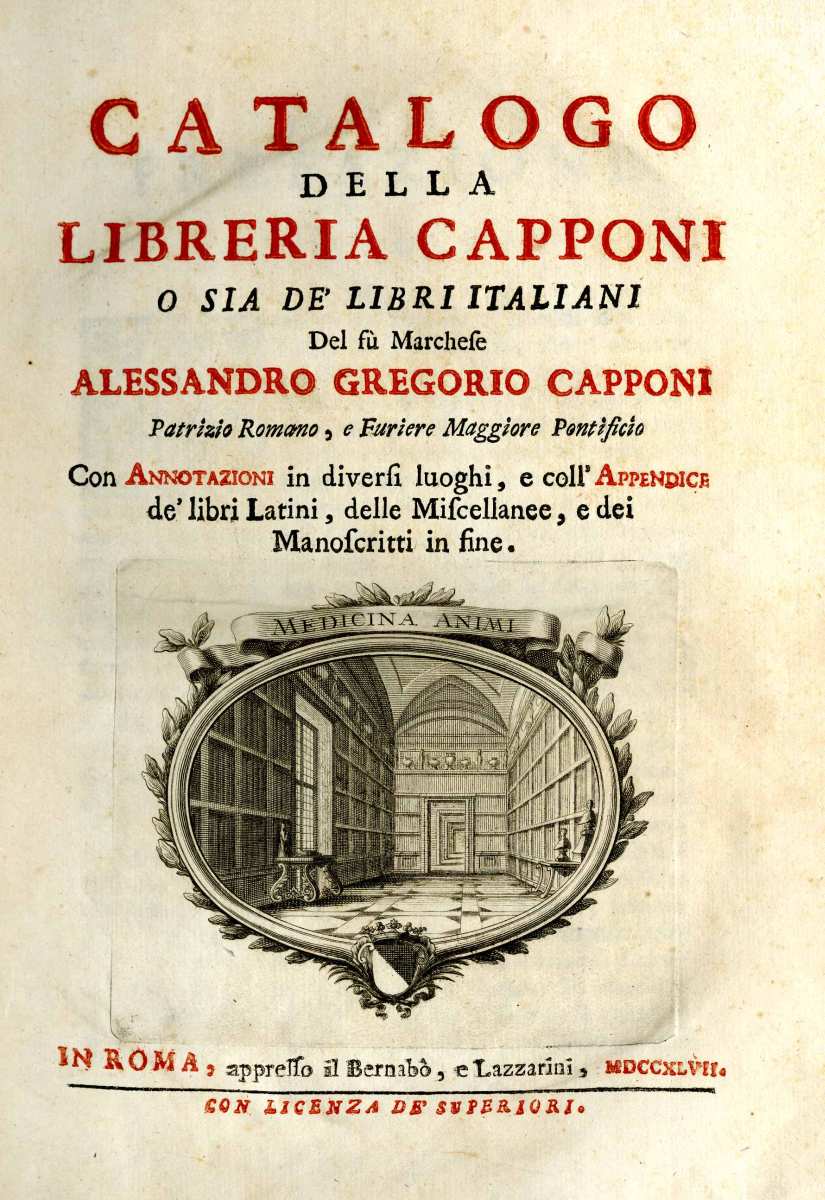 CAPPONI, Alessandro Gregorio, Marchese.
Catalogo della Libreria Capponi o sia de' Libri Italiani del su Marchese Alessandro Gregorio Capponi ... con Annotazioni in diversi luoghi, ed coll' Appendice de' Libri Latini, delle Miscellanee, e dei Manoscritti in fine.
First and only edition of the catalogue of this remarkable library assembled by Capponi (1683-1746) and containing over 5000 titles, mainly of early Italian literature. The catalogue was compiled by Alessandro Berti with bio-bibliographical notes by Domenico Giorgi. The collection now forms part of the Vatican Library by Capponi's bequest: it is still considered an important aid to the student of Italian literary history.
DELGADO-GOMEZ, Angel.
Spanish Historical Writing about the New World, 1493-1700 … with a Bibliographical Supplement by Susan L. Newbury, Including a List of Editions & Translations Published before 1801.
First edition. A catalogue published to commemorate the Columbus quincentenary, comprising works drawn from the John Carter Brown Library's remarkable holdings of early Americana and supplemented by a 'Bibliographical Supplement', which provides a full account of the works exhibited and also descriptions of later editions and translations down to 1800. The work was designed by Mark Argetsinger and printed by The Stinehour Press.