[SOCIETY OF ARTISTS.]
A Catalogue of the Pictures, Sculptures, Models, Designs in Architecture, Drawings, Prints, &c. Exhibited by the Society of Artists of Great-Britain, at their New Room, near Exeter-Exchange, Strand. April the twenty-fifth, 1774, the fifteenth Year of exhibiting …
Printed by Harriot Bunce, Printer to the Society. 1774.
Folio, pp. 33, [1]; dust soiling to final leaf and light foxing to title-page but a very good copy, uncut, stab-sewn as issued. The final leaf here (page 33, [1], 'Omitted' and 'Finis', verso blank) bears a contemporary endorsement '1774 Pictures'. The BL copy adds a page 35, presumably a second issue with further omissions.
£1100

Approximately:
US $0
€0
Added to your basket:
A Catalogue of the Pictures, Sculptures, Models, Designs in Architecture, Drawings, Prints, &c. Exhibited by the Society of Artists of Great-Britain, at their New Room, near Exeter-Exchange, Strand. April the twenty-fifth, 1774, the fifteenth Year of exhibiting …
First edition of the Catalogue for the selling exhibition of 1774. The Society of Artists emerged in 1760 as a loose association of artists, including Joshua Reynolds and Francis Hayman, who wanted greater control over exhibitions of their work than they experienced under William Shipley's Society of Arts (est. 1754). They held an alternative exhibition in London, May 1761, and in 1765 obtained a Royal Charter as the 'Incorporated Society of Artists of Great Britain'. By 1774, however, the leading artists had joined the more prestigious Royal Academy, founded in 1769, although there are still examples here of paintings contributed by George Stubbs ('A portrait of a horse') and Joseph Wright of Derby (his celebrated 'The old man and death').

The entries are dominated by landscapes from the domestic, 'A view in St. James's Park', to the far flung 'A view in Iceland wherein is introduced the various habits of the Natives', and works inspired by the classics, 'Marius on the ruins of Carthage', alongside more esoteric submissions such as 'a figure weeping, in human hair', and a 'model of his majesty, [George III] in wax'. Literary subjects include 'A portrait of Doctor Goldsmith in miniature' and 'The Honorable Mr. Damer, [copied] from Sir Joshua Reynolds'.

ESTC lists copies at BL, National Portrait Gallery, Bodley (3), Royal Society of Arts, and Yale (Walpole).
You may also be interested in...
INSCRIBED BY BARTHOLOMEW BEALE [LAW.]
The Law of Commons and Commoners, or a Treatise shewing the Original and Nature of Common, and several Kinds thereof ...
First edition of an unattributed popular treatise on the law of common land. The text discusses, with reference to and explanations of previous cases, 'the daily Controversies that arise about the Rights and Titles of Commoning, the Torts and Damages done to Commoners, and the various Prescriptions and Claims which are made to it, and the nicety of Pleading them', being 'particular in the matter of Apportionement and Extinguishment of Common, the want of a due Knowledge whereof, has occasioned the loss of many Commons', so that 'a Man may know when he fails in his Prescription, or not, upon the Evidence; the Ignorance of such Directions having oftentimes proved fatal to such who might have good Cause of Action' (Preface).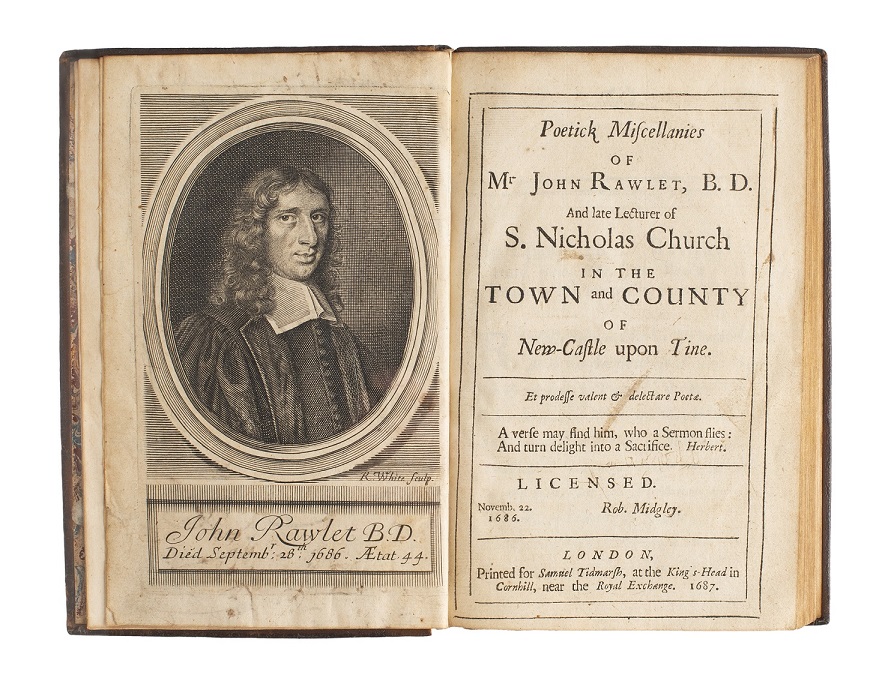 RAWLET, John.
Poetick Miscellanies …
First edition. Writing from the isolation of Newcastle, then a rural parish in fell country, Rawlet developed a mode of religious and descriptive poetry distinctly out of step with his own age, as is acknowledged by the editor in a verse preface: 'Reader, expect not here, the filth of th' Stage, / Poems that please, but more debauch the Age.' Rawlet's poems, such as 'On a great Thunder and Storm', 'On a Cross with a Crown upon it, in Burton, betwixt Lancashire and Kendale', and 'On the sight of Furness Fells', while looking back to Herbert in their weaving of the spiritual and the physical, please more by their anticipation of the topographical and sentimental concerns of the succeeding century.