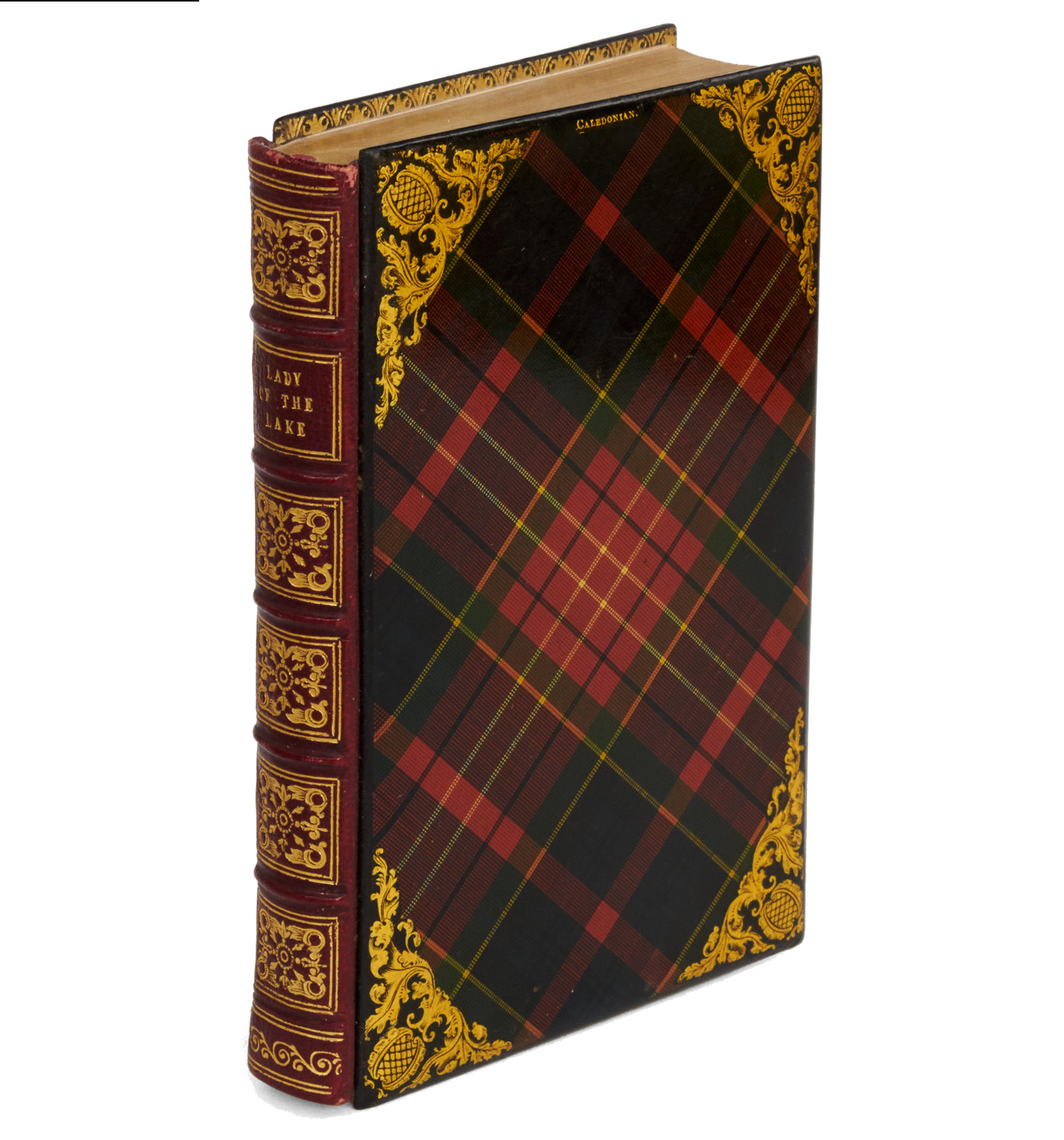 SCOTT, Sir Walter.
The Lady of the Lake … with all his Introductions and Notes, various Readings, and the Editor's Notes.
Edinburgh, Robert Cadell, 1851.
16mo in eights, pp. [2], 280, engraved title-page (foxed) by J. Gellatly after J. M.W. Turner; Mauchline binding in 'Caledonian' Tartan boards, red leather spine, gilt edges, a fine example. Stereotyped and printed by Stevenson & Company, 32 Thistle Street, Edinburgh.
£750

Approximately:
US $1034
€885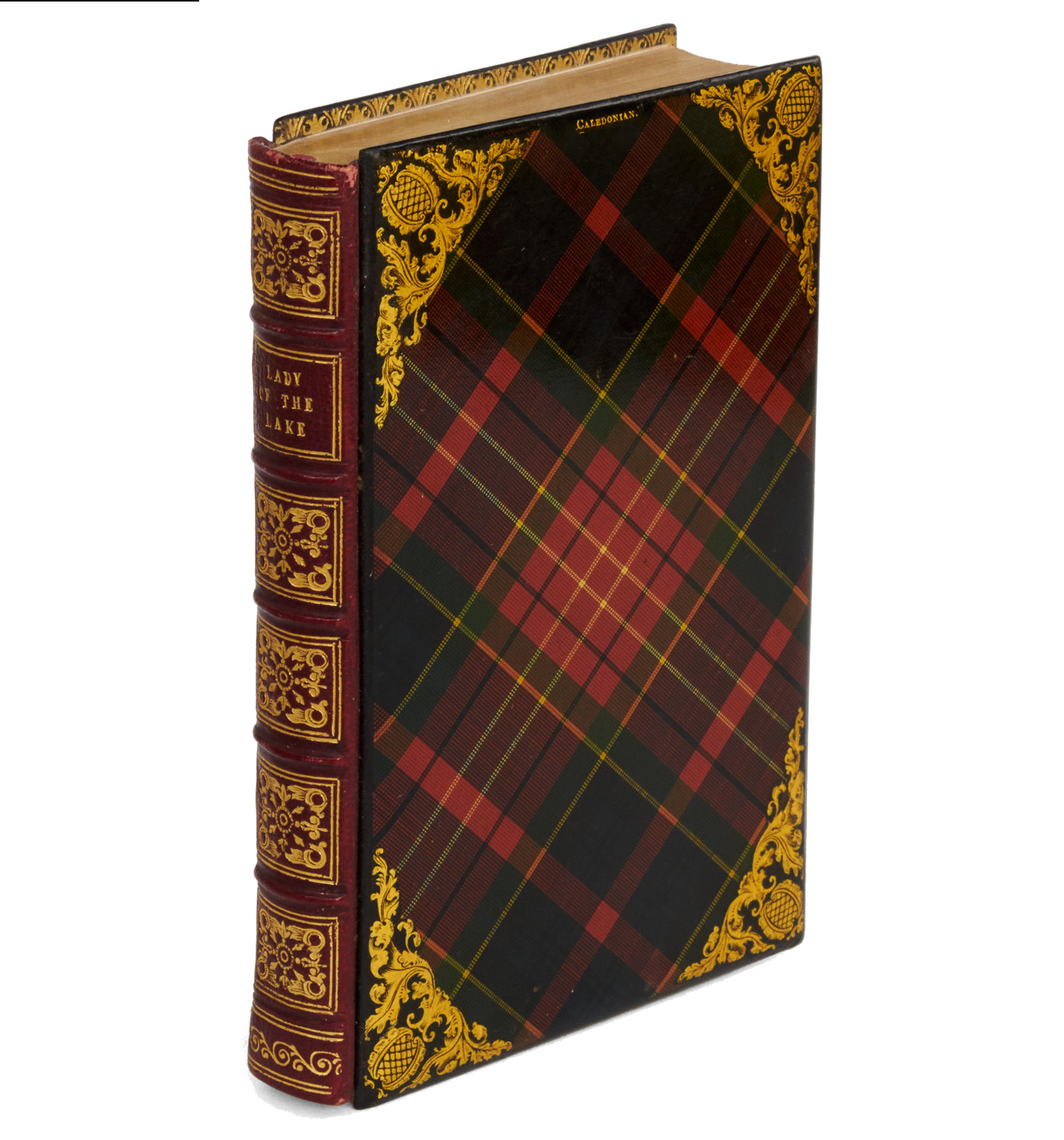 Added to your basket:
The Lady of the Lake … with all his Introductions and Notes, various Readings, and the Editor's Notes.
An attractive Scottish 'Mauchline ware' tartan binding. Mauchline ware bindings – the name comes from Smith's boxware factory at Mauchline in Ayrshire – were made from thin wooden boards (often sycamore) decorated with tartan or pictorial designs, heavily varnished, and attached to the text block by a leather spine. Here the tartan is designated 'Caledonian' in small gold type at the top of the front cover. This example comes from 1851, the year of the Great Exhibition where all sorts of Mauchline ware products were on display.

See David Trachtenberg and Thomas Keith, Mauchline Ware, a Collector's Guide (2002), especially chapter 2 and appendix 1.
You may also be interested in...
MANUSCRIPT WITH JACOBITE CONNECTIONS LAFFREY.
'Abregé de l'histoire ancienne avec des reflexions philosophiques & politiques par Mr. Laffrey.'
A charming manuscript summary of ancient history, compiled for a young female member of the Bellew family, and once in the library of the eminent Scottish Jacobite Andrew Lumisden (1720–1801).
WITH REPURPOSED HYPNEROTOMACHIAN WOODBLOCKS MARTIAL, Marcus Valerius.
Epigram. [epigrammatum] libri magna diligentia nuperrime castigati, adiectis doctissimis commentariis illustrium virorum Domitii Chalderini atque Georgii Merulae … accedunt his omnibus complura adnotamenta ex Angelo Politiano aliisque praestantissimis viris excerpta, ac ipsius authoris vita ab eruditissimo viro Petro Crinito fidelissime collecta.
A handsome early Lyons edition of Martial's epigrams, with the commentaries of Calderino, Merula, and Poliziano, and illustrated with sixteen attractive woodcuts by Guillaume le Roy. Le Roy's blocks, previously used to illustrated a 1510 Lyons Ovid, are copied from the unattributed woodcuts used to illustrate the 1497 Giunta Metamophoses, 'the style [of which] suggests that of the famous Aldine Hypnerotomachia Poliphili which was to follow two years later' (Mortimer). Even in this new context in the only Morin edition of Martial's epigrams, the woodcuts lose none of their charm and vivacity.