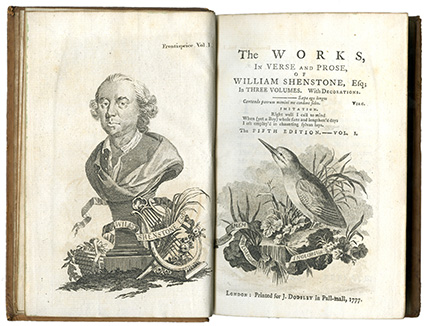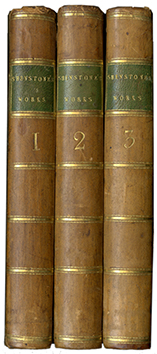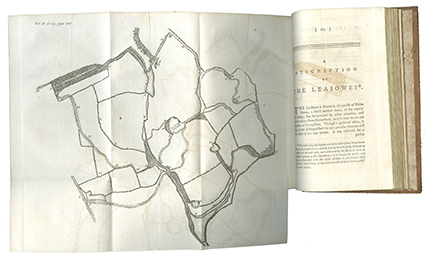 SHENSTONE, William.
The Works, in Verse and Prose… in three Volumes … Fifth Edition …
London: Printed for J. Dodsley … 1777.
3 vols., small 8vo., portrait in vol. I and frontispiece plate in vol. II, folding plan of The Leasowes, fine engraved head and tail-pieces; a fine copy in contemporary pale calf, morocco labels; bookplates of Sir Edmund Antrobus.
£325

Approximately:
US $418
€372
Fifth edition of the Works (1764), the first edition of which was planned by Shenstone but published after his death, with Robert Dodsley's description of Shenstone's important garden at The Leasowes, one of the first natural landscape gardens in England and one of the most influential, and with the third volumes of letters added in 1769.
You may also be interested in...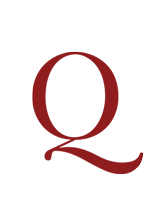 RAWLET, John.
Poetick Miscellanies …
First edition. Writing from the isolation of Newcastle, then a rural parish in fell country, Rawlet developed a mode of religious and descriptive poetry distinctly out of step with his own age, as is acknowledged by the editor in a verse preface: 'Reader, expect not here, the filth of th' Stage, / Poems that please, but more debauch the Age.' Rawlet's poems, such as 'On a great Thunder and Storm', 'On a Cross with a Crown upon it, in Burton, betwixt Lancashire and Kendale', and 'On the sight of Furness Fells', while looking back to Herbert in their weaving of the spiritual and the physical, please more by their anticipation of the topographical and sentimental concerns of the succeeding century.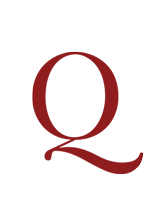 PEACOCK'S LAST AND MOST AMBITIOUS POEM PEACOCK, Thomas Love.
Rhododaphne: or the Thessalian Spell. A Poem.
First edition. A mythological narrative set in ancient Thessaly, Rhododaphne tells the story of the shepherd boy Anthemion, in love with the mortal girl Calliroë, and of the nymph Rhododaphne, who carries him off to her enchanted palace. When Rhododaphne is destroyed by Heavenly or Uranian love – pure passion for the good and the beautiful – the mortal lovers are reunited.