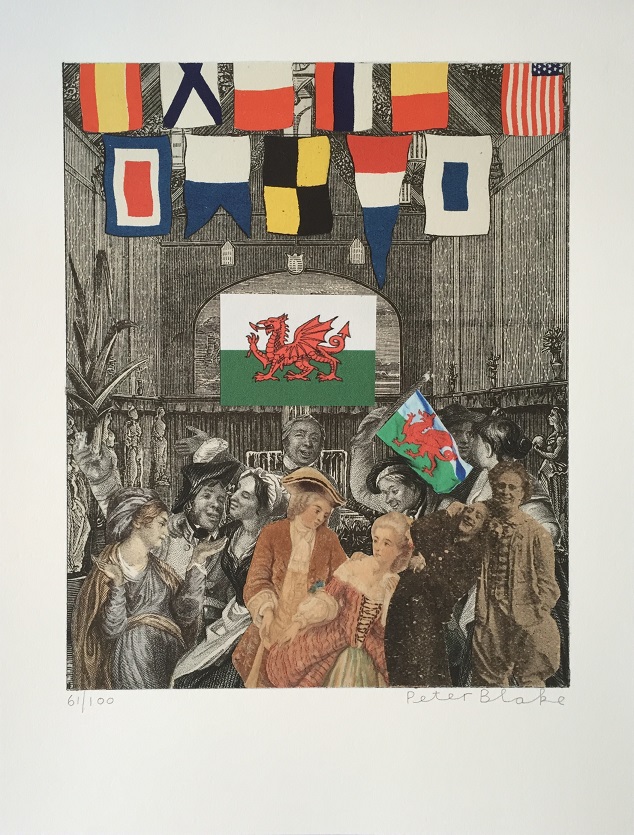 'IT IS ALL ABOUT RELIGION, SEX AND DEATH … AND IT IS A COMIC MASTERPIECE'
THOMAS, Dylan, and Sir Peter Blake, illustrator.

Under Milk Wood: A Play for Voices.
London: Apple Litho (Bristol) Ltd. for Enitharmon Editions and Queen Anne Press, 2013.
Quarto (300 x 247), pp. 173, [3 (imprint, colophon, verso blank)]; loosely inserted giclée print in colours 'The Sailors' Arms', by Blake, signed and numbered by the artist, and 110 colour printed and monochrome illustrations after Sir Peter Blake, many full-page; original full green cloth by Shepherds, Sangorski & Sutcliffe, upper board with mounted colour-printed illustration after Blake, gilt lettering design on lower board, spine lettered in gilt, dark green endpapers, solander box by Ludlow Bookbinders.
£975

Approximately:
US $1225
€1148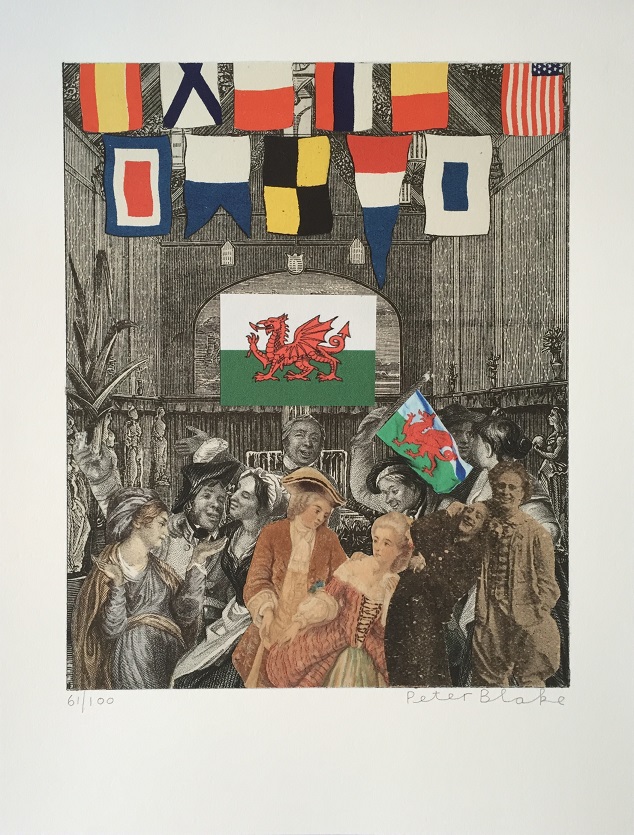 Added to your basket:
Under Milk Wood: A Play for Voices.
De Luxe edition, number 61 of 100 copies with a signed print by Blake. This finely-produced edition was published to mark the centenary of Dylan Thomas's birth and celebrates the culmination of over twenty-five years of work by Peter Blake, one of the founding fathers of British Pop Art. The book includes pencil portraits of each of the characters in the cast, watercolours of the dream sequences, and collages and paintings depicting scenes and locations in the fictional village of Llareggub.

Acclaimed for its eccentricity and lyricism, Thomas's 1954 play is set in what he called 'a never-never Wales' and is arguably one of the greatest dramas ever written for radio. Llareggub (an inversion of 'bugger all') had existed in Thomas's writing and imagination for twenty years before it was completed for radio broadcast, and was partially based on Thomas's experiences of the fishing village of Laugharne, where he had lived since 1949. Though most of the script was written in England and America and first read through by actors in New York, it was a Welsh cast that Thomas wanted for the play's production; however, he would never live to see the work produced as he wished it, nor be aware of the impact his play would make on the literary world. On 9 November 1953 he died from alcohol poisoning in St Vincent's Hospital in New York.

At once a lively and humorous account of butchers, bakers, preachers, wives and husbands, of Captain Cat, Dai Bread and Polly Garter, Under Milk Wood is also a modern pastoral tale with a Chaucerian bent, a 'greenleaved sermon on the innocence of men'. Richard Burton, the actor who famously voiced the narrator in the first BBC recording, said of Thomas's portrait of a poor village community that 'It is all about religion, sex and death … and it is a comic masterpiece'. On its first broadcast the critic Kenneth Tynan praised the Swansea-born poet's work: 'He conscripts metaphors, rapes the dictionary and builds a verbal bawdy-house where words mate and couple on the wing, like swifts. Nouns dress up, quite unself-consciously, as verbs, sometimes balancing three-tiered epithets on their heads and often alliterating to boot'.

Thomas's 'verbal bawdy-house' is visualised in an extraordinary body of work by Peter Blake, brought together with the text for the first time. In the introduction to this publication Peter Blake discusses the influence of the play on his life and work, describing an obsession that spanned almost thirty years. The rich and musical nature of Thomas's writing, relying often on visual-aural wordplay (such as the wood which runs 'invisible down to the sloeblack, slow, black' sea), is reflected in Blake's complex, layered pieces which frequently reveal a similarly tongue-in-cheek humour. For example, the signed original print entitled The Sailors' Arms accompanying this limited edition shows a string of maritime signal flags that, once deciphered, spell out 'WAL3S'.

The Queen Anne Press was founded in 1951 to publish limited editions by notable authors, and was managed in its early days by Ian Fleming, creator of James Bond and noted bibliophile. It continues to produce finely-printed limited editions by well-known authors, such as this attractively-bound special edition of one of Thomas's most celebrated works.
You may also be interested in...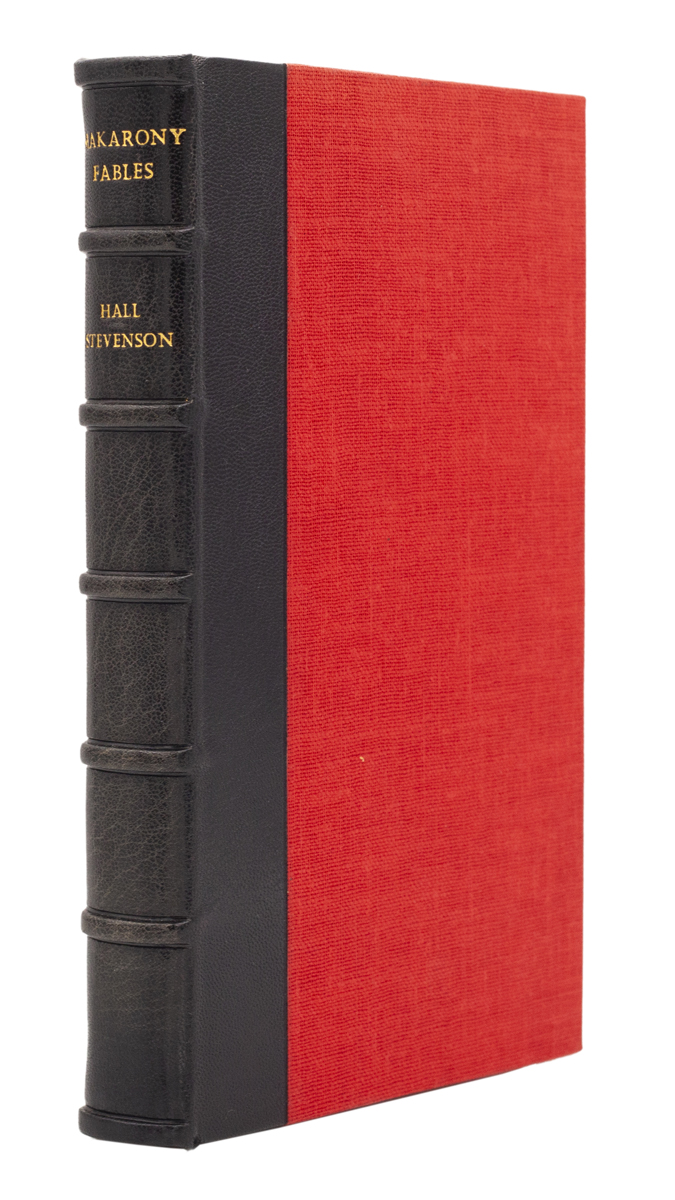 [HALL STEVENSON, John.]
Makarony Fables …
Limited edition, numbered 172 of 300 copies, of this collection of satiric fables in verse by the poet and satirist John Hall-Stevenson (1718–1785), reprinted from the original edition of 1768. Hall-Stevenson's reputation relies heavily on his friendship with Laurence Sterne, his contemporary at Jesus College Cambridge, both appearing in Tristram Shandy and A Sentimental Journey as 'Eugenius' and attempting to capitalize on his friend's success by publishing sequels to Sterne's writings.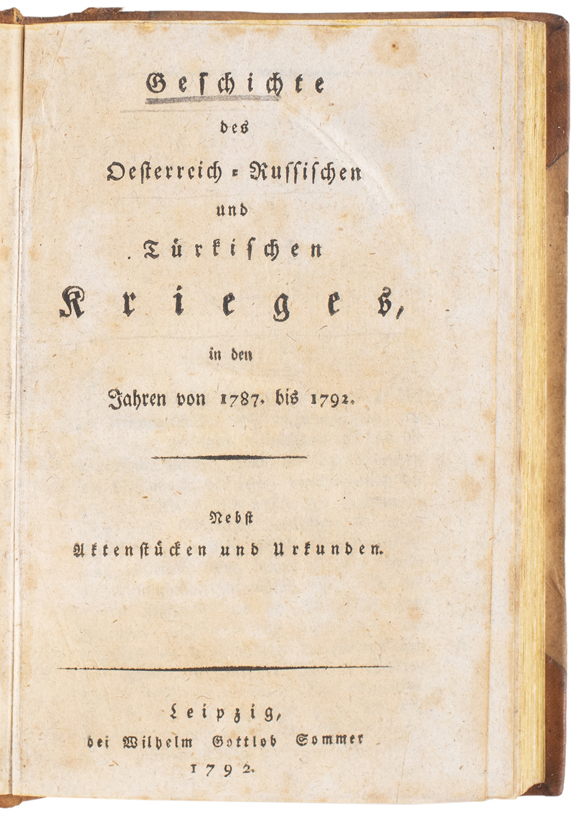 TURKISH WARSTHE SCHÖNBORN-BUCHHEIM–ATABEY COPY [UNGER, Salomo Gottlob.]
Geschichte des Oesterreich-Russischen und Türkischen Krieges, in den Jahren von 1787. bis 1792. Nebst Aktenstücken und Urkunden.
First and only edition, extremely rare, of this account of the Austro-Turkish War of 1788-1791, and of the concurrent Russo-Turkish war of 1787-92. It includes the full texts of the Treaty of Sistova of 4 August 1791 and of a separate convention attached to it, in both French and German. While the gains for Austria were meagre, the end of the Russo-Turkish war, sanctioned by the Treaty of Jassy of 9 January 1792, effectively left Russia in control of the Black Sea.