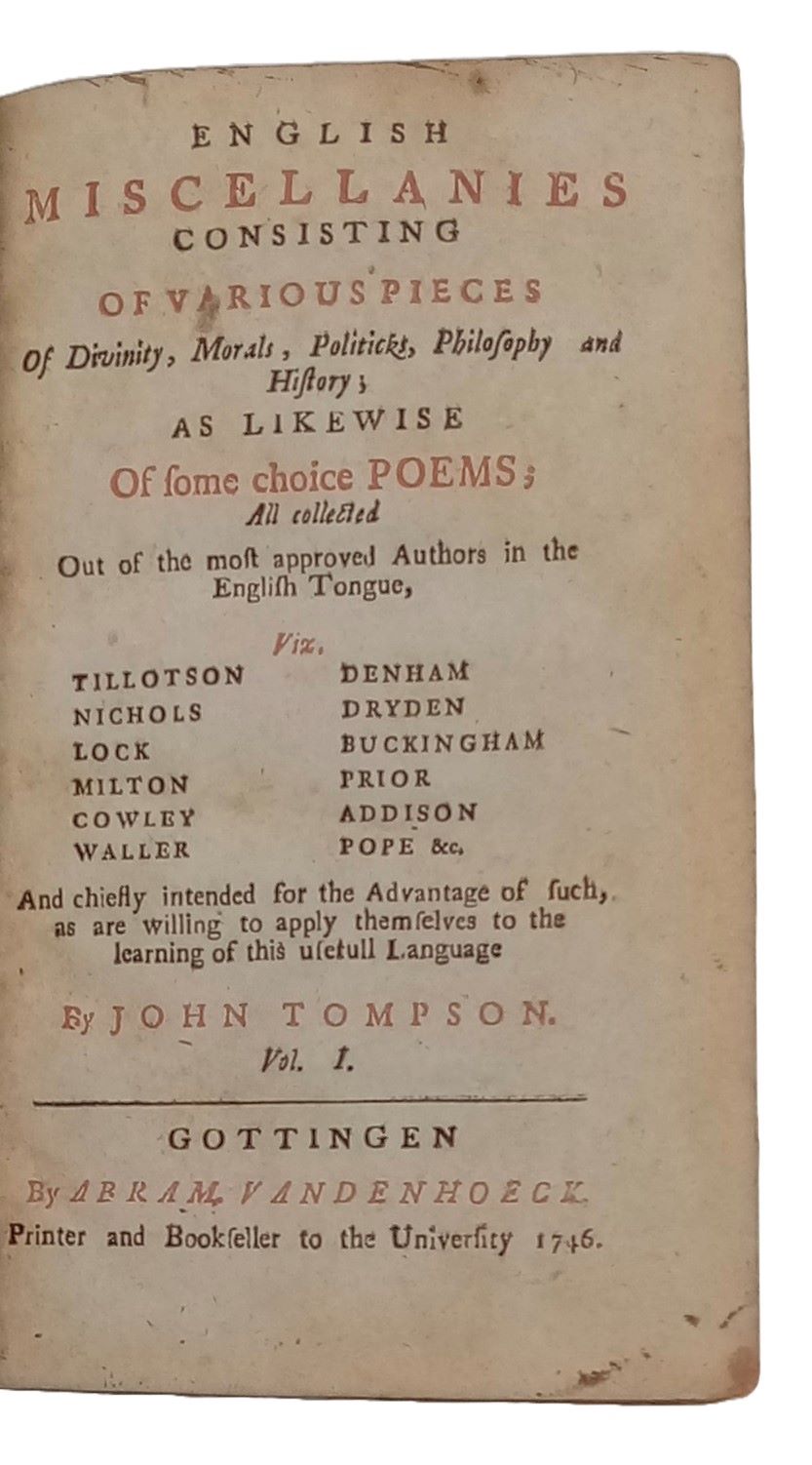 WITH NEW CONTENT – POPE, THOMSON, YOUNG …
TOMPSON, John, editor.
English Miscellanies consisting of various Pieces of Divinity, Morals, Politicks, Philosophy and History; as likewise of some choice Poems; all collected out of the most approved Authors in the English Tongue [etc.] … Vol. I[–II].
Gottingen by Abram. Vandenhoeck, Printer and Bookseller to the University 1746.
Two vols., 8vo., pp. [4], 531, [3]; [2], 516, [2], with a terminal errata leaf in each volume; title-pages printed in red and black; a good copy, albeit printed on cheap paper, in contemporary German half calf and speckled paper boards; very worn; ownership inscriptions of F. L. A. Isenbart, and with some marginal translations into German (and pronunciation guides) up to p. 43 and again pp. 431-455 in volume I.
£800

Approximately:
US $983
€922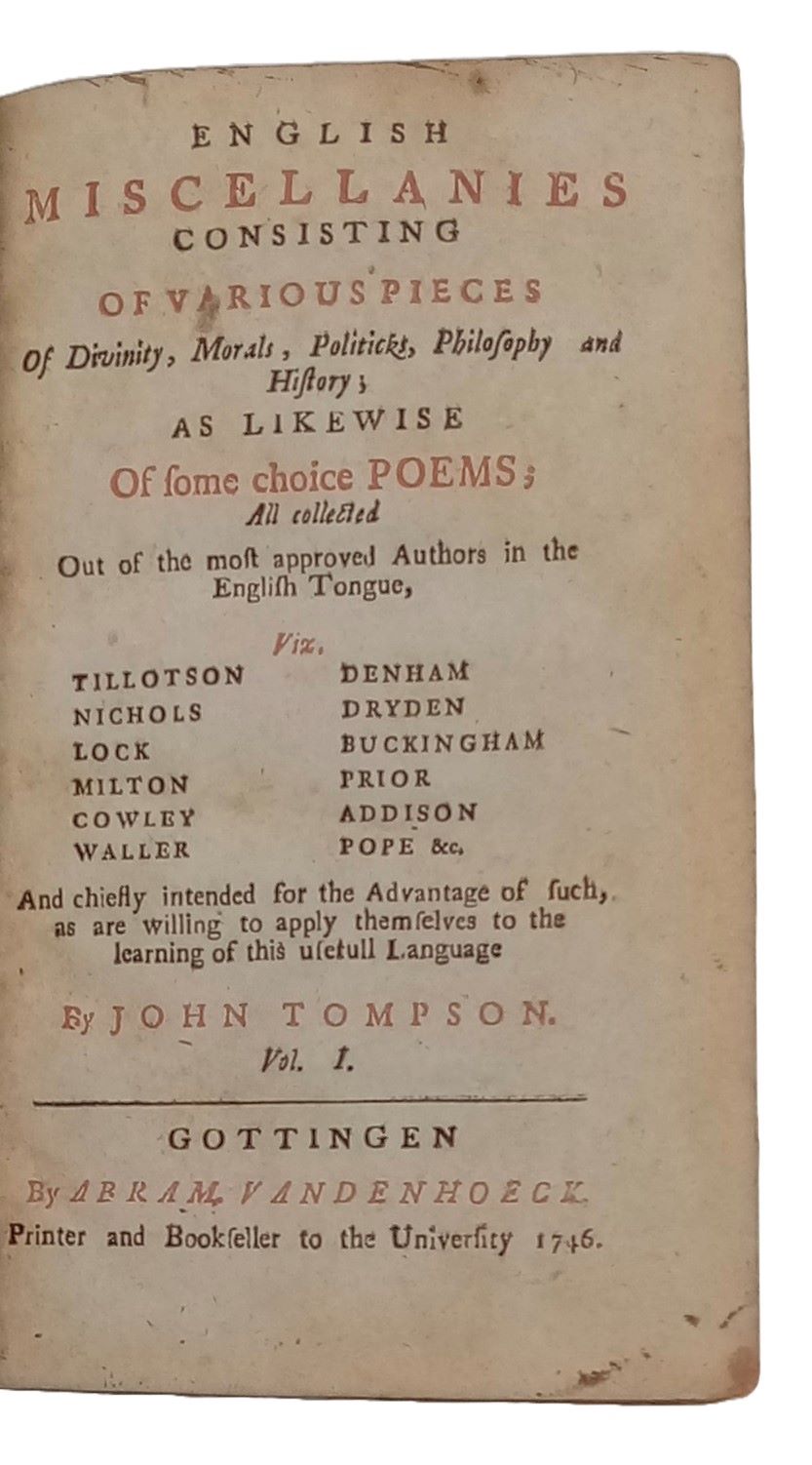 Added to your basket:
English Miscellanies consisting of various Pieces of Divinity, Morals, Politicks, Philosophy and History; as likewise of some choice Poems; all collected out of the most approved Authors in the English Tongue [etc.] … Vol. I[–II].
Second edition, revised, of John Tompson's important English Miscellanies, expanded to almost twice the size of the first edition, including up-to-date content published since 1737.

New to this edition are Pope's The Universal Prayer and ten letters (as well as several written to him); two new poems by Prior (an 'Ode presented to the King', 1695, and 'Henry and Emma'), and two by Addison ('An Account of the Greatest English Poets' and A Letter from Italy to Lord Halifax), as well as his essay 'Of Christian Religion'; letters and poems by Elizabeth Rowe, and an elegy by her son after her death in 1737; two long extracts from Glover's political epic Leonidas (1737); and two full plays – The Non-Juror by Colley Cibber, and James Thomson's Agamemnon (1738); as well as two numbers each from the Free-Thinker and The Guardian. The volume also contains, significantly, what is almost certainly the first appearance in Germany of any part of Edward Young's The Complaint, or Night Thoughts (1742-6) – here the long meditation on death that closes the third 'night'. Young's fame was to grow nowhere greater than in Germany, where he was read by Klopstock, Lessing, Wieland, and Goethe, and his name became a battle-cry for the Sturm und Drang movement. The first German translations from the poem appeared in periodical form in 1749-50.

ESTC lists eight copies, but only BL in the UK and none in the US.
You may also be interested in...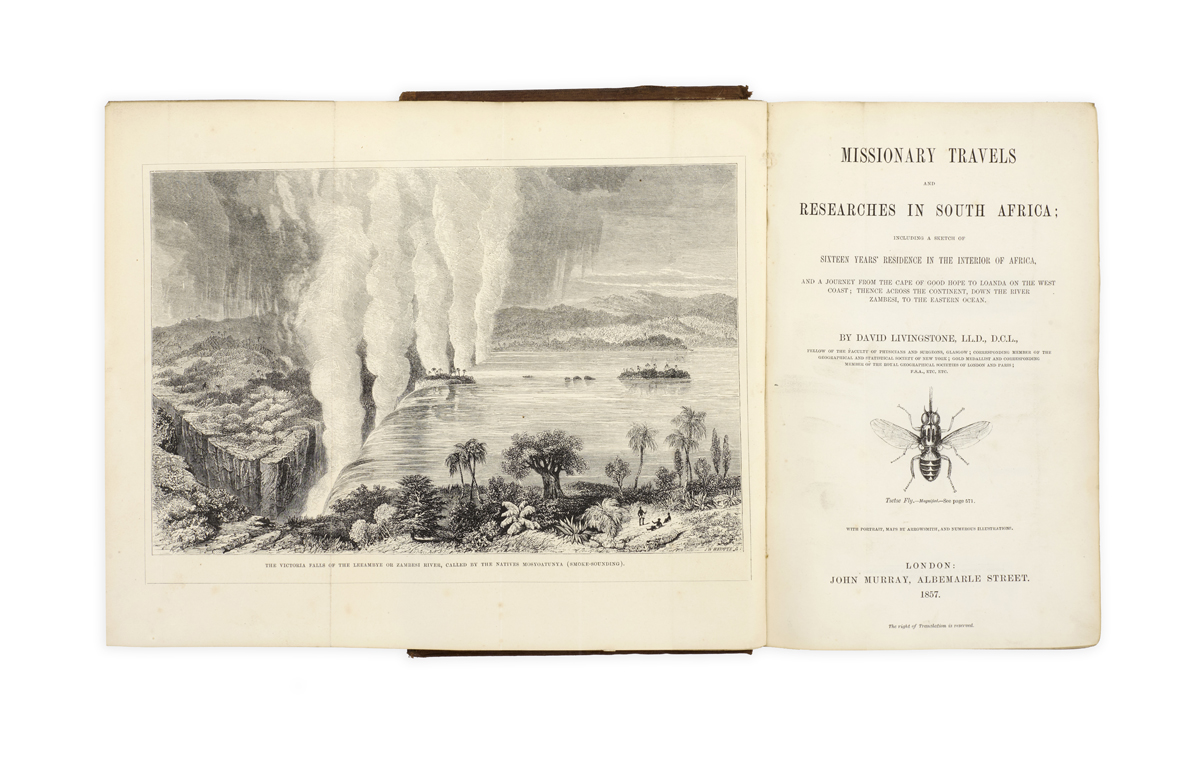 LIVINGSTONE, David. 
Missionary Travels and Researches in South Africa; including a Sketch of sixteen Years' Residence in the Interior of Africa, and a Journey from the Cape of Good Hope to Loanda on the West Coast; thence across the Continent, down the River Zambesi, to the eastern Ocean. 
First edition.  'Livingstone's services to African geography during thirty years are almost unequalled; he covered about a third of the continent from the Cape to the Equator and from the Atlantic to the Indian Ocean.  He made three great expeditions; in 1853-6 (described in this book), 1858-64 and 1865-73, of which the first and third are the most important.  During these years he explored vast regions of central Africa, many of which had never been seen by white men before' (Printing and the Mind of Man). 
FIRST BOOK ABOUT HORSES PRINTED IN MARYLAND MARKHAM, 'J.' [Gervase], G. JEFFERIES, 'and Discreet INDIANS', [and John MILLIS (editor)].
The Citizen and Countryman's experienced Farrier, containing: I. the most best approved Method of Ordering, Dieting, Exercising, Purginng, Scowring, and Cleansing of Horses, also choice Restoratives to chear the Heart, procure an Appetite, and to clear the Lungs and Pipes, so as to strengthen Wind, and give large Breath to the Running or Race-Horse; II. a certain sure Method to know the true State of any Horse's Body, as to Sickness or Health; III. the true Shape of a Horse explained, with choice directions for Buying; IV. an experienced and approved Method for Raising of Horses, as to Ordering, Keeping, &c., also Mares, Colts, and Stallions; V. a sure and certain Rule to know the Age of any Horse, from one Year to ten, with good Observations as he further advances in Years; VI. The best and experienced Way of Keeping the common Hackney, or Hunting Horse, so as to keep him lively, cheerful, free from Colds, Strains, Windgalls, and gross Humours; VII. an approved Method of Purging, Bleeding, and Feeding Cattle, with choice approved Receipts for the Diseases they are incident to, with Signs to know the Disease, and Directions for the Use of Medicines; to all which is added a valuable and fine Collection of the surest and best Receipts in the known World for the Cure of all Maladies and Distempers that are incident to Horses of what Kind soever, with Directions to know what is the ailment, or Diseases.
First Baltimore (second American) edition, revised from Markham's works for use in the United States. When first published in colonial-era Delaware, at Wilmington in 1764, the text was the first book on the selection, care, and racing of horse to be printed in America; this second edition is the first since the Revolutionary War, and the first book on horses printed in Maryland. Though derived from Markham's treatises of the late sixteenth and early seventeenth centuries, the text is much augmented by its editor, John Millis, with information from George Jefferies, a farrier in Bradford Township, and advice suitable for frontier conditions in America.