TURGENEV, Ivan Sergeevich.
Stikhotvoreniia [Poems].
St Petersburg, [V Tipografii Glazunova], 1885.
8vo, pp. [vi], 230, engraved headpieces; some light spotting, particularly at beginning and end, but a good copy in Russian contemporary quarter roan, rubbed.
£1200

Approximately:
US $1673
€1366
First edition: a collected volume of Turgenev's poems omitted from the Complete collected works of 1883 (see previous item).

Kilgour 1229; not in Smirnov-Sokol'skii.
You may also be interested in...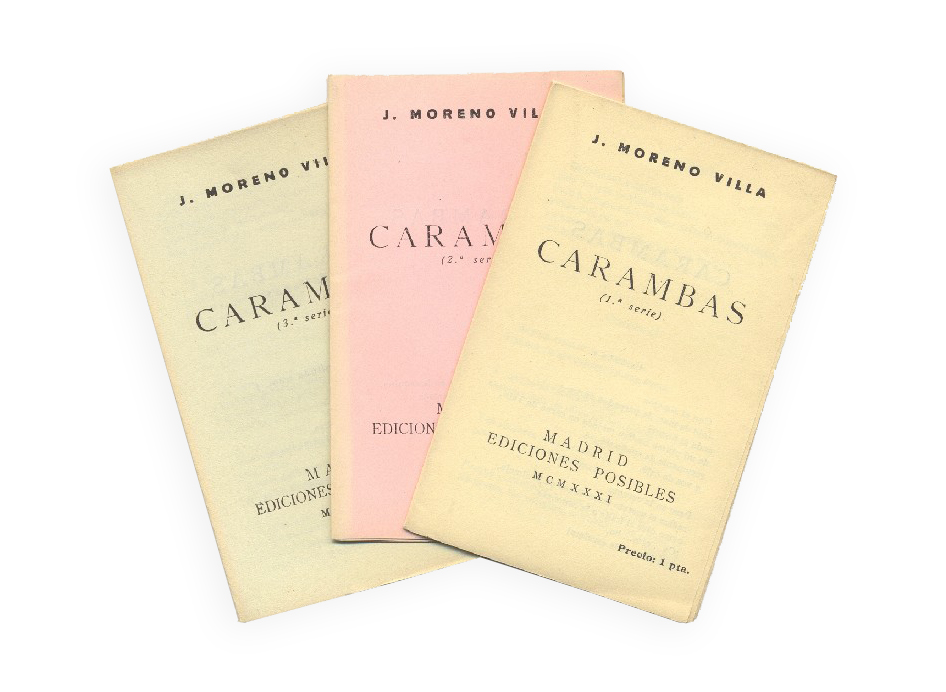 MORENO VILLA, José.
Carambas. (I.a serie [– 3.a serie]).
First edition of the complete series of Moreno Villa's Carambas. The poet and art historian José Moreno Villa was born in Malaga in 1887 (d. 1955). He belonged to the poetic generation intermediate between that of '98 and that of '27; his major influence was Juan Ramón Jiménez. His autobiography Vida en claro (Mexico City, 1944) is especially interesting for his years in the Residencia de Estudiantes, 1917-37, where he came into contact with Lorca and others of the Generación del 27. He emigrated to Mexico in 1937.
GOR'KII, Maksim, pseud. [i.e. Aleksei Maksimovich Peshkov].
V liudiakh [In the world].
First edition printed in Russia of the second volume of Gorky's memoirs, first published in Berlin in 1916. It was preceded by Childhood (1913) and followed by My university years (1923). 'Gorky reached the apogee of his creative powers in his autobiographical trilogy, Childhood, In the World and My University Years, a magnificent panorama of Russian lower and lower middle-class life. In vignette after vignette from his own life, Gorky is at his best, as he deftly shifts the center of attention from himself to the situation and people he faces' (Victor Terras).