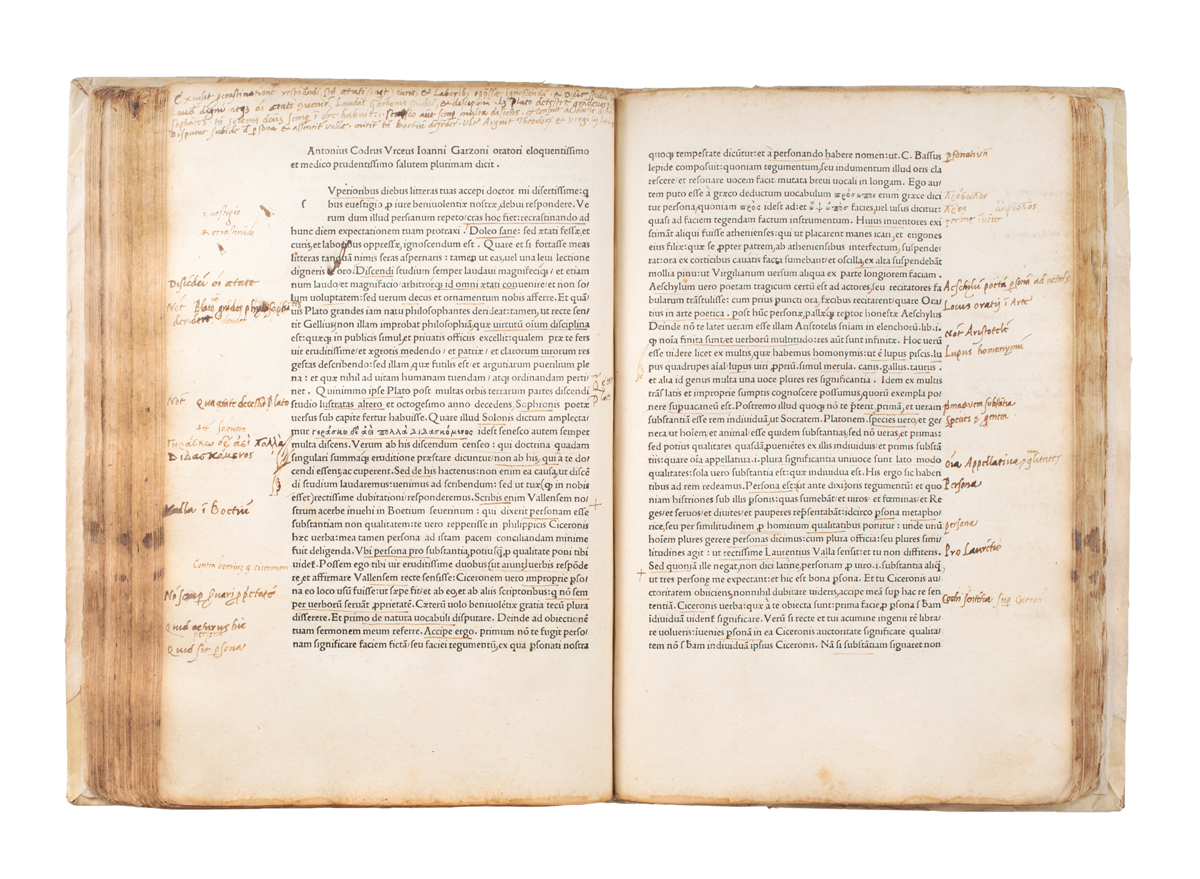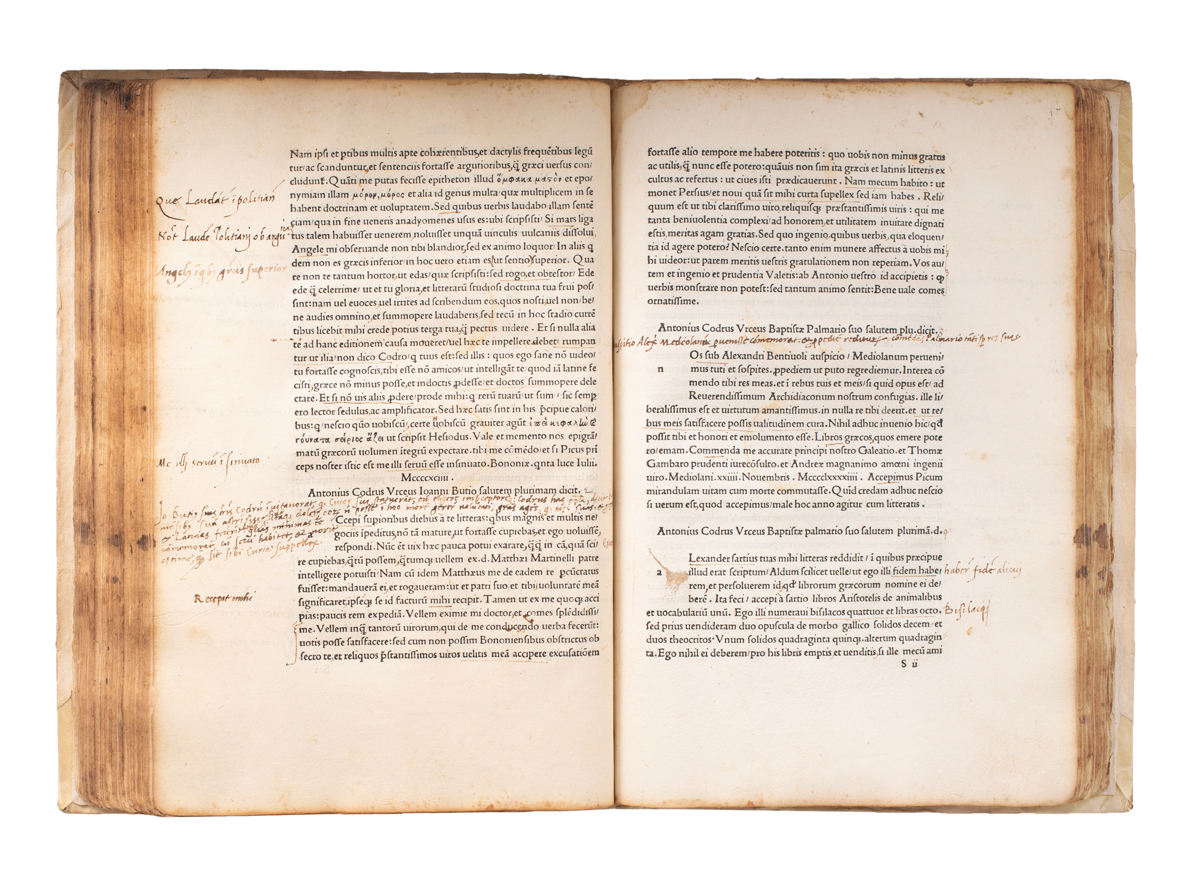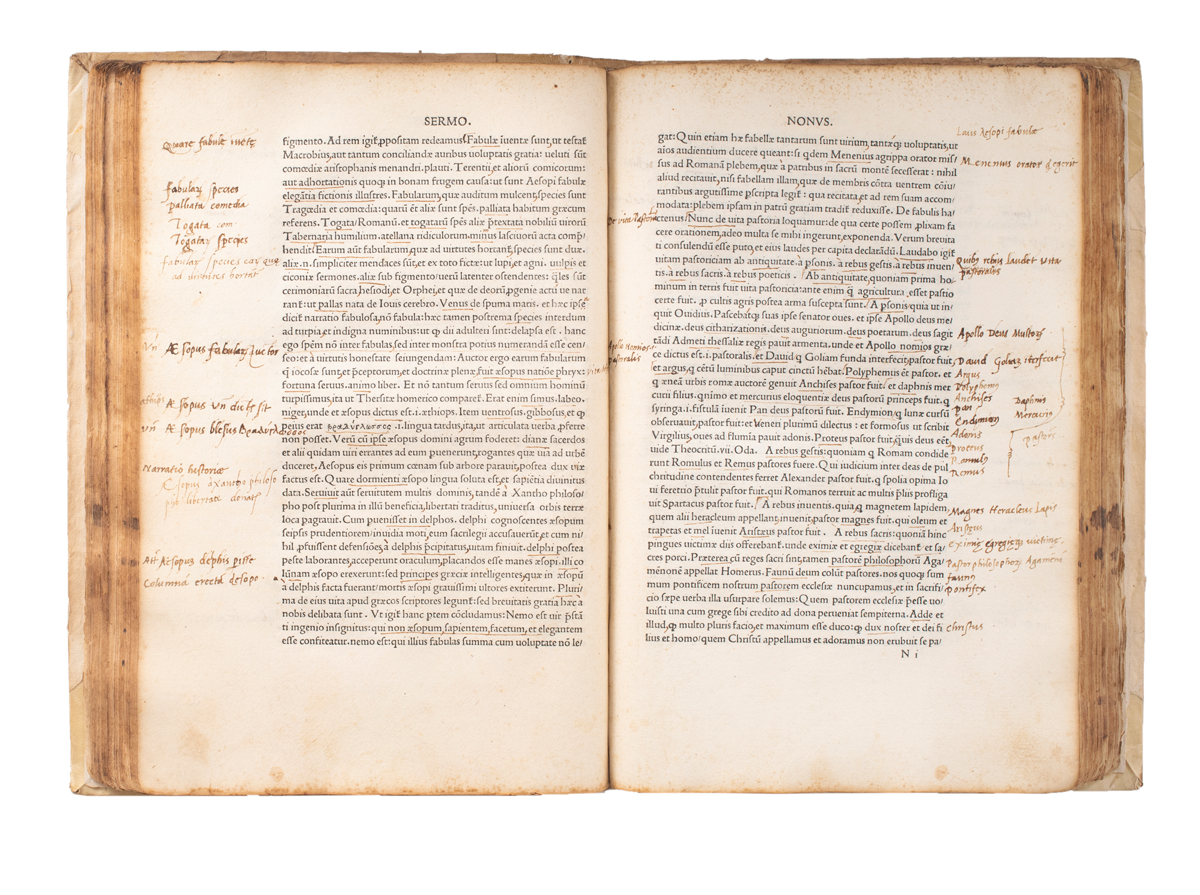 URCEO, Antonio [or Codro].

Hoc Codri volumine haec continentur. Orationes, seu sermones ut ipse appellabat. Epistolae. Silvae. Satyrae. Eglogae. Epigrammata.
Bologna, Giovanni Antonio Benedetti, 7 March 1502.
Two parts in one volume, folio, ff. 110 [of, 112 lacking bifolium G1.6]; 60 [of 62, lacking bifolium H1.6], woodcut Benedetti device to colophon; ink splash to title, occasional stains and signs of use elsewhere, upper outer corner of last two leaves repaired with no loss to text (last page laid down); eighteenth-century half vellum with drab paper sides, ink titling and small paper shelfmark label to spine; with marginal annotations and underlining to approx. 270 pp. in a sixteenth-century Italian hand.
£3000

Approximately:
US $3641
€3465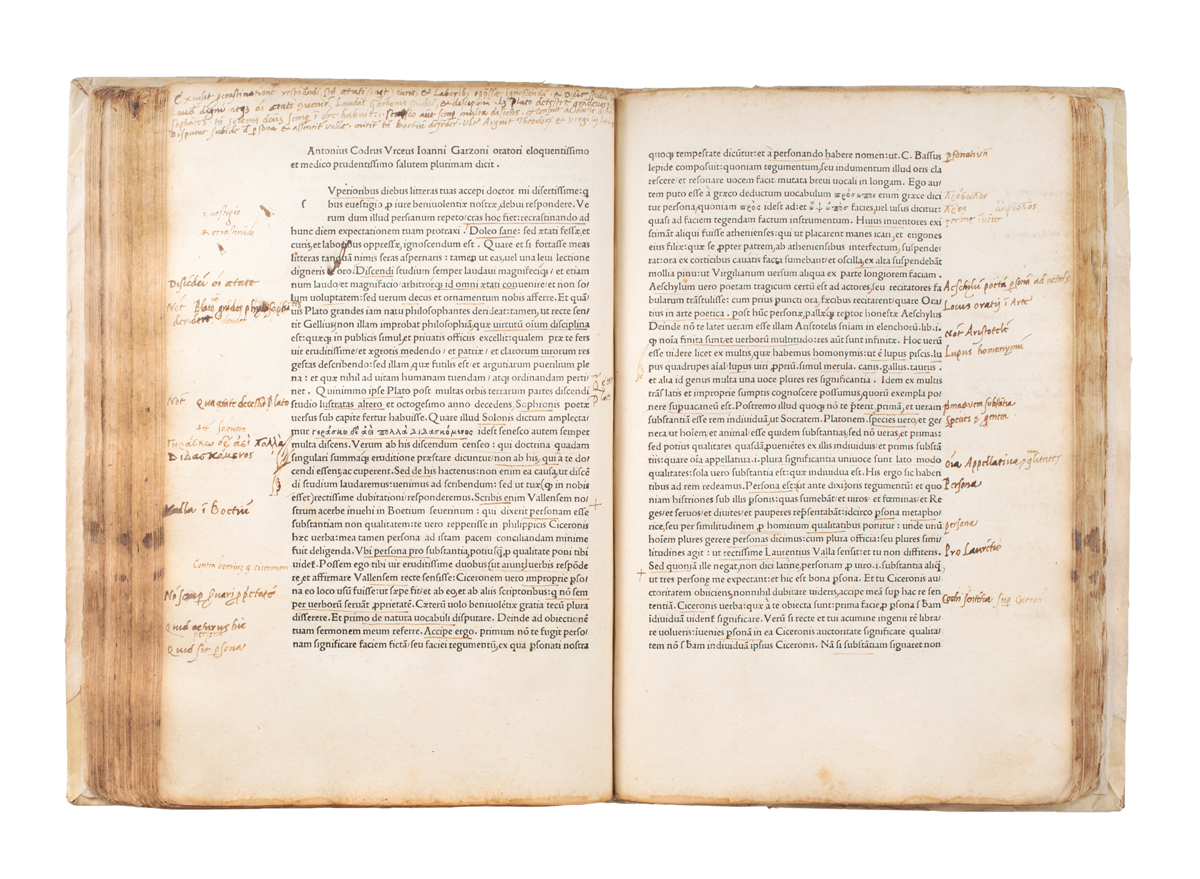 Added to your basket:
Hoc Codri volumine haec continentur. Orationes, seu sermones ut ipse appellabat. Epistolae. Silvae. Satyrae. Eglogae. Epigrammata.
First edition of a quintessential piece of Italian humanism, annotated by a sixteenth-century reader particularly interested in the philology of the texts.

Antonio Urceo (1446–1500) was a poet and a professor of grammar, rhetoric, poetry, and Greek at Bologna, and was engaged as a tutor by the patrician family Ordelaffi. He taught several exceptional pupils, the most illustrious being Nicolaus Copernicus; among other prominent followers was Filippo Beroaldo the younger, who prepared this edition of his teacher's collected works. 'The volume of collected work, lovingly edited soon after Urceo's death, in 1502, by his most devoted disciples (Filippo Beroaldo the younger, with the help of Jean de Pins and Bartolomeo Bianchini, and the encouragement of Antonio Galeazzo Bentivoglio, to whom the edition is dedicated) contains, besides the lectures, a small gathering of Epistolae, two books of Sylvae in verse, one Aegloga and a book of Epigrams. More than half of the volume is taken up by the lectures, which stand as the most eloquent witness to his life and his teachings' (DBI trans.).

This copy was annotated by a meticulous reader, eager most of all to hunt down corrections to editors of Classics from the previous generation, embodying the contemporary spirit of dedicated minute philological enquiry as a cultural mission which transcended the mere individual texts. Barbarus, Beroaldus, Calderinus, and others are subjected to Urceo's fine-eyed analysis, which the annotator embraces and expands in the margins in a close dialogue. Expertise in Greek is also displayed in the careful and correct transcriptions of apt quotes.

Adams U-64; Brunet II, 121 ('Edition originale de cet ouvrage rare et recherché'); EDIT16 32581.
You may also be interested in...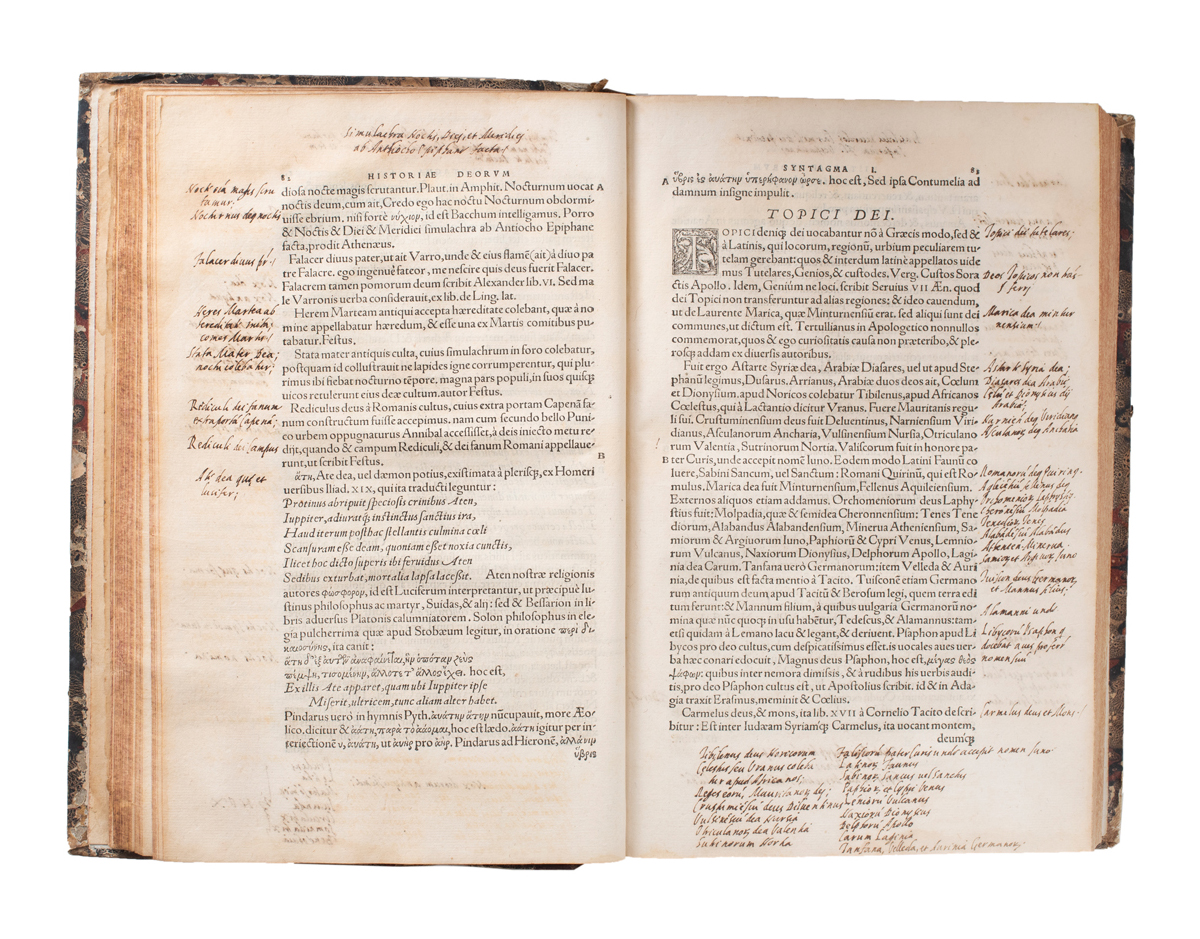 GIRALDI, Lilio Gregorio. 
De Deis gentium varia et multiplex historia, in qua simul de eorum imaginibus et cognominibus agitur, ubi plurima etiam hactenus multis ignota explicantur, et pleraque clarius tractantur. 
First edition of the most important mythography to be published after Boccaccio's Genealogiae deorum gentilium and before Conti's Mythologiae, with extensive marginalia in the first part. 
MELANCHTHON ON PLATO – A VERY RARE PRINTING [MELANCHTHON, Philipp.] 
LAGUS, Konrad.  Oratio de Platone. 
Only edition, exceedingly rare (one copy only in the US), of the main extant source for Melanchthon's views on Plato.  'Melanchthon's view of Plato is known primarily from a Latin speech, which he asked Conrad Lagus to deliver' (Hartfelder).