PRINTED IN AMSTERDAM TO DEFY THE STATIONERS
WITHER, George.
The Psalmes of David translated into Lyrick-Verse, according to the Scope, of the Original, and illustrated, with a short Argument, and a breife Prayer, or Meditation; before, & after, every Psalme.
[Amsterdam:] Imprinted in the Netherlands by Cornelis Gerrits van Breughel, 1632.
16mo. in 8s., pp. [16], 299, [1]; title within a type-ornament border (slightly soiled, old inscription faded), very lightly browned and dust-soiled throughout; top line of the verso of the second leaf closely shaved, just touching a few letters; a few headlines just shaved; bound circa 1830 in diced black morocco by C. Murton, marbled endpapers, gilt edges (extremities slightly rubbed); probably from the library of Sir R. Leicester Harmsworth, 1st. Bart., (1870-1937), with his characteristic pencil classification 'Psalms' diagonally across the top corner of the front flyleaf, but not in the 1946 Sotheby's sale of his Bibles and prayer books.
£3200

Approximately:
US $3884
€3696
Added to your basket:
The Psalmes of David translated into Lyrick-Verse, according to the Scope, of the Original, and illustrated, with a short Argument, and a breife Prayer, or Meditation; before, & after, every Psalme.
First edition, dedicated to Princess Elizabeth, the 'Winter Queen', daughter of James I. The translation, a companion to Wither's Hymnes and Songs of the Church, was written at the request of James, and finished shortly before his death in 1625: 'I was commanded to perfect a Translation of the Psalmes, which he understood I had begunn; & by his encouragement, I finished the same about the tyme of his Translation to a better Kingdome'.

Wither was obviously pleased with his translation – 'It is, in my owne esteeme, the best Iewel, that I have: and, if it were answerable to my humble Affections, it would be the richest that ever was presented to a Princesse'. In the preface he explains that his version is specially designed to be sung: 'I have used some varietie of Verse; Because, Prayers, Praises, Lamentations, Triumphs, and subiects which are Pastoral, Heroical, Elegicall, and mixt (all which are found in the Psalmes) are not properly exprest in one sort of Measure. Yet, respecting the[m] who cannot attaine to many Tunes, I confined my selfe to such kinds of Verse as I found in the old Psalmebook; fitting them in such manner, that every Psalme in this Booke, may sung to some Tune formerly in use, either in the single, or in one of the double Translations'. At the end he prints a 'Table directing to what Tunes, heretofore in use; every Psalme in this Translation, may be sung'.

In 1623 James had granted Wither a copyright for 51 years for his Hymnes and Songs of the Church, and the right to have it bound up with every new copy of the metrical Psalms. The massive annual sales were to the extreme annoyance of the Stationers' Company, who held the rights to print the Psalms and attempted but failed to have Wither's copyright overturned by the Privy Council and Parliament (it was eventually and grudgingly relinquished in 1634). They were, needless to say, not keen to allow his version of the Psalms to infringe on their market as well. Wither attempted to have it printed 1625 in Cambridge as a way of circumventing the monopoly, before turning to the Netherlands. The printer Gerrits van Breughel is recorded as working in Amsterdam between 1631 and 1636. This is his only English printing.

STC 2735.
You may also be interested in...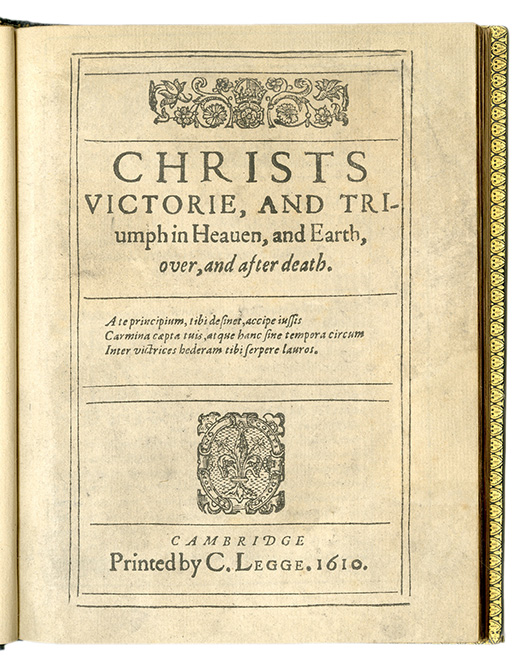 FORERUNNER OF PARADISE LOST FLETCHER, Giles, the younger.
Christs Victorie, and Triumph in Heaven, and Earth, over, and after Death …
First edition of an important poem, a 'worthy link' in the chain which connects Fletcher's great master, Spenser, with his great successor, Milton (Hugh de Selincourt, CHEL). This is the first state, with a fleur-de-lis device on the title-pages – three copies are known with the title-pages reset and the device replaced with an emblematic engraving.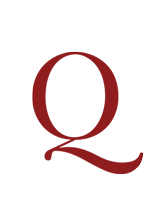 BOUND FOR THE EDITOR MADELENET, Gabriel.
Carminum libellus. Parisiis, apud Claudium Cramoisy... M. DC. LXII.
First edition, the author's only book, edited after his death by Loménie de Brienne, this copy ruled in red and bound for the editor with his arms.