PRESENTATION COPY
ZOSHCHENKO, Mikhail Mikhailovich.
Izbrannye rasskazy i povesti 1923-1956 [Collected stories and tales 1923-1956].
Leningrad, 'Soviet Writer', 1956.
8vo, pp. 582, [2], title-page printed in blue and black; a good copy in the original blue quarter cloth, lettered gilt, rubbed; presentation inscription from the author to Muza Pavlova, dated 23 November 1956.
£450

Approximately:
US $551
€522
Added to your basket:
Izbrannye rasskazy i povesti 1923-1956 [Collected stories and tales 1923-1956].
First complete edition of Zoshchenko's shorter prose fiction, including his stories for children; a presentation copy to his friend the dramatist, translator and poet Muza Konstantinovna Pavlova (1917-2006).

Previous collections had been published in 1935 (Stories … 1923-1934) and 1940 ( ... 1923-1938); the present collection includes 23 new short stories, and the set of tales for children 'Stories about Lenin' (1940-1).
You may also be interested in...
WITH CONTRIBUTIONS BY JOHNSON BARETTI, Giuseppe.
An Introduction to the Italian Language. Containing Specimens of both Prose and Verse ... with a literal Translation and Grammatical Notes ... for the Use of those who ... attempt to learn it without a Master ...
First edition. Giuseppe Baretti (1719–1789) offers a fine range of examples for learning Italian selected from twenty-seven authors, including Castiglione, Machiavelli, Galileo, Boccaccio, Ariosto, Tasso, Michelangelo, Petrarch, and Milton (one of his Italian sonnets, a choice perhaps prompted by Johnson). Johnson met Baretti shortly after he came to England in 1751, and their long and close literary friendship is well known. He made some contribution by way of preface or dedication to most of Baretti's books. Here the preface and the footnotes on pages 48 and 198 were attributed to Johnson by James Crossley in Notes and Queries in 1852; the consensus now is that Johnson wrote only the opening paragraphs of the preface, but 'there is no strong reason to doubt the footnotes' (Fleeman).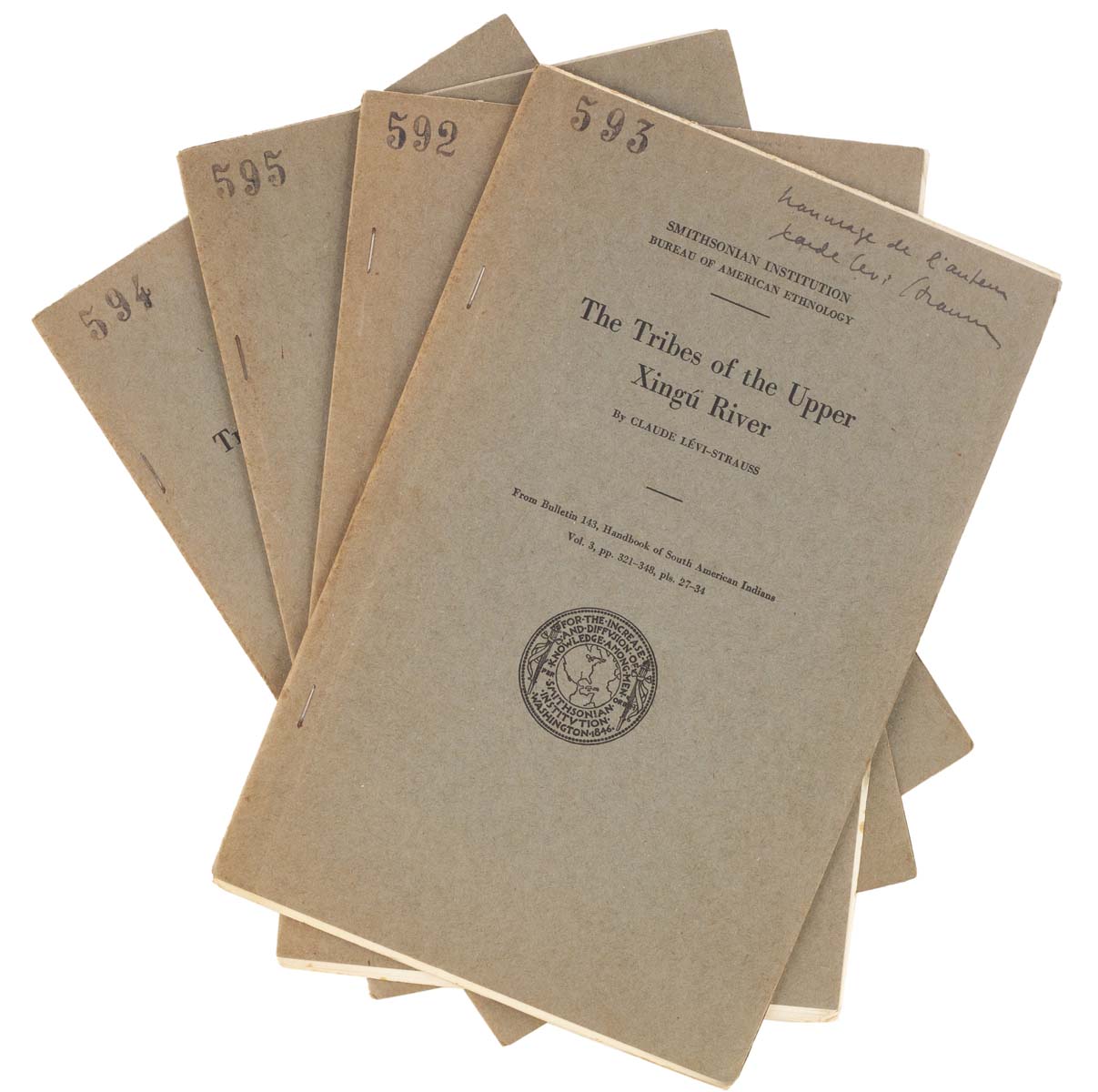 INSCRIBED BY THE AUTHOR LÉVI-STRAUSS, Claude.
The Tupí-Cawahíb.
A set of offprints of four articles by Lévi-Strauss from the Smithsonian's Handbook of South American Indians, inscribed by the author. In each article Claude Lévy-Strauss (1908–2009) provides an illustrated introduction to an Amazonian group, recording their history, social and political customs, religion, dress, food, and manufacture, as well as critically discussing earlier anthropological accounts. In exploring familial and marital structures, the articles are important texts in the development of Lévy-Strauss's structural anthropology.