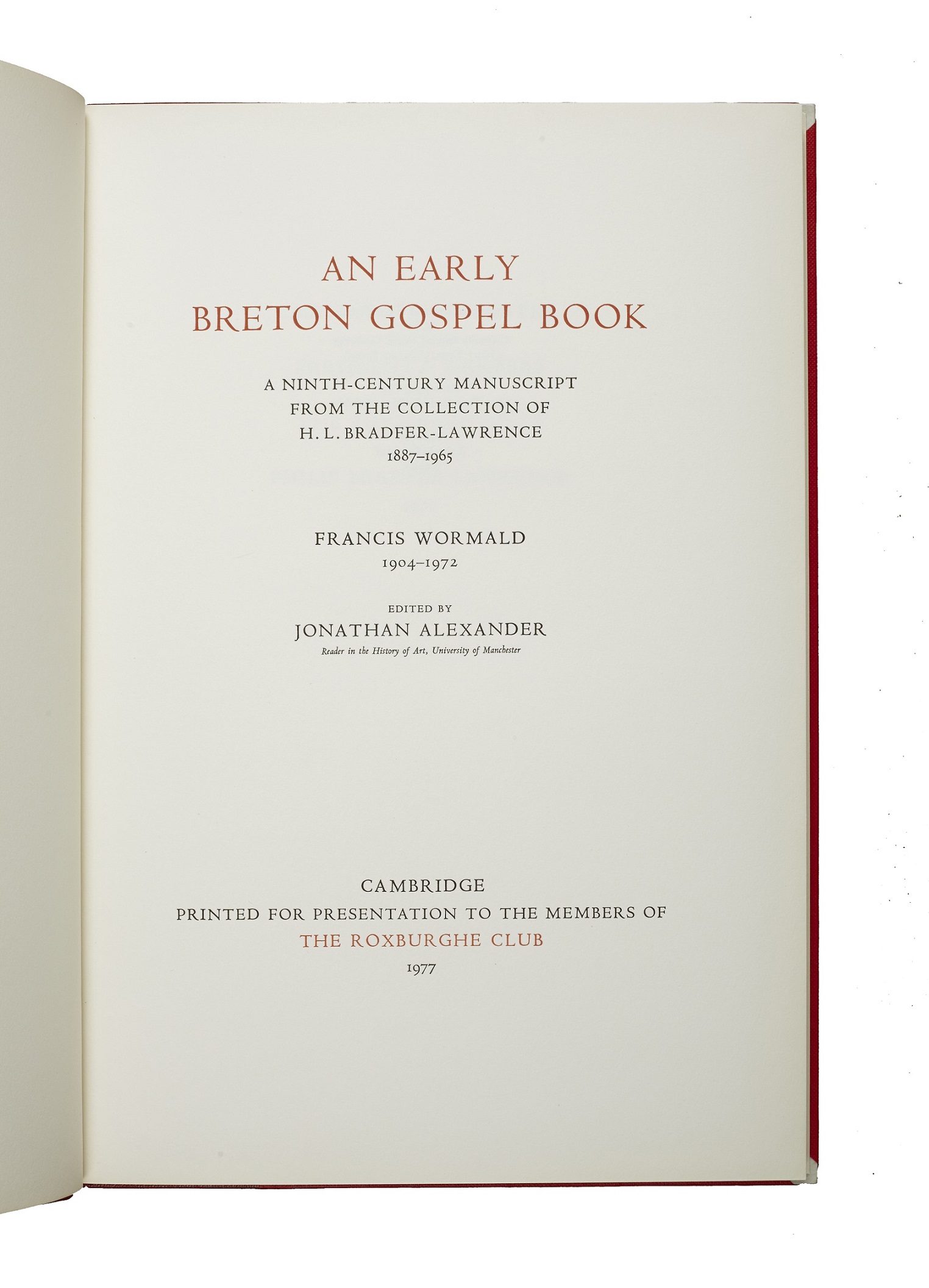 ALEXANDER, Jonathan, and Francis WORMALD, eds..
An Early Breton Gospel Book. A Ninth-Century Manuscript from the Collection of H. L. Bradfer-Lawrence.
The Roxburghe Club, 1977.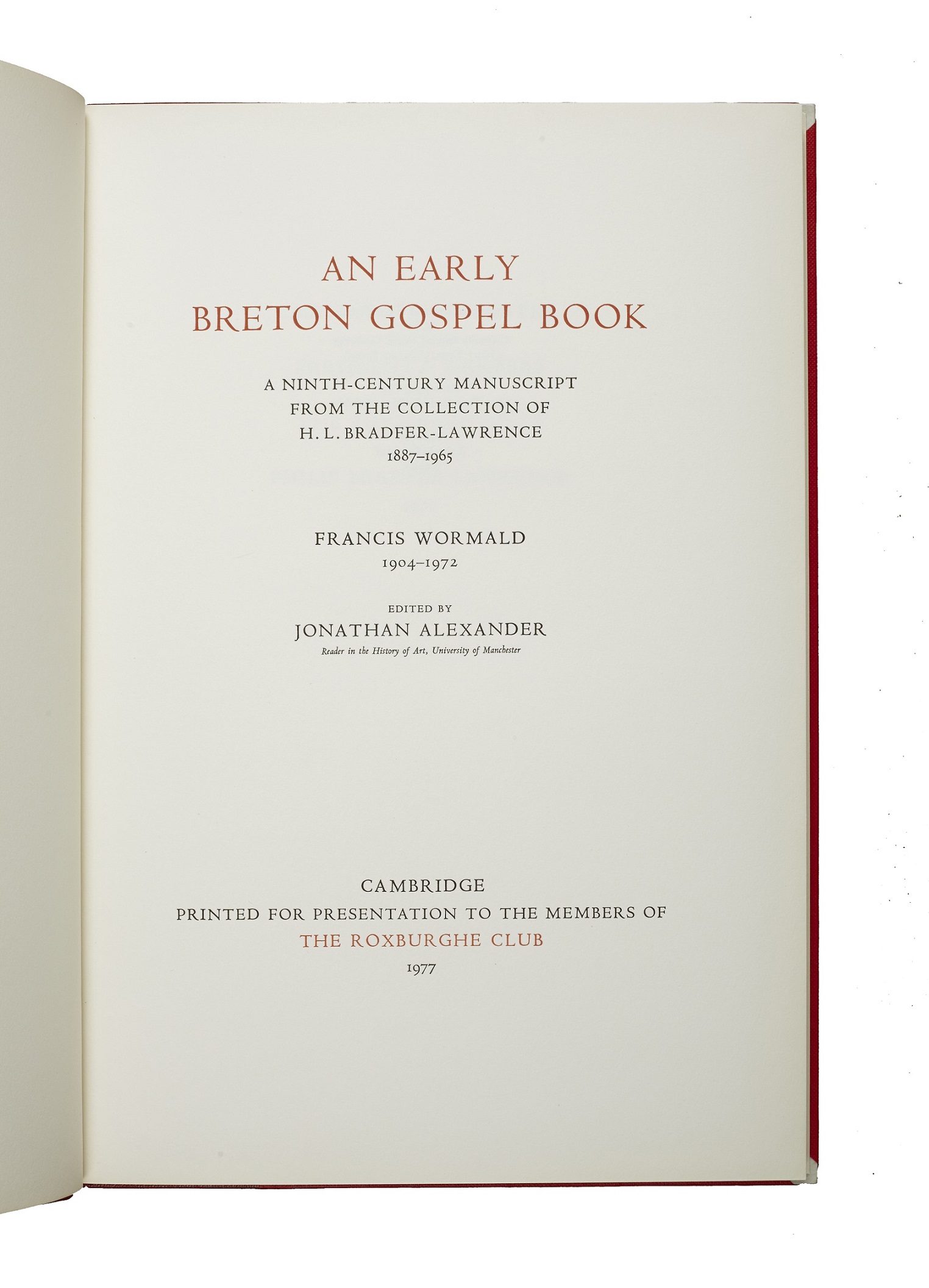 Added to your basket:
An Early Breton Gospel Book. A Ninth-Century Manuscript from the Collection of H. L. Bradfer-Lawrence.
This ninth-century manuscript was the oldest and most important in the collection formed by Harry Bradfer-Lawrence. The book was begun by Professor Francis Wormald. He discusses the manuscript's antecedents, both Carolingian and Merovingian, and the marked influence of Tours that points to a Breton origin, and notes the Anglo-Saxon additions made in the tenth century. The death of both owner and author left the task unfinished.

Harry Bradfer-Lawrence's son, Philip, invited Professor Jonathan Alexander to finish the book. Prof. Alexander added a long note on Breton Gospel books, and points to the Norman invasion of Brittany in 919 as the occasion of the manuscript's removal to England.
You may also be interested in...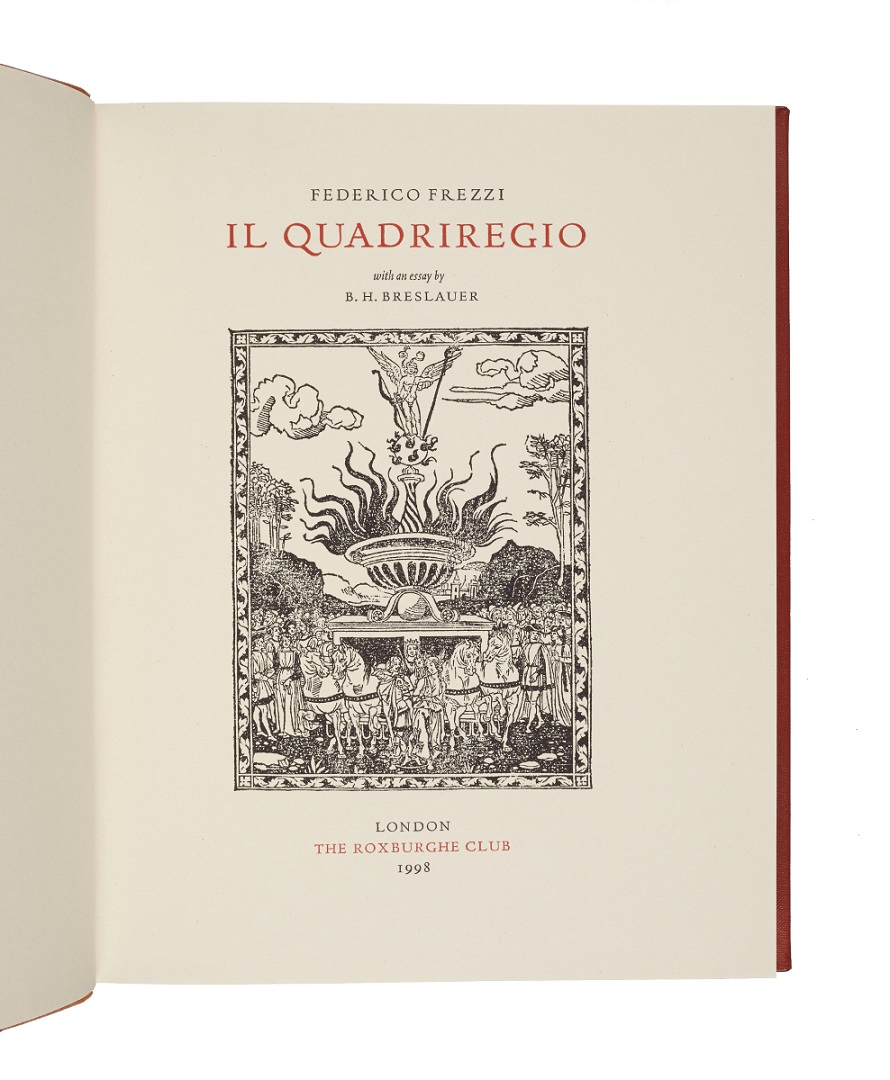 FREZZI, Federico.
Il Quadriregio. With an essay by B.H. Breslauer. Facsimile based on the edition printed in Florence in 1508.
This is the first facsimile reproduction of one of the greatest Florentine illustrated books of the Renaissance – Il Quadriregio is to Florentine book illustration what the Hypnerotomachia Poliphili is to Venetian. The only surviving work of Federico Frezzi (c. 1350–1416), bishop of Foligno, the text is an allegorical poem in the vernacular, describing a journey through four regions: Love, Satan, Vice, and Virtue. The Earl of Crawford's copy, one of only two remaining in private hands, is reproduced here in its entirety. The prefatory essay, by Bernard Breslauer, not only treats the book, its remarkable publisher Piero Pacini, and its place in the history of Florentine book illustration, but considers how it has been assessed by the critics and art historians of the last hundred years.
SCOTT, Kathleen L., intro.
The Mirroure of the Worlde. MS Bodley 283 (England c. 1470-1480). The Physical Composition, Decoration and Illustration.
Contains a partial facsimile reproduction of a little-known manuscript (Bodleian Library, MS Bodley 283) containing illustrations by an outstanding pen artist associated with William Caxton in another manuscript. Kathleen Scott's extensive introduction, which discusses the physical characteristics of the book, its production in terms of contemporary English practice, and the Caxton Master's style, also records new discoveries concerning the Caxton Master himself and the two border illuminators who worked on the manuscript.