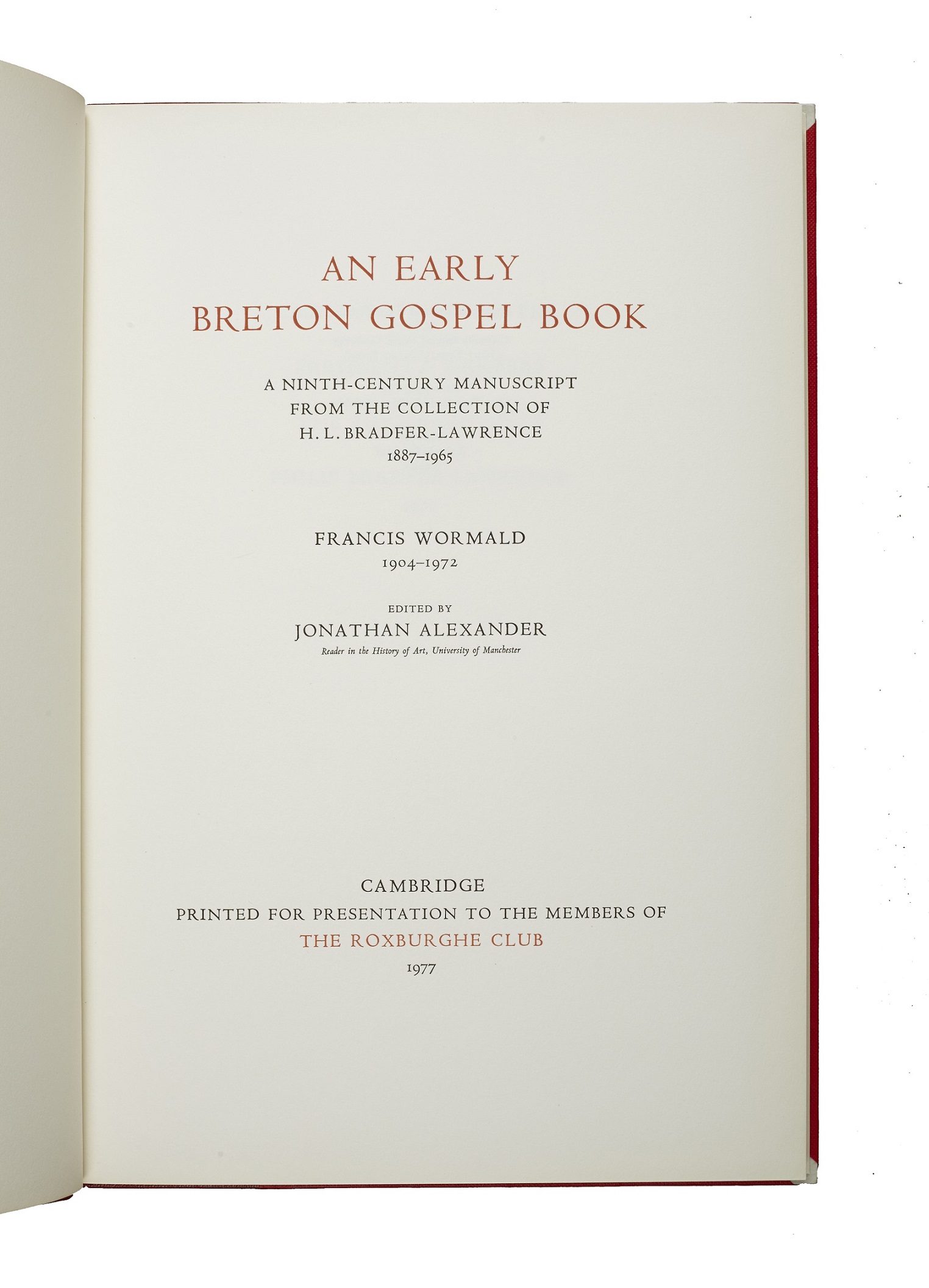 ALEXANDER, Jonathan, and Francis WORMALD, eds..
An Early Breton Gospel Book. A Ninth-Century Manuscript from the Collection of H. L. Bradfer-Lawrence.
The Roxburghe Club, 1977.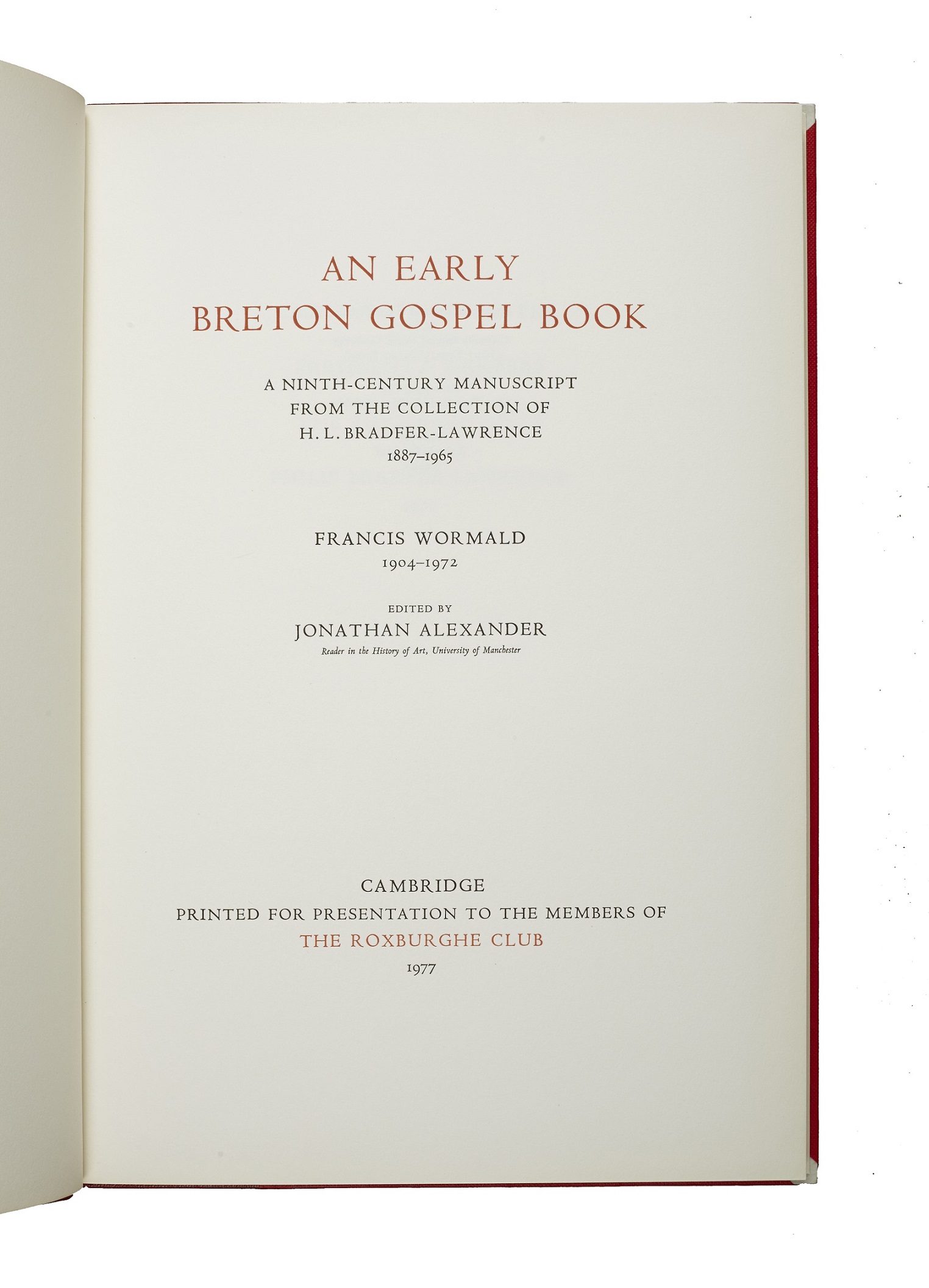 Added to your basket:
An Early Breton Gospel Book. A Ninth-Century Manuscript from the Collection of H. L. Bradfer-Lawrence.
This ninth-century manuscript was the oldest and most important in the collection formed by Harry Bradfer-Lawrence. The book was begun by Professor Francis Wormald. He discusses the manuscript's antecedents, both Carolingian and Merovingian, and the marked influence of Tours that points to a Breton origin, and notes the Anglo-Saxon additions made in the tenth century. The death of both owner and author left the task unfinished.

Harry Bradfer-Lawrence's son, Philip, invited Professor Jonathan Alexander to finish the book. Prof. Alexander added a long note on Breton Gospel books, and points to the Norman invasion of Brittany in 919 as the occasion of the manuscript's removal to England.
You may also be interested in...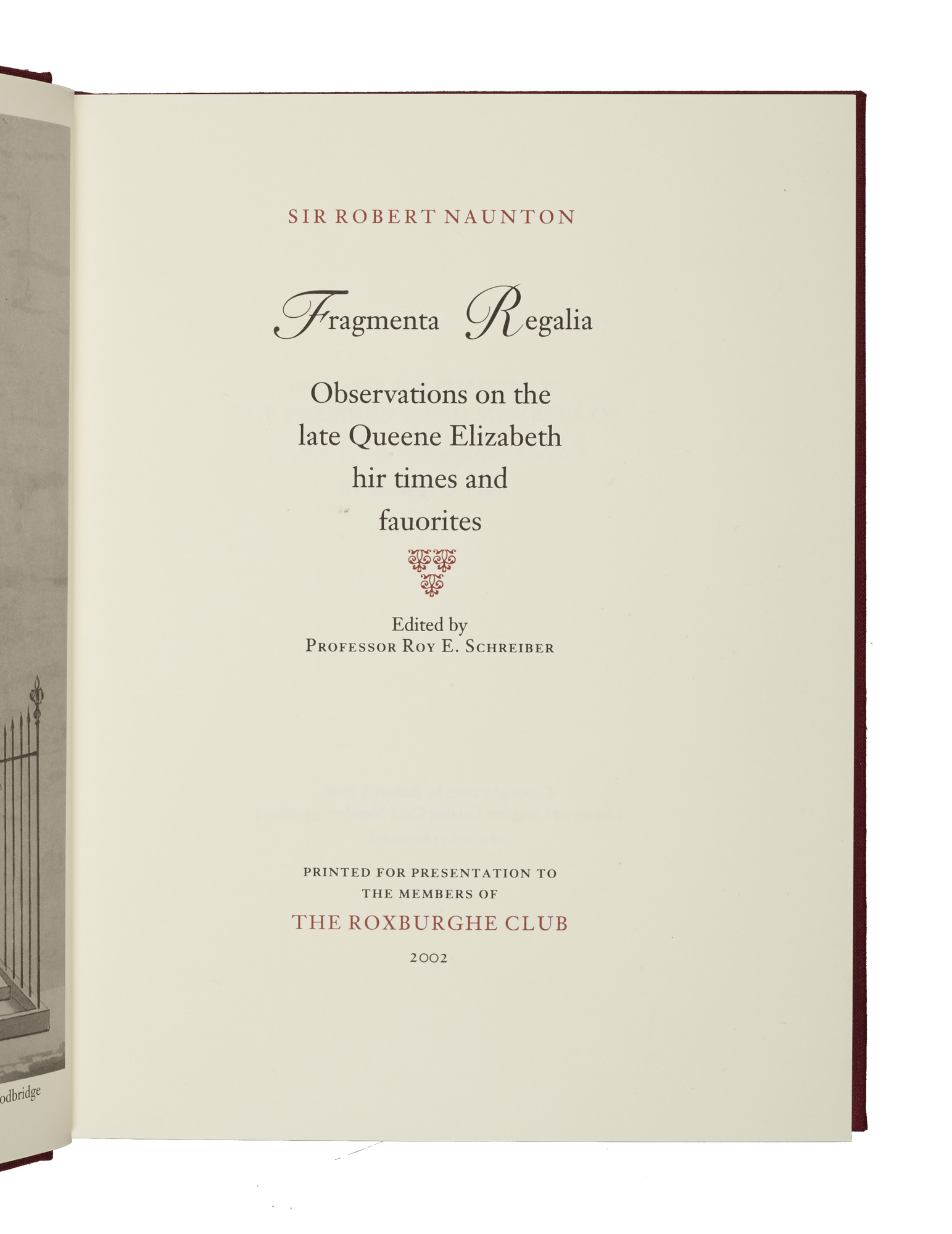 NAUNTON, Robert, Sir.
Fragmenta Regalia. Observations of the late Queene Elizabeth, Hir Times and Fauorites. Edited by Professor Roy E. Schreiber.
A classic of memoir literature, Sir Robert Naunton's Fragmenta Regalia was written c. 1634, circulated in manuscript, and first published in 1641, since when it has seldom been out of print. This edition presents the authentic text for the first time, from the very manuscript that Sir Robert had made for Charles I, to whom it was actually addressed, and includes the substantial, hitherto unpublished commentary which Naunton intended for the King's eyes alone. The text is accompanied by textual and biographical notes on all the dramatis personae by Roy E. Schreiber, Professor of History at Indiana University. The second volume comprises a facsimile reproduction of the manuscript.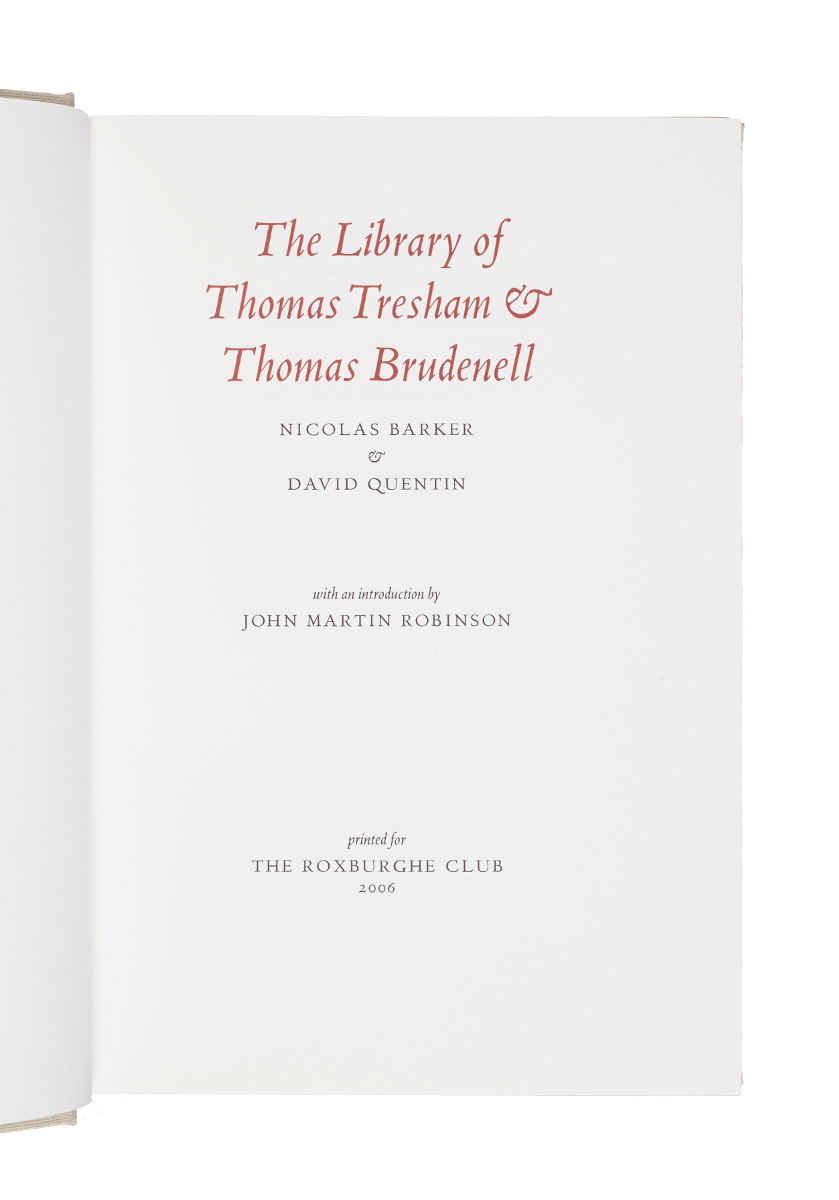 BARKER, Nicolas, and David QUENTIN.
The Library of Thomas Tresham and Thomas Brudenell. With an introduction by John Martin Robinson.
Sir Thomas Tresham (1543–1605) remains best-known for his buildings, especially the market house at Rothwell, the Triangular Lodge at Rushton and Lyveden New Bield. His library, one of the largest in England of its time, has hitherto attracted comparatively little interest. Now, as a result of a careful examination of both the portion of the library which has been preserved at Deene Park in Northamptonshire by the descendants of Tresham's son-in-law, Thomas Brudenell, and of a manuscript inventory of the original library, Nicolas Barker and David Quentin have provided a detailed picture of the library and the circumstances of its creation.  The catalogue of nearly 2,000 works shows that Tresham owned the latest works on architecture, mathematics, astronomy and science, Catholic theology and devotion, with a wide range of works on history and literature. John Martin Robinson's introduction gives much information on Tresham's family and his patronage of architecture.