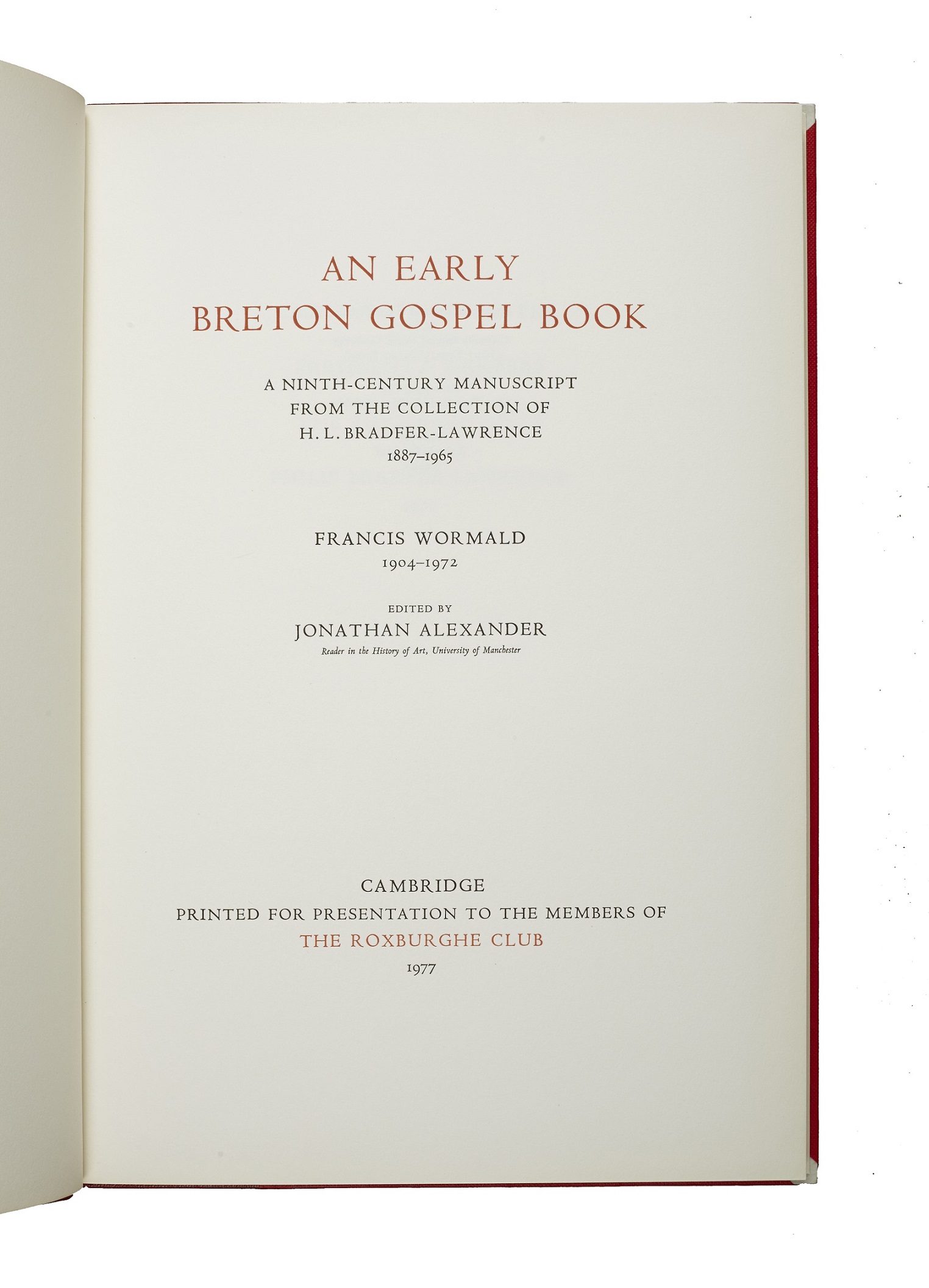 ALEXANDER, Jonathan, and Francis WORMALD, eds..
An Early Breton Gospel Book. A Ninth-Century Manuscript from the Collection of H. L. Bradfer-Lawrence.
The Roxburghe Club, 1977.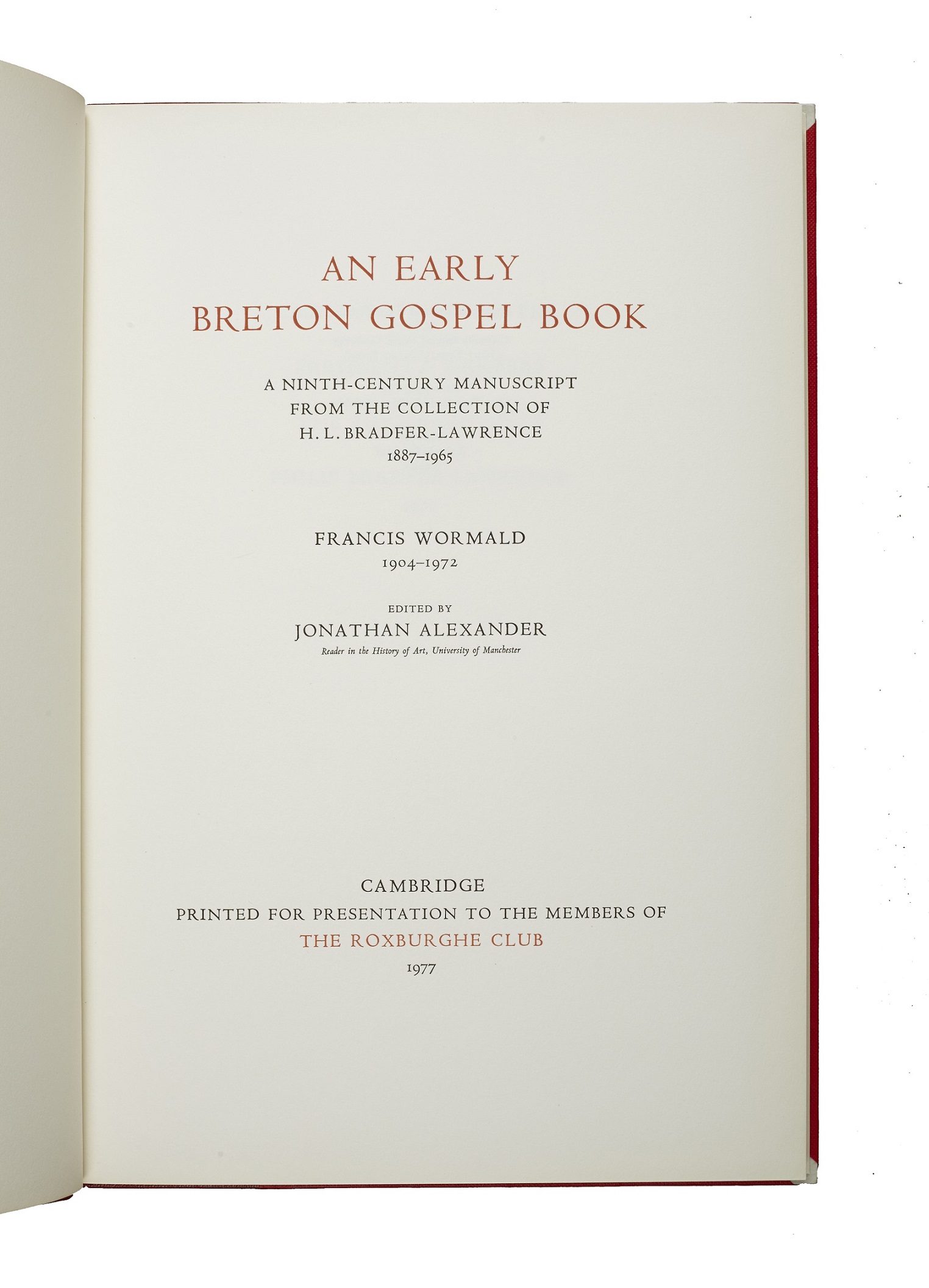 Added to your basket:
An Early Breton Gospel Book. A Ninth-Century Manuscript from the Collection of H. L. Bradfer-Lawrence.
This ninth-century manuscript was the oldest and most important in the collection formed by Harry Bradfer-Lawrence. The book was begun by Professor Francis Wormald. He discusses the manuscript's antecedents, both Carolingian and Merovingian, and the marked influence of Tours that points to a Breton origin, and notes the Anglo-Saxon additions made in the tenth century. The death of both owner and author left the task unfinished.

Harry Bradfer-Lawrence's son, Philip, invited Professor Jonathan Alexander to finish the book. Prof. Alexander added a long note on Breton Gospel books, and points to the Norman invasion of Brittany in 919 as the occasion of the manuscript's removal to England.
You may also be interested in...
SMITH, Alan G.R., ed. with an introduction by.
The Last Years of Mary Queen of Scots. Documents from the Cecil Papers at Hatfield House.
This volume draws on the great collection of Cecil Papers at Hatfield House to present, in a sequence of some forty selected documents, a startlingly immediate narrative of the intrigue and drama that inform the last act of the Scots Queen's tragedy.  The documents have been edited by Dr Alan G. R. Smith of Glasgow University, who has contributed a substantial and informative introduction to the volume. Further interest is added by the inclusion of 'An Epitaph upon the death of … Marie' (1604), reproduced from the unique copy at Hatfield and accompanied by an authoritative note by Dr David Rogers.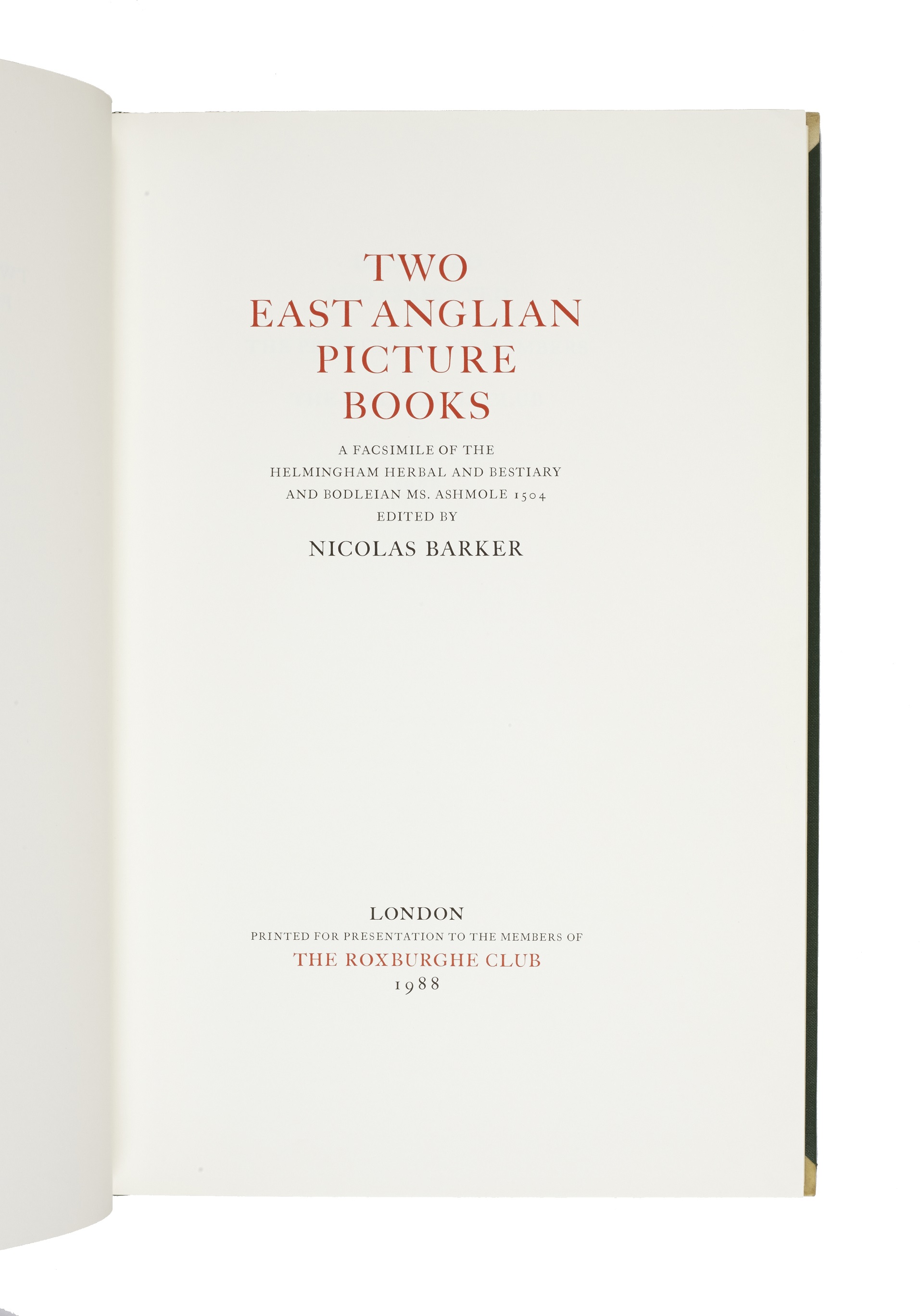 BARKER, Nicolas, ed.
Two East Anglian Picture Books. A facsimile of the Helmingham Herbal and Bestiary and Bodleian MS. Ashmole 1504.
Full-size colour facsimiles of two extraordinary, and almost identical, medieval picture books containing a total of 98 pictures of flowers and trees and 58 of birds and animals together with a variety of other material (ornamental alphabets, drawings of coats of arms, household gear, embroidery patterns, landscapes and grotesques) representing the full range of medieval ornament.