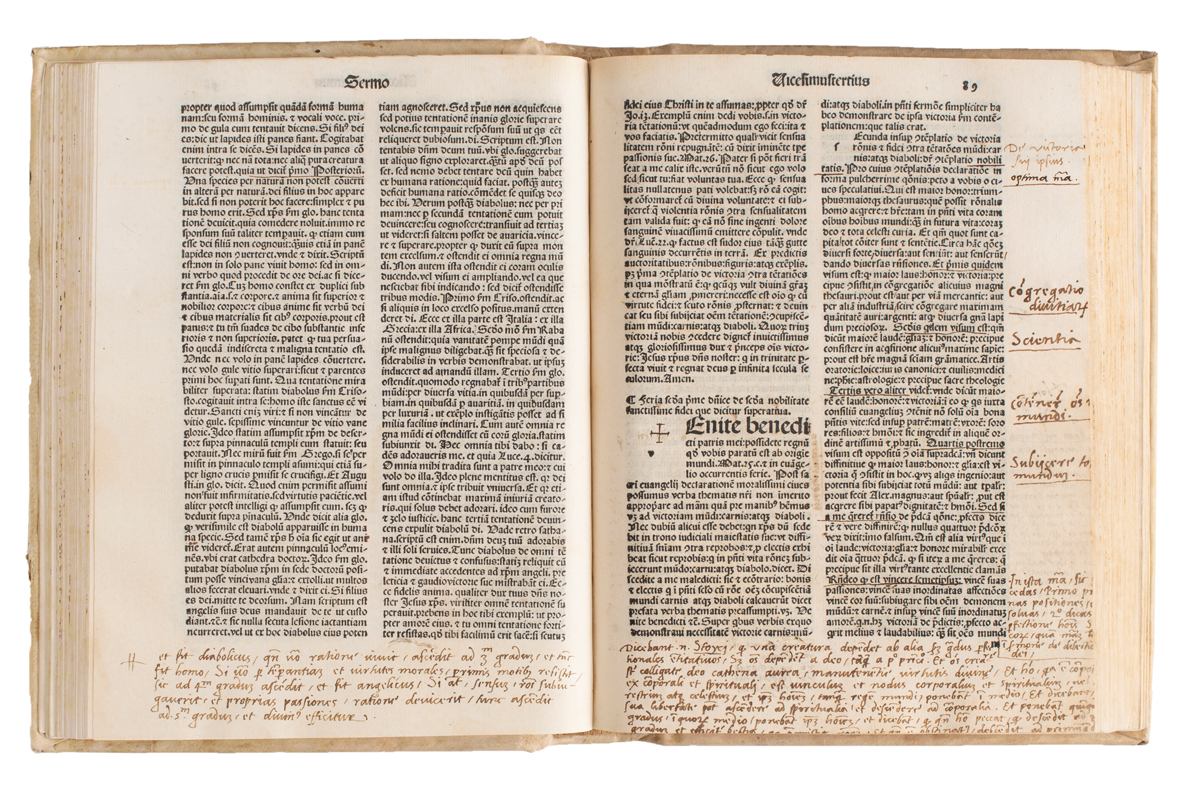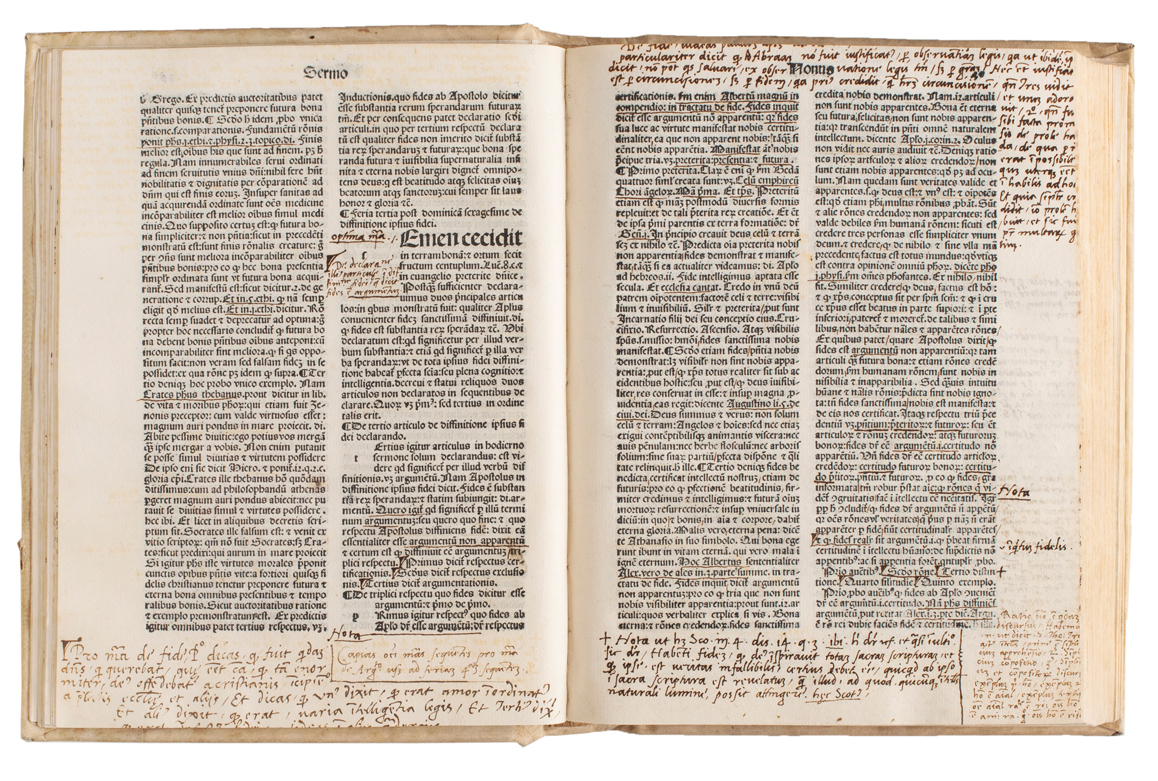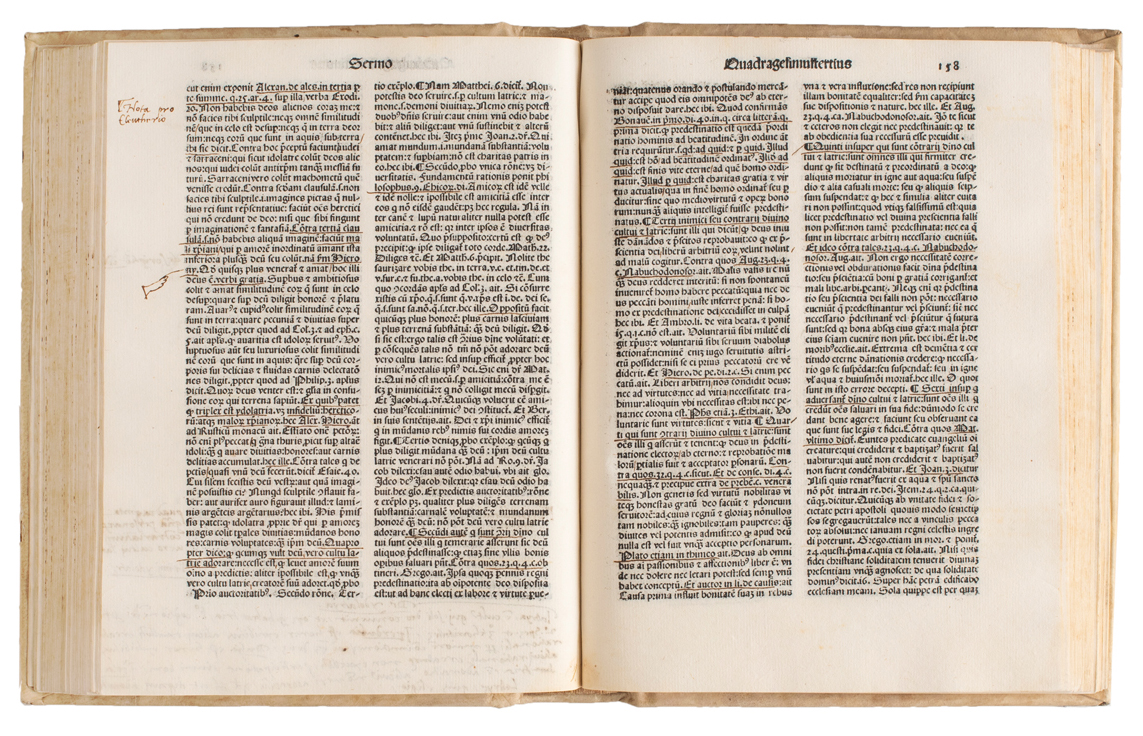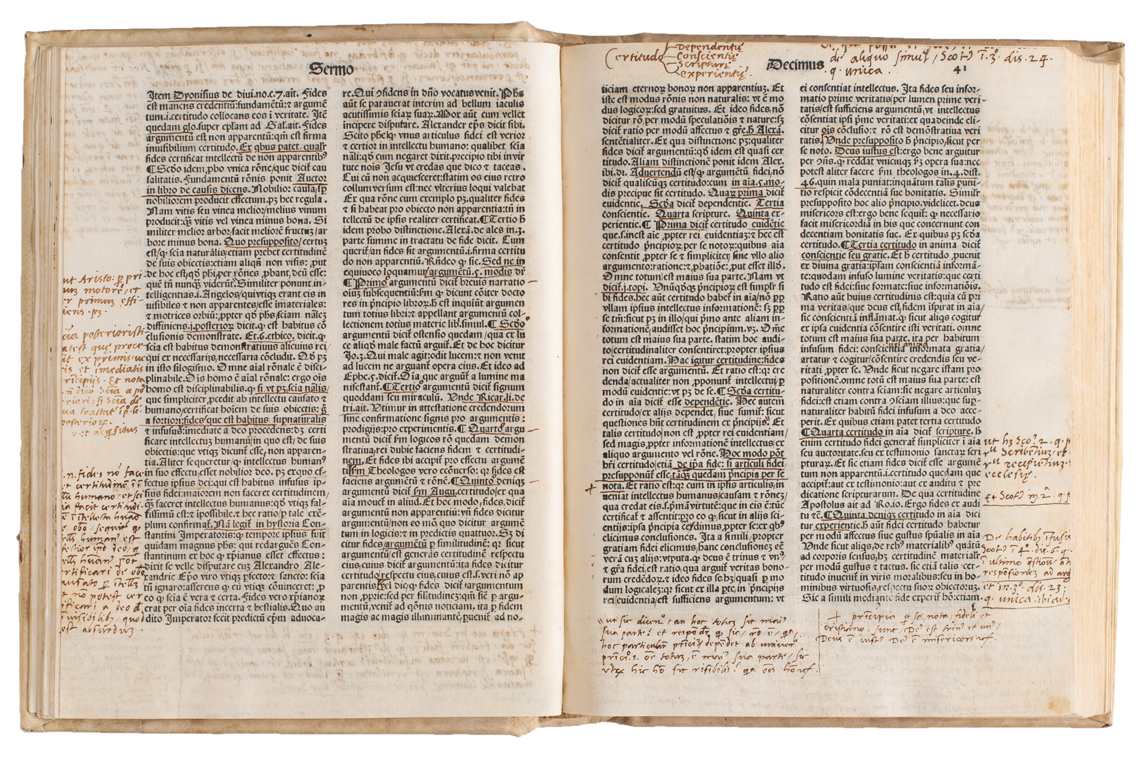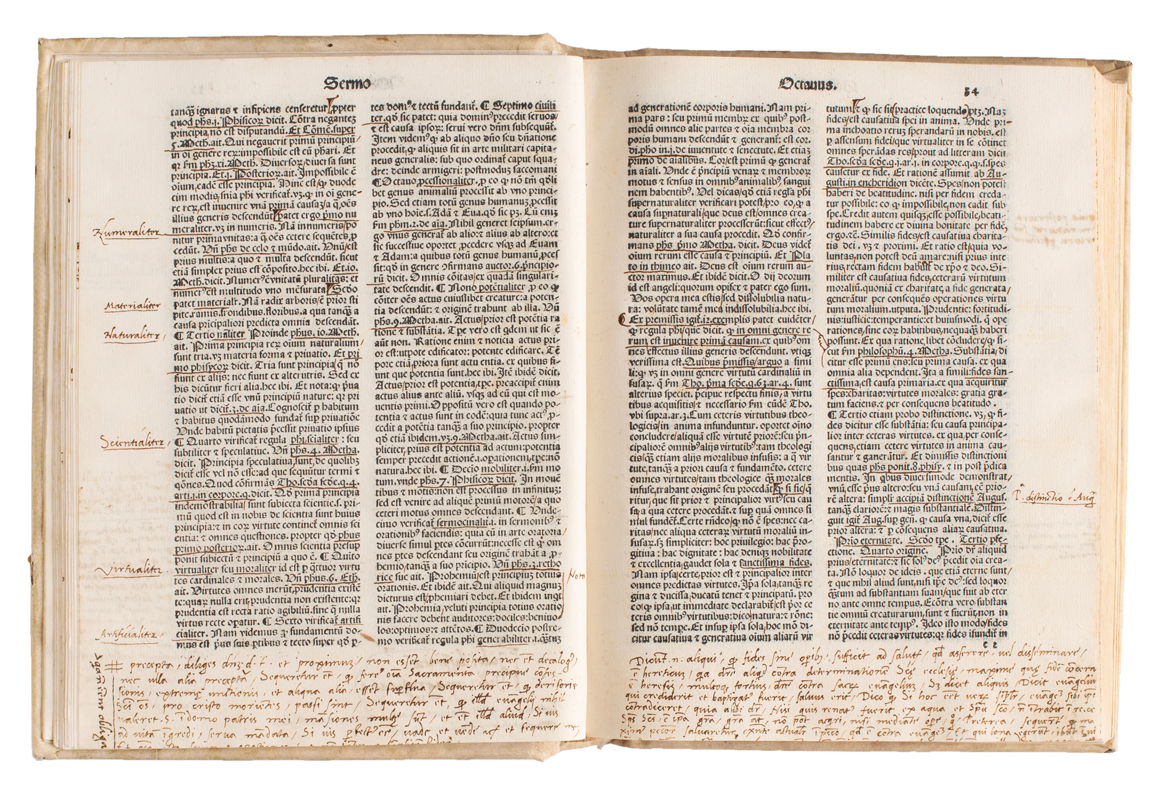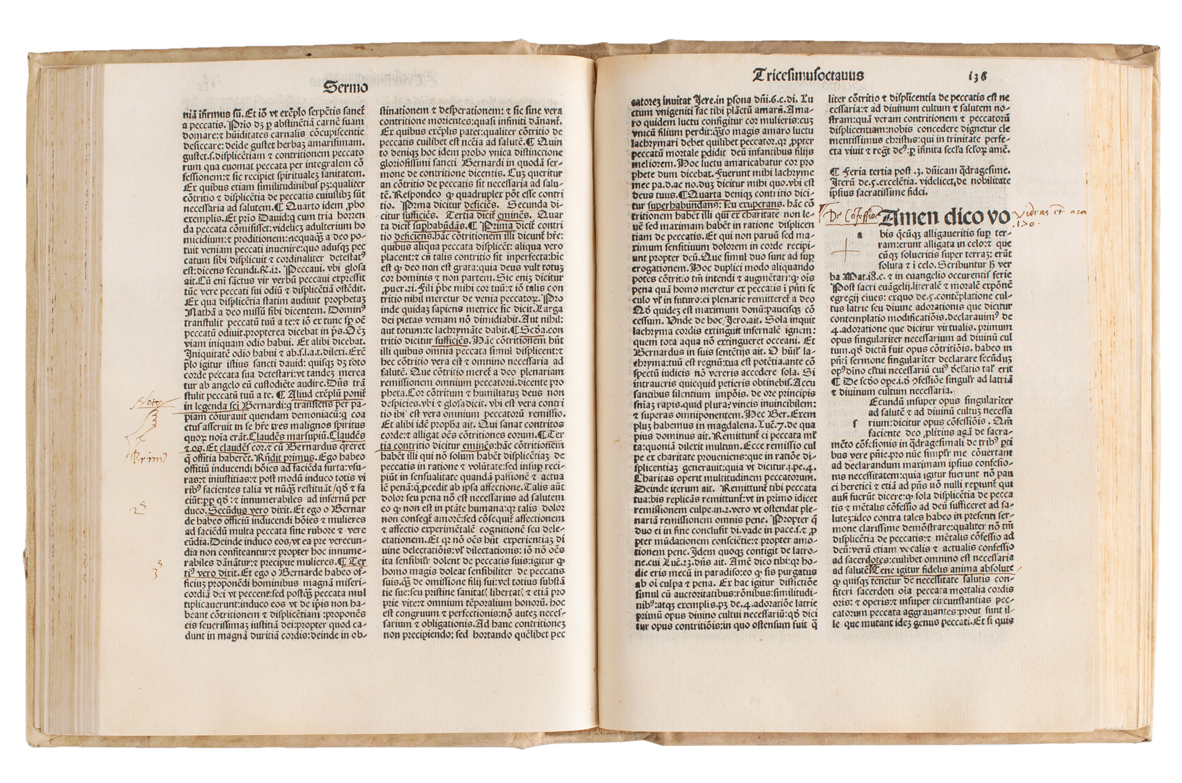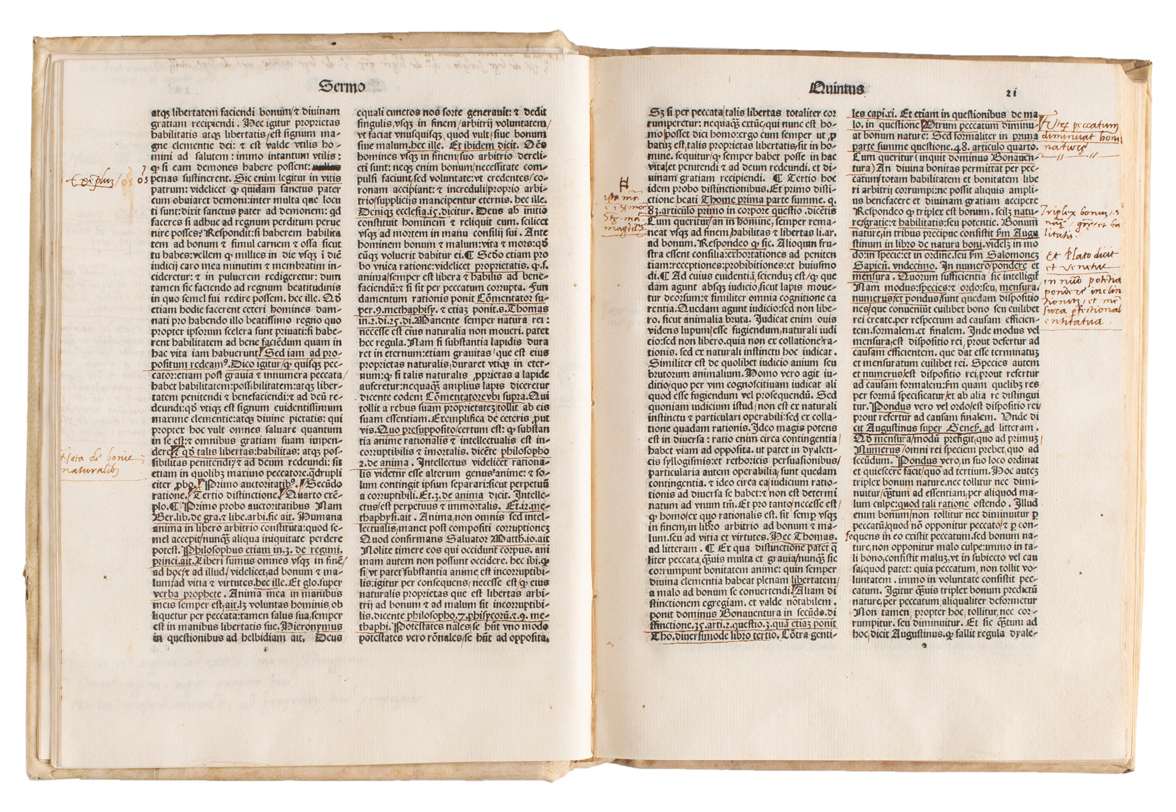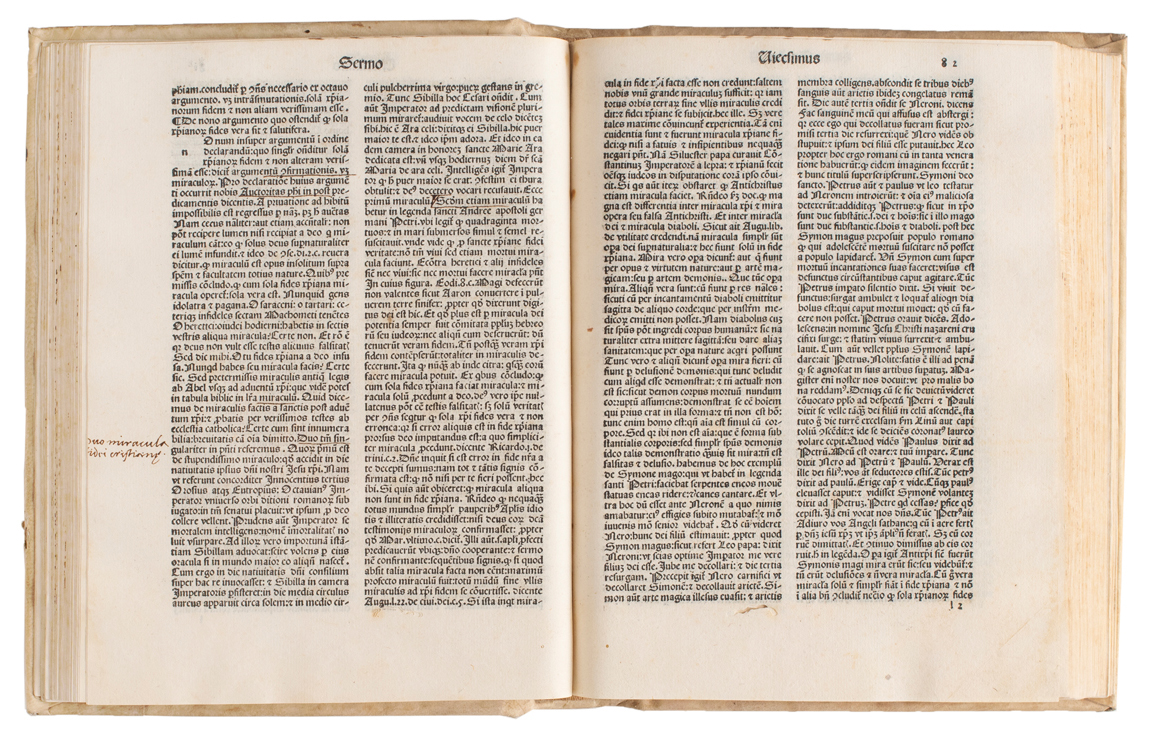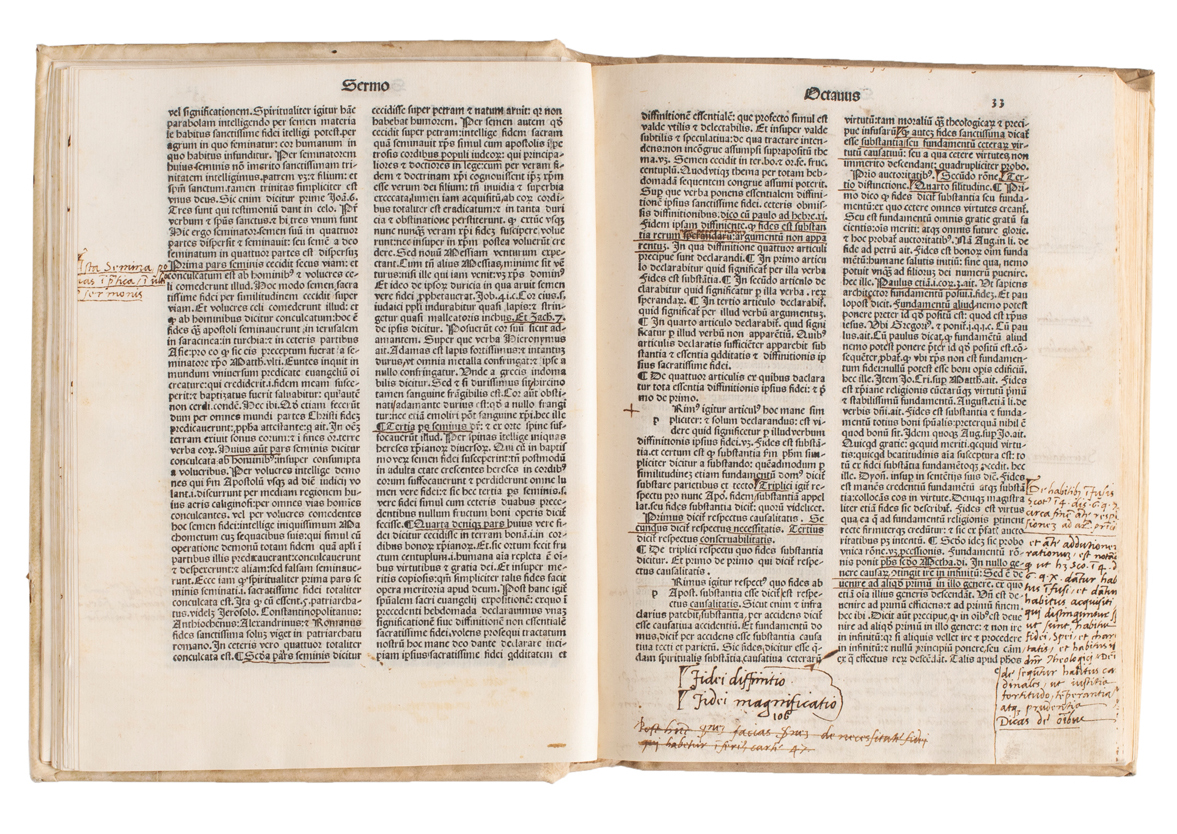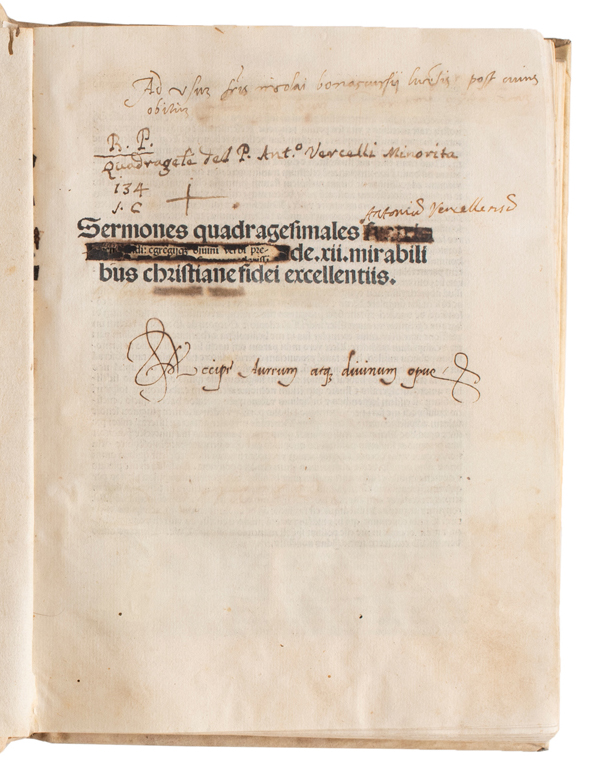 HOMILETIC WORKANNOTATED BY MACHIAVELLI'S LAST CONFESSOR
ANTONIUS de Vercellis. 
Sermones quadragesimales de XII mirabilibus Christianae fidei excellentiis [with additions by Ludovicus Brognolo]. 
Venice, Johannes and Gregorius de Gregoriis, de Forlivio, [for Alexander Calcedonius], 16 February 1492/93. 
4to, ff. 263, [5], text printed in Gothic letter in two columns, woodcut printer's device to colophon; loss to a few words in title and in corresponding lines of verso due to ink corrosion following a strike-through, minute wormhole to the lower margin of ff. 80–120, repairs to lower margin of ff. 235–240 following burn, involving some loss of text to three lines in ff. 235 and 236; otherwise a very good copy, in seventeenth-century vellum over boards (reusing a leaf from a fifteenth-century(?) choirbook), ink titling to spine; copious marginalia in more than one contemporary hand throughout (on approx. 360 pp., a few marginalia trimmed); contemporary ownership inscription of Fr. Niccolò Bonaccorsi of Lucca ('Ad usum fratris Nicolai Bonaccursii Lucensis'; 'Accipe aureum atque divinum opus') to title; near-contemporary gift, ownership and loan inscription of Fr. Niccolò Bonaccorsi ('Nicholao de Luca'), Fr. Andrea Alamanni, and Fr. Francesco de Emperio ('Hic liber concessus fuit per fratrem Andream Alamanum ad usum fratris Francisci de Emperio – Nam a fratre Nicholao de Luca largitus fuerat'); further note of loan on f. 145r (same meaning); monastic(?) ownership mark 'S. C.' to top edge.
£8500

Approximately:
US $10448
€9800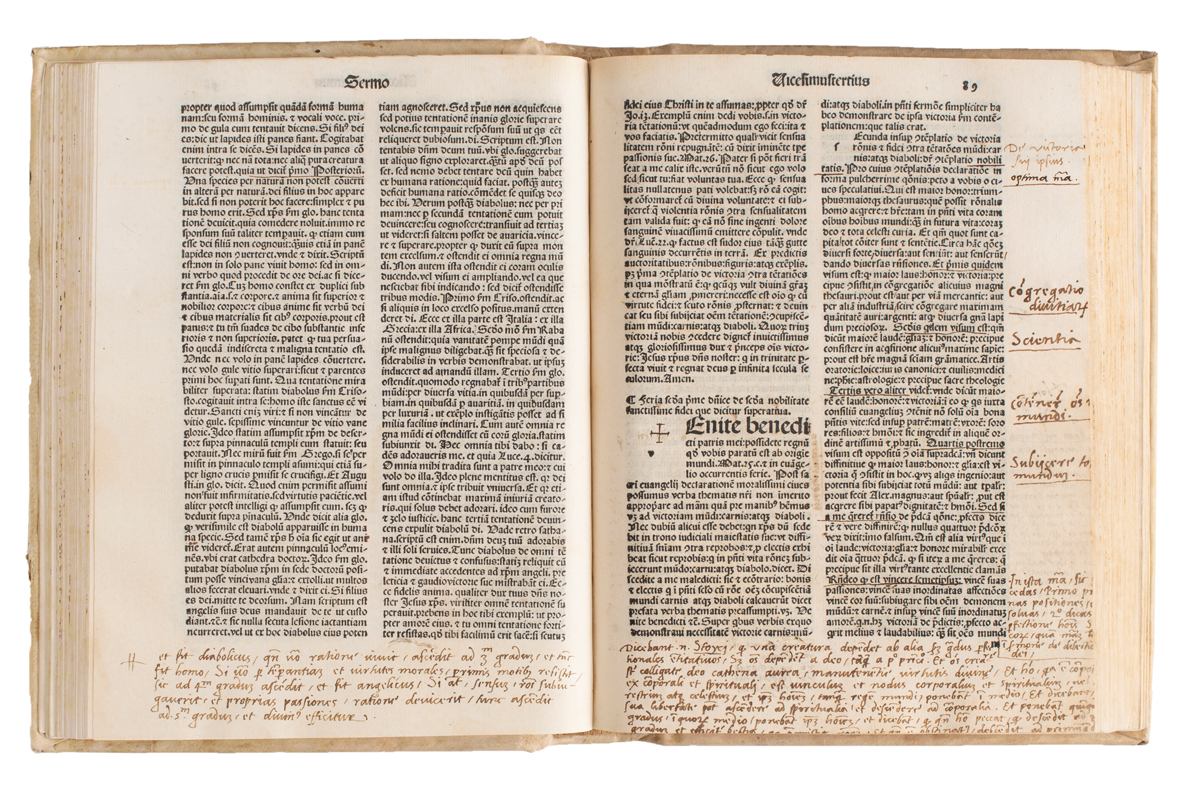 Added to your basket:
Sermones quadragesimales de XII mirabilibus Christianae fidei excellentiis [with additions by Ludovicus Brognolo]. 
A remarkable copy of the first edition of Antonius de Vercellis' sermons, owned and annotated by three contemporary Franciscans, one of whom, Andrea Alamanni, may be the confessor who administered Machiavelli's last rites. 

More than one hand is at work in annotating this copy, and the early ownership history reveals a strict Franciscan connection: at first owned by Niccolò Bonaccorsi of Lucca, the book was then gifted to Andrea Alamanni, and eventually loaned to Francesco de Emperio.  The annotations are detailed and wide-ranging in subject: citations from the Church Fathers are interestingly complemented by quotations from Classical authors; a close analysis of the sermons is conducted with references to Duns Scotus; and an examination of what constitutes certainty references Aristotle's logic, as well as Pythagoras.  Considerable attention is devoted to form and to standards of rhetoric.  Manicules and underlinings occur on every page, evidencing a thorough reading, and the last blank is taken up by a manuscript index of subjects of special interest to the readers. 

Antonius de Vercellis was one of the most prominent Franciscan homiletic authors of the Quattrocento, his sermons often included in anthologies alongside St Bernardinus, Caracciolo, and Caetano.  Regarding Andrea Alamanni's identity as Machiavelli's last confessor, this connection and a more general Franciscan connection with Machiavelli have been explored by Giuliano Procacci ('Frate Andrea Alamanni confessore del Machiavelli?' Dimensioni e problemi della ricerca storica 2, (1993)).  Procacci notes that he was cousin to the well-known author Luigi Alamanni, dedicatee of Machiavelli's Vita di Castruccio Castracani; he notes Alamanni's claim to have been present at Machiavelli's deathbed and to have heard his last confession, and that he adamantly 'had only a world of good to say' about the controversial writer. 

This episode, like several others linked with attempts to emphasise Machiavelli's religious piety, lacks concrete evidence; moreover, as last rites generally rely on arrangements made by third parties in extremis, it might well have reflected the family's concerns more than Machiavelli's own will.  Nevertheless this witness, as well as other episodic occurrences of Machiavelli's direct or indirect reference to Franciscan homiletic and social practices, contributes to a body of questions that is still offering ground for academic research into the writer's thought. 

Hain 15949*; IGI 717; BMC V 343; GW 2260; Goff A 918; CIBN A 473; BSB Ink A 644; Bod Inc A 357; ISTC ia00918000. 
You may also be interested in...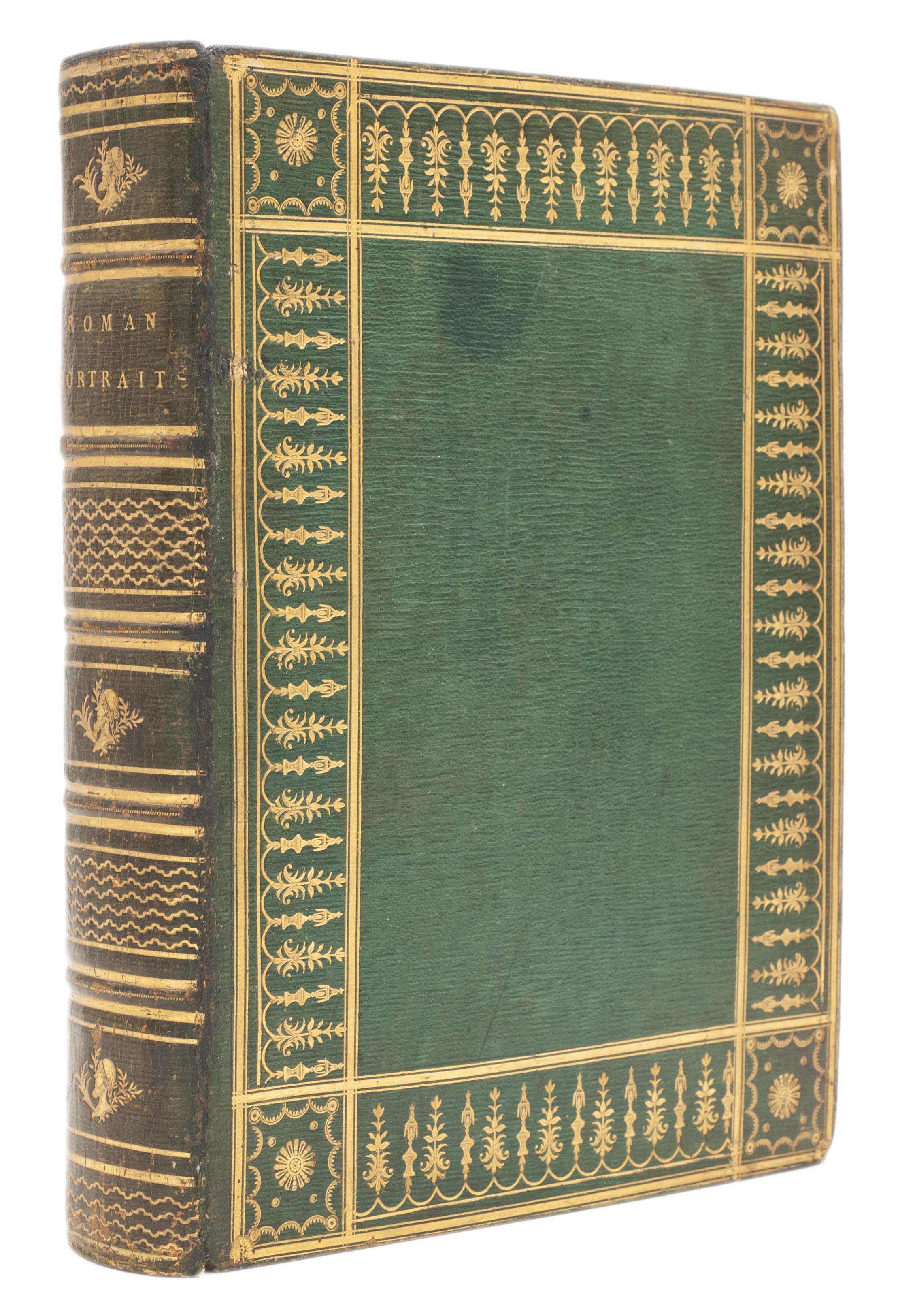 119 PEN DRAWINGS DASSIER, Jean and Jacques-Antoine.
'An Explanation of Dassier's Medals being a Representation of a Series of Events taken from the Roman History'.
An exceptionally fine illustrated manuscript, with drawings after the series of sixty medals of Roman history from Romulus to the Age of Augustus produced by Jean Dassier and his son in 1740-1743. The drawings are executed with considerable finesse, adding detailed elements not clearly visible in the original medals, and making subtle alterations in the position and orientation of many figures. Sadly there is no clue as to the artist, and it is not clear if the work was produced to order or as a commercial enterprise – if the latter we cannot trace another example.
PLUTARCHIAN PEDAGOGY MELCHIOR, Christian. 
'Synechia sive summa lectionum Plutarchicarum a domino conrectore huius scholae Salderianae praelectarum.  Et a me Christiano Melchioris Goltzoviensi Marchico observatarum anno MDCXX'. 
An unpublished early seventeenth-century manuscript recording lectures on Plutarch's pedagogical work On the Education of Children, bound with a scarce printed edition of the same text, and a rare edition of the poems of Theognis and other Greek lyric poets, each with numerous marginal and interlinear annotations.