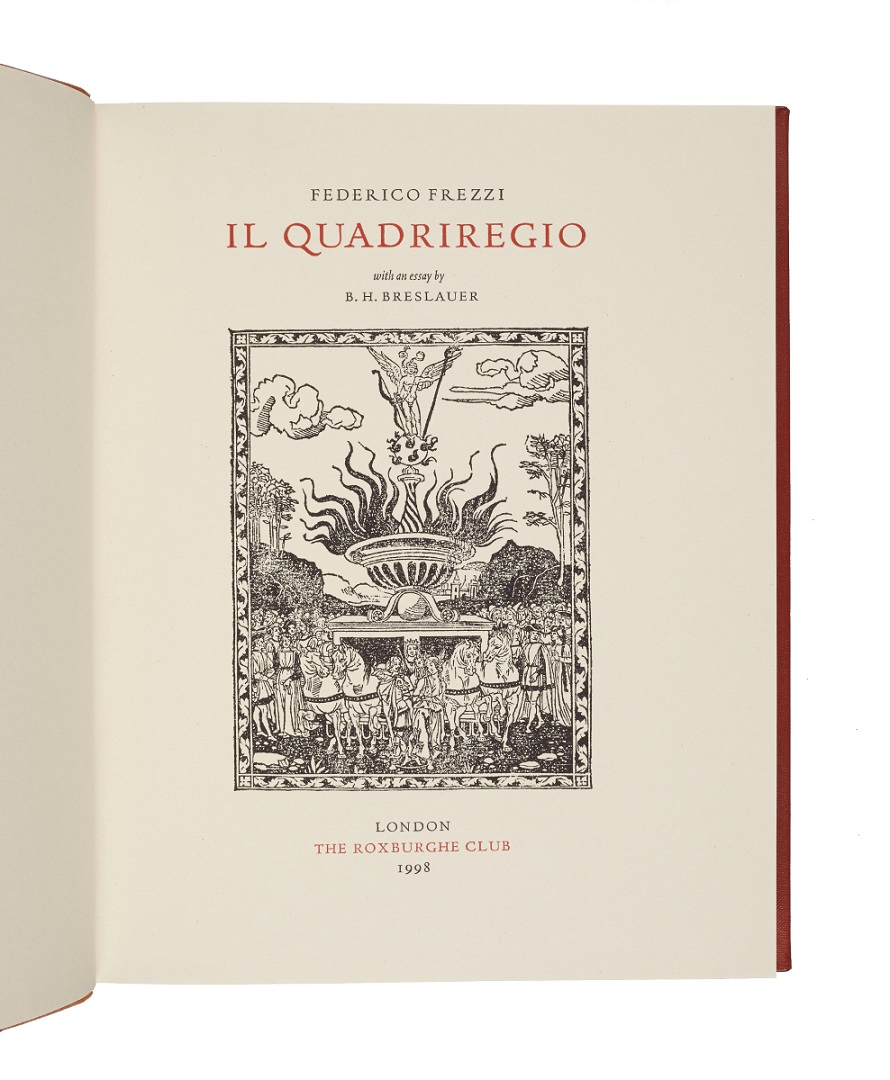 FREZZI, Federico.
Il Quadriregio. With an essay by B.H. Breslauer. Facsimile based on the edition printed in Florence in 1508.
The Roxburghe Club, 1998.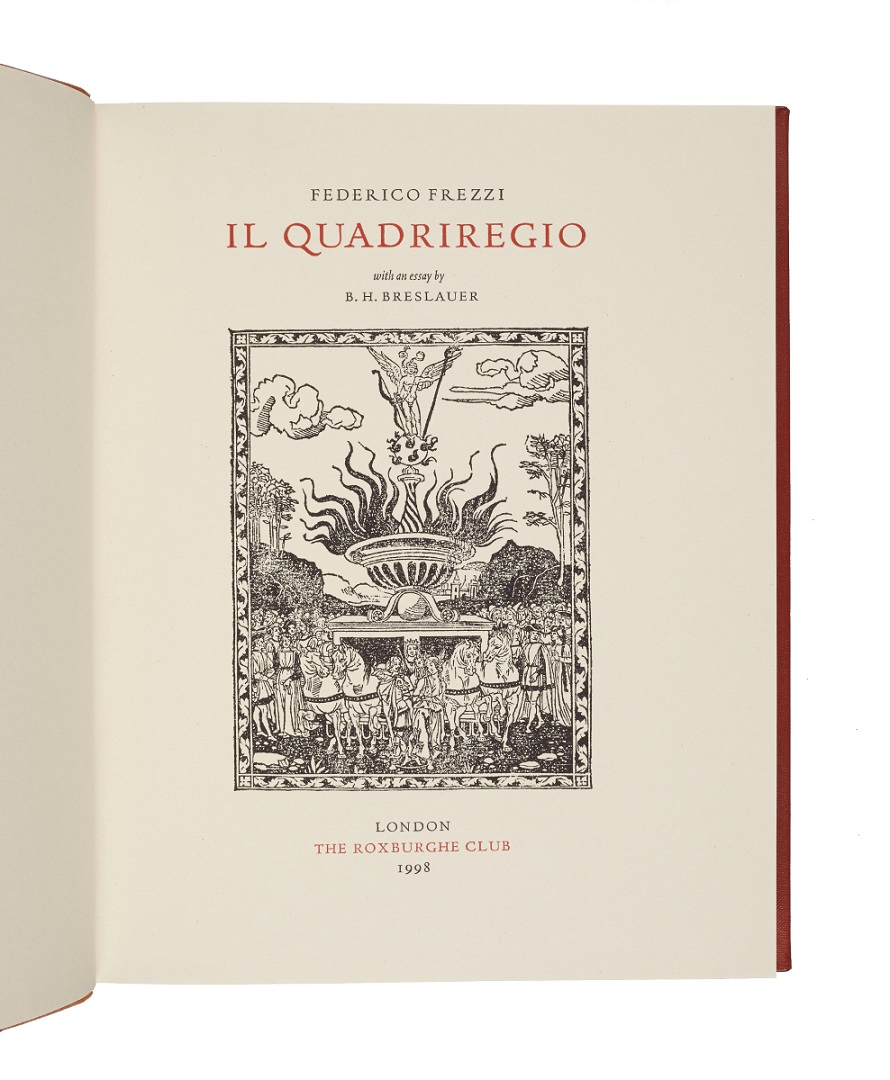 Added to your basket:
Il Quadriregio. With an essay by B.H. Breslauer. Facsimile based on the edition printed in Florence in 1508.
This is the first facsimile reproduction of one of the greatest Florentine illustrated books of the Renaissance – Il Quadriregio is to Florentine book illustration what the Hypnerotomachia Poliphili is to Venetian. The only surviving work of Federico Frezzi (c. 1350–1416), bishop of Foligno, the text is an allegorical poem in the vernacular, describing a journey through four regions: Love, Satan, Vice, and Virtue. The Earl of Crawford's copy, one of only two remaining in private hands, is reproduced here in its entirety. The prefatory essay, by Bernard Breslauer, not only treats the book, its remarkable publisher Piero Pacini, and its place in the history of Florentine book illustration, but considers how it has been assessed by the critics and art historians of the last hundred years.
You may also be interested in...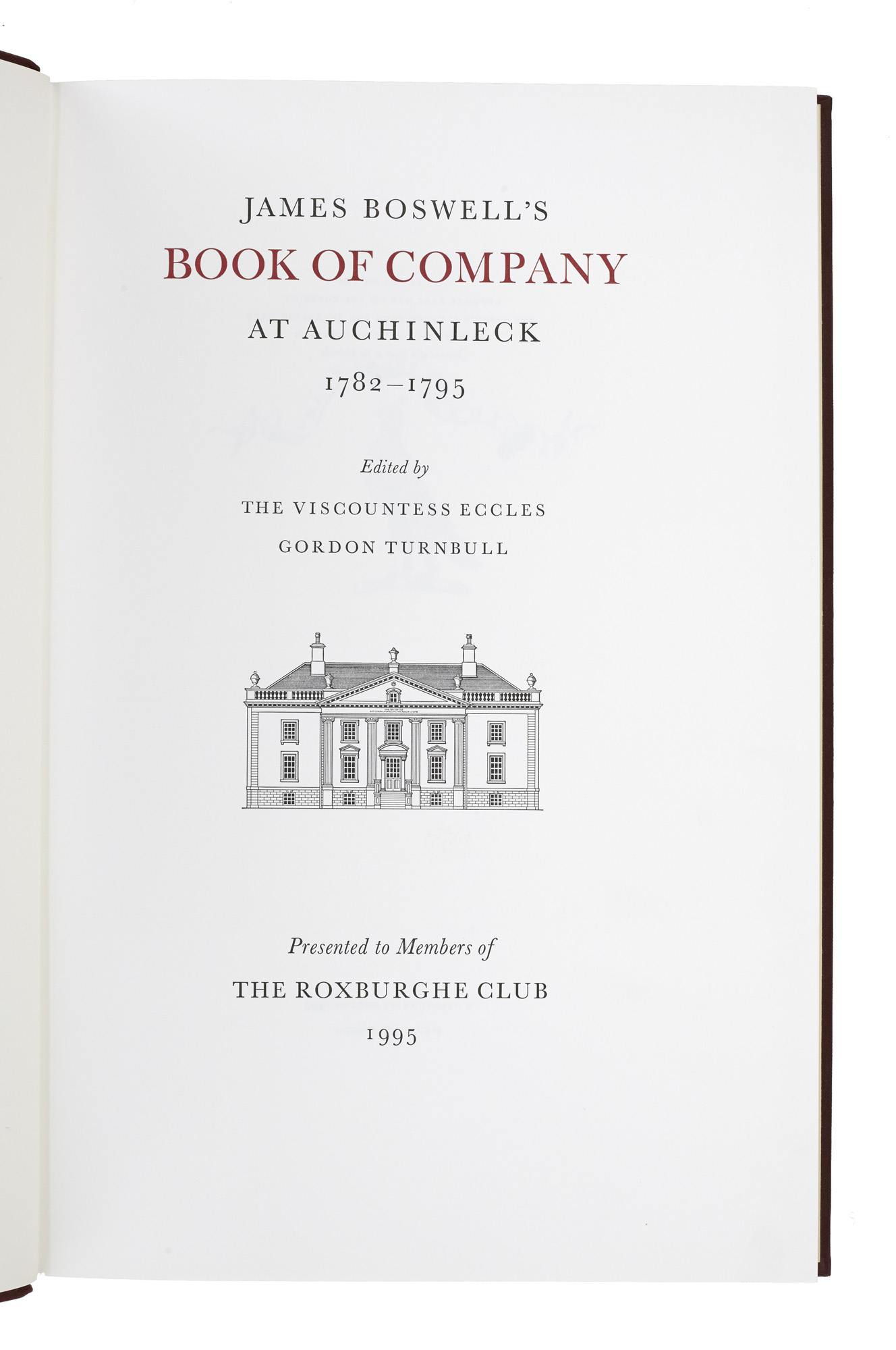 ECCLES, Mary, Viscountess, and Gordon TURNBULL, eds..
James Boswell's Book of Company at Auchinleck.
The Book of Company is much more than a visitor's book, since James Boswell comments on the men and women he met and entertained, and the occasions of his doing so, are all his own. It is therefore an important addition to his many-sided self-portrait. Beginning in 1782, two years before Samuel Johnson died, and ending five months before Boswell's own death in May 1795, it reflects Boswell's anguished uncertainties, as well as the everyday details of where he was, with whom he dined, whom he saw in the evening and – punctually recorded – how many bottles of wine and spirits were dispatched. The book is here reproduced in full facsimile, interleaved with a transcript on facing pages. At the foot of each page is a commentary, largely drawn from Boswell's correspondence and journals, which converts it into a comprehensive day by day diary of his thoughts and actions throughout the period.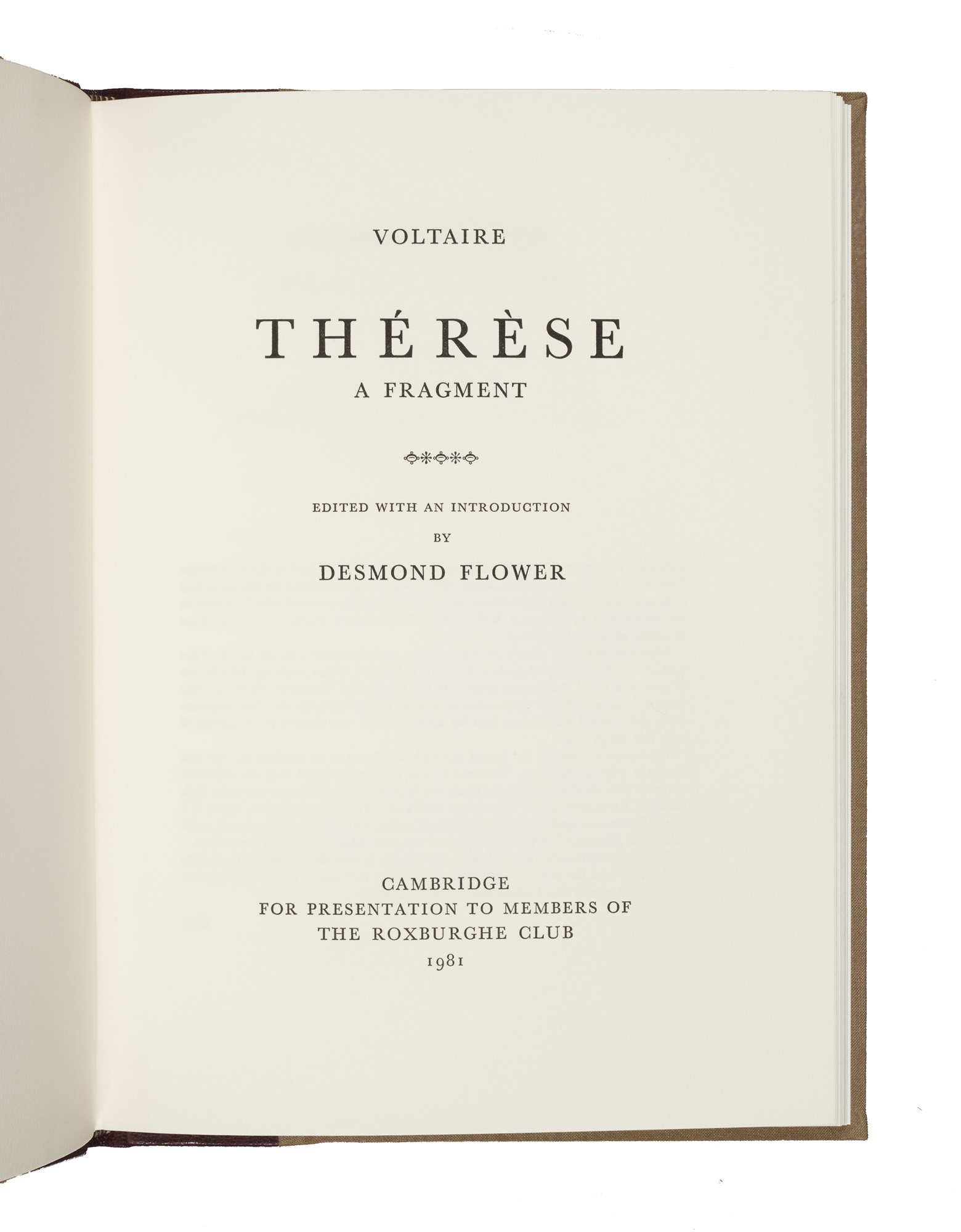 VOLTAIRE. FLOWER, Desmond, ed.
Thérèse, a fragment.
Edited with an introduction by Desmond Flower. The Roxburghe Club, 1981. A facsimile reproduction, with transcription, of the eight pages of autograph manuscript which are all that survive of Therèse, a play written when Voltaire was nearing the height of his powers. Desmond Flower's introduction outlines the circumstances of the play's creation and considers why it was never publicly performed.