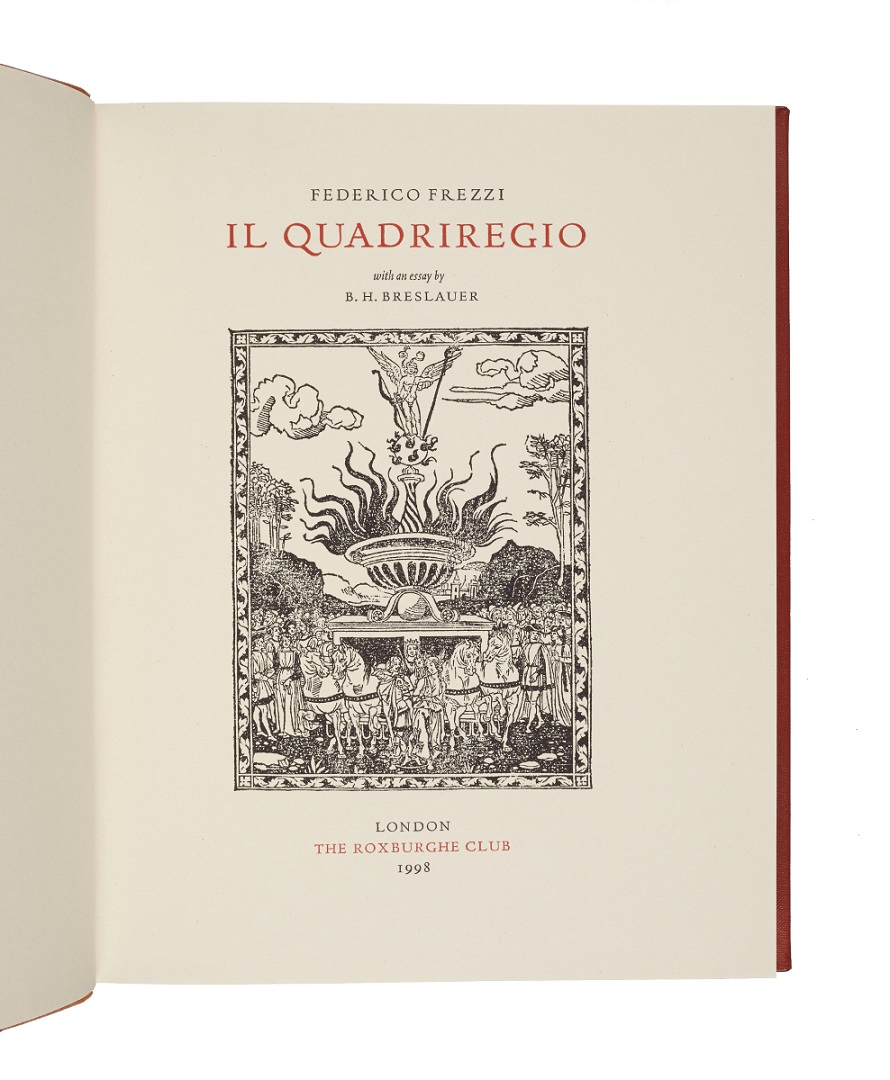 FREZZI, Federico.
Il Quadriregio. With an essay by B.H. Breslauer. Facsimile based on the edition printed in Florence in 1508.
The Roxburghe Club, 1998.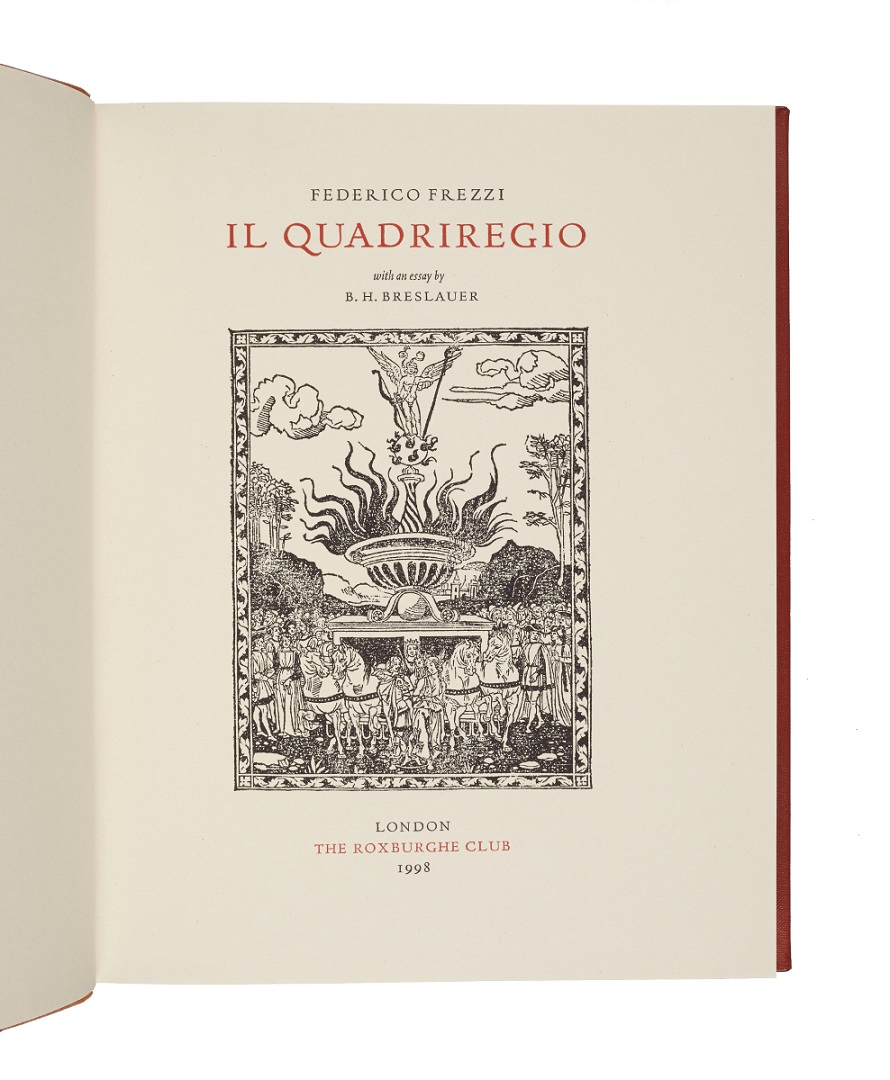 Added to your basket:
Il Quadriregio. With an essay by B.H. Breslauer. Facsimile based on the edition printed in Florence in 1508.
This is the first facsimile reproduction of one of the greatest Florentine illustrated books of the Renaissance – Il Quadriregio is to Florentine book illustration what the Hypnerotomachia Poliphili is to Venetian. The only surviving work of Federico Frezzi (c. 1350–1416), bishop of Foligno, the text is an allegorical poem in the vernacular, describing a journey through four regions: Love, Satan, Vice, and Virtue. The Earl of Crawford's copy, one of only two remaining in private hands, is reproduced here in its entirety. The prefatory essay, by Bernard Breslauer, not only treats the book, its remarkable publisher Piero Pacini, and its place in the history of Florentine book illustration, but considers how it has been assessed by the critics and art historians of the last hundred years.
You may also be interested in...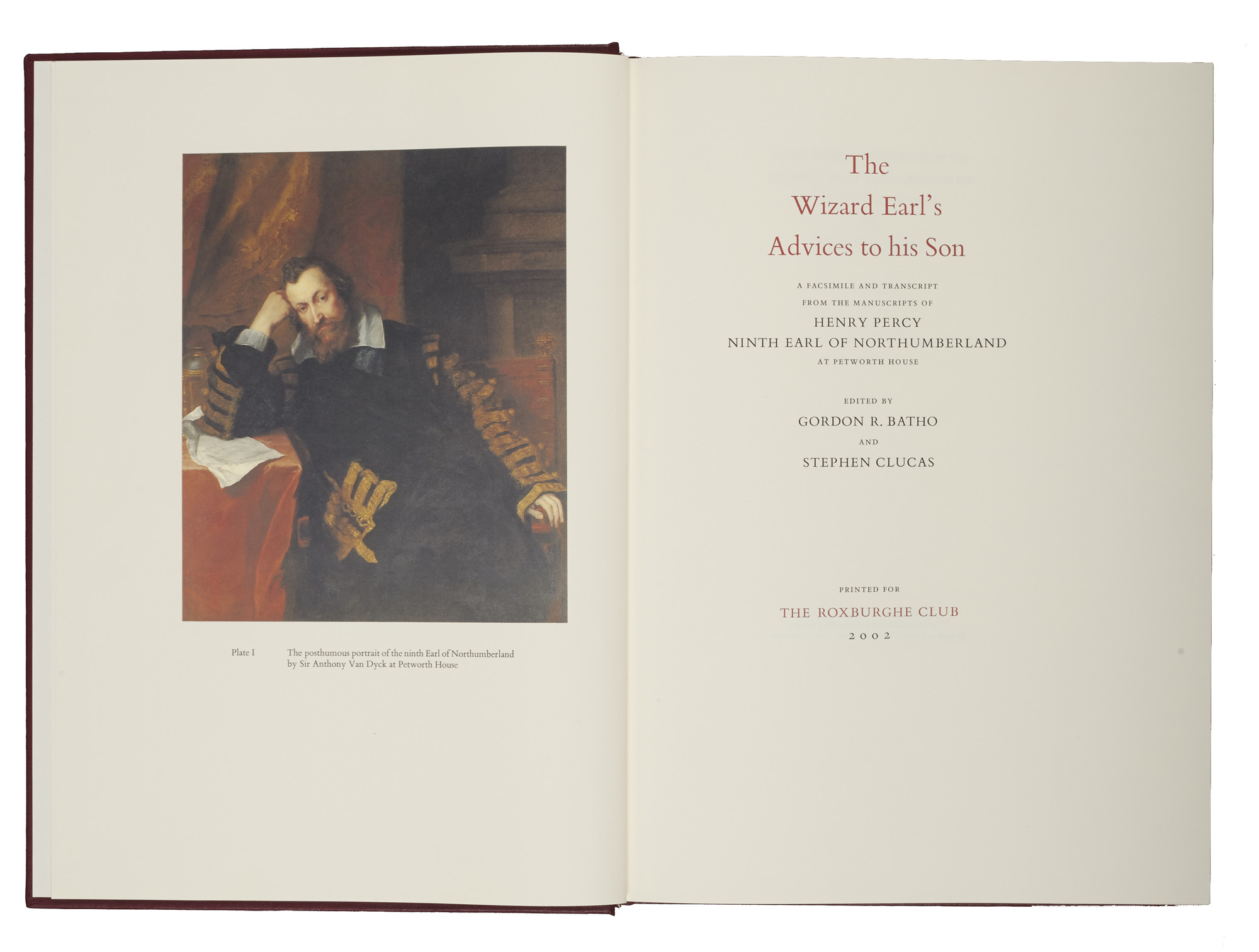 BATHO, Gordon R., and Stephen Clucas, eds.
The Wizard Earl's Advices to his Son. A Facsimile and Transcript from the Manuscript of Henry Percy, 9th Earl of Northumberland, at Petworth House.
The 'Wizard Earl', Henry, Ninth Earl of Northumberland, spent much of his life under suspicion. He was, first of all, suspected of being a member of the 'School of Night', the butt of Shakespeare's Love's Labours Lost. Secondly, and more gravely, he was suspected of involvement in the Gunpowder Plot and imprisoned in the Tower for almost sixteen years. It was during his incarceration that he compiled advice to his son and heir, Algernon. This work is a full facsimile, with a diplomatic transcript, of the 'Advices to his Son'. The texts are prefaced with an extended introduction by Professor G. R. Batho and Dr Stephen Clucas, who together provide a full and up-to-date account of the Earl's life, the writing of the 'Advices', and his intellectual tastes and development.
YOUNG, Donald, ed., with a biographical commentary by.
The Search for the Source of the Nile. With a preface by Quentin Keynes.
Correspondence between Captain Richard Burton, Captain John Speke and others, from Burton's unpublished East African Letter Book; together with other related letters and papers in the collection of Quentin Keynes, now printed for the first time.  The letters selected for this collection, spanning the years 1854 to 1864, vividly present the unfolding drama of the search for the source of the Nile, one of the most dramatic and important events in nineteenth-century geography. Nineteen letters have been transcribed directly from Burton's Letter Book, and the others were collected individually by Quentin Keynes from far-flung corners of the world.