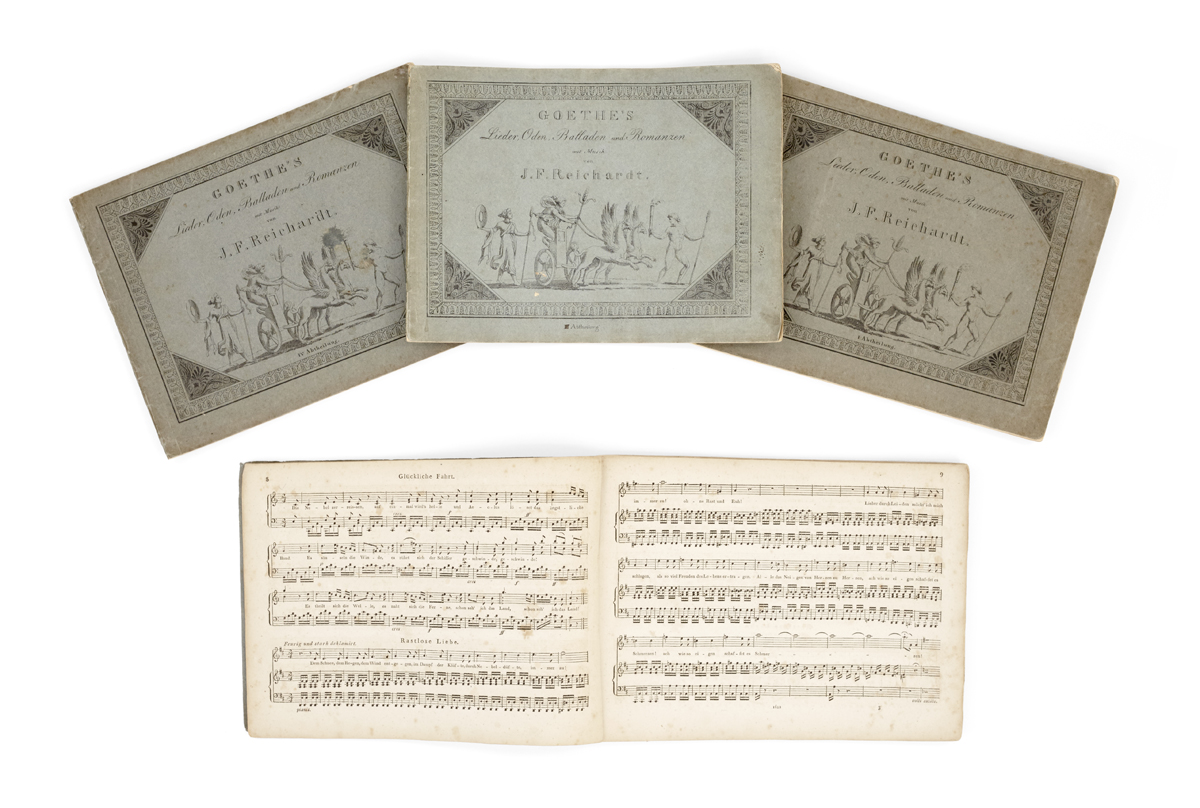 AN INFLUENCE ON SCHUBERT
[GOETHE.] 
REICHARDT, Johann Friedrich.  Goethe's Lieder, Oden, Balladen und Romanzen mit Musik von J.F. Reichardt.  Erste [ – Vierte] Abtheilung. 
Leipzig, Breitkopf & Härtel, [1809–11]. 
Four parts, oblong folio (c. 325 x 245 mm); pp. [6], 50; [4], 62; [4], 29; [4], 44; plate nos. 1411–1413, 1479; with engraved title-pages and engraved music; early signature to upper margin of title-pages scored through; some spotting throughout, occasionally heavy, a few light stains here and there, but nonetheless a very good copy in the original green illustrated wrappers, lightly spotted, spines professionally restored; in a folding cloth box.
£6500

Approximately:
US $7989
€7494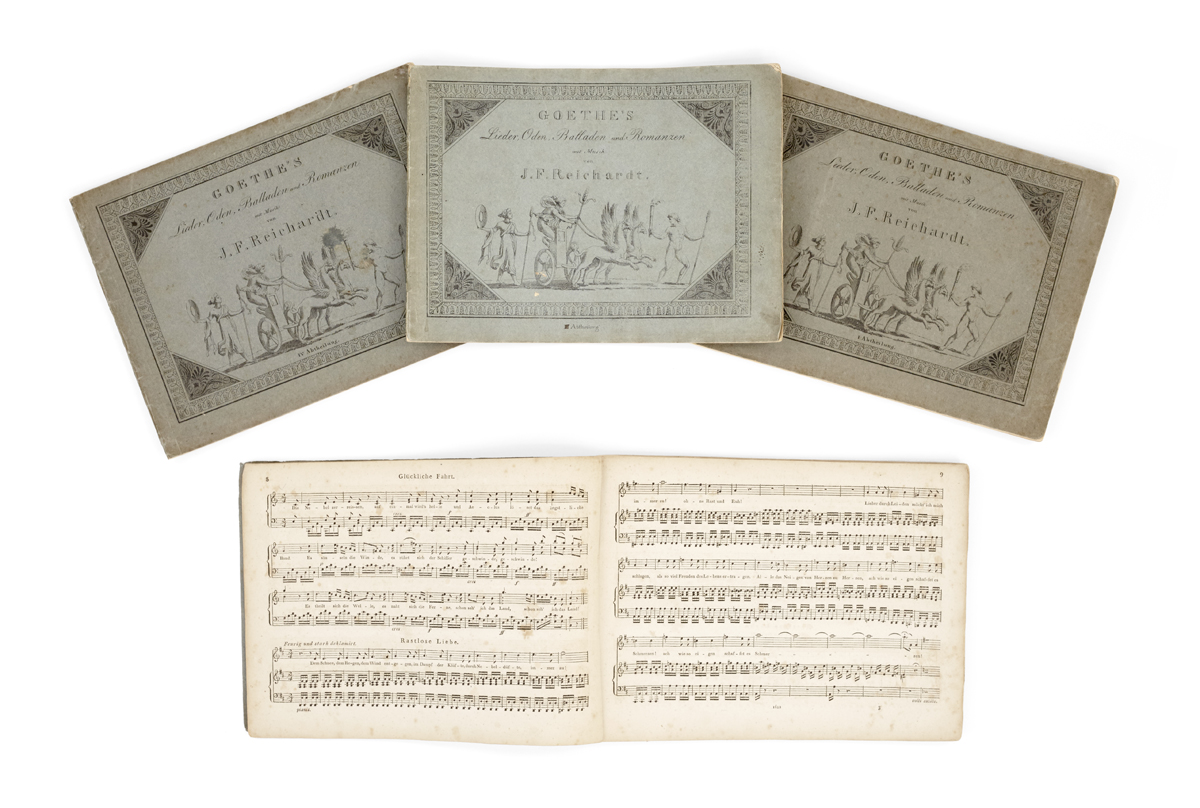 Added to your basket:
REICHARDT, Johann Friedrich.  Goethe's Lieder, Oden, Balladen und Romanzen mit Musik von J.F. Reichardt.  Erste [ – Vierte] Abtheilung. 
Very rare first complete edition of Reichardt's musical settings of Goethe's poetry, comprising 128 settings of which thirty-nine appear here for the first time. 

The German composer and writer on music Johann Friedrich Reichardt (1752–1814) was master of the royal music in Berlin from 1775 to 1794, when he was dismissed after publishing a book sympathetic to the French Revolution.  He left Berlin to settle on a country estate in Giebichenstein, near Halle, which became a 'hostel of Romanticism' for such artists and intellectuals as Goethe, von Arnim, Brentano, E.T.A. Hoffmann, Tieck, the brothers Grimm, Fichte, Jean Paul, Schleiermacher, Novalis, Schlegel and J.H. Voss.  It was a centre of Lieder and romantic poetry, folksong and folk art, Singspiel and German opera. 

'In at least two categories Reichardt's abandonment of the typically limited outlook of the German Kapellmeister proved beneficial: his songs departed from the rigid plainness of the 'Berlin School' odes towards the folk styles and dramatic gestures of early Romanticism; and his stage works, instead of centring on older styles of opera seria, favoured forward-looking Italian opera, French opera (the works of Gluck), Singspiel and other German theatrical forms. 

'The songs – he composed about 1500 of them, on texts by some 125 poets – cover a range of styles probably unsurpassed until Schubert, whom he influenced considerably.  One extreme of this range is represented by the Lieder für Kinder aus Campes Kinderbibliothek, settings of edifying or pious verses by such poets as Gleim, Claudius, Hölty and Kleist…  At the other extreme are songs known as "declamations", which present free lyrical reflections or dramatic scenes: among his Goethe settings, for instance, Prometheus contains declamations against static harmonies, quick-changing dynamic indications and sudden alterations of tempo; the Monolog des Tasso is through-composed like an operatic scena; the rondo-like form of Johanna Sebus is determined by alternate representations of a flood and a child's attempt to rescue its mother.  (Goethe was to write of Reichardt as "the first to make my lyrical works known to the general public through music, in a serious and steady manner".)  Reichardt's songs of all sorts show their composer's preference for the song "as a correct, complete whole, its real value consisting in the unity of the song", and for a style of text-setting whose clarity is probably still unsurpassed, a deference to the spirit and structure of the poem, and an idealistic adherence to the dignified simplicity that he admired in folk art' (New Grove). 

Goedeke IV/3, 74, 22; Hirsch III, 1031; RISM R 856–859. 
You may also be interested in...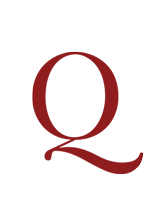 KAFKA, Franz.
In der Strafkolonie.
First edition, one of 1000 copies printed, of Kafka's story In the Penal Colony.
THOMAS AQUINAS. 
Secunda secunde sancti Thome de Aq[ui]no ordinis predicato[rum] novissime recognita, q[uam]pluribusq[ue] utilissimis appostillis in margine appositis insignita. 
Two very rare post-incunables: early Venetian editions, gathered together in their first binding, of the Secunda Secundae and the Tertia parts of Thomas Aquinas's Summa theologiae, arguably the most pervasively influential philosophico-theological work of the Middle Ages.